These are true homemade Sourdough Donuts, made without any commercial yeast. A slow fermentation gives these donuts a spectacular flavor and texture. They're like no donuts you've ever tasted.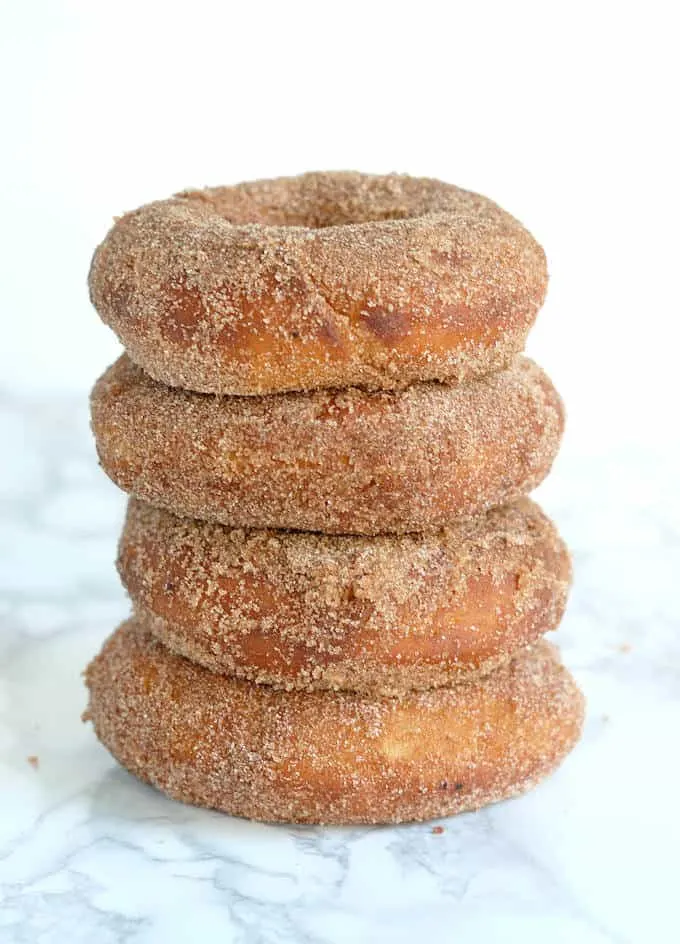 It's official, you guys – these are my favorite donuts ever! I mean, who doesn't love a good donut? What's your favorite donut style; cake or yeast? Some folks like the cake style donuts and, sure, they're tasty. But, me? I'm partial to the airy/chewy texture of a good yeast donut.
What makes Sourdough Donuts taste so good?
Making donuts with the natural yeast of a sourdough starter takes them into another stratosphere. Seriously, these donuts are GOOD. The starter gives the donuts a special chewy texture and deep flavor.
If you don't have one, check out my post to learn How to Make a Sourdough Starter. Then check out my system to Feed and Maintain Sourdough Starter.
I've been mulling over the idea of a sourdough donut for a while now. Being a huge baking geek, I'm always thinking of the possibilities beyond bread-baking for my starter. I just knew that sourdough starter would be a great base for a yeast donut–if I could create a well-balanced recipe.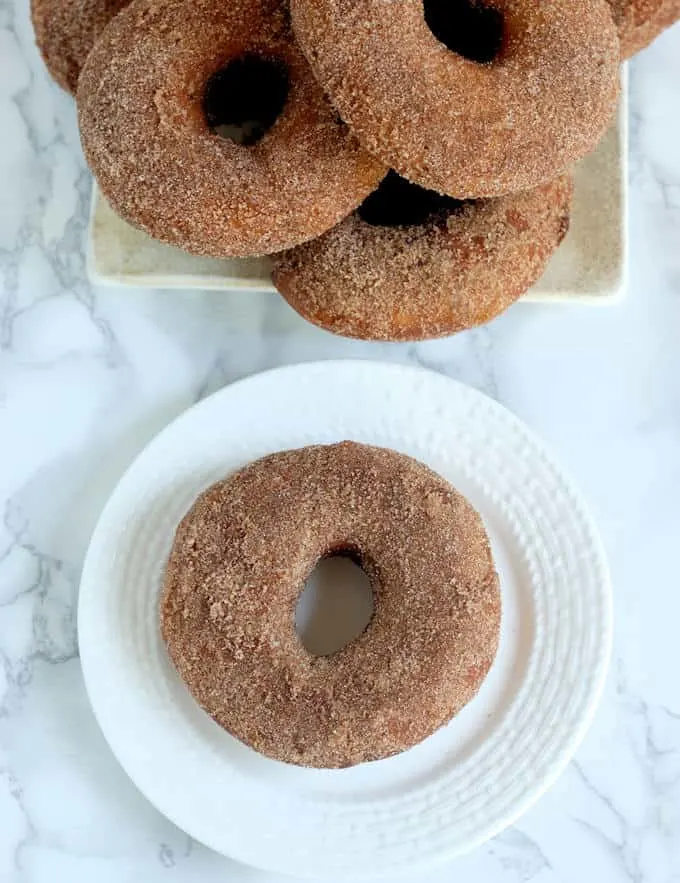 How I created this Homemade Donut Recipe:
To create this recipe I looked to my Whole Grain Sourdough Waffle recipe and my Rhubarb Fritters. I wanted a donut with a texture somewhere between those two; the open crumb and chewy texture of the waffle, with the sweet, spicy, enriched flavor of the fritter.
Because the starter doesn't get a boost with commercial yeast, the recipe is a 2 day process. Don't worry though, the vast majority of time is hands-off.
About working with Sourdough Starter:
A night in the refrigerator is essential for the flavor and texture of the dough. Also, since this is a fairly sticky dough, it's much easier to roll and cut while it's still cold from the refrigerator.
A long kneading time and two-day fermentation allows the dough to retain lots of air without collapsing. You'll see a great "poof" when you drop the donuts into the fryer.
Even though these donuts are really big, they're light and airy and not at all heavy or greasy (and, seriously, what sane person is going to complain that a donut is too big?). A roll in cinnamon sugar gives these babies a perfectly crunchy bite.
I bake a lot, really way too much for two people to eat. I don't need to crave sweets since they're always around. But I have actually caught myself dreamily remembering the crunchy bite and lightly chewy texture of these Sourdough Donuts.
I can't wait to make them again. They're totally worth the time and effort–and calories. Now, if you'll excuse me, I need to jump on the elliptical…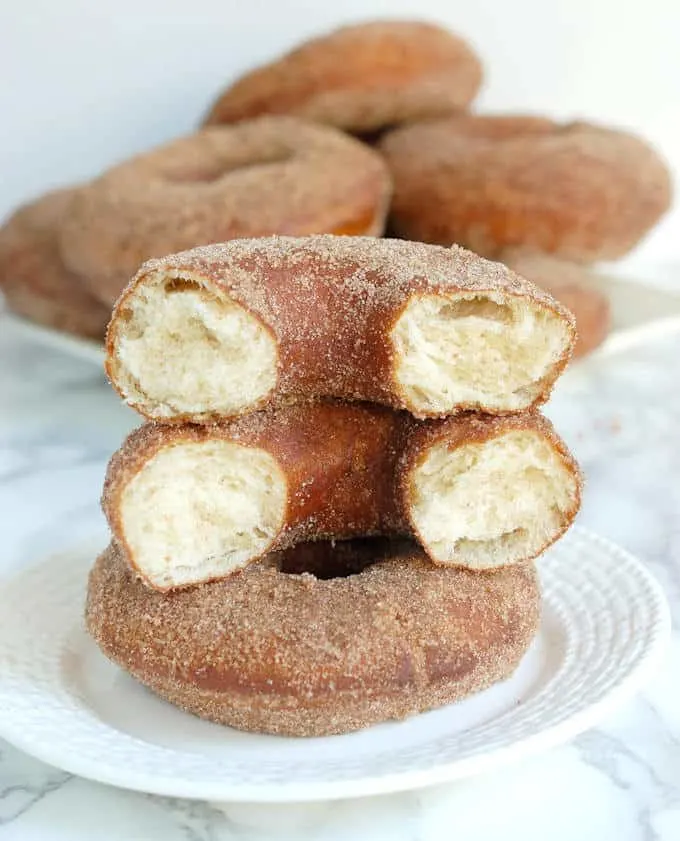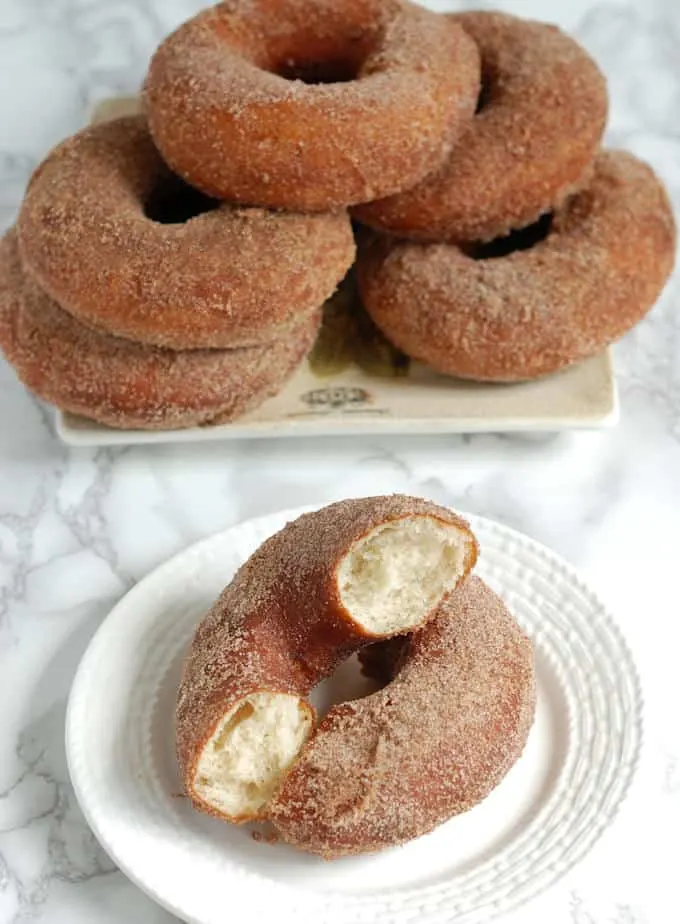 Watch the recipe video to see how-to make true Sourdough Donuts.
I know you hate to throw away that sourdough discard. Check out these recipes that use sourdough discard.
If you love this recipe as much as I do, I'd really appreciate a 5-star rating!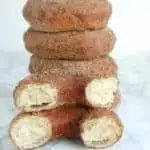 Print Recipe
Sourdough Donut Recipe
Start the day before to make a true Sourdough Donut without commercial yeast. The long fermentation of the dough gives these donuts fantastic flavor and texture.
Ingredients
8

oz

whole milk

(1 cup, warmed to about 110°F)

1

large egg

(room temp)

2

oz

unsalted butter

(melted)

8

oz

active sourdough starter

(1 cup)

17 ½

oz

unbleached all-purpose flour

(3 ½ cups)

4

oz

granulated sugar

(½ cup)

1

teaspoon

cardamom

1

teaspoon

cinnamon

1

teaspoon

table salt

Cinnamon Sugar for coating
Instructions
Make the dough (day 1)
Combine

8 oz whole milk

,

1 large egg

and

2 oz unsalted butter

with

8 oz active sourdough starter

in a mixer bowl. With the mixer running, add

4 oz granulated sugar

,

1 teaspoon cardamom

,

1 teaspoon cinnamon

,

1 teaspoon table salt

and 2.5 cups of the flour. Mix until it forms a thick batter.

Switch to the dough hook and add the remaining flour (amount of flour may vary based on the hydration of your starter). The dough will start out quite sticky. Knead on medium low speed for 15 minutes (speed 2 on my stand mixer) until the dough clings to the hook and clears the sides of the bowl.

Scrape the dough into a lightly floured surface and knead into a smooth ball. Place the dough into a lightly oiled bowl, turning once to coat the dough. Cover and set the dough aside at room temperature for fermentation.

After 1 hour uncover the bowl, lift one edge of the dough over into the middle of the dough. Repeat with the other three sides of the dough then flip the dough over. Cover the bowl and set aside.

Every hour for another 2-3 hours repeat the folding as described above. After 3-4 hours of fermentation the dough should be lively, elastic and airy. If the dough is still sluggish give it another hour or two at room temperature. Cover and refrigerate overnight.
Make the Donuts (day 2)
Remove the dough from the refrigerator. While the dough is still cold, without kneading, roll to 1/2" thick on a lightly floured surface.

Use a 4" round cutter to cut donuts. Use a 1.5" cutter to cut center hole. Line the donuts on a well-oiled, parchment or silpat lined baking sheet, leaving space between the donuts for the dough to rise (I used 2 baking sheets). Reroll the scraps of dough and continue cutting donuts until all the dough is used up. Brush the tops of the donuts lightly with oil.

Cover the sheet pans with plastic wrap and set aside to rise. The donuts are ready when you poke the dough and the dent slowly fills in. If the dough bounces right back it's not quite ready. This rise should take about 1 1/2 hours. The time will vary based on the temperature of the room.

Meanwhile, heat 2 quarts of oil to °

350

°F

in a large heavy pot. Fry the donuts a couple at a time, about 2-3 minutes per side, until golden brown and puffy.

As you take each donut out of the oil, immediately roll in the cinnamon sugar to coat the entire donut. Set on a cooling rack while you fry the rest of the donuts.

Best eaten warm or within a couple of hours of frying.
As an Amazon Associate and member of other affiliate programs, I earn from qualifying purchases.
Nutrition
Serving:
1
donut
|
Calories:
255
kcal
|
Carbohydrates:
46
g
|
Protein:
6
g
|
Fat:
5
g
|
Saturated Fat:
3
g
|
Polyunsaturated Fat:
0.4
g
|
Monounsaturated Fat:
1
g
|
Trans Fat:
0.2
g
|
Cholesterol:
26
mg
|
Sodium:
208
mg
|
Potassium:
82
mg
|
Fiber:
1
g
|
Sugar:
10
g
|
Vitamin A:
170
IU
|
Vitamin C:
0.04
mg
|
Calcium:
35
mg
|
Iron:
2
mg
You might also like: