Marzipan is very expensive to buy in the grocery store, and is often dry and flavorless. This marzipan recipe is super easy. I'll show you how to make marzipan that is much cheaper than pre-made, and tastes much better.
If you live in the US and you've bought marzipan in the grocery store, chances are you were sorely disappointed. Pre-made marzipan is expensive and is usually dry and tasteless.
I always make my own marzipan recipe from almond paste. Marzipan is a fairly luxurious ingredient but is very easy to make. You'll need just 3 ingredients and it comes together in mere minutes.
Scroll through the photos to see how to make Marzipan from almond paste:
With this Marzipan recipe you can control the amount of sugar:
Homemade Marzipan has a million and one uses. I cover Christmas fruitcakes with marzipan before finishing them with fondant. The marzipan creates an extra layer to keep the cake moist, plus it tastes much better than fondant.
When I'm making marzipan to cover cakes I use the lower amount of sugar in the recipe. With less sugar the homemade marzipan is very soft and has a strong almond paste flavor, perfect for a cake covering.
It can also be used as a candy filling. You can simply cover pieces of marzipan with chocolate and, believe me, it will be delicious. I like to add orange zest to the marzipan when I make it into a candy filling. Add a little extra sugar to make it a little firmer. Cut the flavored marzipan it into small squares, cover the squares in dark chocolate and you've got a fantastic little bon bon.
Use homemade marzipan to make tasty and pretty decorative pieces. Add more sugar and the marzipan becomes firm enough to make rose petals or holly berries.
You can mold life-like pieces of fruit from marzipan, hand color them with petal dust and create a show-stopping centerpiece that can be eaten. I'd much rather eat decorations made from marzipan than fondant.
If you love this recipe as much as I do, please consider leaving a 5-star review.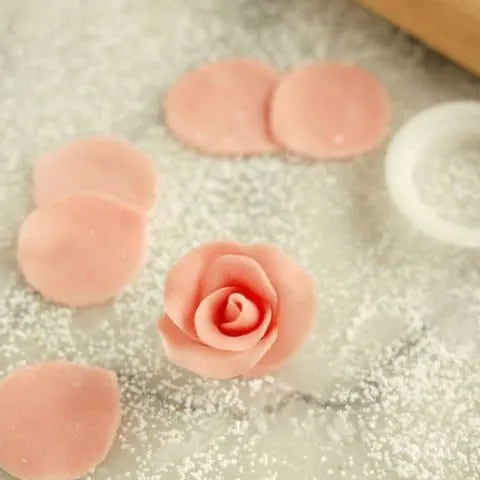 Marzipan
Marzipan is very expensive to buy in the grocery store, and is often dry and flavorless. Homemade marzipan is cheaper than pre-made, is super easy to make and tastes much better.
Ingredients
7 oz (196g) Almond Paste (see note)
1/4 cup (2 oz, 56g) light corn syrup
4-7 oz confectioner's sugar, about 1-2 cups
Instructions
Mix the almond paste and corn syrup on low speed with a beater attachment until it forms a smooth paste. If working by hand use a wooden spoon to mix until combined.
Scrape the bowl. With the mixer running on low speed add 1/2 cup of the confectioner's sugar. Turn the dough out onto a surface sprinkled with more confectioner's sugar. Knead in the remaining sugar to form a smooth dough. Add additional powdered sugar to achieve the desired consistency (see note)
Notes
I based the recipe on 7 oz of almond paste because that's the size I find in my local grocery.
I like a softer marzipan for covering cakes so I use less sugar. Add more sugar for a firmer texture if you plan to make roses or other decorations
Recommended Products
As an Amazon Associate and member of other affiliate programs, I earn from qualifying purchases.
You might also like: