Poured Fondant Icing is an all purpose confection used to ice sweet-breads, cakes, petit fours and napoleons.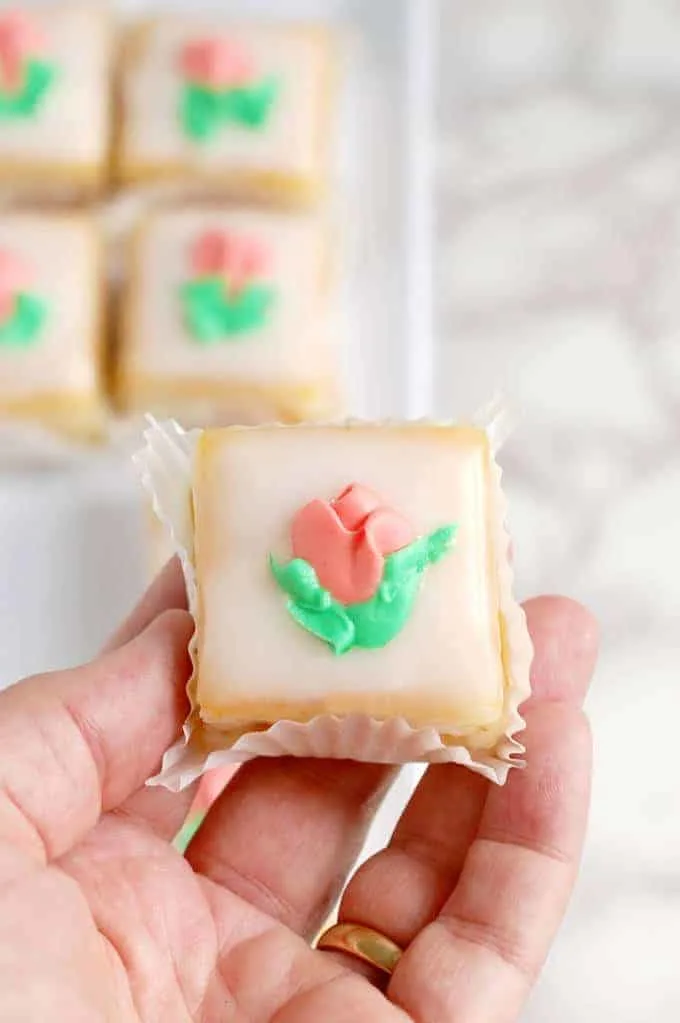 What is poured fondant icing?
Not to be confused with Rolled Fondant, the sugar dough used to cover cakes, Fondant Icing is pourable and is used to glaze cakes and pastries with a thin sheen of sweetness.
True Fondant is, in fact, more candy than icing. Fondant is what you find in the middle of my all-time favorite candy, a Peppermint Patty. Making true fondant is an unforgiving process of controlled crystallization.
This is where simple, powdered sugar fondant icing comes in…
Even though I will readily admit that this simple Fondant Icing is not really a true fondant, and it honestly doesn't have the beautiful sheen of a real fondant icing, it is a good compromise for the home baker who wants to make Petit Fours, Napoleons or a glazed Bundt Cake.
It tastes great, it's easy to make and it's very easy to use.
Ingredients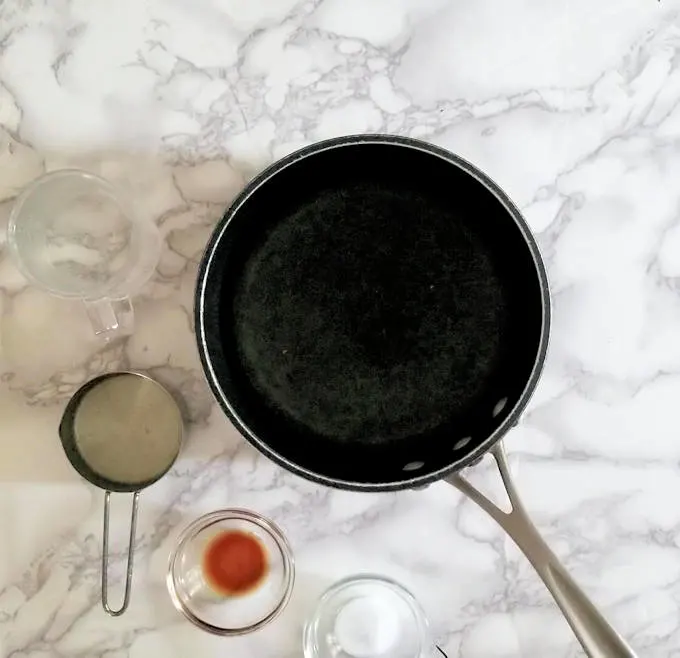 Water
Light corn syrup
Vanilla extract
Salt
Confectioners' sugar
How to make poured fondant icing: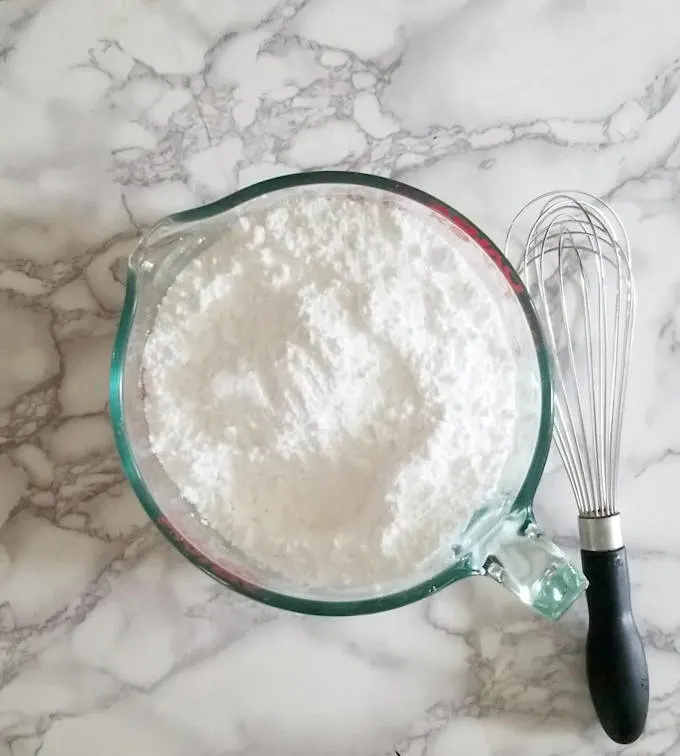 Simple Fondant Icing is made with powdered sugar.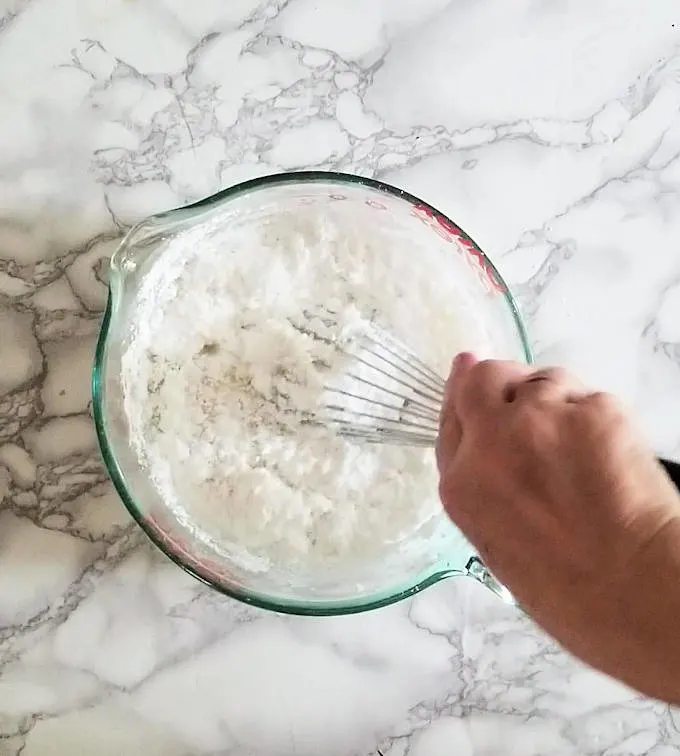 Pour the boiling water mixture into the sugar and stir.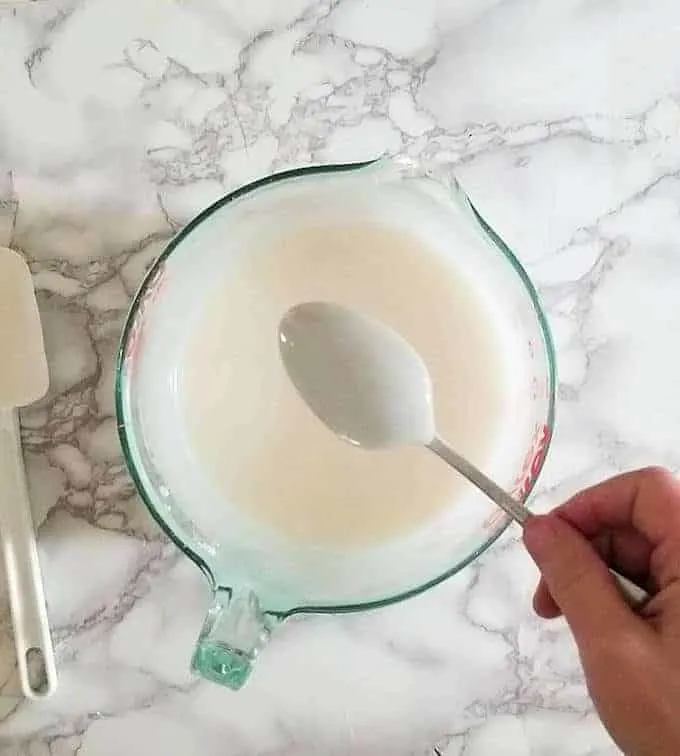 The icing should be thick enough to coat the back of a spoon.
Add more sugar if it's too thin or more water it it's too thick.
Storage
Pour the icing into a bowl and sprinkle a few drops of water over the surface. This will prevent the surface from drying out and forming a crust. Cover the bowl with plastic wrap.
Poured fondant icing can be held at room temperature for 2-3 days, refrigerated for up to a week and frozen for up to 3 months.
Pour the water off the surface of the icing before using.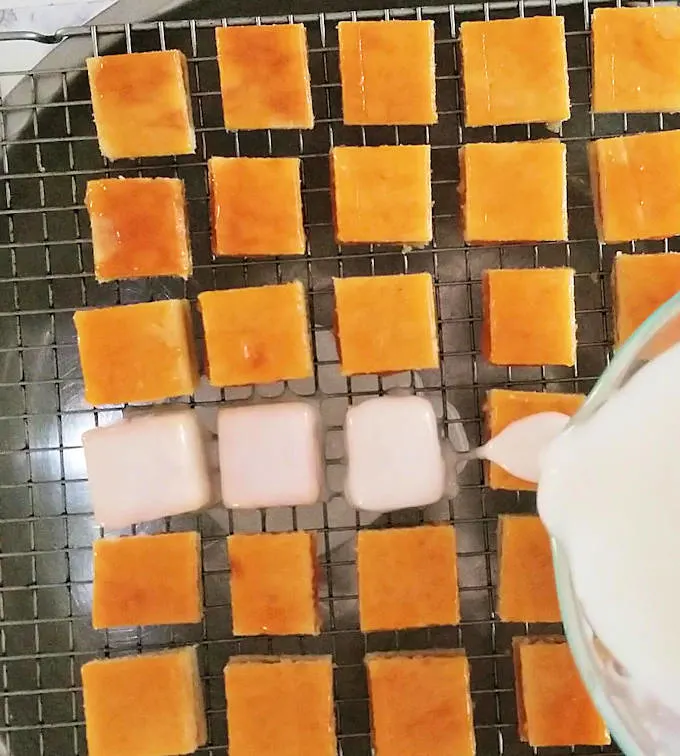 Fondant Icing is used to ice Classic Petit Fours, napoleons and donuts.
If you love this recipe as much as I do, I'd really appreciate a 5-star review.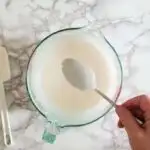 Print Recipe
Poured Fondant Icing Recipe
Fondant icing is the perfect topping for Napoleons, petit fours, donuts and other pastries.
Ingredients
4

oz

water

(½ cup)

3

oz

light corn syrup

(¼ cup)

½

tsp

vanilla extract

⅛

tsp

salt

20

oz

confectioner sugar

(5 cups)
Instructions
Combine the water, corn syrup, vanilla and salt in a medium sauce pan, bring to a boil.

4 oz water,

3 oz light corn syrup,

½ tsp vanilla extract,

⅛ tsp salt

Remove the pan from the heat and gradually whisk in the sugar.

The icing should be slightly warmer than body temperature and the consistency of thick cream. If you dip a spoon into the fondant it should cover with a slightly translucent finish. Use the fondant immediately or store in the refrigerator, well covered.

If the fondant cools below 100°F, rewarm gently. If the icing gets too thick add a few drop of water at a time until it's thinned to the proper consistency. If it gets too thin, add a little more sugar.
As an Amazon Associate and member of other affiliate programs, I earn from qualifying purchases.
Nutrition
Calories:
68
kcal
|
Carbohydrates:
18
g
|
Fat:
0.005
g
|
Sodium:
10
mg
|
Potassium:
0.4
mg
|
Sugar:
17
g
|
Calcium:
1
mg
|
Iron:
0.01
mg