To make a Snow White Coconut Layer Cake I doused my super-popular Velvety Soft White Cake with plenty of coconut rum syrup. The cake is filled and iced with a special coconut-rum frosting. This cake is as delicious as it is pretty.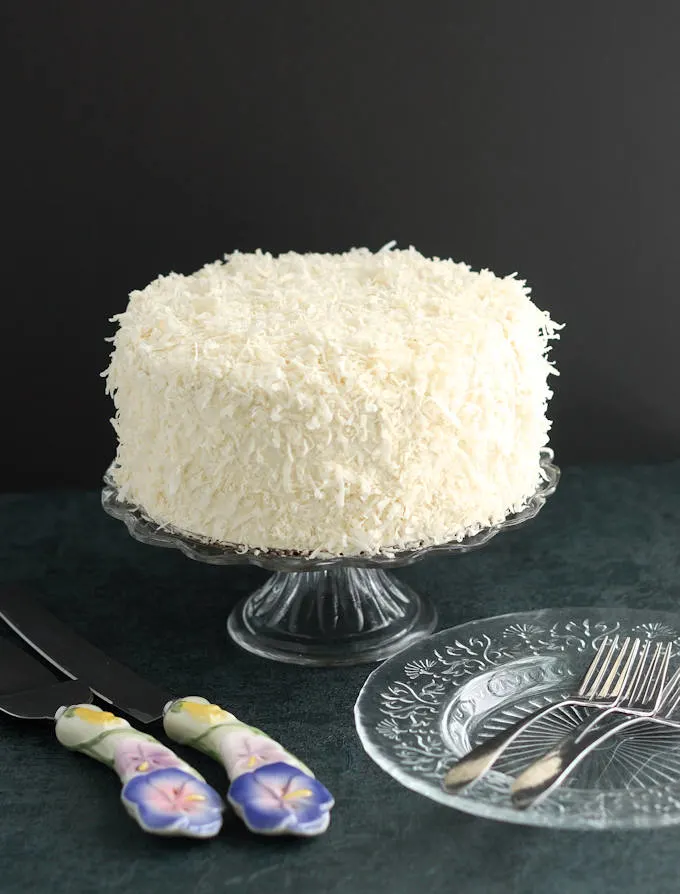 I posted a recipe for Dreamy Coconut Cake the very first year I was blogging. I still love the pairing of coconut cream cheese frosting and tangy passion fruit curd. It's a delicious flavor combination that I also used to make Coconut Macaroon Easter Eggs.
I was considering updating the fairly awful photos in the Dreamy Coconut Cake post, but, ya know, I just felt like creating an old fashioned Coconut Cake recipe. This time I decided to use my Velvety Soft White Cake as the base for a white coconut cake.
How to turn White Cake into White Coconut Cake:
To get coconut flavor into the cake without changing the velvety texture, I added coconut milk to the syrup. When the syrup is brushed onto the layers it infuses the cake with a delicious coconut/rum flavor.
I don't put shredded coconut into the cake batter or between the layers because I don't like the texture inside the cake.
If you want more shredded coconut you can sprinkle some on each layer as you build the cake.
Of course a little (optional) rum make everything taste better. (Remember, alcohol enhances other flavors!)
I found a bottle of Coconut Rum in the back of the liquor cabinet. I bought it years ago for a specific recipe and appreciated the opportunity to use it up, since no one in the house is going to drink it. Frankly, I like the flavor of dark rum better. You can use whichever rum you prefer, or none at all.
Coconut ermine frosting is the perfect filling for white coconut layer cake :
Instead of pairing the cake with cream cheese frosting, I made a version of Ermine Frosting.
Ermine frosting is an old fashioned recipe that I've recently rediscovered. Ermine frosting is not as buttery as Italian Meringue Buttercream, and not as sweet as American Buttercream.
The frosting starts with a pudding base. Then you add that base to whipped butter. For plenty of coconutty flavor, I used coconut milk for the pudding base.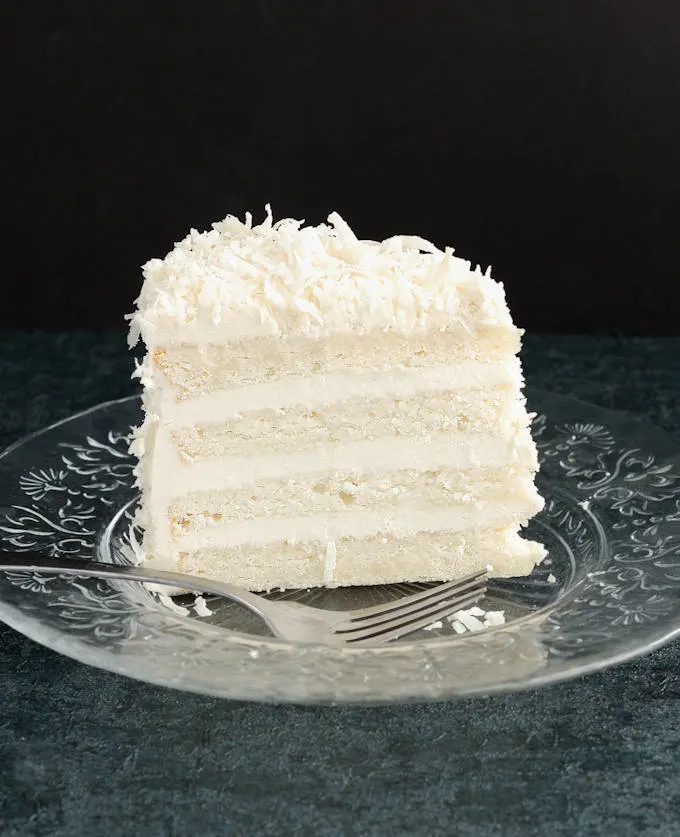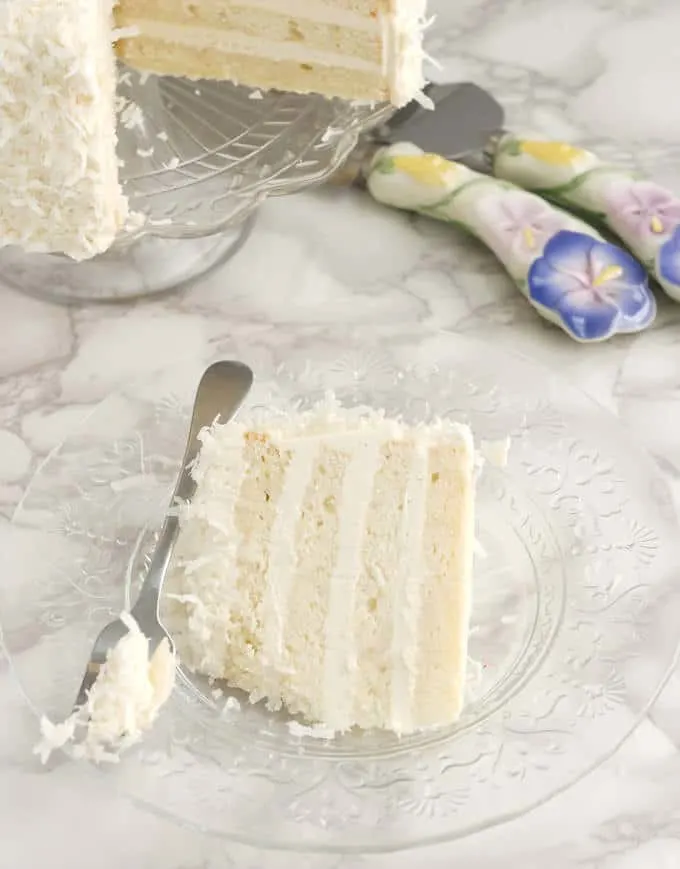 With the white cake, layers of white frosting and a coating of white coconut flakes, a slice of this snow white cake is very striking to see.
Now that you've made this recipe what should you do with the extra yolks? Check out this collection of recipes that use extra yolks for some great ideas.
You might also enjoy this Pina Colada Cake or Pina Colada Pie.
If you love this recipe as much as I do, please consider giving it 5 stars.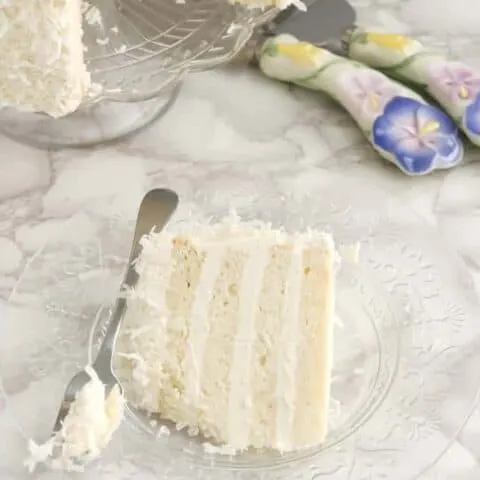 Snow White Coconut Cake
Total Time:
1 hour
35 minutes
Velvety white cake is flavored with plenty of coconut rum syrup and is filled and iced with creamy coconut-rum frosting. This cake is as delicious as it is pretty.
Ingredients
One 7 oz package (196g) sweetened coconut flakes
Coconut Rum Syrup
1/3 cup (3 oz, 84g) granulated sugar
1/2 cup (4 oz, 130 ml) water
2 tablespoons (1 oz, 30 ml) dark rum or coconut rum (optional)
1/4 cup (4oz, 112g) coconut milk
Coconut Rum Frosting
½ cup (2.5 oz, 70g) all purpose flour
1 ½ cups (12 oz, 336g) sugar
¼ teaspoon salt
1 ½ cups (12 oz, 360 ml) coconut milk
1 tablespoon vanilla extract
2 tablespoons (1 oz, 30 ml) dark rum or coconut rum (optional)
1 ½ cups (12 oz, 336g) unsalted butter, room temperature
Instructions
Syrup
Combine the sugar and water in a small saucepan and heat over medium high heat until all the sugar is dissolved. Remove the syrup from the heat. Add the rum and coconut milk and cool to room temperature. The syrup can be made several days ahead and refrigerated
Make the frosting
Combine the flour, sugar and salt in a small saucepan, whisk to combine. Slowly whisk in the coconut milk until smooth. Heat the mixture over medium low, whisking constantly, until it begins to boil.
Continue to cook and stir for 2-3 minutes until it thickens to a pudding-like texture. Immediately remove from the heat. Transfer to a small bowl, stir in the vanilla and the rum, cool to room temperature.
Cream the butter until light and fluffy. Add the pudding, a tablespoon at a time, until completely incorporated. Switch to the whisk attachment and whip the buttercream until it's light and fluffy.
Assembly
Trim the browned edges and slice off the domed top of each cake layer. Split each cake in half horizontally so you have 4 layers.
Set aside one half of the frosting for icing the cake, use the rest of the frosting for filling the cake.
Place the first cake layer on the serving platter and brush generously with the coconut-rum syrup. Scoop 1/3 of the filling onto the layer and spread evenly. Repeat with the syrup and filling for the next 2 layers. Place the last layer on the cake and brush with syrup.
Use the reserved frosting to ice the cake with a thin "crumb coat", then refrigerate until firm. Use the remaining icing to frost the top and sides of the cake. Coat the entire top and sides of the cake with the coconut flakes.
Serve at room temperature. Leftovers should be refrigerated.
Notes
The cake should be stored in the refrigerator. Take it out 1-2 hours before serving so it can come to room temperature before serving.
Recommended Products
As an Amazon Associate and member of other affiliate programs, I earn from qualifying purchases.