To make a Snow White Coconut Layer Cake I doused my super-popular Velvety Soft White Cake with plenty of coconut rum syrup. The cake is filled and iced with a special coconut-rum frosting. This cake is as delicious as it is pretty.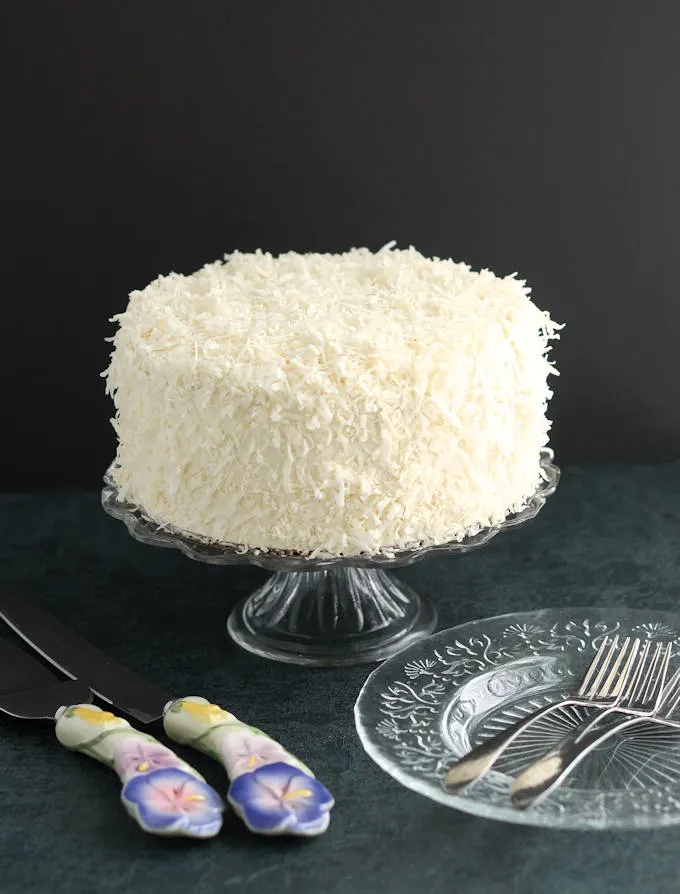 I posted a recipe for Dreamy Coconut Cake the very first year I was blogging. I still love the pairing of coconut cream cheese frosting and tangy passion fruit curd. It's a delicious flavor combination that I also used to make Coconut Macaroon Easter Eggs.
I was considering updating the fairly awful photos in the Dreamy Coconut Cake post, but, ya know, I just felt like creating an old fashioned Coconut Cake recipe. This time I decided to use my Velvety Soft White Cake as the base for a white coconut cake.
How to turn White Cake into White Coconut Cake:
To get coconut flavor into the cake without changing the velvety texture, I added coconut milk to the syrup. When the syrup is brushed onto the layers it infuses the cake with a delicious coconut/rum flavor.
I don't put shredded coconut into the cake batter or between the layers because I don't like the texture inside the cake.
If you want more shredded coconut you can sprinkle some on each layer as you build the cake.
Of course a little (optional) rum make everything taste better. (Remember, alcohol enhances other flavors!)
I found a bottle of Coconut Rum in the back of the liquor cabinet. I bought it years ago for a specific recipe and appreciated the opportunity to use it up, since no one in the house is going to drink it. Frankly, I like the flavor of dark rum better. You can use whichever rum you prefer, or none at all.
Coconut ermine frosting is the perfect filling for white coconut layer cake :
Instead of pairing the cake with cream cheese frosting, I made a version of Ermine Frosting.
Ermine frosting is an old fashioned recipe that I've recently rediscovered. Ermine frosting is not as buttery as Italian Meringue Buttercream, and not as sweet as American Buttercream.
The frosting starts with a pudding base. Then you add that base to whipped butter. For plenty of coconutty flavor, I used coconut milk for the pudding base.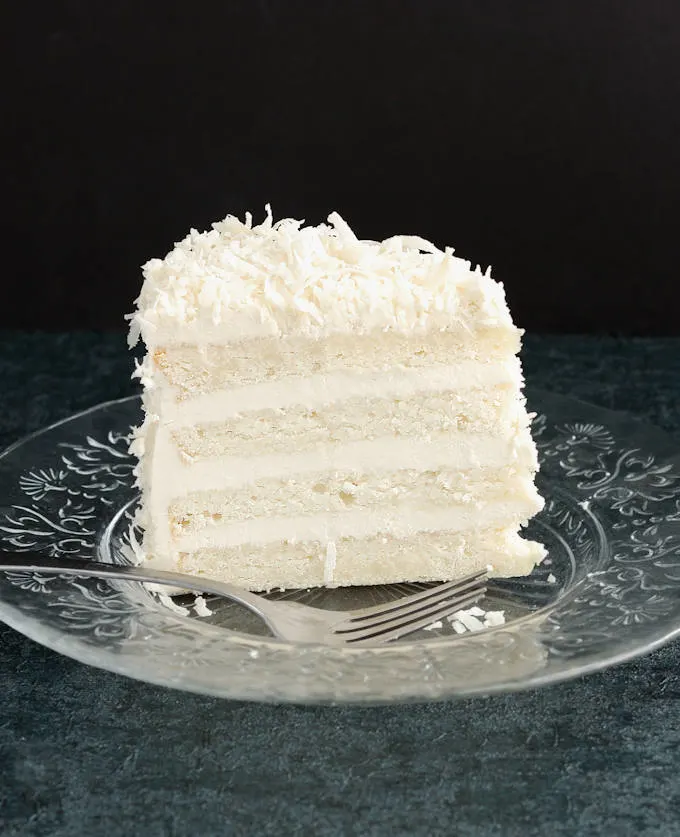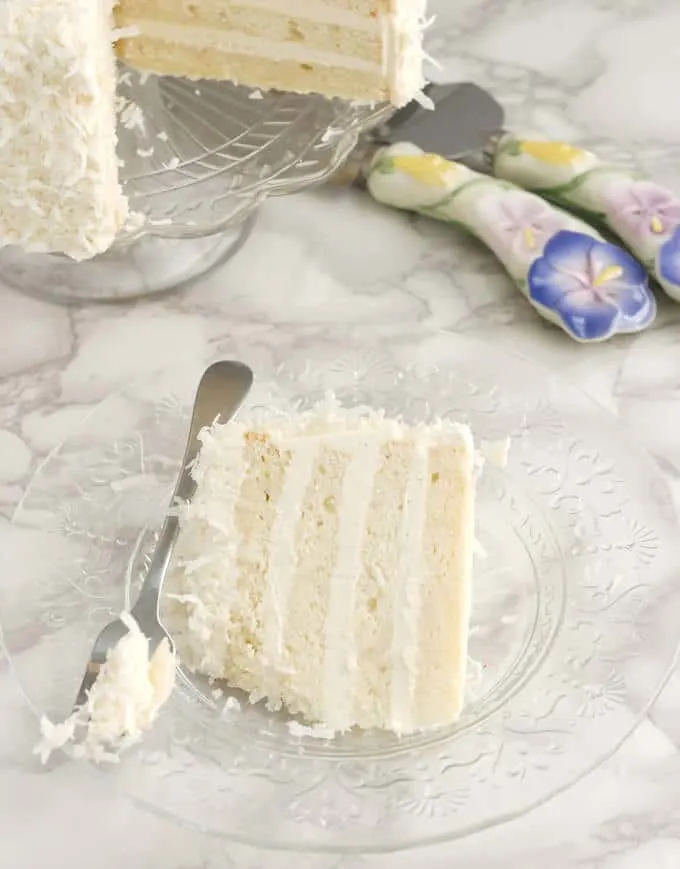 With the white cake, layers of white frosting and a coating of white coconut flakes, a slice of this snow white cake is very striking to see.
Now that you've made this recipe what should you do with the extra yolks? Check out this collection of recipes that use extra yolks for some great ideas.
If you love this recipe as much as I do, please consider giving it 5 stars.
You might also like: