Four Grain English Muffins couldn't be easier to make. Hearty & wholesome, they're great for breakfast, brunch or lunch. Make them ahead and freeze for later!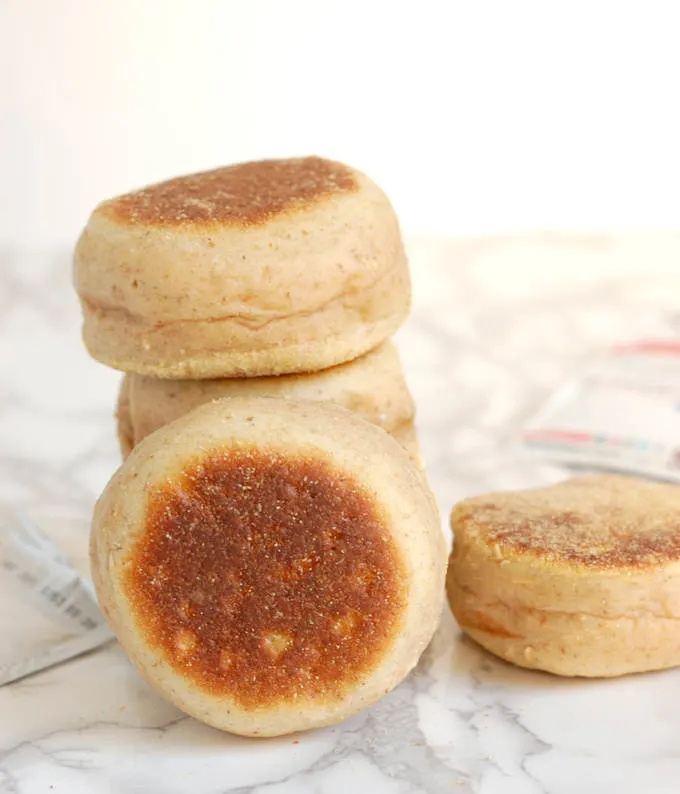 I'm so happy to be working with the folks from Red Star Yeast for this recipe post. I'm a big fan of their products and I love the recipes on their website. When I was asked to re-create one of their signature recipes, I was immediately drawn to these Four Grain English Muffins. I really like the healthy mixed of grains in the recipe.
If you've never made English Muffins at home, I think you'll be surprised at how simple this recipe is. The dough is mixed in one bowl and rises for just an hour. Rather than baking in the oven, Four Grain English Muffins are "baked" on a stove-top pan or griddle.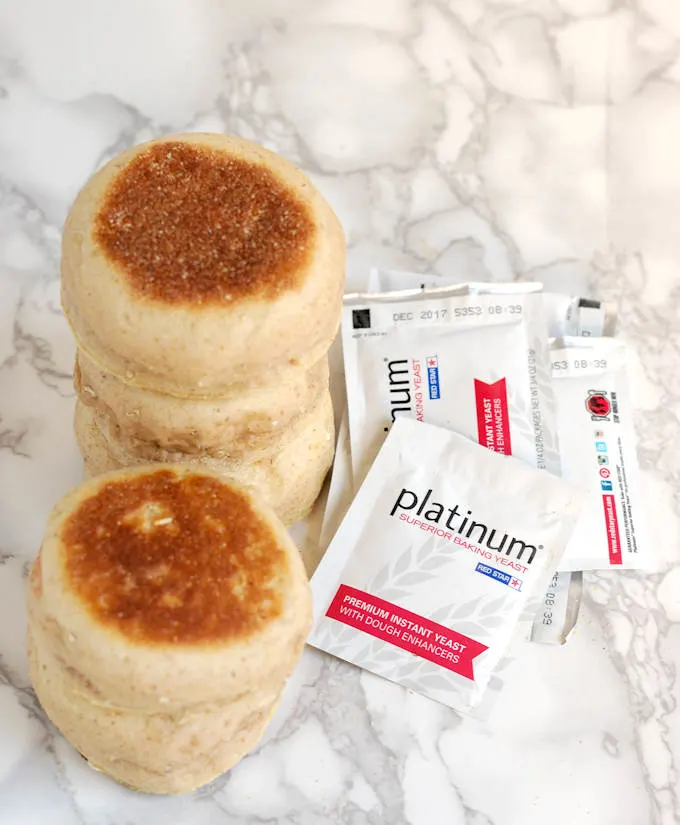 Do you love to make whole grain and multi-grain breads as much as I do? I prefer the kind-of rough texture and chewy bite of a whole grain bread. On the other hand, have you had a whole grain loaf that you could probably use as a door-stop? I thought so.
Technically speaking (hello my fellow baking geeks), the problem with whole grains is that the little "shards" and "chunks" that make whole grain bread pleasant to eat can break the strands of gluten in the dough, weakening the gluten network. A weak gluten network isn't strong enough to hold in all those little air bubbles created by the yeast, and can't support the weight of the bread. The result is a dense and heavy loaf.
I was lucky enough to receive a few packets of Red Star Platinum yeast to play with. Red Star Platinum Yeast contains dough enhancers, which strengthen the dough and make the yeast more active. A stronger dough will give you a better "oven spring" because the stable gluten network will hold in the air bubbles better.
Look at the "how-to" photos in the slider below to see how nicely the muffins poof-up on the griddle, despite the oats, wheat germ, whole wheat and oil in the recipe.
Click through the slider to see how to make Four Grain English Muffins:
[metaslider id=9197]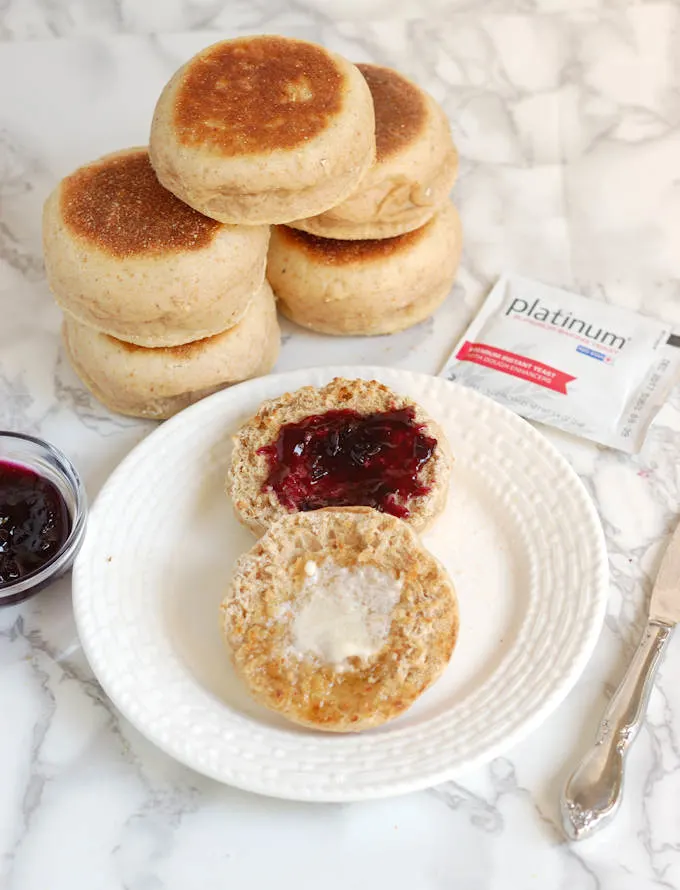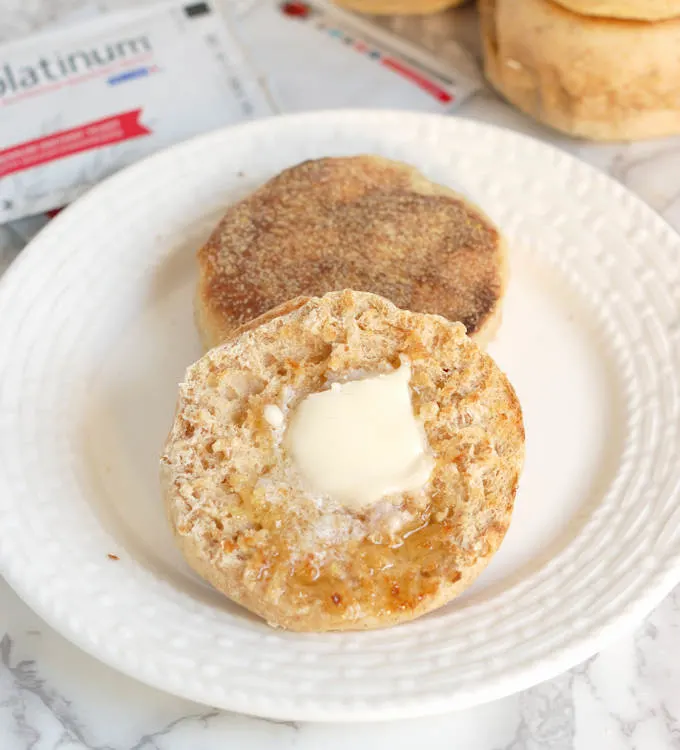 I love that these muffins are a little thicker than packaged muffins. I baked the muffins in the afternoon and enjoyed them for breakfast the next morning. They split easily with a fork and toast up with the iconic "nooks and crannies" to hold all that yummy butter & jam. I got 16 muffins from the recipe, which is great because they freeze beautifully.
You can find the full recipe on the Red Star Yeast website.
To find more recipes and baking inspiration, check out Red Star Yeast on Instagram , Facebook, Twitter, Google Plus and Pinterest!
Disclosure: I was financially compensated for this post. The opinions are completely my own based on my experience. Thanks for supporting the brands and companies that make it possible for me to continue creating great recipes for you.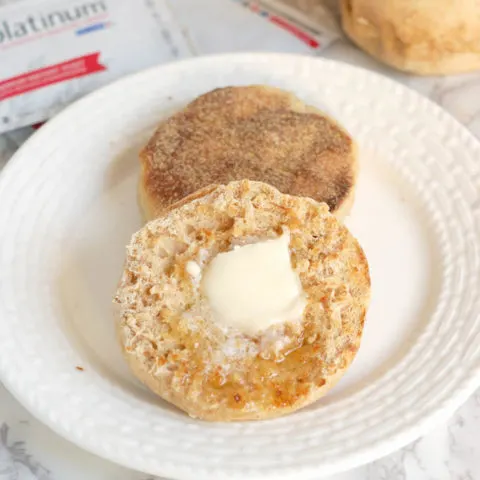 Four Grain English Muffins
Prep Time:
1 hour
30 minutes
Total Time:
1 hour
45 minutes
A hearty & healthy English Muffin made with 4 grains.
Ingredients
4 to 4 1/2 cups all-purpose flour
1 package RED STAR Platinum Superior Baking Yeast
1/2 cup whole wheat flour
1/2 cup wheat germ
1/2 cup quick rolled oats
1 cup nonfat dry milk solids
3 Tbsp sugar
2 Tsp salt
2 cups very warm tap water
1/4 cup vegetable oil
1/4 cup cornmeal
Instructions
Visit the Red Star Website for the full recipe.