Mmm…. Brandy-Aged Fruitcake! Yes, I said fruitcake! Ha, ha, very funny. When you're done with the fruitcake jokes let's talk about this truly delicious and traditional recipe. Ready?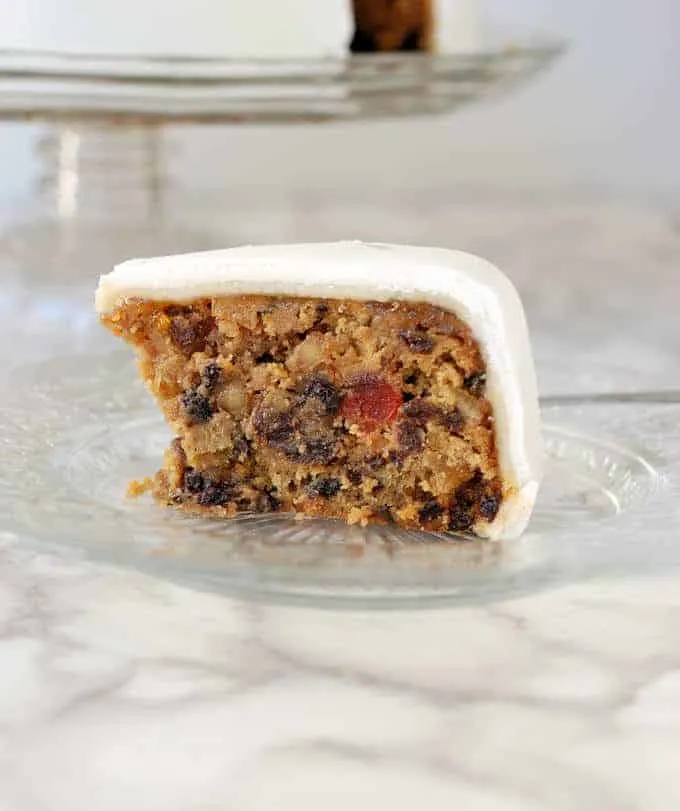 Ok, ok, one more joke and then we move on. Here's my favorite "funny" fruitcake recipe. Read through the steps of the recipe for a good laugh.
Christmas Whiskey Cake
1 cup butter
2 cups sugar
6 large eggs
2 teaspoons baking powder
3 cups flour, sifted
1/2 t. salt
1 cup bourbon
1 pound pecans, chopped
3 cups white raisins (or use candied fruit)
1 t. nutmeg
AND
~ a very large bottle of bourbon whiskey ~
First, sample the whiskey to check for quality.
Assemble all of the ingredients. Check the whiskey again.
To be sure it is of the highest quality, pour one level cup and drink.
Repeat this step.
Turn on the electric mixer and beat one cup of butter in a large fluffy bowl.
Add one teaspoon of sugar and cream until beat.
Make sure the whiskey is still okay… try another cup.
Turn off the mixer. Beat six leggs and add to the bowl, then chunk in the cup of dried flut. Mix on the tuner.
Throw in two quarts of flour. Gradually pour in the cow.
Add 2 dried anything.
If the fried druit gets struck in the beaters, pry it loose with
a drewscriver. Sample the whiskey and check it again for tonsistency.
Next, sift two cups of salt. Or something. Whatever.
Check the whiskey again.
Now sift the nutmeg and strain your nuts. Add one table.
And the spoon. Of whiskee. Or something. Whatever you find left.
Grease the oven.
Turn the crake pan to 350 degrees. Don't forget to pour the oven into the batter. Throw the bowl out the window.
Lick the batter off the floor.
Bake 300 minutes at 50 degrees.
Finish the blobble of whishy and flow to bed.
Ok, NOW can we talk seriously about fruitcake? I truly love this recipe and I'm on a mission to change as many American minds about fruitcake as I can.
I get it, really. The fruitcakes that you find in the grocery and the big box stores are gross. I don't know what the green things are in those cakes, and I'm pretty sure I don't want to know. I'm not surprised so many Americans think they hate fruitcake, even if they've never tasted it.
I didn't grow up eating fruitcake. But my mom is from Ireland and did grow up eating it.
The first Christmas after I graduated from pastry school she asked me if I could make a good fruitcake. I did some research and found a recipe for a traditional aged-fruitcake. It took a couple of years and a few suggestions from mom to get to this recipe that I've been making for over 20 years now.
I will make one stipulation up front. The "funny" fruitcake recipe not withstanding, a real, well-aged fruitcake does have quite a bit of liquor in it.
The liquor not only softens the fruit part of the fruitcake, it also softens and mellows the cake part of the fruitcake. Although I usually try to give alternative options to liquor as an ingredient, I can't really offer a substitute for the liquor in this recipe. Sorry, it's just too integral to the flavor of the cake.
As the name Brand-Aged Fruitcake, implies, this recipe needs to be made several weeks, or even several months, before you want to serve it. I usually bake my fruitcakes by mid-October so they're well-aged by Christmas. My husband likes to say that the cake is ready if his tongue tingles a little when he takes a bite. Am I scaring you yet? No? Ok, great…
How about we make this recipe together? I'll update this post closer to Christmas to show how I decorate and finish my cakes. I always decorate my fruitcakes because I give them out as gifts and the decorated cake makes a nice centerpiece for the table.
Since I'll never waste an opportunity to eat marzipan, I finish my cakes with a layer of marzipan and a layer of fondant.
But you don't need to decorate the cakes at all. Fruitcake can certainly be served without any icing or marzipan. **UPDATE** See the photos and video below showing the decorated fruitcake.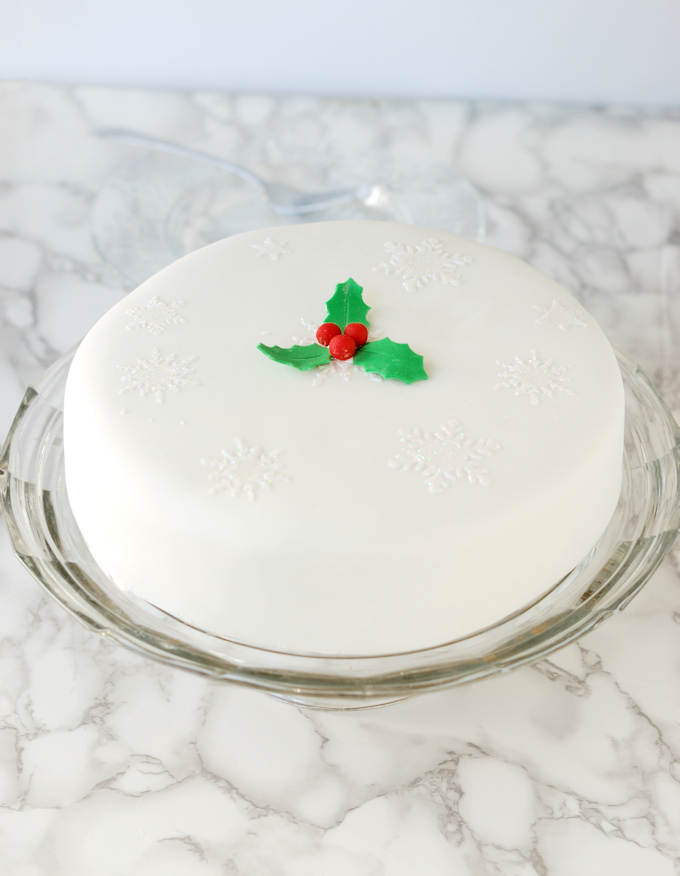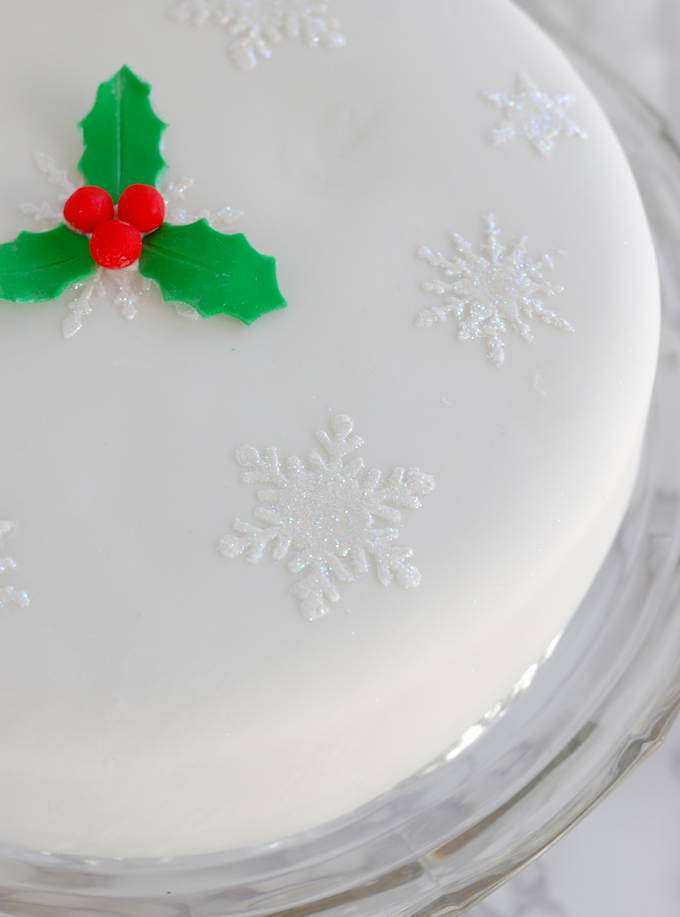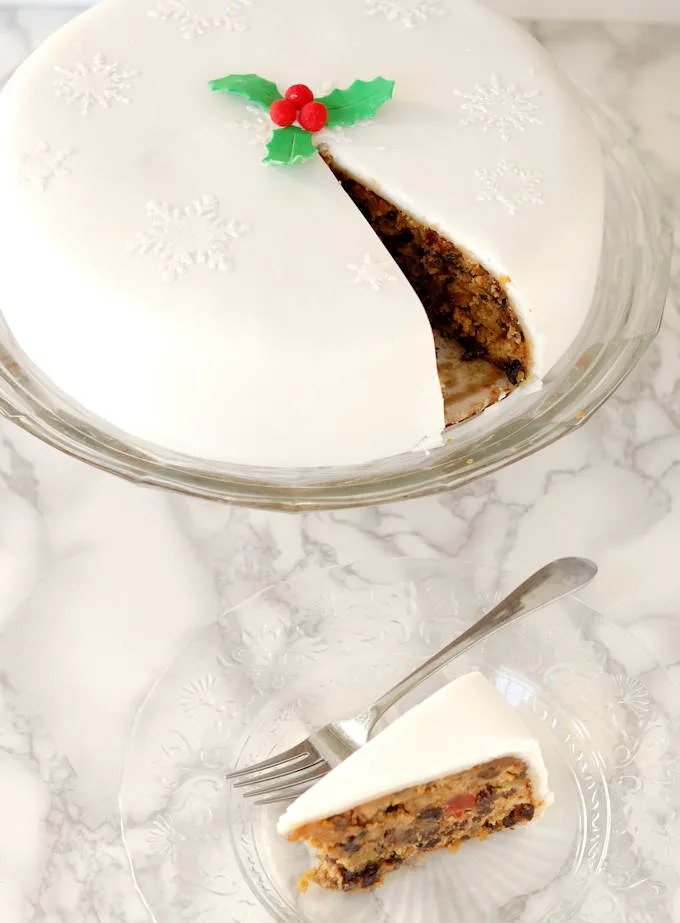 Watch the recipe video to see how to make and decorate a Brandy Aged Fruitcake.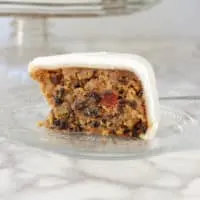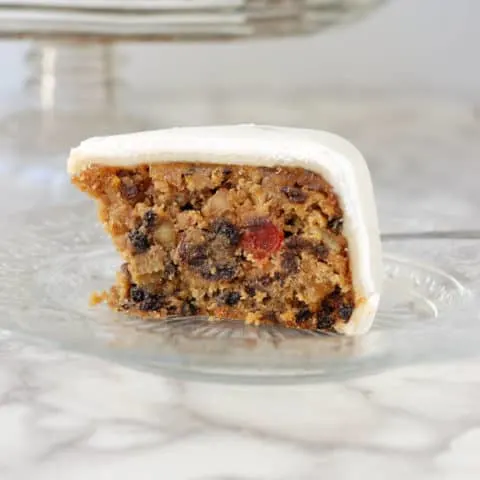 Brandy-Aged Fruitcake
Total Time:
13 hours
25 minutes
Traditional Aged Fruitcake with dried fruits, spice and lots of brandy. This cake should be made at least 4 weeks before serving and can be made 3-4 months ahead of time. Serve unadorned or with the marzipan and fondant to finish.
Ingredients
1/2 cup (1.5 oz, 45g) almonds, coarsely ground
1 cup (85g) 3 oz walnuts, chopped
2 1/4 cups (12 oz, 340g) dark raisins
1 1/3 cups (8 oz, 235g) light raisins
1/3 cup( 3 oz, 85 g) candied orange peel
1/3cup (3 oz, 85g) candied cherries, chopped
1 cup (6 oz, 170g) currants
zest and juice from 1 lemon
2/3 cup (80 ml) brandy plus more for aging (see note)
1.5 cups (8 oz, 225g) all purpose flour
1.5 tsp baking powder
1 teaspoon cinnamon
1/2 tsp nutmeg
1/2 tsp ginger
1/2 tsp salt
3/4 cup (6 oz, 170g) unsalted butter
3/4 cup (6 oz, 170g) brown sugar
4 large eggs
Decoration
Instructions
Combine all the dried fruits and the nuts with the lemon zest and juice. Add the 2/3 cup of brandy and toss to coat the fruit and nuts with the liquor. Cover the bowl and let it sit overnight.
Preheat the oven to 350F. Line a 9 inch round cake pan with a parchment round. (see note)
Sift together the dry ingredients and set aside.
Cream the butter and sugar until aerated. Add the eggs, two at a time. Add the dry ingredients in 3 batches and mix until combined. Fold in soaked fruit and all the liquid.
Pour the batter into the prepared cake pan. Bake until a toothpick poked in the center of the cake comes out clean, about 55 minutes. As soon as the pan is removed from the oven pour 1/4 up of brandy over the top of the cake.
Cool the cake to room temperature before removing from the pan. Wrap the cake in two layers of plastic wrap and set aside at room temperature. Once a week for at least 4 weeks, unwrap the cake and generously brush with more brandy.
Finish the cake
Unwrap the cake. Glue the cake to a cardboard cake circle using a dab of royal icing, trim the cake cardboard to the same size as the cake. Place on another cardboard or serving plate. Ice the cake with apricot preserves.
Roll the marzipan to a 14" round and cover the cake, trim the marzipan flush with the bottom of the cake and board. Brush the marzipan with brandy. Roll the fondant to a 14" round and cover the cake, trim the fondant flush with the bottom of the cake and board.
Add dragees, stencils, glitter, holly leaves & berries, or other decorations as you like.
Notes
I like this cake best made with brandy. But you can use whiskey or rum instead.
This recipe will make one 9" round cake. You can also divide the batter between two 6" pans for smaller cakes.