Almond Filled Stollen is a traditional German/Austrian bread rich with butter, almond paste, candied fruit and a hint of rum.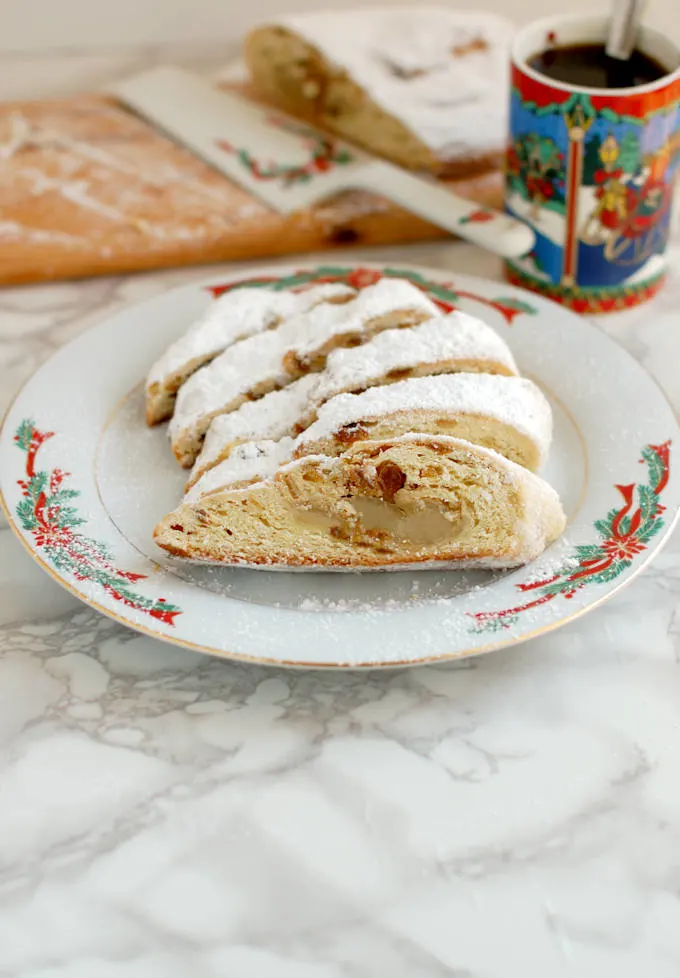 Whew, can you believe it took me almost 30 years to make this bread? Well, not the actual loaf you see in the photos, that only took a couple of hours. But the recipe for this bread was 30 years in the making.
As I've mentioned before, my first job out of pastry school was with a well-known and well-respected Austrian pastry chef. It was a year of very, very intense training and long hours, but I sure learned a lot.
I also collected some wonderful recipes that I use to this day. Well, I didn't just collect the recipes, I had to earn them. Whenever we made a recipe for the first time we were expected to write down the ingredients and all the steps in our personal recipe book. The chef actually reviewed our books from time to time and made notes on the recipes. It really was an on-the-job learning experience.
Anyway, I worked at this bakery for one holiday season. We made stollen weeks before Christmas and set it aside to "ripen". I'd never tasted Almond Filled Stollen before and I was immediately obsessed. I thought it was one of the best things I'd ever eaten and I really, really wanted the recipe.
The only problem was, the chef made the dough before we came to work that morning. We never actually put together the ingredients or had the chance to record the recipe. Arg!
My friend Suzie was able to write down a list of ingredients for the Stollen. But it was not much to work with. You can see my cryptic 30-year-old note in the photo below.
This is all I had to work from to recreate the recipe. A random list of ingredients, scaled to produce dozen of loaves.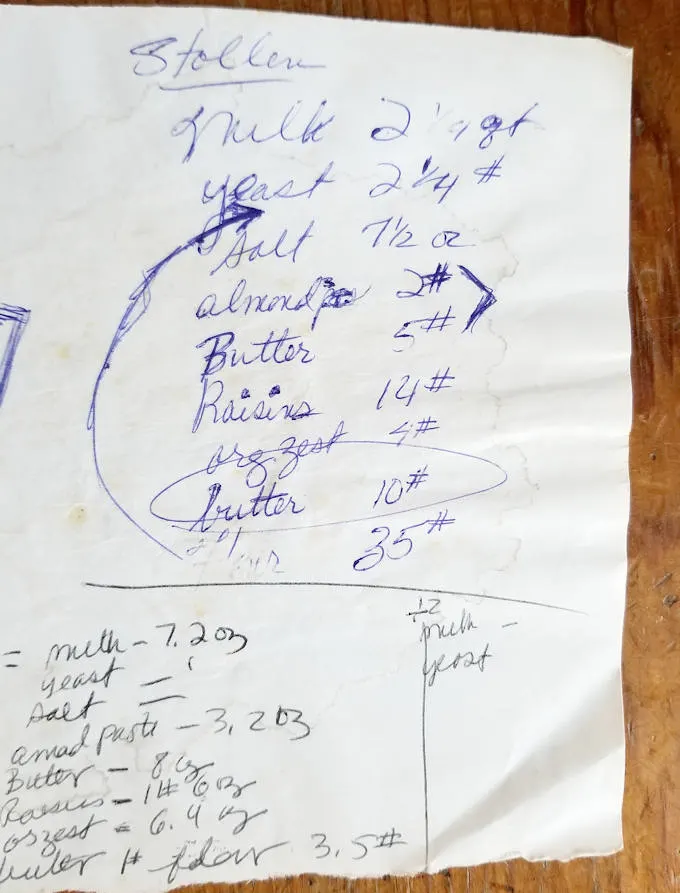 Well, Ok. This was my starting point. You can see why it took me 30 years to buckle-down and recreate the recipe.
I reviewed stollen recipes in my favorite books and on the web. After comparing them to "the random list" I had a pretty good working recipe.
I also had a few memories to work from. Most of the recipes I reviewed either had no filling or a marizpan filling. I remembered specifically that our bread was filled with a mixture of almond paste and butter. I just had to work out the percentages.
All the recipes I reviewed instruct the baker to brush the bread with butter after it comes out of the oven. I remembered that we dunked the entire loaf in melted butter. Yup, the entire loaf was, literally, bathed in butter! I knew I had to be very generous with the butter coating.
Finally, after aging the bread we brushed away the granulated sugar coating and sprinkled a thick layer of powdered sugar as the finishing touch. I would include these three steps in my stollen recipe.
After 30 years I was finally ready to bake Almond Filled Stollen. The very first test-loaves were really good and just got better over the course of a week. With just a few more tweaks I had my stollen recipe, finally!
I'm really happy with the result. I honestly can't say how close it is to the original, but at this point I don't think it really matters. What matters is, this is a good stollen recipe.
I think it was worth the wait and I hope you do to.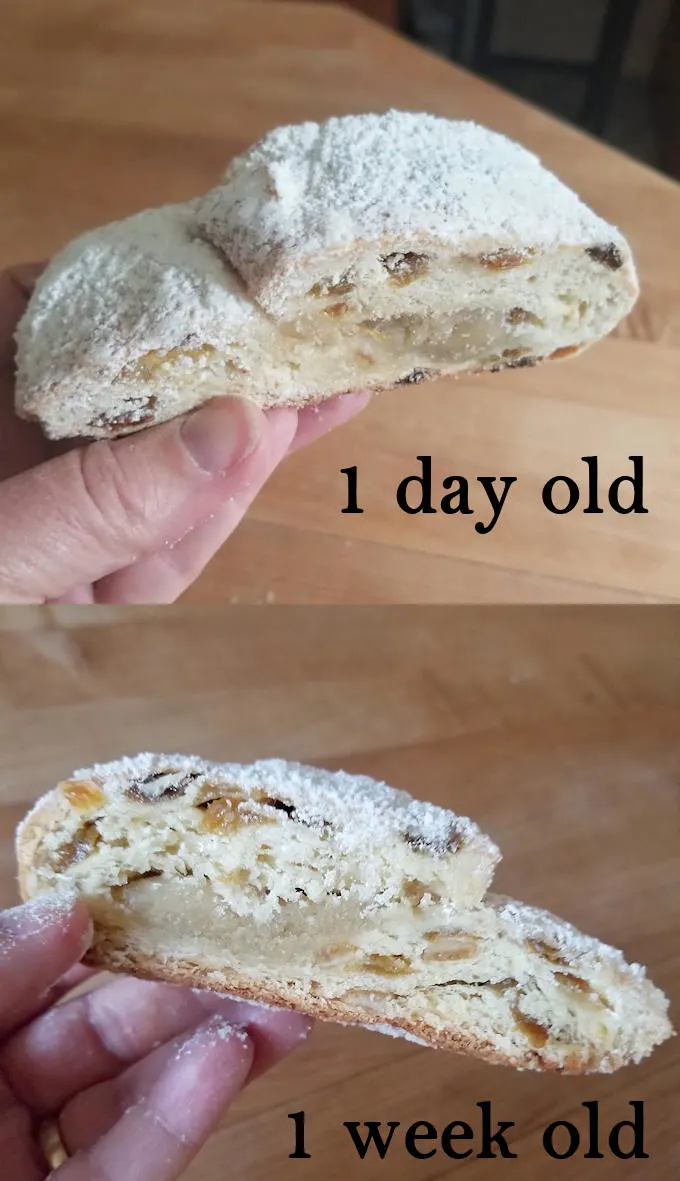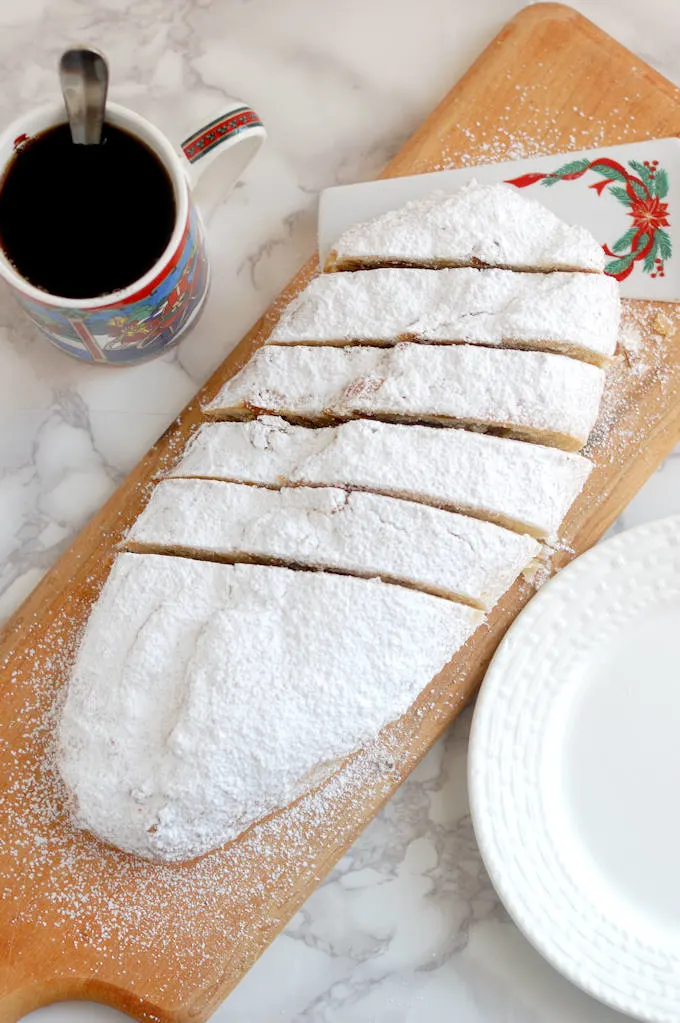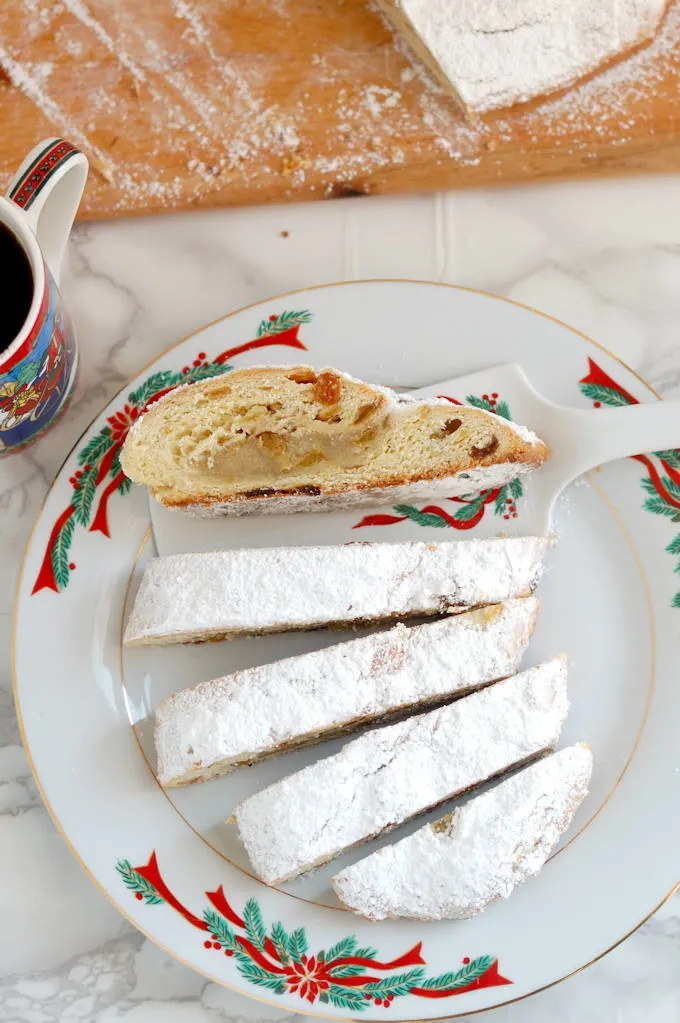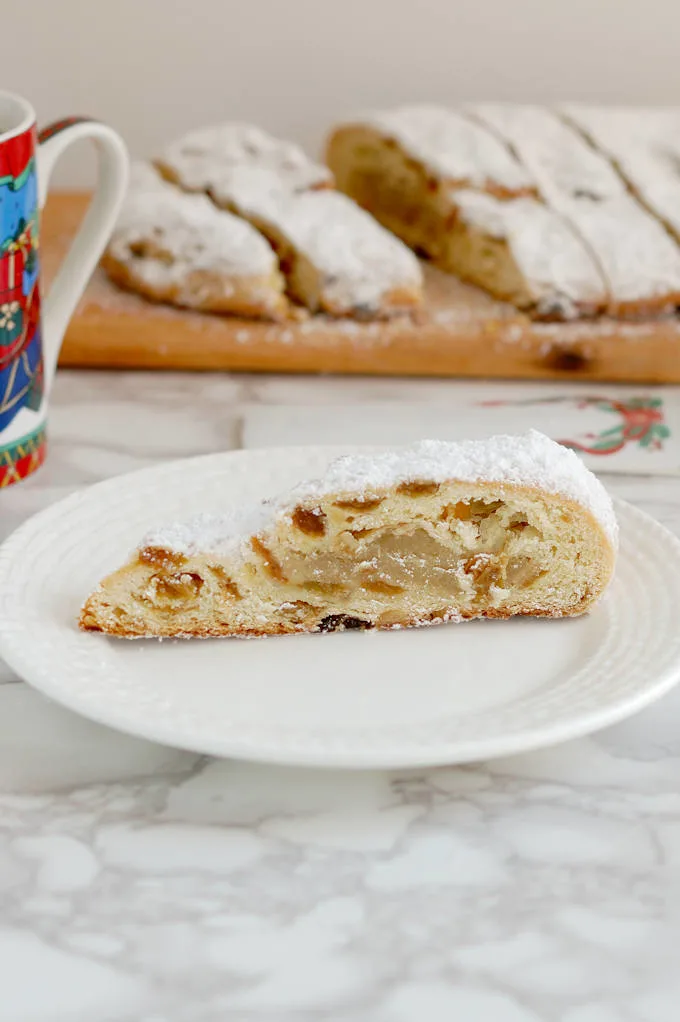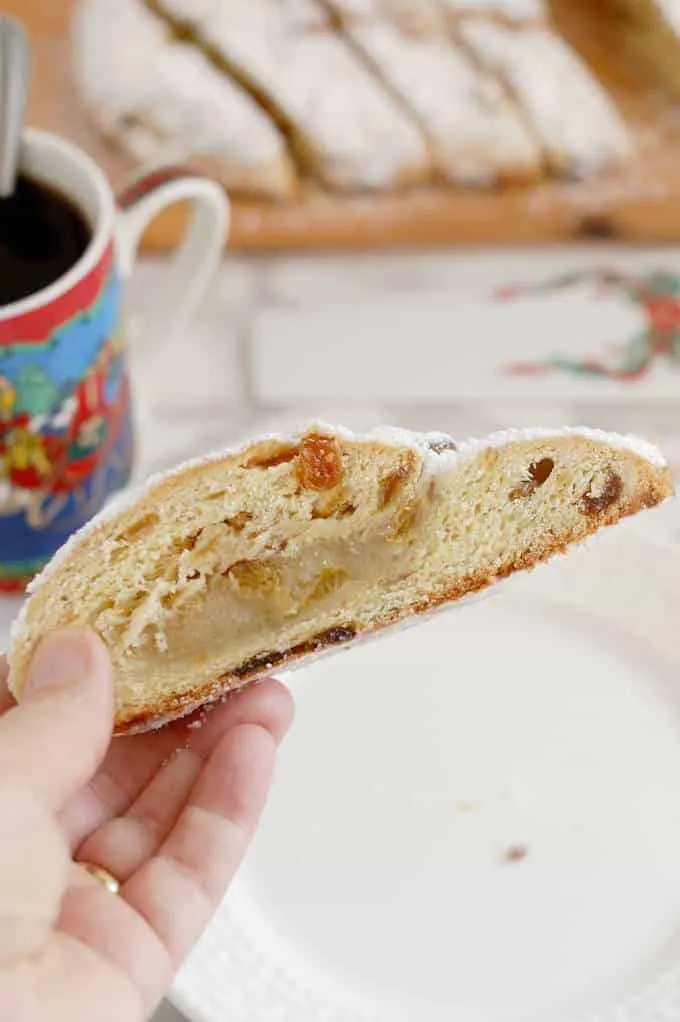 Watch the video to see how to make Almond Filled Stollen.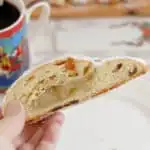 Print Recipe
Almond Filled Stollen
Almond Filled Stollen is a traditional German/Austrian bread rich with butter, almond paste, candied fruit and a hint of rum. Makes 2 large loaves.
Ingredients
Dough
6

oz

raisins

(1 cup)

4

oz

candied orange peel

(½ cup)

2

oz

dark rum

(¼cup)

4

oz

whole milk

(½ cup, scalded then cooled to

110

°F

.)

2 ¼

teaspoons

dry yeast

12 ½

oz

bread flour

(2 ½ cups)

2

oz

granulated sugar

(¼ cup)

1

teaspoon

table salt

6

oz

unsalted butter

(room temperature)

1

large egg

(room temperature)

1

teaspoon

vanilla extract

¼

teaspoon

almond extract
Topping
4

oz

unsalted butter

(melted)

8

oz

superfine sugar

(1 cup (see note))

4

oz

confectioner's sugar

(1 cup)
Instructions
In a small saucepan, combine

6 oz raisins

and

4 oz candied orange peel

with

2 oz dark rum

. Cook over medium heat, stirring constantly, for 2-3 minutes until most of the rum is absorbed. Transfer the fruit to a small bowl and set aside to cool.

Combine

4 oz whole milk

,

2 ¼ teaspoons dry yeast

and 1 cup (5 oz) of the flour in the bowl of a stand mixer or in a mixing bowl. Mix the ingredients to form a thick batter. Cover the bowl and set aside for 30 minutes.

With the mixer running on low, add

2 oz granulated sugar

and

1 teaspoon table salt

. Add

6 oz unsalted butter

a tablespoon at a time. Mix to incorporate completely. Add

1 large egg

,

1 teaspoon vanilla extract

¼ teaspoon almond extract

and 1/2 cup of flour.

Switch to the dough hook and add the remaining flour. The dough should gather on the hook and clear the sides of the bowl. Add a little more flour if the dough is still very sticky. If working by hand, add as much of the flour as you can mix by hand then turn the dough out onto a floured surface to finish kneading in the flour.

Knead the dough for 5 minutes until it is smooth and silky. Add the raisin mixture to the dough. Knead in a more flour if the dough becomes sticky after the raisins are added.

Place the dough into an oiled bowl, turning once to coat the dough. Cover the bowl and set aside to rise for 1½ hours.

While the dough rises, cream together

6 oz almond paste

and

2 oz unsalted butter

until it forms a smooth paste. Set aside at room temperature. Line a half sheet pan with parchment paper.

Turn the dough out onto a lightly floured surface and divide in half without kneading. Gently press one piece of dough into an 9" x 7" oval. Spread half the almond paste over the oval, leaving a 1" border around the edges. Fold the dough over the filling from the long side, leaving a 1" border along the front edge. You should end up with a 9" x 4" oval with a 1" border on the front edge. (see photos & video)

Repeat with the remaining dough and filling. Set the loaves on the parchment lined pan. Cover and set aside to rise for 1 hour. Preheat the oven to

325

°F

.

Bake the loaves until golden brown and the center registers 190°F, about 45 minutes.

Remove the loaves from the oven and cool 10 minutes. Generously brush the loaves on all sides

4 oz unsalted butter

(melted), then roll the loaves in

8 oz superfine sugar

. Set aside to cool completely.

Wrap the loaves tightly in a double layer of plastic wrap and store at room temperature to develop the flavor. The stollen can be eaten right away but I find it's best after 2-3 days and up to a week. When ready to serve, unwrap the loaf, wipe away the superfine sugar coating then generously sprinkle on all sides with confectioners sugar. For longer term storage place the wrapped loaves in the freezer.
As an Amazon Associate and member of other affiliate programs, I earn from qualifying purchases.
Notes
You can buy superfine sugar or you can process granulated sugar in a food processor to make your own superfine sugar.
Nutrition
Serving:
1
slice
|
Calories:
282
kcal
|
Carbohydrates:
40
g
|
Protein:
3
g
|
Fat:
14
g
|
Saturated Fat:
8
g
|
Polyunsaturated Fat:
1
g
|
Monounsaturated Fat:
4
g
|
Trans Fat:
0.5
g
|
Cholesterol:
38
mg
|
Sodium:
111
mg
|
Potassium:
115
mg
|
Fiber:
1
g
|
Sugar:
18
g
|
Vitamin A:
373
IU
|
Vitamin C:
0.4
mg
|
Calcium:
28
mg
|
Iron:
0.5
mg
C