Layers of silky brioche dough are filled with cocoa, cherries and almonds, then topped with cream cheese frosting. Chocolate Cherry Almond Brioche Buns are indulgent, but they're totally worth the work and calories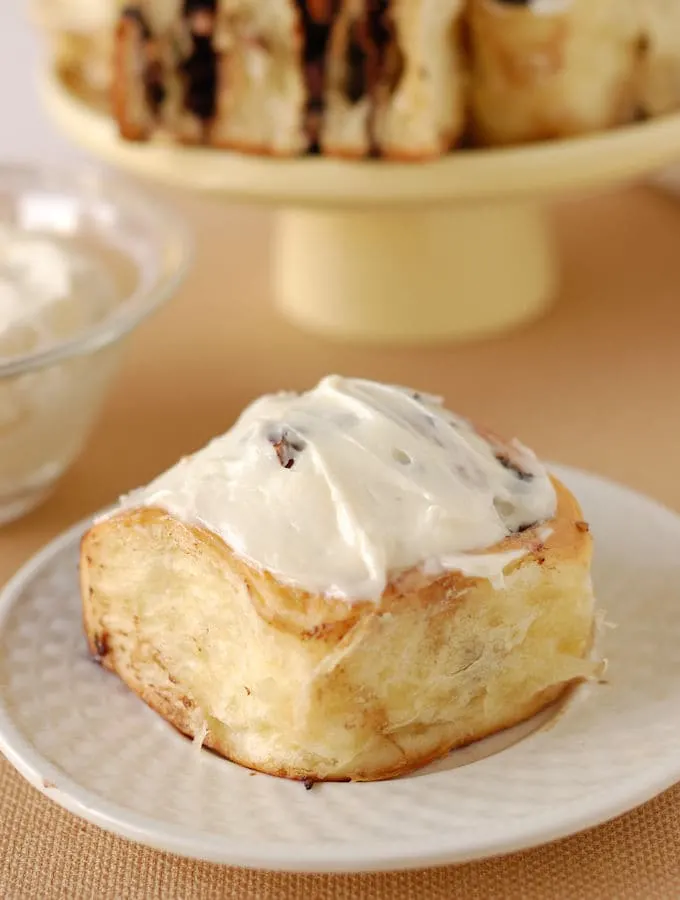 I knew I wanted to do a sweet bread based on a brioche dough, but had a bit of a time finding my way to making Chocolate Cherry Almond Brioche buns.
My first thought was to make chocolate brioche studded with dried cherries. I don't mean a brioche filled with chocolate, but a brioche with cocoa in the mix to create a chocolate dough.
My attempts were not bad, in fact the bread tasted good. The bread had a striking chocolate-brown color and great texture, but the flavor was deep, dark and a bit bitter. It was quite a nice bread, but didn't fit in with the "sweetened" theme.
I tried adding more sugar but it just was not working out as I had it in my head. I'll revisit that idea another time because I'm still intrigued, but not for today.
How to make Chocolate Brioche Buns:
I kept the chocolate element, but instead made a cocoa sugar that I rolled into the dough along with chopped dried cherries and chopped cocoa covered almonds. These Chocolate Cherry Almond Brioche Buns are a chocolatized version of cinnamon buns. How could that be a bad thing?
If you've never made brioche before here are a few pointers for success:
Knead for a full 10-15 minutes – kneading for a good 10 minutes before the butter is added allows the gluten to develop. Fat inhibits gluten formation, so you want a nice stretchy dough before adding the butter. Good gluten formation is key for a light texture. A strong gluten network allows the bread to rise fully and hold it's shape without collapsing under it's own weight.
Soften the butter to match the texture of the dough – Having the butter the same texture as the dough allows it to emulsify into the dough. This helps create the beautiful brioche texture.
Rest the dough before shaping – Giving the dough several hours in the refrigerator relaxes the dough and firms up the butter, making the dough easier to shape.
Scroll through the process photos to see detailed steps for making Chocolate Cherry Almond Brioche Buns.
If you love this recipe as much as I do, I'd really appreciate a 5-star review.
You might also like: