Hot Cross Buns are traditionally served on Good Friday. I love the warm and fragrant combination of spices and dried fruit in this recipe. Finish the pretty buns with the cross cut into the top.
I worked in a British Tea Shop for about 7 years. Of course I made dozens of scones and all sorts of petit fours and pretty little tea cakes. At Christmas time I made traditional aged fruitcakes, and for Good Friday and Easter we made Hot Cross Buns. Warm and fragrant with cinnamon and cloves, the Hot Cross Buns sold like, well, they sold like hotcakes.
Hot Cross Buns are traditionally served on Good Friday
I had always seen Hot Cross Buns decorated with a royal icing cross piped on top. When I was working at the tea shop I found a recipe in a British cookbook which had the cross cut into the bun before baking and then the warm-from-the-oven buns were brushed with a sweet glaze.
I love the buns done this way. Of course you could pipe a royal icing cross on top of the glaze if you'd like.
For this recipe I used 1/2 raisins and 1/2 chopped dates. You can use any type of dried fruit but I find the dates particularly nice with the clove and other spices.
Click through the step-by-step photos to see how to make Hot Cross Buns:
How to make Hot Cross Buns overnight:
If you want to have the buns for breakfast you can make the dough the evening before.
After mixing the dough, let it rise once and then form the buns. The formed buns can be refrigerated overnight.
Take them out early in the morning and they'll need about 1.5 to 2 hrs to rise before baking.
I think it's worth getting up a little early to have the buns hot from the oven for breakfast. If you're like me and not particularly fond of getting up early you can set the alarm, take the buns out of the refrigerator, then go back to bed for an hour or so before getting up to preheat the oven.
According to folklore, when you share a hot cross bun with another your friendship will be ensured throughout the coming year. But you've got to say "Half for you and half for me, Between us two shall goodwill be" while sharing the bun.
Friendship is a perfect excuse to whip up a batch of these tasty little morsels and share them with the people you love.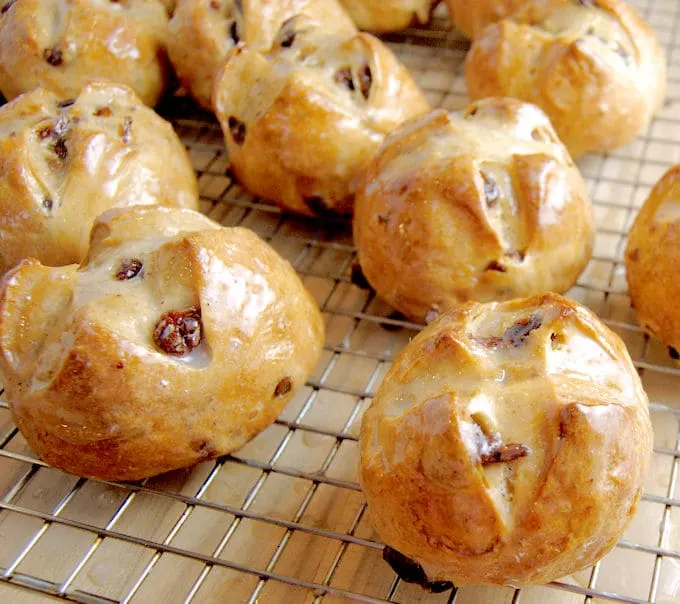 If you love this recipe as much as I do, please consider giving it a 5-star review:
Hot Cross Buns
Total Time:
4 hours
20 minutes
Hot Cross Buns are traditionally served on Good Friday. Warm and fragrant with cinnamon and cloves, they're so good they shouldn't be reserved for just one day a year.
Ingredients
Buns
1/4 cup (2 oz, 56g) granulated sugar
1/4 cup (2 oz, 56g) butter, melted
1 large egg, room temperature
1 cup (8 oz, 240ml) warm milk (110°F)
4 cups (20 oz, 560g) all purpose flour, divided in 1/2
1 package (2 1/4 teaspoons, 7g) active-dry yeast
1 teaspoon table salt
1/2 teaspoon ground cloves
1/2 teaspoon ground nutmeg
1 teaspoon ground cinnamon
1/2 cup (2oz, 56g) dark raisins
1/2 cup (2 oz, 26g) chopped dried dates
1/4 cup (2 oz, 56g) melted butter for brushing
Glaze
1/4 cup (2 oz, 56g) granulated sugar
1/4 cup (2 oz, 60 ml) milk
1/4 cup (2 oz, 60 ml) water
Instructions
In a small mixing bowl combine the sugar, melted butter, egg and warm milk and mix until combined. Set aside.
In a mixer bowl combine 1/2 the flour with the yeast, salt and spices. Mix to combine. With the mixer on low, slowly add the milk mixture to the flour mixture. Turn the speed to medium and run for 2 minutes. Add the raisins and dates. Blend on low.
If using a stand mixer, change to the dough hook and add the additional flour a 1/2 cup at a time. If working by hand add as much flour as you can by hand then turn the dough out onto a lightly floured surface to add the remaining flour.
The dough should be soft and elastic and will clear the sides of the bowl if mixing with the dough hook. Take the dough off the mixer and knead on a lightly floured surface to make a smooth ball. Place the dough in an oiled bowl and turn once to grease the surface. Cover with plastic wrap and leave at room temp to rise until doubled in size (about 1 1/2 hours).
Line a baking sheet with parchment paper or a silicone baking mat.
Turn the dough onto a floured surface and knead until it forms a smooth ball. Divide the dough into 16 equal portions. Using your cupped hand, roll each piece of dough around in a circle form a ball.
Place the buns on the prepared baking sheet, spaced 2" apart. Brush the buns with melted butter. At this point the buns can be covered with plastic wrap and refrigerated overnight. If baking the same day allow the buns to rise for about an hour until doubled in volume. If baking the next day, remove the tray from the refrigerator and allow the buns to rise at room temperature until doubled in volume (about 1.5 to 2 hours). While the buns rise, make the glaze. Preheat the oven to 375°F.
To make the glaze, combine the sugar, water and milk in a small saucepan and cook over medium heat until all the sugar melts and the glaze has thickened just a bit. Place a lid on the pan to keep warm until the buns are ready to be glazed.
Using a sharp knife or single edge razor, score the top of each bun with a cross shape. Bake until golden brown. About 20 minutes.
Remover the buns from the oven and immediately brush with a layer of the glaze. After all the buns are glazed once, go back and glaze them all a second time.
If you'd like, you can pipe a cross shape on the buns using royal icing. Enjoy the buns warm.
Recommended Products
As an Amazon Associate and member of other affiliate programs, I earn from qualifying purchases.