Hot Cross Buns are traditionally served on Good Friday. I love the warm and fragrant combination of spices and dried fruit in this recipe. Finish the pretty buns with the cross cut into the top.
I worked in a British Tea Shop for about 7 years. Of course I made dozens of scones and all sorts of petit fours and pretty little tea cakes. At Christmas time I made traditional aged fruitcakes, and for Good Friday and Easter we made Hot Cross Buns. Warm and fragrant with cinnamon and cloves, the Hot Cross Buns sold like, well, they sold like hotcakes.
Hot Cross Buns are traditionally served on Good Friday
I had always seen Hot Cross Buns decorated with a royal icing cross piped on top. When I was working at the tea shop I found a recipe in a British cookbook which had the cross cut into the bun before baking and then the warm-from-the-oven buns were brushed with a sweet glaze.
I love the buns done this way. Of course you could pipe a royal icing cross on top of the glaze if you'd like.
For this recipe I used 1/2 raisins and 1/2 chopped dates. You can use any type of dried fruit but I find the dates particularly nice with the clove and other spices.
Click through the step-by-step photos to see how to make Hot Cross Buns:
How to make Hot Cross Buns overnight:
If you want to have the buns for breakfast you can make the dough the evening before.
After mixing the dough, let it rise once and then form the buns. The formed buns can be refrigerated overnight.
Take them out early in the morning and they'll need about 1.5 to 2 hrs to rise before baking.
I think it's worth getting up a little early to have the buns hot from the oven for breakfast. If you're like me and not particularly fond of getting up early you can set the alarm, take the buns out of the refrigerator, then go back to bed for an hour or so before getting up to preheat the oven.
According to folklore, when you share a hot cross bun with another your friendship will be ensured throughout the coming year. But you've got to say "Half for you and half for me, Between us two shall goodwill be" while sharing the bun.
Friendship is a perfect excuse to whip up a batch of these tasty little morsels and share them with the people you love.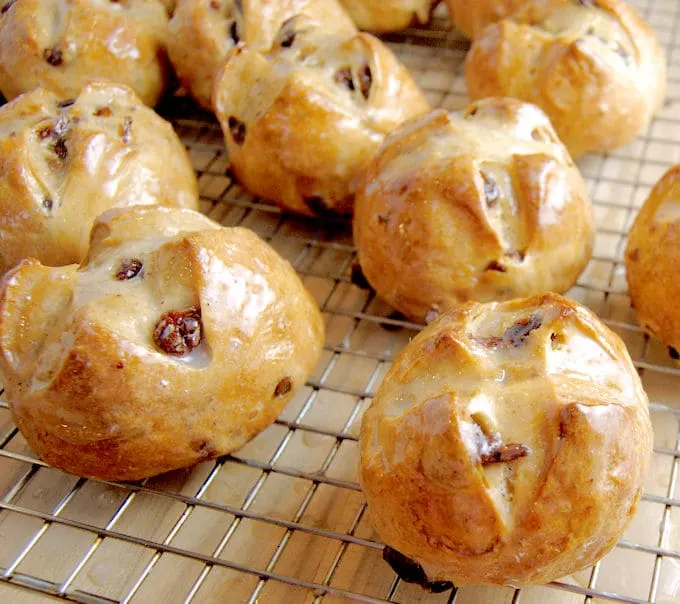 If you love this recipe as much as I do, please consider giving it a 5-star review:
You might also like: