Everyone loves to get a homemade food gift for the Holidays. Cherry Almond Scone Mix is easy to make and to bake, and who doesn't love a delicious fresh-baked scone?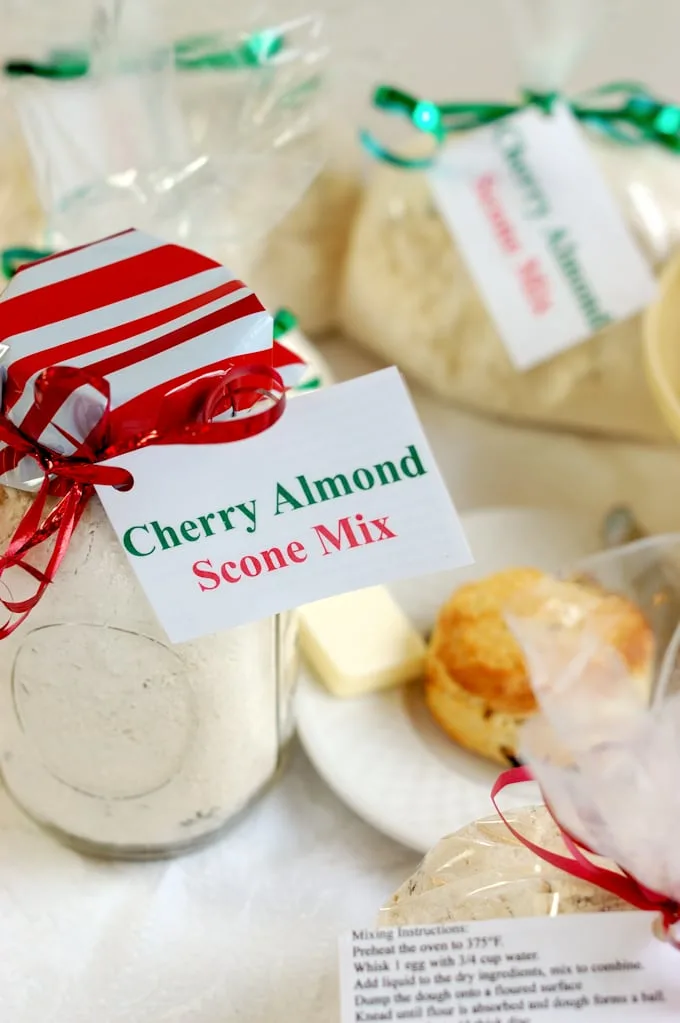 If you've read my blog with any frequency you know how much I love scones. But really, who doesn't love a fresh-from-the-oven scone?
With this Cherry Almond Scone Mix you can give your friends the gift of homemade scones with half the work (for them).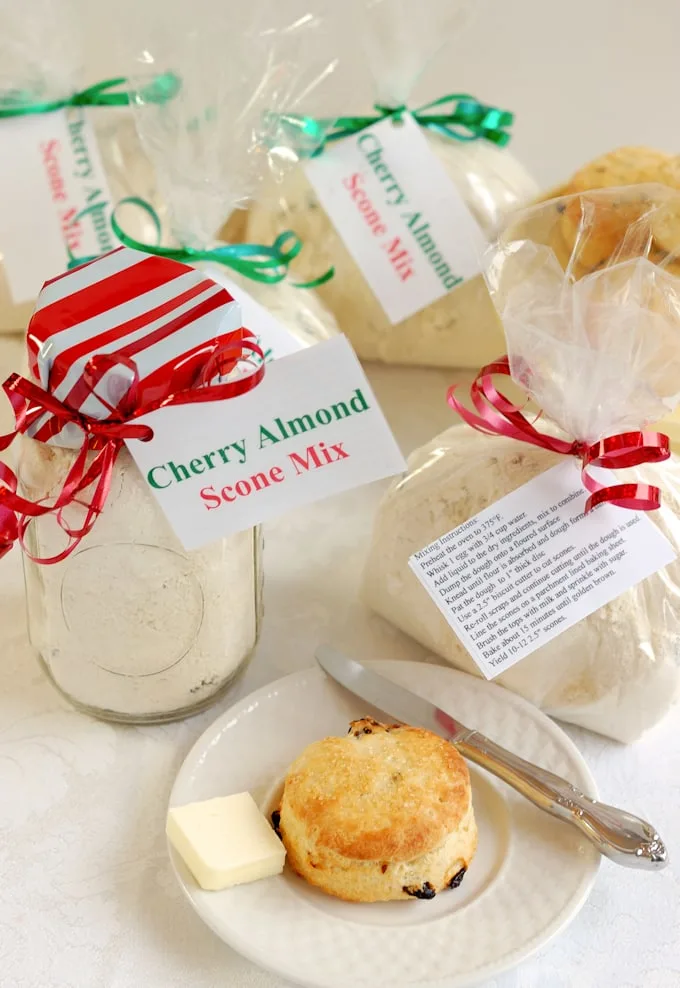 How to make shelf stable scone mix:
The Cherry Almond Scone Mix recipe is based on my favorite Raisin Scone recipe, which I've been making for over 20 years. I did have to make a few adjustments to the recipe to make it shelf stable and to make mixing the dough as easy as possible.
First I replaced the buttermilk in the recipe with buttermilk powder so the person making the scones only need to add water.
Next I added almond extract to the mix and switched out the raisins for dried cherries.
The final change I made to the recipe is the one that pained me the most. I had to switch out my beloved butter for vegetable shortening Nothing is as good as butter but this compromise was necessary to keep the mix shelf stable. If you choose to, you can make the mix with butter instead of shortening. The flavor will be slightly better, but then the mix must be refrigerated until ready to use. I decided it was a compromise worth making and, believe me, the scones still taste great.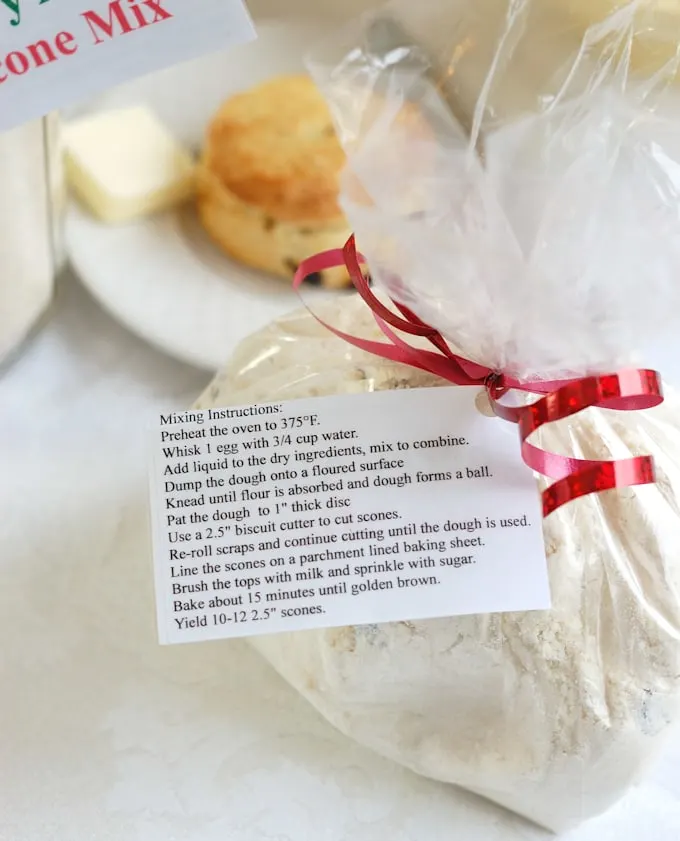 The full recipe makes enough baking mix for 2 quart size gift bags, or boxes, or jars, however you decide to package the mix. Each bag will make about 10-12 scones. The mixing instructions are listed in the recipe notes. The instructions are for one quart-size bag of mix.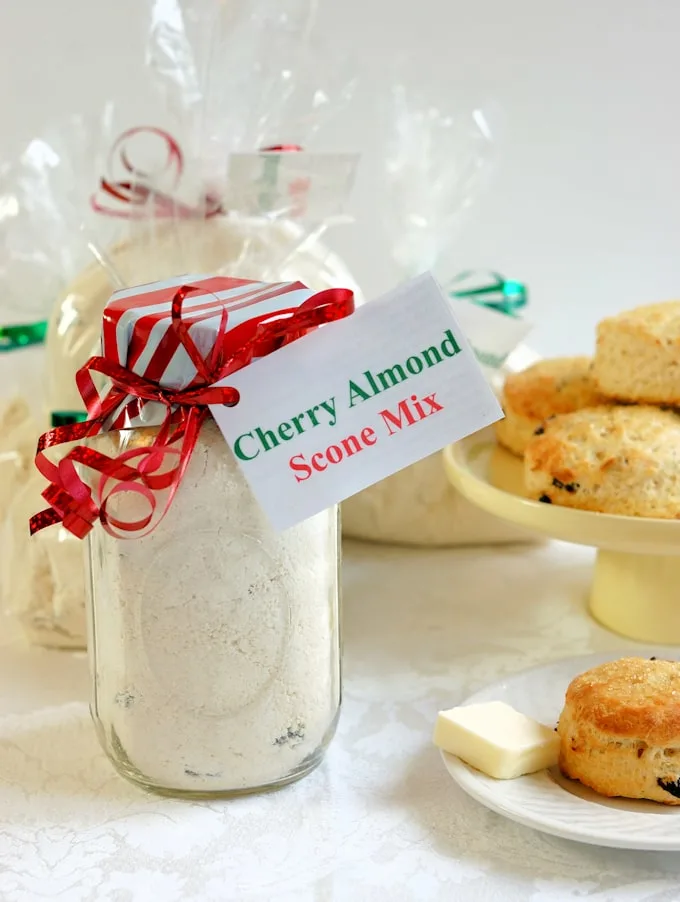 Mixing Instructions for Scone Mix:
Preheat the oven to 375°F. Line a sheet pan with parchment paper.
Dump the scone mix into a mixing bowl. Whisk 1 egg with 3/4 cup of water. Add to the dry ingredients and mix to combine.
Dump the dough onto a floured surface and knead a few times until the dough comes together.
Pat the dough to a 1″ disc. Use a 2.5″ biscuit cutter to cut the scones. Reroll the scraps and continue cutting until all the dough is used.
Brush the tops of the scones with milk and sprinkle with sugar.
Bake about 15 minutes until golden brown. Makes about 10-12 scones.
If you love this recipe as much as I do, I'd really appreciate a 5-star review.
You might also like: