Hey, don't throw away those leftover mashed potatoes! Make this soft and fragrant Mashed Potato Craisin Bread with a sweet cinnamon swirl.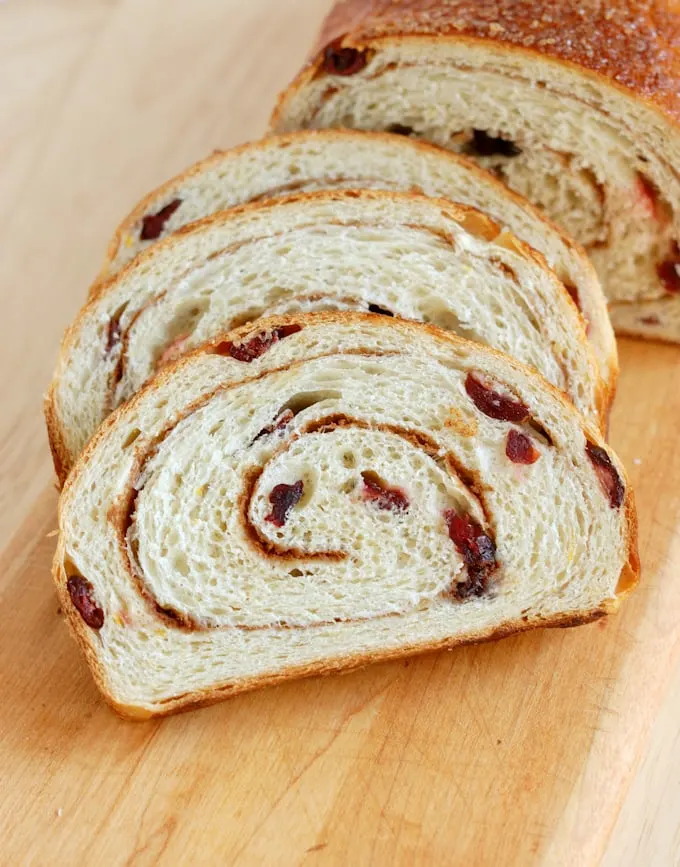 I love Thanksgiving leftovers. In fact, if I don't host the holiday meal I'll sometimes buy a small turkey breast to roast just so we can have leftovers for ourselves all weekend.
I don't know about you, but mashed potatoes are probably my least favorite to have left over. They're never quite the same after the day they're made. Once the starches in the potatoes cool down there's no going back.
Leftover potatoes can be a great base for other starchy dishes like pancakes and bread. The cranberry, orange and cinnamon flavors are perfect for the season.
If you want to make a dish from leftovers of leftovers, the bread makes great french toast or bread pudding.
Scroll through the process photos to see how to make Mashed Potato Craisin Bread with a cinnamon swirl: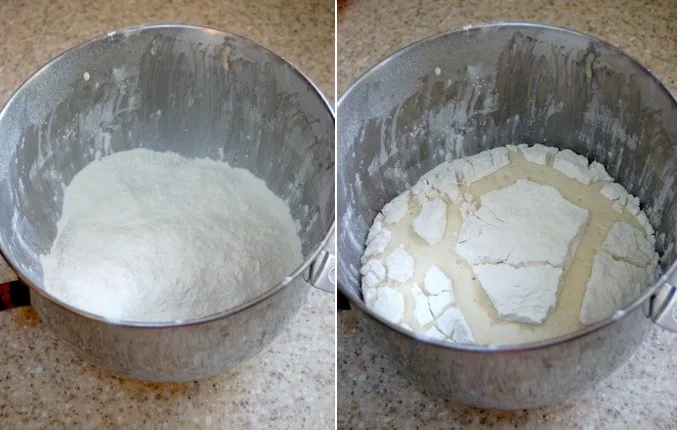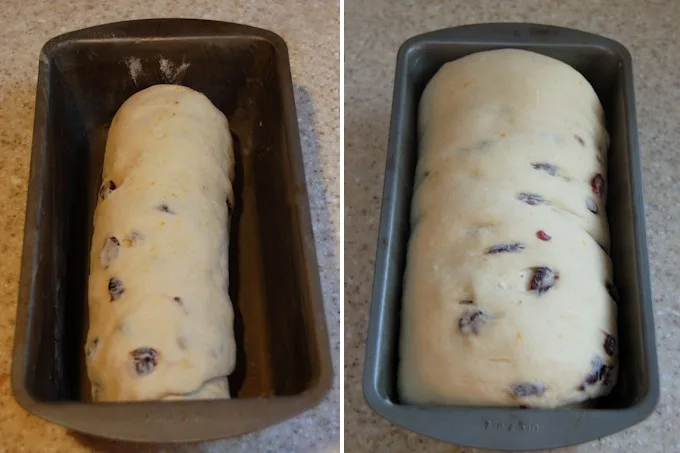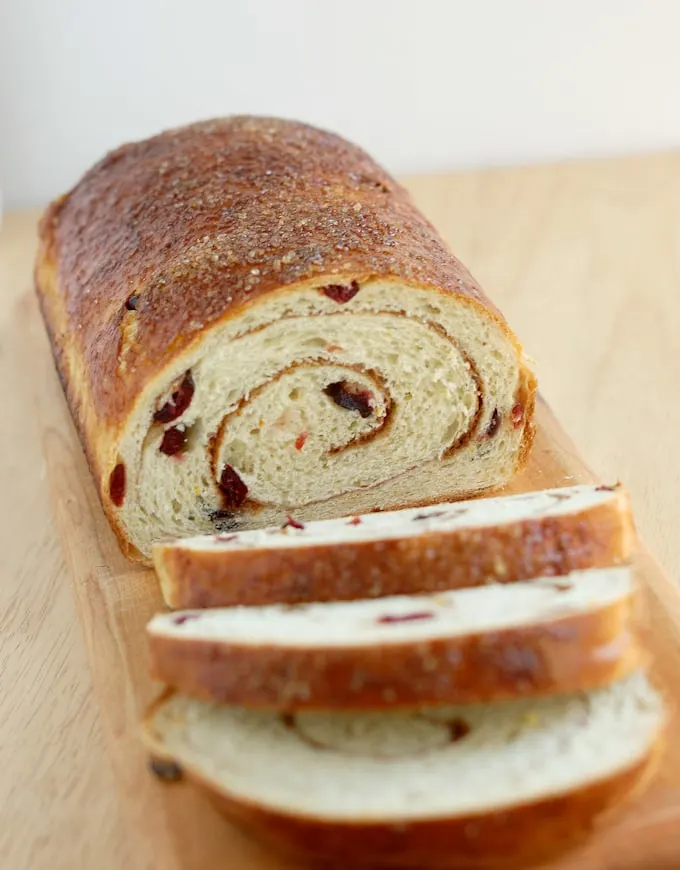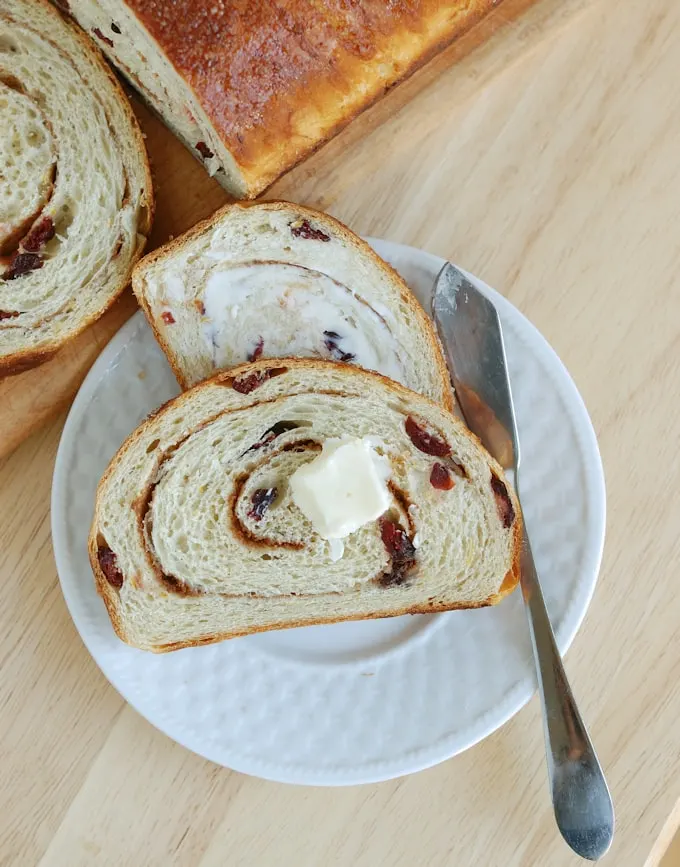 You might also enjoy Cinnamon Raisin Swirl Bread (or a sourdough version).
If you love this recipe as much as I do, I'd really appreciate a 5-star review.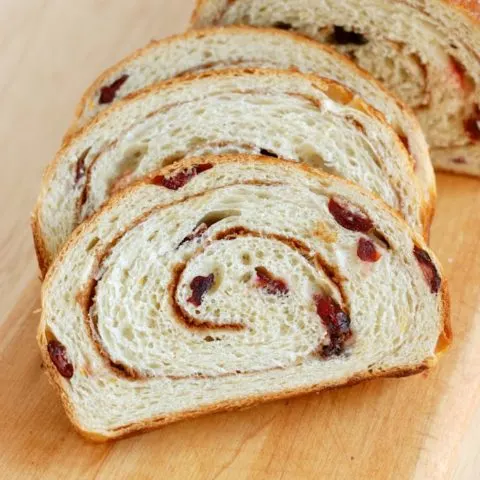 Mashed Potato Craisin Bread
Total Time:
3 hours
35 minutes
Soft and fragrant Mashed Potato Craisin Bread with a sweet cinnamon swirl.
Ingredients
1 cup cold mashed potatoes (see note)
1 cup (8oz, 250ml) warm water
2 teaspoons dry yeast
1/4 cup granulated sugar
1 teaspoon salt
3.5 - 4 cups (1lb 4oz, 580g)bread flour (see note)
1 large egg, room temperature
1/2 stick (2 oz, 55g) melted butter
Zest from 1 orange, grated
1 teaspoon cinnamon
1 cup (6 oz, 160g) craisins
Cinnamon sugar made with 1 tablespoon cinnamon and 1/4 cup granulated sugar
1 egg whisked with 1 tablespoon water and a pinch of salt for egg wash
Instructions
Butter two 9"x 5" or 8"x 4" loaf pans
Combine the mashed potato and water in a microwave safe bowl. Warm in 30 second increments until the mixture is about 110°-120°F, or slightly warmer than body temperature
Transfer the potato mixture to a mixer bowl and add the yeast, sugar and salt. Mix on low speed to combine. Add 1.5 cup of flour and mix to form a thick batter. Remove the bowl from the mixer, sprinkle 1/2 cup of flour over the batter. Set aside and allow to rise for 1 hour.
Return the bowl to the mixer with the dough hook. Mix on low speed to deflate the batter. Add the egg, melted butter, cinnamon and orange zest to the batter.
Add the remaining 2 cups flour, 1/2 cup at a time until the dough gathers onto the dough hook. Knead on medium-low speed until the dough is elastic, but is still soft. It will be a little sticky.
(If mixing by hand add flour until you can no longer stir with a spoon then turn the dough onto a floured surface and continue kneading in flour until the dough is elastic, but is still soft.)
Turn the dough out onto a floured surface and knead in the craisins. Divide the dough into 2 equal pieces. Cover the dough with plastic wrap and let it rest for 10 minutes
Roll one portion of dough to a 8"x 12" rectangle. Brush the entire surface of the dough with egg wash. Sprinkle 1/2 the cinnamon sugar over the dough. Roll the dough tightly from the short side, pinching the ends to close. Place the dough into the prepared loaf pan, seam side down.
Repeat with the second portion of dough
Cover the loaves with plastic wrap and set aside in a warm place for about 1- 1 1/2 hours until the dough fills the pan and has doubled in volume. Meanwhile, preheat the oven to 375°F.
Brush the loaves with egg wash and sprinkle with Demerarra or granulated sugar.
Bake about 30-35 minutes until golden brown and a toothpick inserted in the center comes out clean. The interior temp should be about 190°F.
Notes
If you don't have mashed potatoes you can boil 1 medium-large potato. Mash the potato and use 1 cup potato plus 1 cup cooking water. Continue with the recipe from there.
The amount of flour may vary based on the texture of your potatoes. I used a full 4 cups for my first batch and 3.5 cups for my second batch.
The bread freezes very well, is good toasted and makes great french toast.
Recommended Products
As an Amazon Associate and member of other affiliate programs, I earn from qualifying purchases.