Warm Apple Cinnamon Galette with a scoop of vanilla ice cream is dessert perfection. So simple to make – wrap flaky pie dough around fresh cinnamon-sugar apples, then bake, and you're done.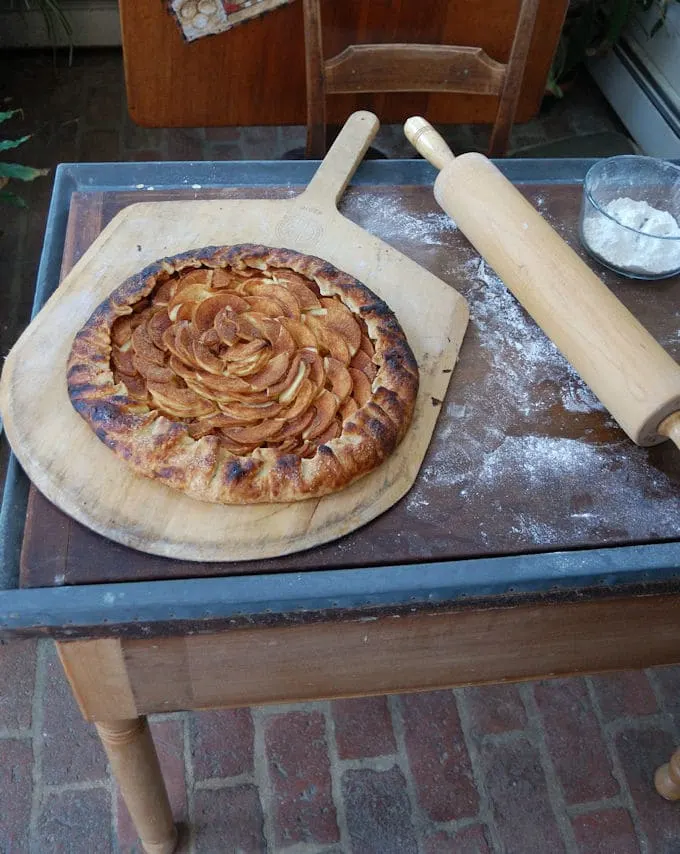 I've said it before, and I'll say it again; put some fruit into a pastry crust, bake it up until it's golden brown and delicious, et voilà, my idea of the perfect dessert. Pies and tarts of all sorts are my favorite, but I have a special place in my heart for the simple galette, or free-form tart. When I make a galette it's always with seasonal fruit, minimal sugar and a great crust.
One of my all-time favorites is my Plum Galette with a walnut crust. The juicy plums pair perfectly with the nutty crust. My Pear-Ginger Galette is very similar to this Apple Cinnamon Galette. As you can see, the possibilities are endless. Simply swap in whichever fruit is seasonal and use a spice that highlights that fruit. You can also use whichever pastry dough you like to work with. I'll admit that some pastries can be kind of fussy to put together, but a free form tart is meant to be rustic so no special pastry skills are needed for this dessert.
My Wood-Fired Apple Cinnamon Galette!
The most fun part about this particular Apple Cinnamon Galette (well, the most fun besides eating it) was that I baked it in a wood-fired, brick-lined oven.  The super hot oven with the hot stone floor was the perfect environment for a galette. Is that little bit of char on the crust a mistake? Not to me, that's my favorite part.
You can bake this galette on a parchment lined baking sheet or if you have a baking stone pre-heat it and bake the galette directly on the stone (I would put some parchment under it in case it leaks a little.
Click through the slider to see step-by-step instructions for putting together a galette:
[metaslider id=5907]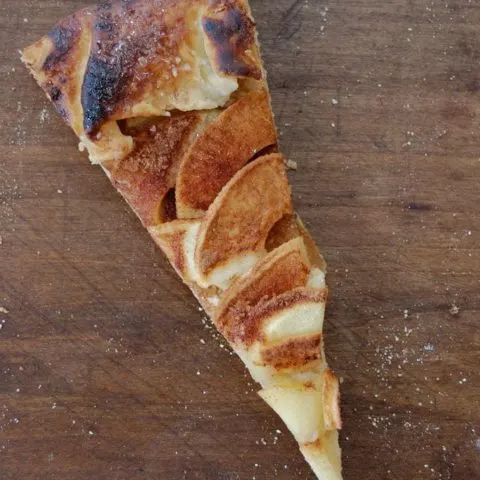 Apple Cinnamon Galette
Ingredients
1/2 Recipe Perfect Pie Crust
1/4 cup dry bread crumbs
2# (about 5 medium) apples, peeled, cored, halved and sliced 1/4" thick
1/4 cup (2 oz, 55g) granulated sugar
1 teaspoon ground cinnamon
1 egg for egg-wash
Granulated or Demerara sugar for finish
Instructions
Preheat the oven to 400F.
If using a baking stone place it in the oven to preheat at least an hour before baking.
Roll the dough to a 16" round, about 1/4" thick
Transfer the dough a parchment lined sheet pan or wooden peel (see note)
Sprinkle the bread crumbs over the bottom, leaving a 1" border around the edges
Arrange the apples over the bread crumbs
Combine the 1/4 cup sugar and the cinnamon then sprinkle over the apples
Fold the 1" border of dough over the apples
Brush the border with egg wash then sprinkle with sugar
Bake directly on the baking stone or on the sheet pan until the apples are tender and the crust is well browned. Enjoy warm or room temperature.
Notes
If you have a baking stone you can bake the galette directly on the stone. Build the galette on the parchment and slide it onto the stone using a peel or the back of a sheet pan. Otherwise bake it on a parchment-lined sheet pan.