Bread pudding is pure comfort food, it's the fuzzy slippers of desserts. This Rum Raisin Bread Pudding features not only raisins and rum, but grated apples for moisture and flavor, cinnamon and nutmeg for warm spice, and a surprise ingredient you may never have heard of – Grains of Paradise.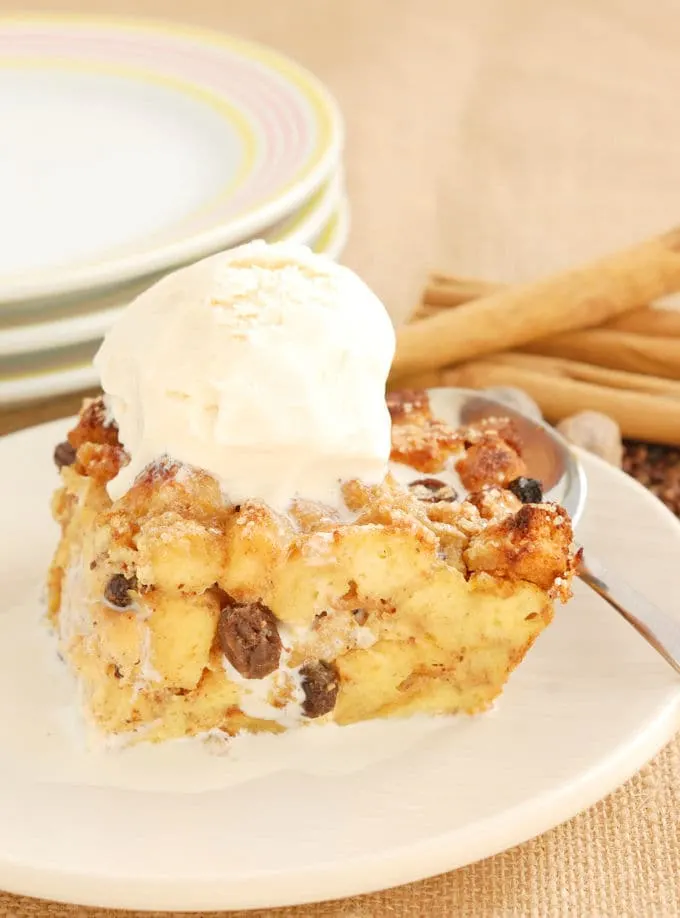 The basics of bread pudding are simple, slightly stale bread cubes soaked in custard and baked until set. Simple, yet the variations and possibilities are endless.
If you love to try new flavors, Grains of Paradise would be a fun addition to your spice rack (you can buy them on-line). Grains of Paradise look like black peppercorns and have a bit of a bite to them. I often use black pepper to spark the flavors in a fruit dish, and I especially like it with cherries. Grains of Paradise are perfect with fruit because they have a light peppery bite and a lovely sweet and floral background flavor that's unlike anything I've tasted.
For my Rum Raisin Bread Pudding base I used a bag of store-bought potato bread cubes leftover from the Thanksgiving stuffing I never made. Use any yeast bread you have available, but don't use "quick bread" or muffins. You need the structure of a yeast bread to hold the custard without the whole thing turning to mush.
That's pretty much it. Even if you don't like to bake, Rum Raisin Bread Pudding is a quick and simple home-made dessert that's sure to be a crowd-pleaser.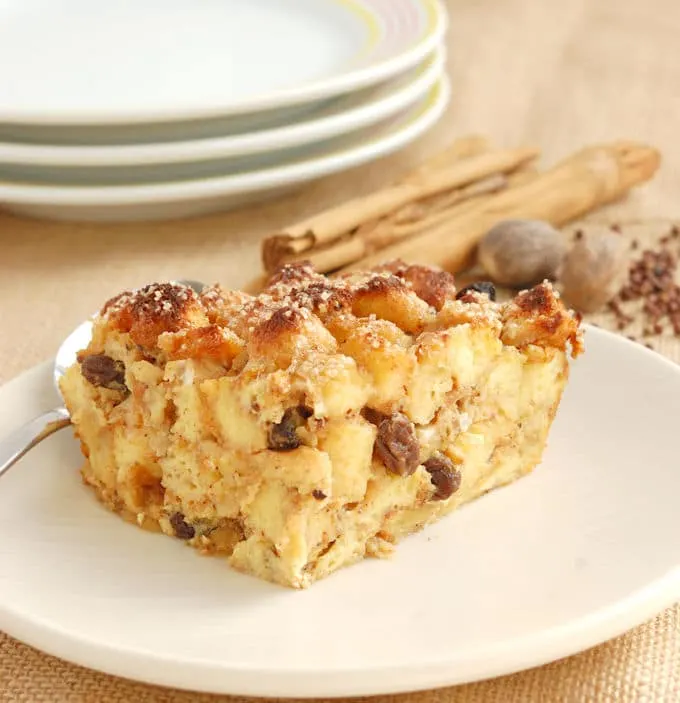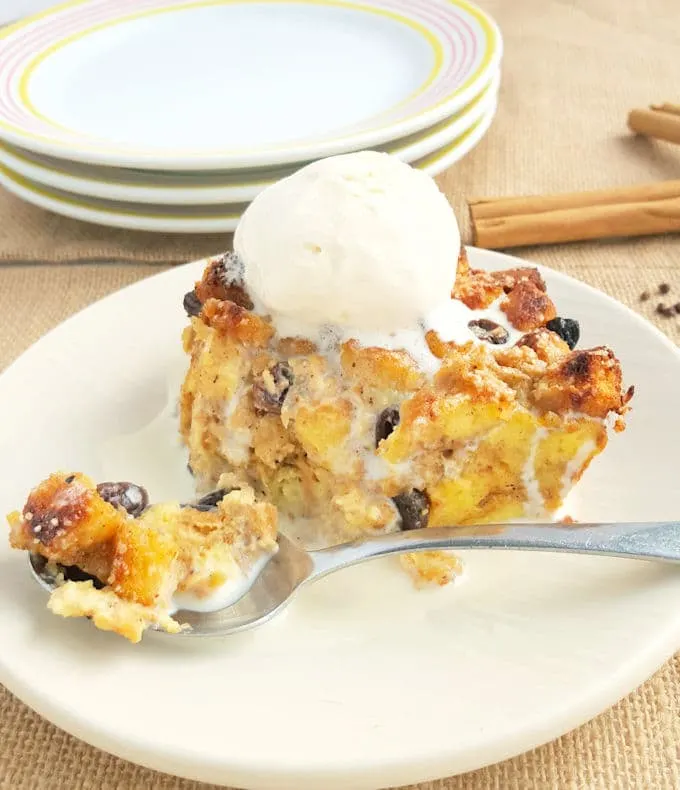 Rum Raisin Bread Pudding with Grains of Paradise
This Rum Raisin Bread Pudding features raisins. rum, grated apples, cinnamon, nutmeg and an ingredient you may never have heard of - Grains of Paradise.
Ingredients
2 cups,loosely packed (10 oz, 283g) raisins
2 large apples, peeled and coarsely grated (yields about 2 cups grated apple)
3/4 cup (6 oz, 175ml) dark rum
1 tablespoon vanilla extract
13 cups (12 oz, 340g) bread cubes
1 tablespoon ground cinnamon
1/2 teaspoon ground nutmeg
1/2 teaspoon grains of paradise or black peppercorns, grated in a pepper mill or crushed with a mortar and pestle
1 quart (32 oz, 950ml) whole milk
1 cup (8 oz, 226g) granulated sugar plus 1/4 cup for pan prep
8 large eggs
1/4 cup Demerrara sugar
Instructions
Toss together the raisins, rum, vanilla and grated apples. Set aside for at least 30 minutes to allow the raisins to plump
Butter a 13x9 baking pan
Sprinkle a 1/4 cup of granulated sugar into the buttered baking pan and shake the pan to coat the butter with the sugar
Toss the bread cubes and spices in a large mixing bowl
Whisk together the milk, eggs and sugar in a large pitcher
Toss the raisin mixture into the bread cubes, making sure the fruit is evenly distributed
Transfer the bread mixture to the prepared pan
Pour the custard evenly over the bread cubes
Allow the bread cubes to sit for 15 minutes to absorb the custard
While the bread soaks, preheat the oven to 325°f convection or 350°f regular
Sprinkle a 1/4 cup of Demerrara or granulated sugar evenly over the surface of the bread
Bake until the custard is set in the middle, about 30 minutes
If you'd like the top to be extra brown and crunchy, run under the broiler when it's finished baking.
Serve warm.
Notes
The recipe can be halved and baked in an 8" or 9" square pan.

I used cubed potato bread but you can use any type of yeast bread.

The left over pudding can be refrigerated for several days or frozen for up to 3 months.