A hint of cinnamon & nutmeg, along with a splash of lemon extract, brings out the banana flavor in this Chocolate Chunk Banana Bread.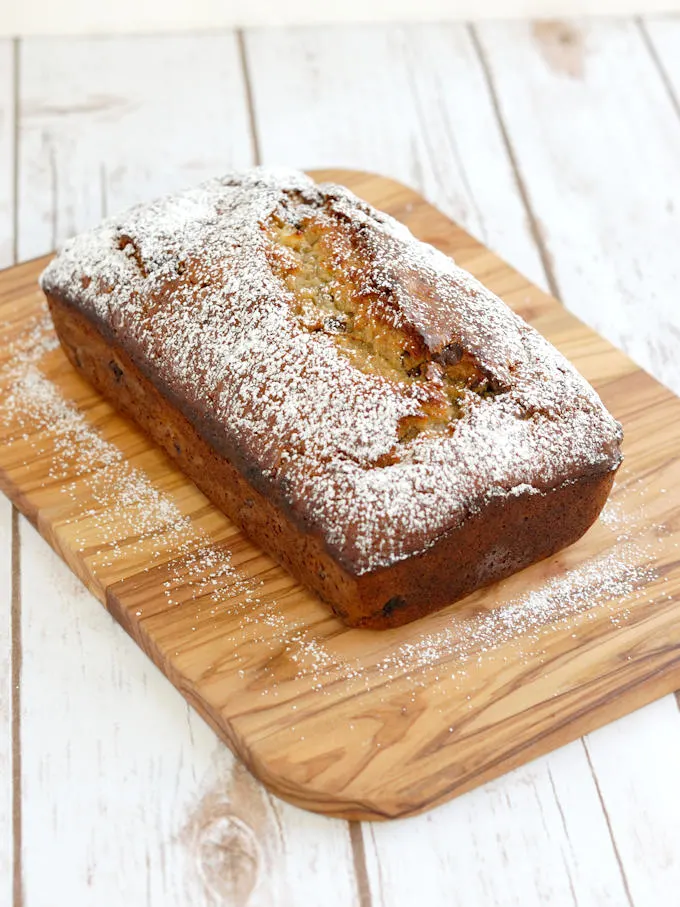 How to make the best banana bread:
Use bananas that are just past ripe. Banana are perfect for baking when the skins are covered in brown speckles and they are soft and very fragrant.
If you don't have time to bake when the bananas are ready, peel them and freeze them until you're ready to bake. Let the bananas defrost and then proceed with the recipe.
Whether you use fresh or frozen bananas, smush the bananas with a fork rather than pureeing them in a food processor. The chunky texture of smashed bananas are prefect for making banana bread.
To keep the chocolate chunks from sinking to the bottom, toss them with a tiny bit of water and flour. The water and flour create a paste on the chunks, which helps them stay in place while the loaf is baking. You can use regular or mini chocolate chips if that's your preference.
If you want to add chopped walnuts to the recipe, mix them with the chocolate chunks before adding the water and flour.
For loaf-cakes like this Chocolate Chunk Banana Bread, I like to line the pan with a parchment "sling". Not only does the sling keep the bread from sticking, it makes it very easy to lift the baked loaf out of the pan.
Click through the step by step process photos to see how to make the best Chocolate Chunk Banana Bread:
You can see by these step-by-step photos exactly how easy it is to make Chocolate Chunk Banana Bread. You don't even need a mixer to put the batter together.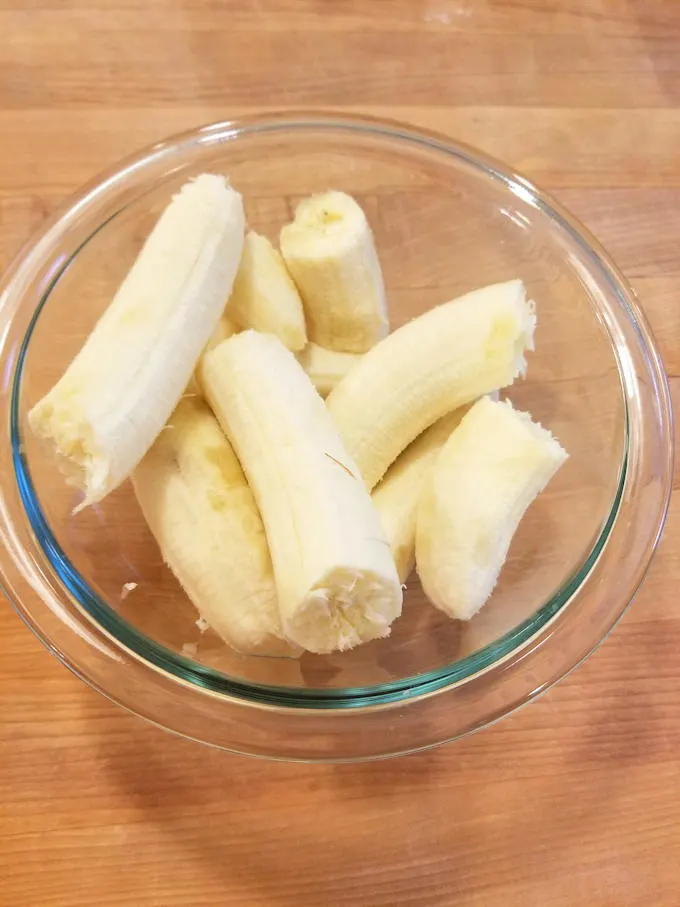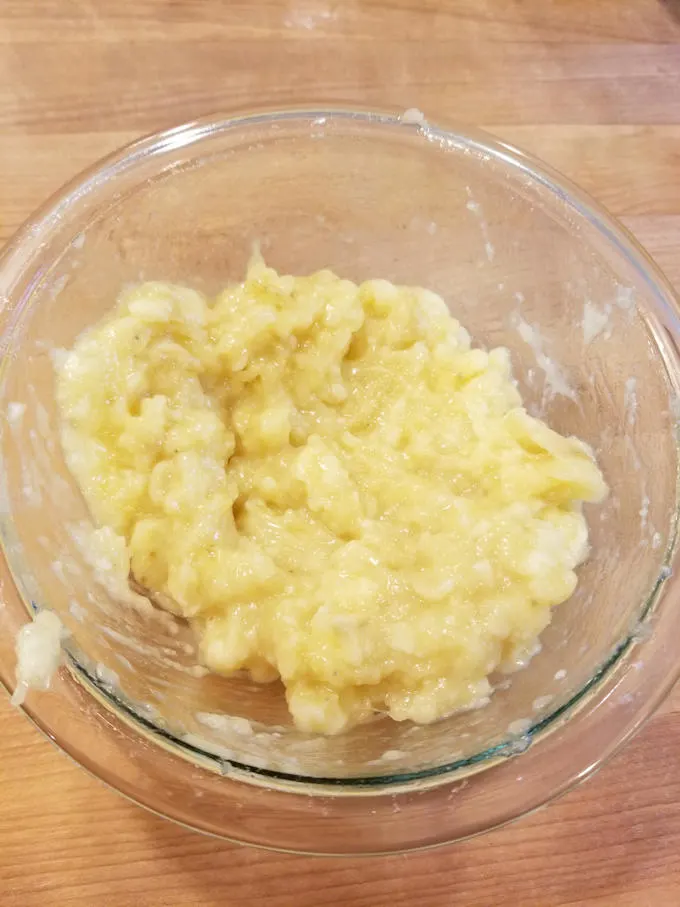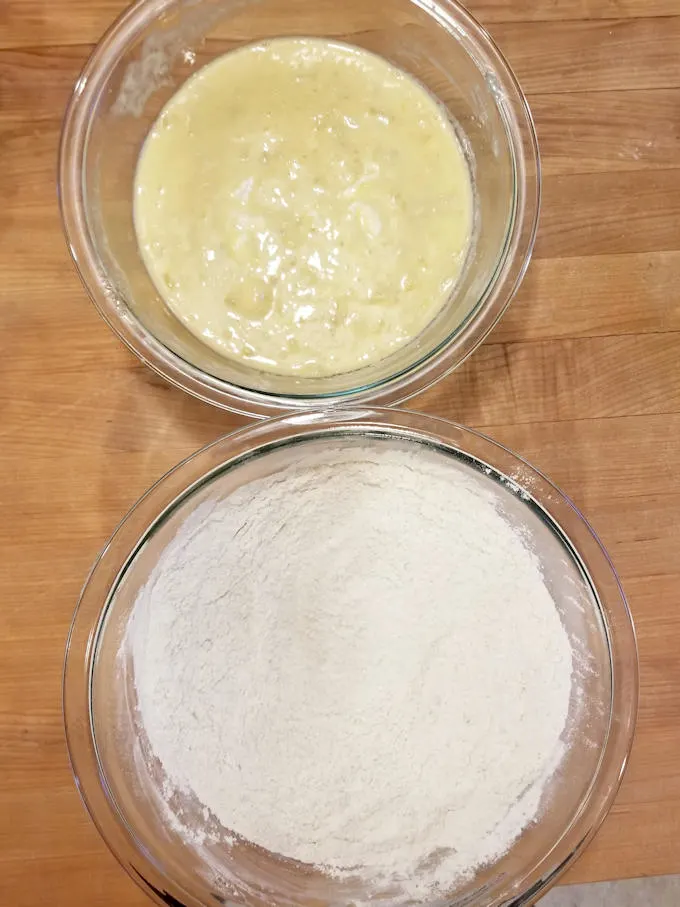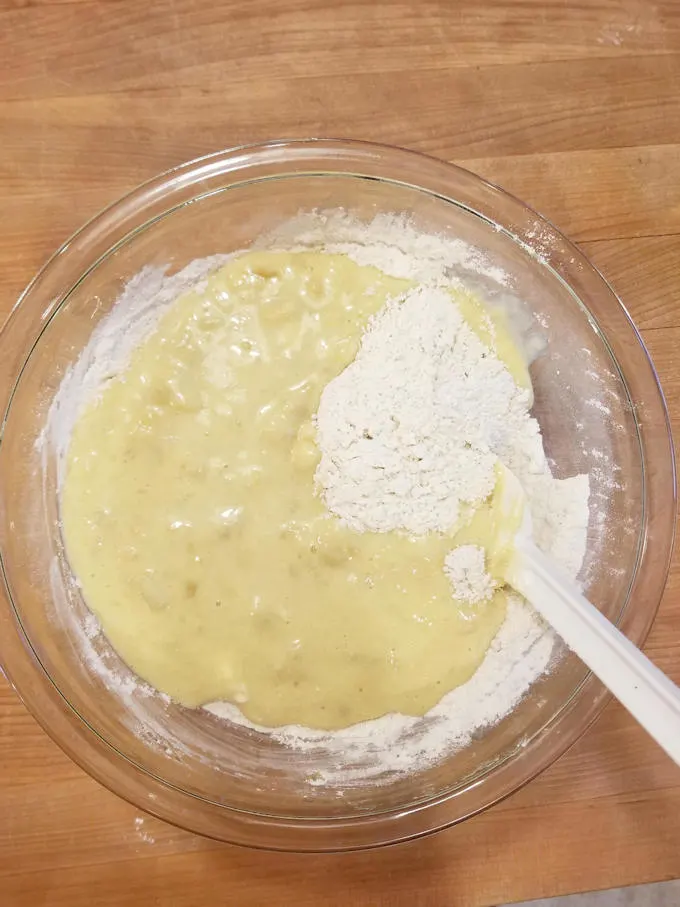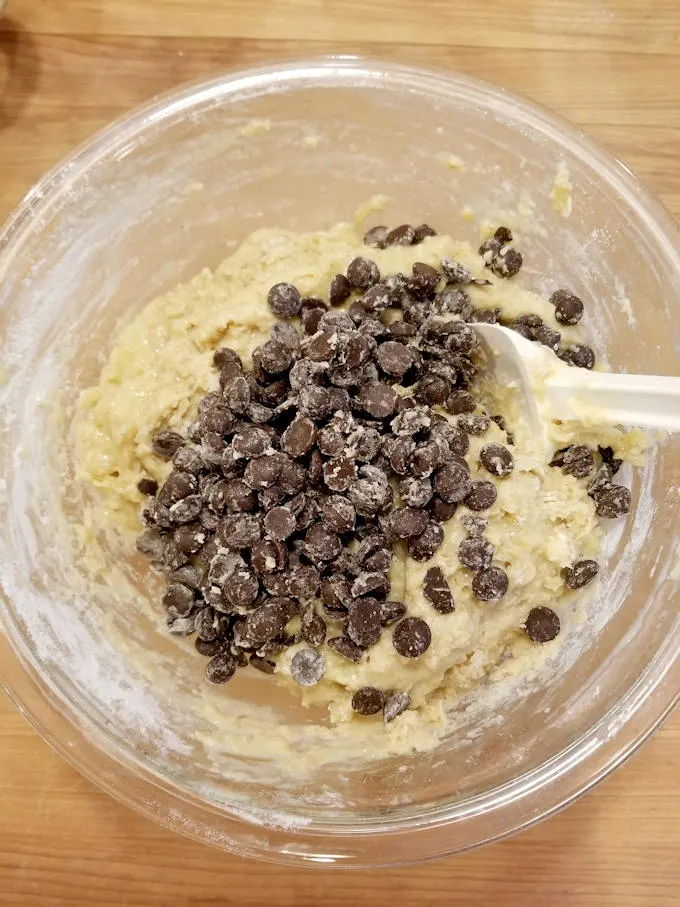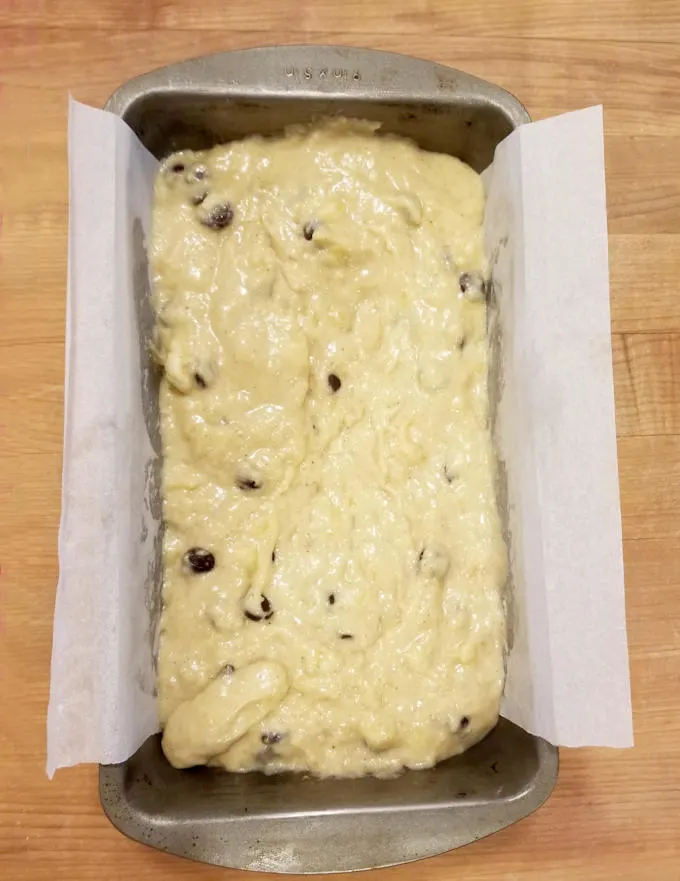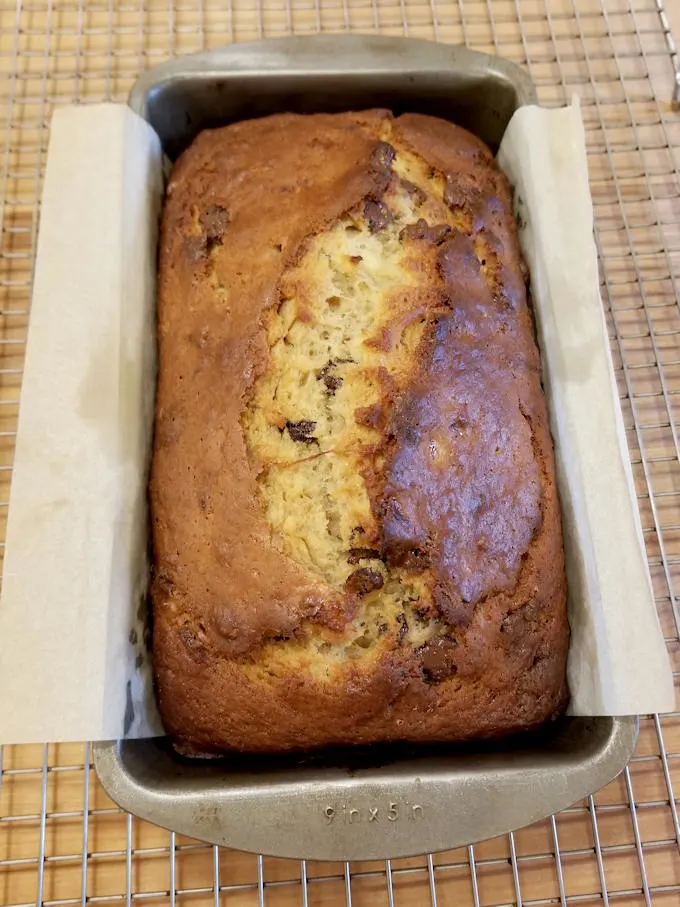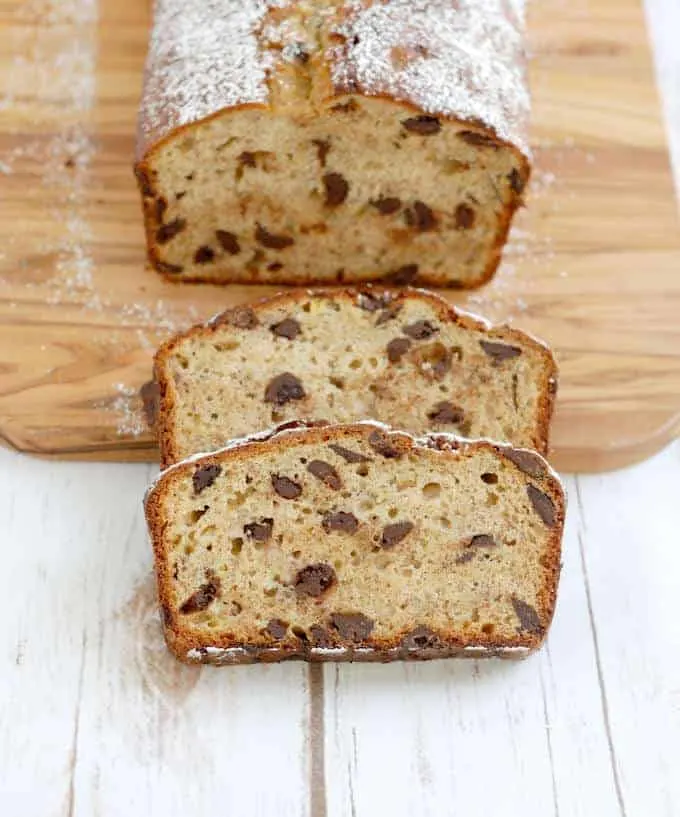 If you love this recipe as much as I do, I'd really appreciate a 5-star review.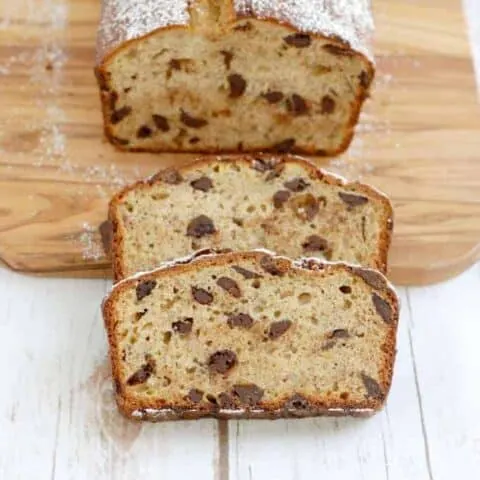 Banana Bread
Total Time:
1 hour
15 minutes
A hint of cinnamon & nutmeg, along with a splash of lemon extract, brings out the banana flavor in this bread. Full fat Greek yogurt adds moisture and great flavor. The chocolate chunks are a bonus. If you like nuts, a cup of chopped walnuts is a nice addition to this bread.
Ingredients
3-4 medium bananas (12 oz, 336g) very ripe, peeled (see note)
1/3 cup (3 oz, 84g) full-fat Greek yogurt (see note)
1/4 cup (2.5 oz, 75ml) vegetable oil
2 large eggs
1 teaspoon vanilla extract
1/2 teaspoon lemon extract
1 cup (6 oz, 168g) chocolate chunks
2 cups (10 oz, 280g) all-purpose flour
1/2 cup (4 oz, 112g) granulated sugar
¼ cup (2 oz, 56g) brown sugar
1 teaspoon baking powder
1/2 teaspoon baking soda
1/2 teaspoon salt
1/2 teaspoon ground cinnamon
1/4 teaspoon nutmeg
Instructions
Preheat the oven to 350°F. Butter and flour a 9"x 5" loaf pan or butter the pan and line with parchment paper.
Mash the bananas with a fork, leaving them a little chunky. Add the yogurt, oil, eggs, vanilla and lemon extract to the bananas. Mix to combine and set aside. In another bowl, toss the chocolate chips with 2 teaspoons of water to moisten. Sprinkle a teaspoon of flour over the chocolate chunks and toss, set aside.
Combine the flour, granulated sugar, brown sugar, baking powder, baking soda, salt, cinnamon and nutmeg in a large bowl. Whisk the dry ingredients to combine and make a well in the center. Add the banana mixture and stir until about 2/3 of the flour is incorporated. Fold in the chocolate chunks and mix until everything is combined.
Pour the batter into the prepared pan and spread to level. Sprinkle additional chocolate chunks on top if you'd like.
Bake until golden brown and a toothpick inserted in the middle comes out with moist crumbs, about 1 hour and 5 minutes.
Cool for 10 minutes in the pan, then turn out onto a cooling rack to finish cooling.
Notes
You can use previously frozen bananas for this recipe. Allow the bananas to defrost, lightly mash the defrosted bananas and then proceed with the recipe as written.
Sour cream can be used in place of the Greek yogurt.
Recommended Products
As an Amazon Associate and member of other affiliate programs, I earn from qualifying purchases.