Juicy chicken burgers topped with as-spicy-as-you-like peanut sauce and quick pickled veggies for crunch. This Chicken Satay Burger with Peanut Sauce combines all the flavors of Chicken Satay in a yummy burger.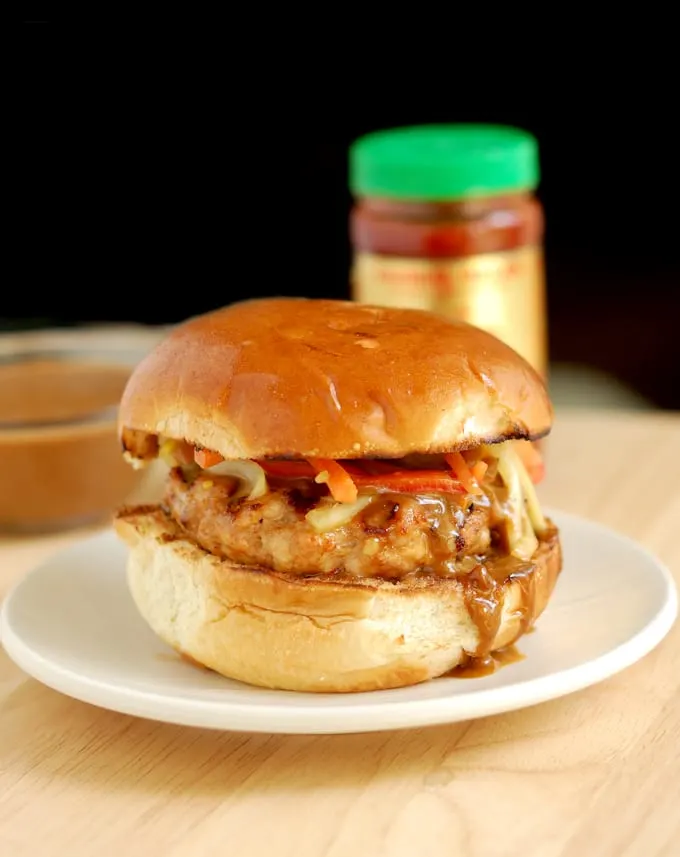 Today for #SundaySupper we're celebrating summer with Hamburgers and Hot Dogs. Check out the links at the end of this post for some unbelievably creative recipes that go way beyond frozen patties.
I came up with a new burger recipe that combines the flavors of one of my favorite Asian dishes, Chicken Satay. Whenever we have a summer party chicken satay skewers with spicy peanut sauce is on the menu–mostly because we're all obsessed with peanut sauce, and my husband makes a pretty mean peanut sauce. I recorded the recipe by following along and measuring the ingredients as he made a batch of his famous peanut sauce. He usually makes it a little hotter, so feel free to amp up the chili paste or even add fresh chopped chiles if you're a chile-head like he is.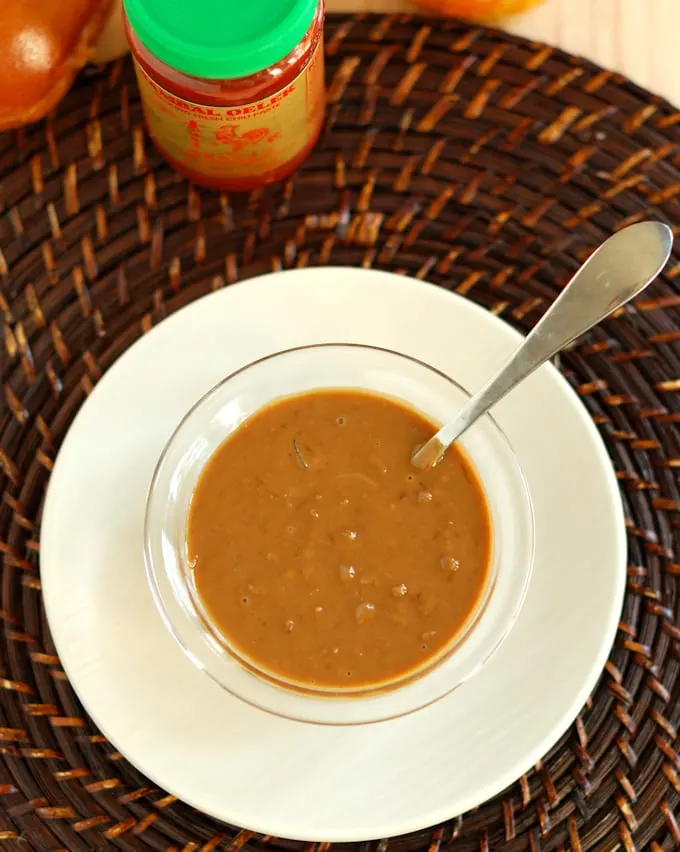 There are some specialty ingredients used in this dish, but I have given alternatives when possible. If you like Asian food I think it's worth buying the ingredients. You'll find a million ways to use them. But the alternatives will work in the dish.
I made the burgers using boneless, skinless chicken thighs that I ground myself using the food grinder attachment for my Kitchen Aid Mixer. I used thighs because they're more flavorful than chicken breasts and the higher fat content is a good thing in a burger.
If you don't have a food grinder or food processor available you could buy pre-ground chicken meat from the market. In my market I noticed that the pre-ground chicken has less fat than the chicken thighs. If you find the pre-ground meat is very lean and you want a richer burger you can add a little melted butter to the burger mix, a teaspoon or two for 2 pounds of ground meat.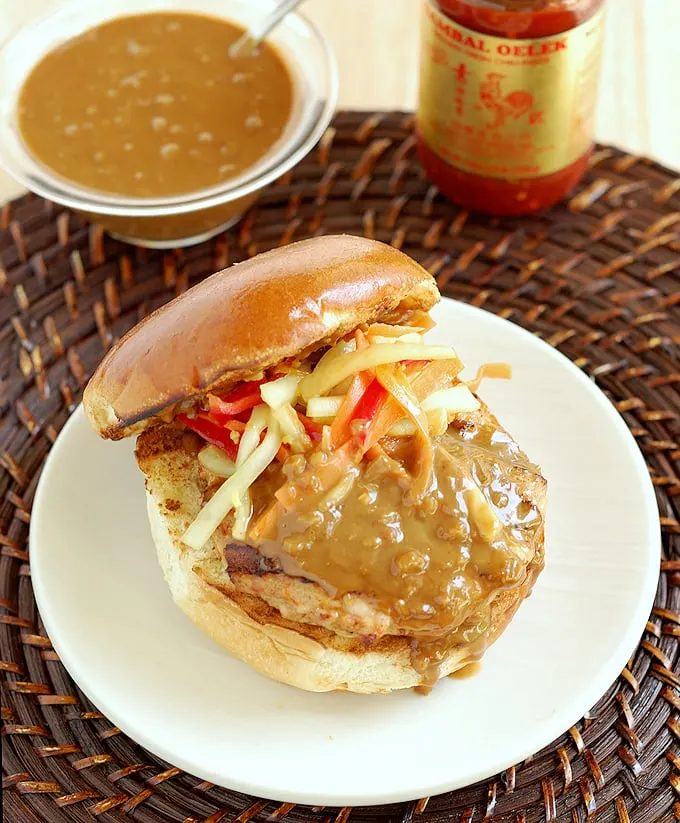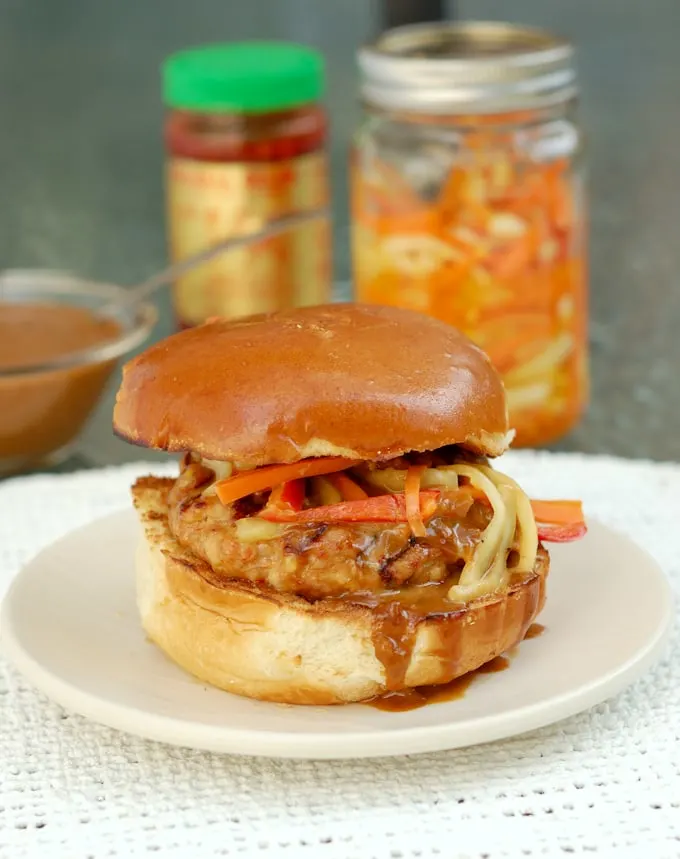 The pickled slaw was inspired by one of my favorite Indonesian dishes, atjar tjampoer. The pickled veggies add a needed crunch and freshness to the burger.
After I grilled and photographed the test burger we portioned it out and tasted it. Nothing but nodding heads and "mmmms" all around. This recipe is definitely going into regular summer rotation at our house. I hope it does at your house as well.
Specialty Equipment & ingredients: Kitchen Aid Food Grinder or Food Processor, Sambal Oelek, Trassi, Ketjap Manis (sweet soy sauce)
Chicken Satay Burgers with Peanut Sauce
Total Time:
2 hours
8 minutes
Juicy chicken burgers topped with as-spicy-as-you-like peanut sauce and quick pickled veggies for crunch. This Chicken Satay Burger with Peanut Sauce combines all the flavors of Chicken Satay in a yummy burger.
Ingredients
Peanut Sauce
2 teaspoons vegetable oil
1/2 medium onion, minced
3 cloves garlic, minced
1 1/2 inch piece of fresh ginger, peeled & minced
2 teaspoons sambal oelek or to taste
1 teaspoon trassi or 2 teaspoons fish sauce
2 heaping tablespoons smooth peanut butter
5 tablespoons coconut milk
5 tablespoons heavy cream
1 tablespoon ketjap manis (Sweet Soy Sauce) (see note)
2 teaspoons brown sugar (or to taste)
Pickled Vegetables
1 red bell pepper, stemmed, seeded and cut into 2" matchsticks
1/2 large cucumber, peeled, seeded and cut into 2" matchsticks
1 large carrot peeled and cut into 2" matchsticks
1 tablespoon sugar
1 teaspoon kosher salt
3 tablespoons cider vinegar
1 tablespoon water
1/2 teaspoon minced ginger
1/2 teaspoon ground turmeric
Chicken Satay Burgers
Instructions
Make the Peanut Sauce
Heat the oil in a medium saucepan, Add the onions, garlic, ginger and saute until softened, Add the sambal and saute 1 minute. Add the trassi and saute 1 minute. Add the peanut butter and saute 1 minute,
Add the sweet soy sauce, coconut milk and heavy cream and brown sugar. Adjust seasonings to taste.
Make the Pickled Vegetables
Combine all the ingredients in a small bowl. Refrigerate at least 3-4 hours, stirring occasionally.
Make the Chicken Satay Burgers
Combine the chicken, sweet soy sauce, sambal, salt and bread crumbs.
Form into 6 patties. Refrigerate at least 1-2 hours before grilling.
Grill over medium-high flame until cooked through, about 4 minutes per side. The burger should feel firm when pressed in the middle.
To assemble the burgers put a dollop of peanut sauce on the top and bottom of the bun, put the burger on the bun and another dollop of peanut sauce on the burger. Top the burger with a pile of pickled veggies. Enjoy!
Notes
If you buy pre-ground chicken meat check the fat percentage on the label. If the fat percent is less than 8-10% you can add a teaspoon or two of melted butter to the ground meat to enrich the burger.
In place of sweet soy you can use regular soy sauce and increase brown sugar to 2 tablespoons or to taste.
If you want a smooth sauce you can puree. I like it a little chunky.
You might also like:
A big "thank you" to Christie of A Kitchen Hoor's Adventures  for hosting today's #SundaySupper event. Here are some more fabulous burger and dog recipes by my fellow #SundaySupper tastemakers:
All American Burgers & Dogs
Cluck Burgers
Worldly Burgers & Dogs
Where's the Beef Burgers
Where's the Bun Burger
Dessert Burger
How to
Join the #SundaySupper conversation on twitter on Sunday! We tweet throughout the day and share recipes from all over the world. Our weekly chat starts at 7:00 pm ET. Follow the #SundaySupper hashtag and remember to include it in your tweets to join in the chat. To get more great Sunday Supper Recipes, visit our website or check out our Pinterest board. Would you like to join the Sunday Supper Movement? It's easy. You can sign up by clicking here: Sunday Supper Movement.