I love old-fashioned Buttermilk Pie. I've updated the recipe by adding blackberries and perfuming the filling with a hint of cardamom. Yes, another recipe for one of my favorite ingredients, buttermilk.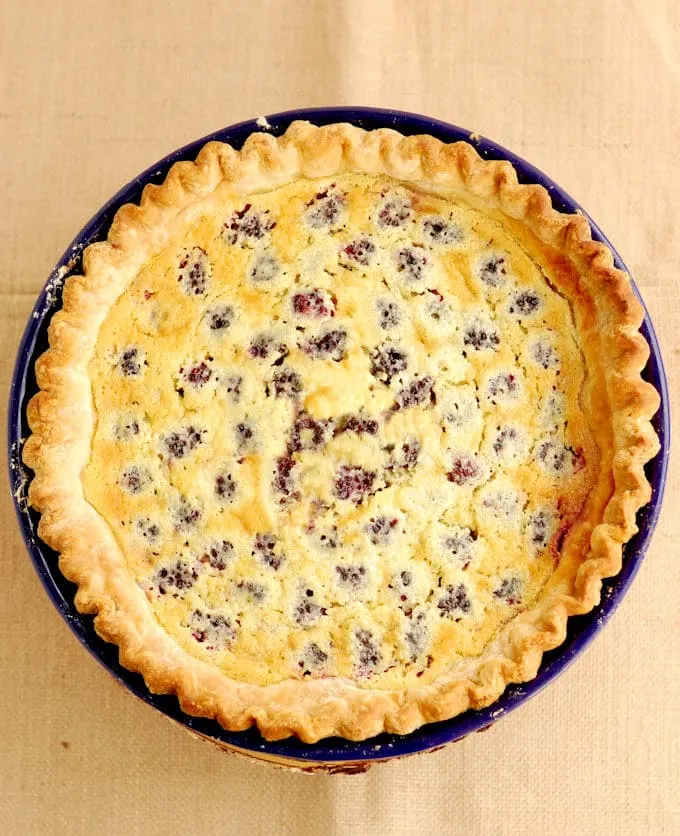 This is a super-easy recipe. In fact it's even easier than I originally thought. I intended to blind bake the crust before filling it with the berries and custard, but I forgot and filled the unbaked crust. Despite my original intentions, the pie turned out great.
Tips for making Buttermilk Pie with blackberries & Cardamom
The blind baking step isn't absolutely necessary for this pie. Because the pie stays in the oven long enough to bake the custard, the shell has time to fully bake. The bottom crust might be a little crisper if you blind bake. But not pre-baking gave me acceptable results.
If you don't mind the tedious work of shelling cardamom pods you can use whole pods and grind the seeds yourself for the best flavor. If you use the pre-ground spice (which I did) make sure it's very fresh. If you've had that bottle of cardamom sitting in the spice cabinet for several years it's time to toss it and buy a new one.
I love the combination of vanilla and cardamom so the custard is also flavored with vanilla. The recipe calls for either the seeds from 1/2 a vanilla bean or a teaspoon of vanilla extract. You can also use vanilla sugar if you've got it in your pantry.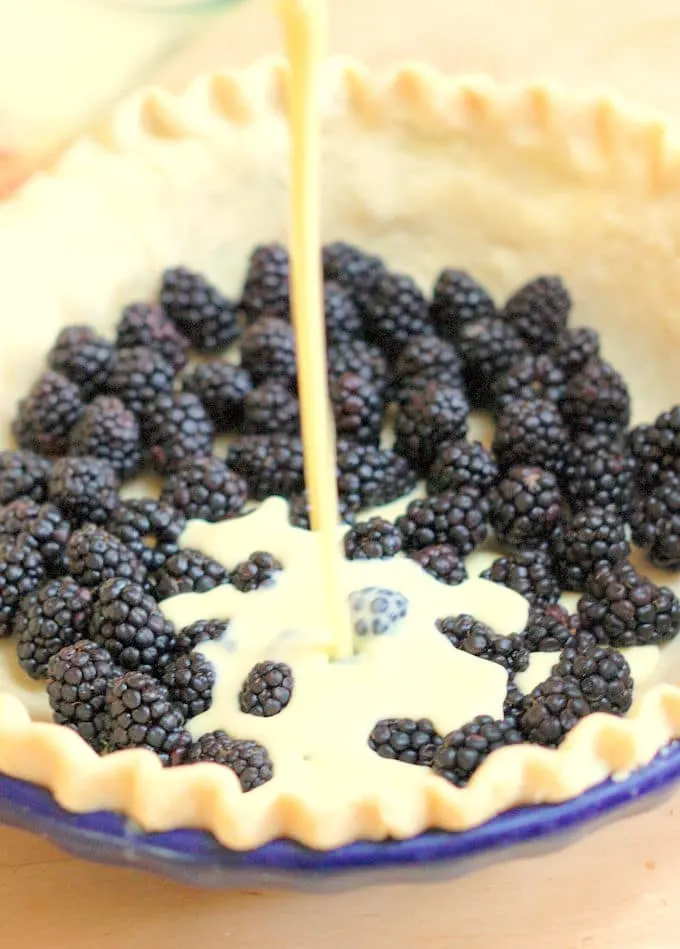 I don't think this pie needs any accompaniment at all. But if you want to add some colorful berries to the plate go for it.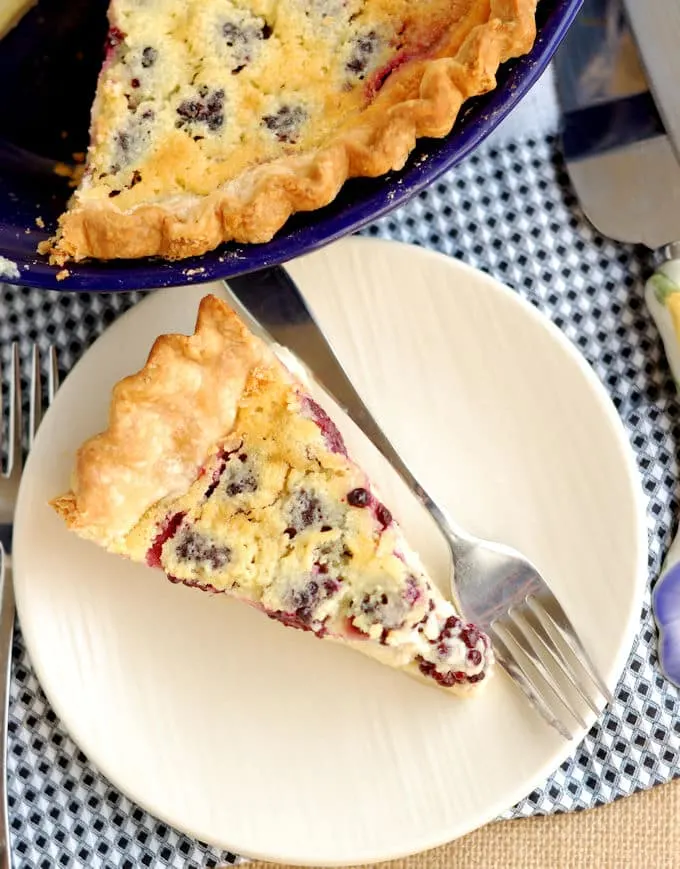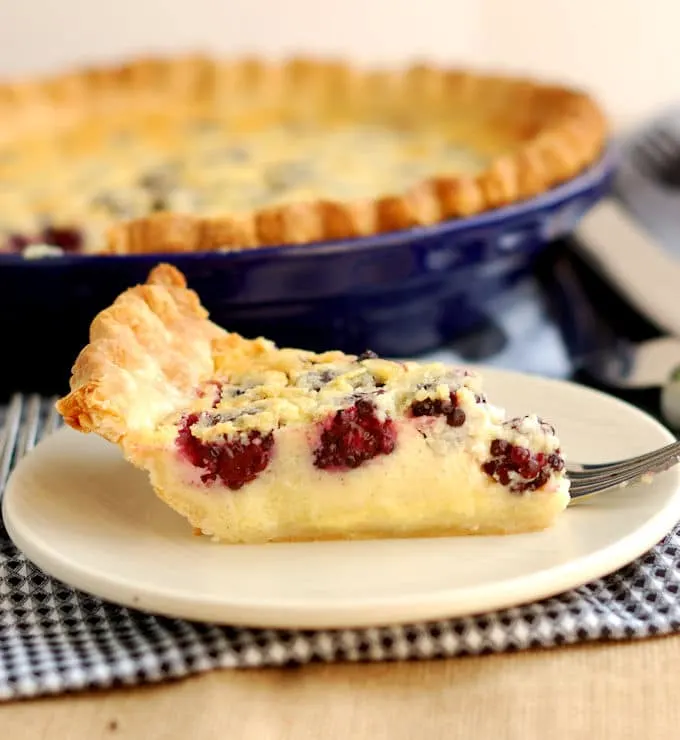 If you love this recipe as much as I do, please consider leaving a 5-star review.
Blackberry Buttermilk Pie with Cardamom
Total Time:
1 hour
15 minutes
Old fashioned buttermilk pie is updated with the addition of blackberries and a hint of cardamom.
Ingredients
1/2 recipe Perfect Pie Crust in a 9" pie plate, chilled
2 pints fresh blackberries
1 cup (8 oz, 224g) granulated sugar
pinch of salt
1/2 teaspoon ground cardamom
1/4 cup cornstarch
2 large eggs plus 2 yolks
2 tablespoons (1 oz, 28g) unsalted butter, melted
1/2 cup (4 oz, 120ml) heavy cream
Seeds from 1/2 vanilla bean or 1 teaspoon vanilla extract
1 1/2 cups (12 oz, 360ml) buttermilk
Instructions
Put the berries into the unbaked pie shell, refrigerate the pie shell while you prepare the filling
Preheat the oven to 350°F. Place a sheet pan onto the bottom rack of the oven to preheat.
Filling
Whisk together the sugar, salt, cardamom and corn starch. Add the eggs and yolks and whisk until smooth. Whisk in the melted butter, cream and vanilla then whisk in the buttermilk.
Place the pie plate with the crust and blackberries on the preheated sheet pan. Pour the custard into the crust.
Bake for 15 minutes then reduce the temperature to 325°F. Continue to bake until the custard is set, about another 30 minutes.
Cool completely before serving.
Notes
The pie is best eaten at room temperature. Because it is a custard pie, leftovers should be refrigerated overnight and brought back to room temperature before eating.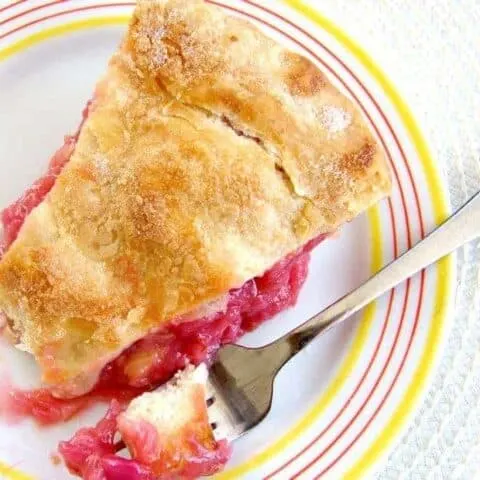 Perfect Pie Crust
Total Time:
2 hours
10 minutes
A Perfect Pie Crust is a thing of beauty. Because there are so few ingredients in a basic pie dough, how you mix those ingredients is crucial to achieve just the right texture. Add the fats in two stages to get a tender and flaky pie crust.
Ingredients
2 cups (10 oz, 285g) all purpose flour (see note)
2/3 cup (3.5 oz, 100g) cake flour
1 teaspoon salt
1 tablespoon granulated sugar
1/2 cup (4 oz, 115g) leaf lard (or vegetable shortening), cold
1/2 cup (4 oz, 115g) butter, very cold and sliced into 1/4" thin slices
1/2 cup (4 oz, 118 ml) ice cold water
Instructions
Combine the all purpose and cake flour with the salt and sugar. Whisk together to mix the ingredients evenly.
Using your fingers, cut the lard or shortening into the flour mixture until it resembles coarse corn meal. Using your fingers, toss the butter into the flour mixture. Allow the slices of butter to break up into slightly smaller pieces into the flour. Work quickly so the butter doesn't get warm. Don't break the butter down completely. There should be some large flakes remaining.
Pour the water onto the flour all at once and toss to combine. Gently press the dough just until it comes together. It will look a little dry in spots. The water will redistribute in the dough as it rests.
Wrap the dough and refrigerate for at least 2-3 hours before using.
Notes
This recipe uses a mixture of all purpose and cake flour to mimic pastry flour. All purpose flour will give the dough enough structure so it can hold the flaky texture and a small proportion of cake flour will help keep it tender. If you have pastry flour you can use that in place of the flour mixture.
Recommended Products
As an Amazon Associate and member of other affiliate programs, I earn from qualifying purchases.
You might also like: