Bakewell Tart is a classic British confection. The satisfying combination of almond frangipane and raspberry preserves is baked inside a crisp, buttery crust.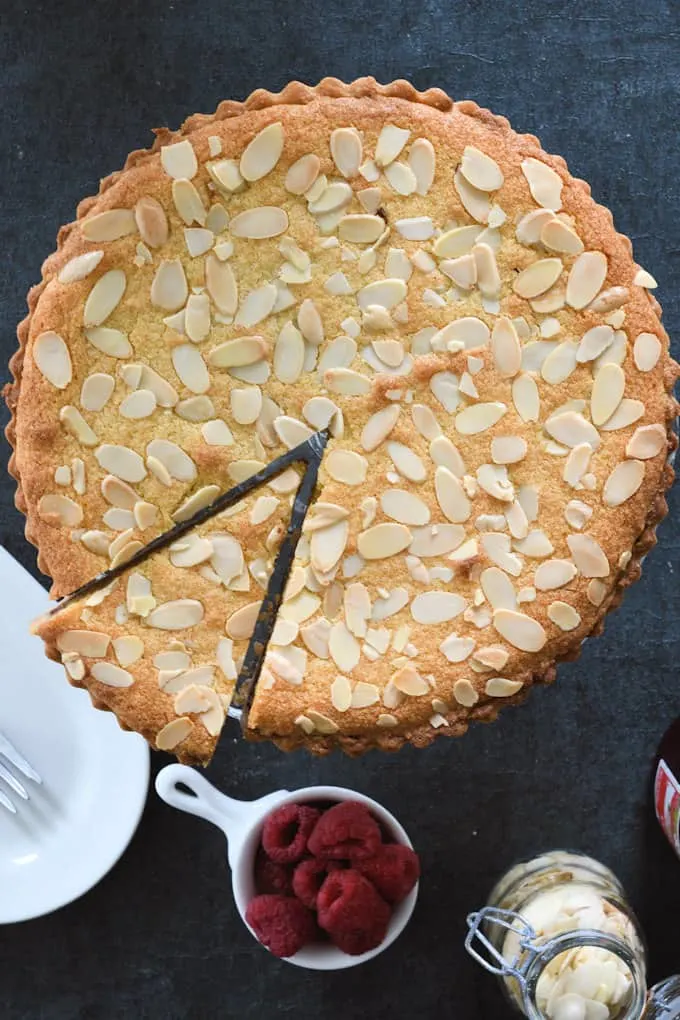 Quick aside, even though this recipe does bake-up quite well, the name comes from the town of Bakewell in Derbyshire.
When I worked as a baker at a British tea shop (here in the US), we literally sold Bakewell tart by the slab. I would bake the tart in a full sheet pan. The tart was cut into squares to be sold and served with afternoon tea.
As popular as those slabs of tart were, I prefer the elegant shape of the fluted tart pan. The finished tart slices up into perfectly pretty little wedges that will just make you happy.
Tips for making a perfect Bakewell Tart:
Use a fluted tart pan with a removeable bottom for a pretty and easy-to-slice tart.
Make the tart dough up to 3 days before and refrigerate. The dough can also be frozen for up to 3 months. (There is a recipe for the dough at the end of this page.)
When I make short dough, I make a full batch and freeze extra for future recipes.
Roll the dough when it's still cool from the fridge and it will be easier to handle.
Blind bake the tart shell until the bottom of the shell is fully baked and just beginning to brown.
I prefer to use seedless raspberry preserves.
Spread the almond frangipane filling very carefully so you don't end up mixing the jam into the filling.
You can finish the tart with a sprinkle of powdered sugar or a drizzle of powdered sugar glaze.
The baked tart will keep at room temperature 4-5 days.
Scroll through the step by step process photos to see how to make a Bakewell Tart: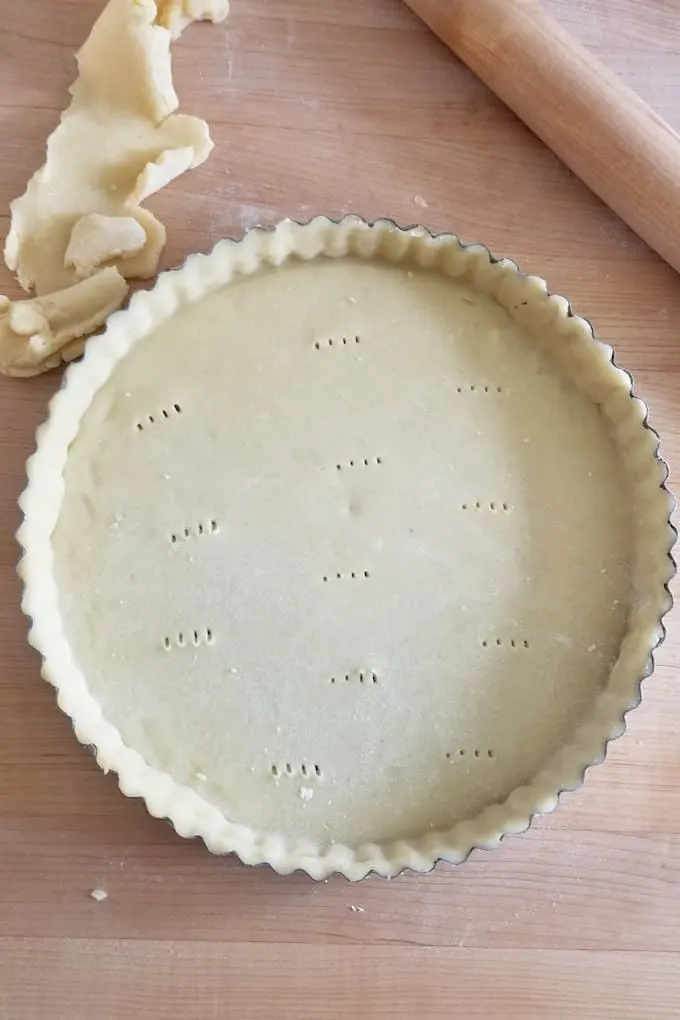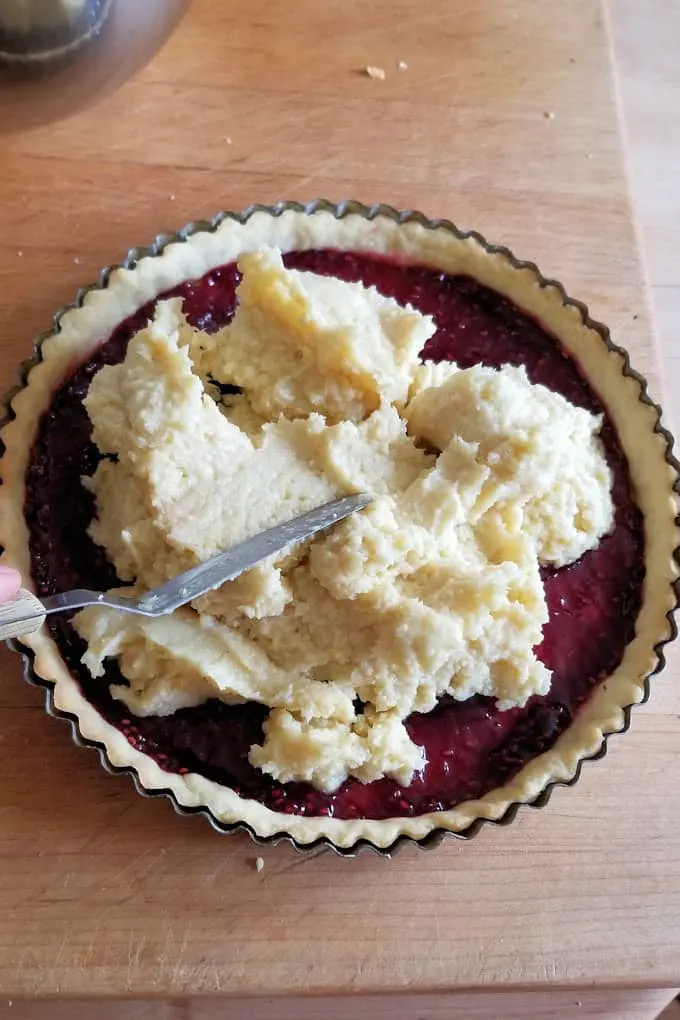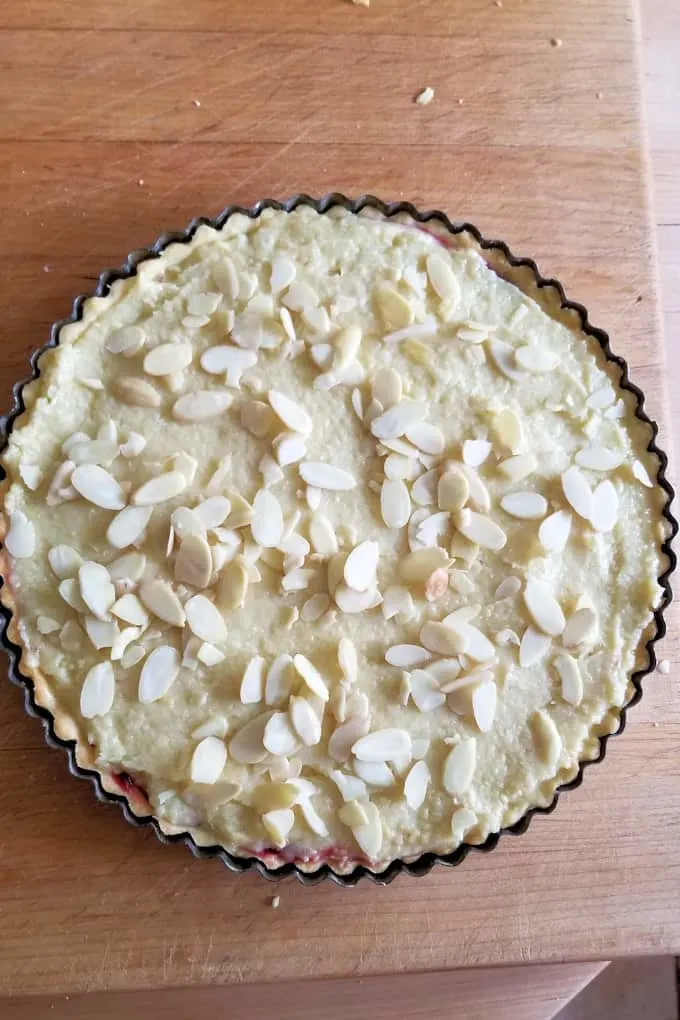 Try these other British-inspired recipes. Raisin Scones, Lemon Curd, Lemon Shortbread, Blood Orange Marmalade.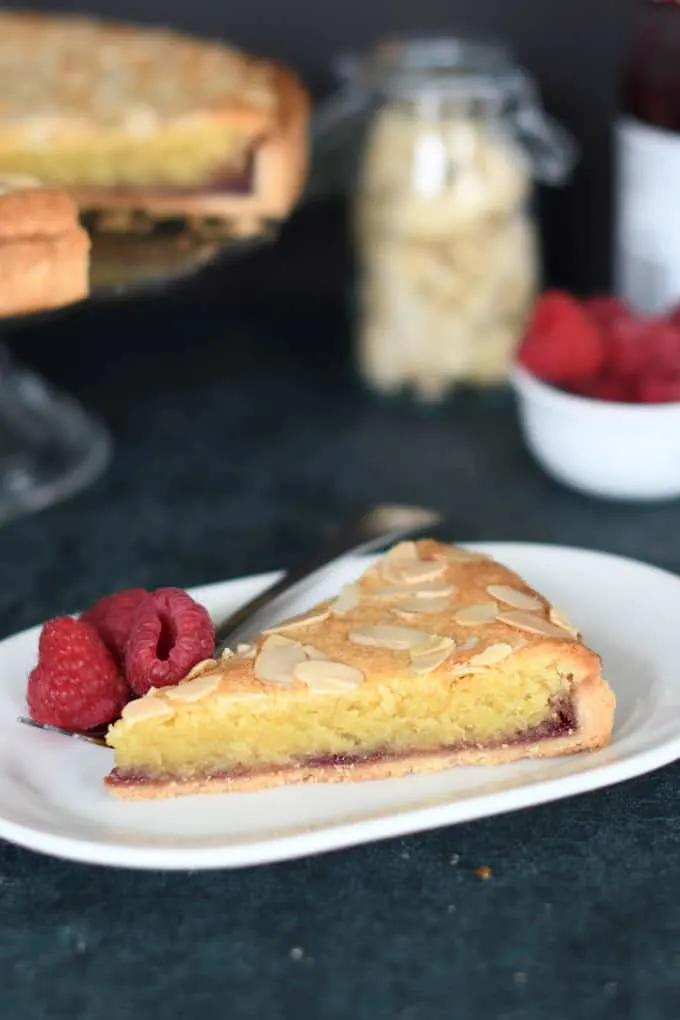 If you love this recipe as much as I do, I'd really appreciate a 5-star review.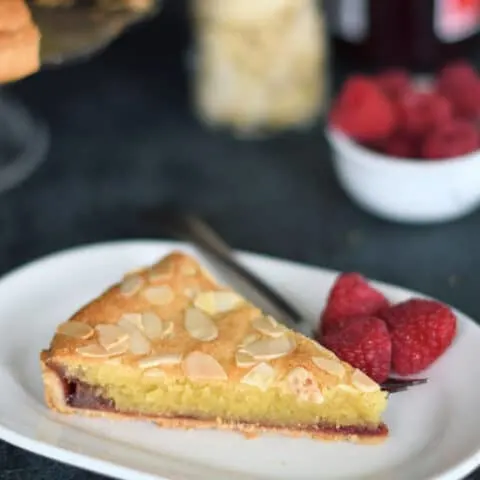 Bakewell Tart
Bakewell Tart is a classic British treat. The satisfying combination of almond and raspberry is baked inside a crispy, buttery crust.
Ingredients
1 stick (4 oz, 112g) unsalted butter, room temperature
3/4 cup (6 oz, 168g) granulated sugar
2 large eggs, room temperature
1 1/2 cups (6 oz, 168g) almond flour or finely ground almonds
1/2 teaspoon almond extract
1/2 teaspoon vanilla
1/4 teaspoon salt
1/3 cup (4 oz, 112g) raspberry preserves
1/4 cup (1 oz, 28g) sliced almonds
Instructions
Preheat the oven to 350°F.
Roll the short dough to fit a 9" fluted tart pan with a removable bottom. Prick the dough all over with a fork and refrigerate until firm.
Bake the tart shell until it's lightly golden brown, about 10-15 minutes. Set the crust aside to cool while you make the filling. Keep the oven on.
In a mixing bowl, cream the butter and sugar together until light and aerated. Scrape the bowl and the beater. Add the eggs and mix to combine. Add the almond flour, almond extract and salt.
Spread the raspberry preserves into the bottom of the tart crust. Gently spread the almond filling over the preserves, trying not to mix the jam into the filling. Sprinkle the sliced almonds evenly over the filling. Bake until the filling is set, about 35 minutes.
Recommended Products
As an Amazon Associate and member of other affiliate programs, I earn from qualifying purchases.
Pate Sucre - Short Dough
Ingredients
2 1/2 sticks (10 oz, 282g) unsalted butter, softened to room temperature
1/2 cup plus 2 tablespoons (5 oz, 141g) granulated sugar
1 egg
1/2 tsp vanilla
3 cups (15 oz, 425g) all purpose flour
1/2 tsp salt
Instructions
Cream butter and sugar just until combined and slightly aerated. Add the egg and vanilla, mix to combine and scrape down the bowl and beater.
Add flour and salt and mix until the dough just begins to come together. Remove from the mixer and knead into a ball. Flatten the ball to a disc, wrap in plastic and refrigerate for 1-2 hours before using.
Notes
This recipe makes enough for two 12" fruit tart crusts. You can halve the recipe by using an egg yolk in place of 1/2 an egg.
This dough freezes very well. Double wrap in plastic and freeze for up to 3 months.
Recommended Products
As an Amazon Associate and member of other affiliate programs, I earn from qualifying purchases.