Homemade Nutella is way better than store bought. Made with ingredients you can pronounce, this vegan Nutella recipe is dairy and gluten free.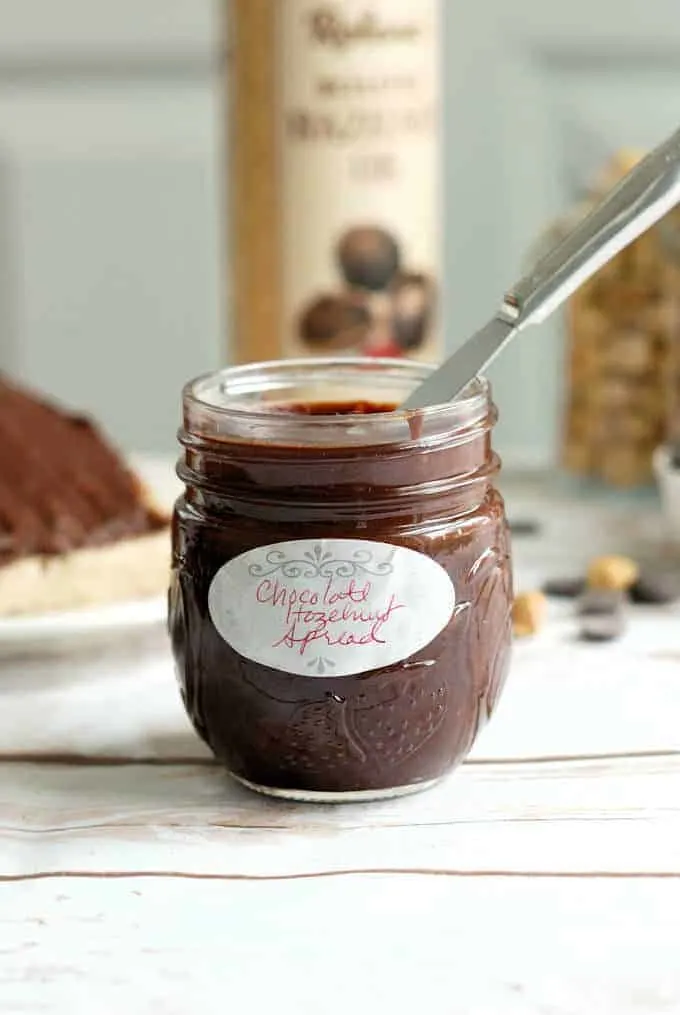 Honestly, I don't really love Nutella. I know that puts me squarely in the minority, but I find the commercial stuff kind of greasy and not chocolatey enough.
I guess once you've tasted gianduja, it's hard to love store bought Nutella. I was first introduced to gianduja when I was in pastry school and it was love at first taste.
What is gianduja? Ahhhh, gianduja is a luxurious mixture of ground hazelnuts and chocolate. An Italian invention, gianduja was created as a way to stretch the supply of expensive chocolate with widely available hazelnuts.
This flavor profile is found in Nutella and those fabulous Ferrero Rocher chocolates. If you want to make your own "fancy" gianduja candies you'll be surprised how easy it is to make Layered Hazelnut Truffles.
I've been on a bit of a hazelnut kick lately, so I set out to make my own chocolate hazelnut spread. Of course I headed on over to google to see what the internet had to say about Homemade Nutella.
Almost every recipe I found on-line, at least those on the first few pages of the search, were not only similar, but almost exactly the same.
Since "the" internet recipe has butter and cream in it, I knew I had to go in another direction. I wanted to make a recipe that would be shelf stable for more than a couple of days.
As a big bonus, this recipe happens to be vegan, dairy and gluten free. Although special diets are not generally my focus, this is a nice plus. Because this recipe was developed for the best flavor and texture, period, there is no sacrifice of flavor or texture by eliminating the dairy.
How to make the best Homemade Nutella aka Chocolate Hazelnut Spread:
Use high quality chocolate. Use a good quality semi-sweet chocolate. Don't substitute cocoa or chocolate chips. The cocoa butter in the chocolate helps contribute to the luxurious texture of the spread.
Use whole hazelnuts if you can find them. The baking section of my local market only carries little bags of chopped hazelnuts. The skins from the chopped nuts can leave a gritty texture in the nutella. It's easier to remove the skins from whole hazelnuts, and they are often already skinned. I found whole hazelnuts in the bulk section of my local market.
How you mix matters. I tried mixing the ingredients in a variety of ways and found that grinding the warm nuts to a smooth paste, then adding the sugar, and other ingredients created a super smooth and velvety spread.
Use hazelnut oil and water. As I mentioned above, I wanted to skip the dairy, but needed an ingredient that would help the paste stay spreadable after it was cooled. I started by adding hazelnut oil, but the spread was still too firm. I didn't want to keep adding oil because too much oil would make a greasy Nutella. So I went as simple as possible. A little hot water was the perfect touch.
FAQs for making Homemade Nutella:
Is homemade Nutella healthy?
There is a decent amount of sugar and fat in the recipe so I wouldn't call it "healthy". But you can see there is a very short list of pronounceable ingredients with no chemical additives.
Does homemade Nutella need to be refrigerated?
Because there are no dairy ingredients in this recipe, the spread can safely be stored at room temperature, tightly covered, for a couple of weeks. For longer term storage it should be refrigerated.
How do I store homemade Nutella?
Store it in a jar or other container with a tight fitting lid. I like to use canning jars because they look pretty and have reusable lids. If you refrigerate chocolate hazelnut paste, let it soften at room temperature before using. For very long-term storage homemade Nutella can be frozen.
How long does homemade Nutella keep?
Refrigerated, this homemade hazelnut paste will keep for about 6 months.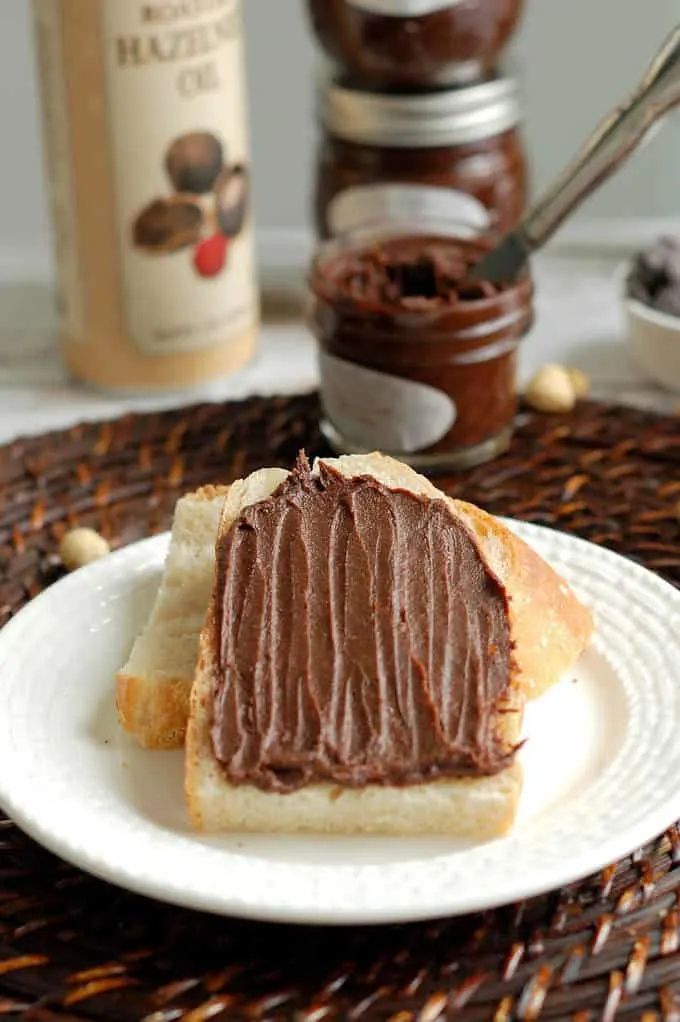 Watch the recipe video to see exactly how to make Homemade Nutella
When you're finished making your homemade Nutella, you can make fabulous Nutella Sandwich Cookies!
If you love this recipe as much as I do, I'd really appreciate a 5-star review.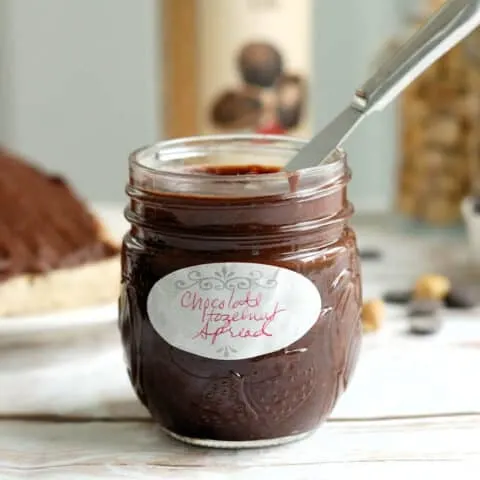 Homemade Nutella - Chocolate Hazelnut Spread
Homemade Chocolate Hazelnut Spread is way better than the store bought Nutella. Made with ingredients you can pronounce. This recipe is dairy free, vegan and gluten free.
Ingredients
3 oz (84g) hazelnuts
3/4 cup (3 oz, 84g) confectioners sugar
3 oz (84g) semi-sweet chocolate, melted
1/4 cup (2 oz, 60 ml) very hot tap water
2 tablespoons hazelnut oil
Instructions
Toast the hazelnuts in the oven until golden brown and fragrant. If the hazelnuts have skins, fold the warm nuts in a kitchen towel and rub back and forth to remove as much skin as possible.
Place the warm nuts in a food processor. Process for 4-5 minutes. At first it will look like a powder, then it will look like wet sand and eventually it will form a paste that looks like peanut butter. Stop the processor and scrap down the bowl whenever the mixture builds up on the sides.
Add the sugar to the hazelnut paste and process until smooth. Stop the processor and scrap down the bowl whenever the mixture builds up on the sides. Add the melted chocolate and process until there are no lumps.
Combine the hot water and hazelnut oil and add to the chocolate mix. Pulse until the paste comes together.
Transfer the Hazelnut Paste to a jar or other container with a tight-fitting lid. The paste will thicken as it continues to cool. Store the unopened paste at room temperature. Once opened, store in the refrigerator.
Recommended Products
As an Amazon Associate and member of other affiliate programs, I earn from qualifying purchases.