Sourdough Focaccia with Crispy Garlic & Rosemary has an open and irregular crumb, crunchy crust and great chewy texture. A long slow fermentation gives this bread it's irresistible flavor.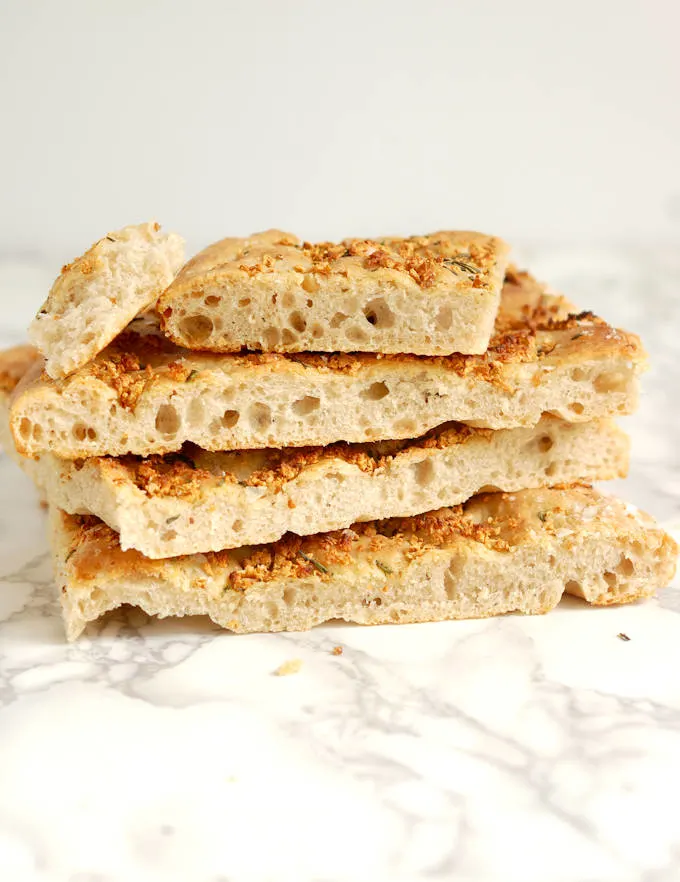 Today the #BreadBakers group was asked to get our bread geek on!! We're geeking out by making breads with a sourdough starter, a poolish, a biga or a soaker. You can do a little research if you want to learn about those other natural leaveners.
If you don't have one, check out my post to learn How to Make a Sourdough Starter. Then check out my system to Feed and Maintain Sourdough Starter.
Focaccia is a natural choice for a sourdough bread. A great focaccia should have an open and irregular crumb and light, chewy texture. A great sourdough bread often has the very same characteristics.
I made the first version of this recipe weeks ago and planned to post it right away. But daylight got away from me and I wasn't able to get photos before the entire loaf was gobbled up.
I made it again the next day, but, seriously, the same thing happened again. This bread is that irresistible!
Long story short, I finally made the Sourdough Focaccia a 3rd time and was able to video and photograph it before we scarfed it down.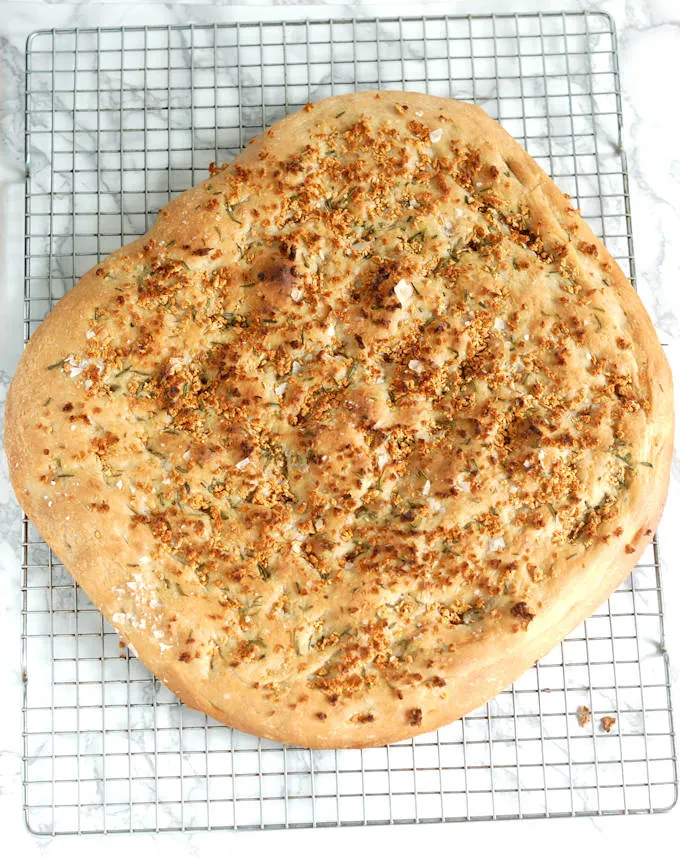 A timeline for making Sourdough Focaccia:
If your starter needs feeding, do that the night before or early in the morning of the day you want to make the dough.
To test if your sourdough starter is active and ready to use, drop a dollop into a bowl of water. If it floats, it's ready to go.
Mix the dough in the afternoon or early evening of day one (say, a Friday or Saturday).
Let the dough sit at room temperature (with the hourly folding and flipping) until bed time.
Before going to bed, put the dough in the fridge for the night.
Take the dough out first thing in the morning and finish assembling and baking.
By mid-day you'll have warm, fresh Sourdough Focaccia with Crispy Garlic & Rosemary. Heavenly!!!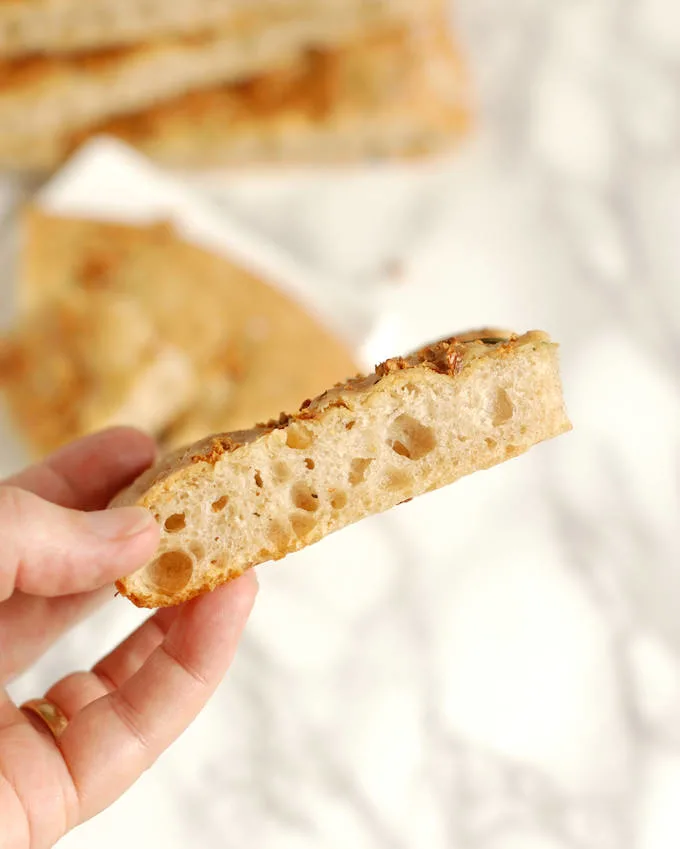 Watch the recipe video to see how-to make Sourdough Focaccia with Crispy Garlic.
I know you hate to throw away that sourdough discard. Check out these recipes that use sourdough discard.
If you love this recipe as much as I do, please consider leaving a 5-star review.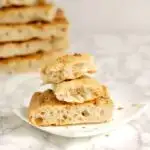 Print Recipe
Sourdough Focaccia with Crispy Garlic & Rosemary
Light and crusty Sourdough Focaccia bread with crispy garlic, rosemary and sea salt.
Ingredients
Focaccia Dough
8

oz

active sourdough starter

(1 cup, 100% hydration)

10

oz

warm water

(1 1/4 cups)

2 1/2

oz

whole wheat flour

(1/2 cup)

12 1/2

oz

unbleached all-purpose flour

(2 1/2 cups)

1 1/2

teaspoons

table salt

2

oz

olive oil

(1/4 cup)
Crispy Garlic
1

head garlic

(peel & mince the cloves)

2

oz

olive oil

(1/4 cup)
Finish
1

scant tablespoon roughly chopped fresh rosemary

(from about 1 large or 2 small sprigs)

1.5

teaspoons

flaky sea salt
Instructions
Make the dough (day 1)
In the bowl of a stand mixer, or in a large mixing bowl, combine the starter with water and whole wheat flour. Add 1 1/2 cups of all purpose flour to form a thick batter. Cover the bowl and set aside for 30 minutes.

If using a stand mixer switch to the dough hook. Add the salt, olive oil and the remaining flour, Knead on medium low speed for 5 minutes (speed 3 on my stand mixer). If mixing by hand stir in as much flour as you can, then turn the dough out onto a floured surface and knead by hand.

The dough will start out quite sticky but will clear the bowl and cling to the hook after kneading. If working by hand, keep your hands and the surface floured to prevent the dough from sticking. This is a fairly wet dough.

Scrape the dough into a lightly oiled bowl, turning once to coat. Cover the bowl and set aside at room temperature for 3-5 hours. Every hour repeat the following procedure: Uncover the bowl, lift one side of the dough over into the middle of the dough. Repeat with the other three sides of the dough then flip the dough over. You're basically turning the dough inside-out to redistribute the yeast. By now the dough should be lively, elastic and airy. If the dough is still sluggish give it another hour or two at room temperature.

Put the dough in the refrigerator overnight. Alternately, you can go ahead with shaping the dough if you want to bake it the same day.
Bake the Focaccia (Day 2)
Heat the olive oil in a skillet. Add the garlic to the hot oil and cook over medium-low heat, stirring often, until golden brown. Be careful not to let it burn. Strain the garlic, reserving the garlic flavored oil and the garlic separately.

Take the dough out of the refrigerator. Lightly oil a 1/2 sheet pan with half of the garlic olive oil. Place the dough onto the oiled pan (trying not to deflate too much) and flip it over to coat it with a film of oil. Use your fingers to spread the dough to a 1/2" thick square or rectangle. Cover the dough with plastic wrap. Allow the dough to rise for about 1 hour until well risen and puffy.

Preheat the oven to 400°F. Use your fingers to dimple the top of the dough all over. Brush with the remaining garlic flavored olive oil, sprinkle with crispy garlic, sea salt and rosemary.

Bake about 15-20 minutes until puffed and golden brown.
As an Amazon Associate and member of other affiliate programs, I earn from qualifying purchases.
Notes
The recipe can be halved and baked in a cast iron skillet.
Nutrition
Serving:
1
slice
|
Calories:
136
kcal
|
Carbohydrates:
22
g
|
Protein:
3
g
|
Fat:
4
g
|
Saturated Fat:
1
g
|
Sodium:
348
mg