Ginger, ginger, ginger! Try these Triple Ginger Ice Cream Sandwiches if you just can't get enough ginger. Spicy ginger cookies filled with homemade ginger ice cream with a hint of Ceyenne spice.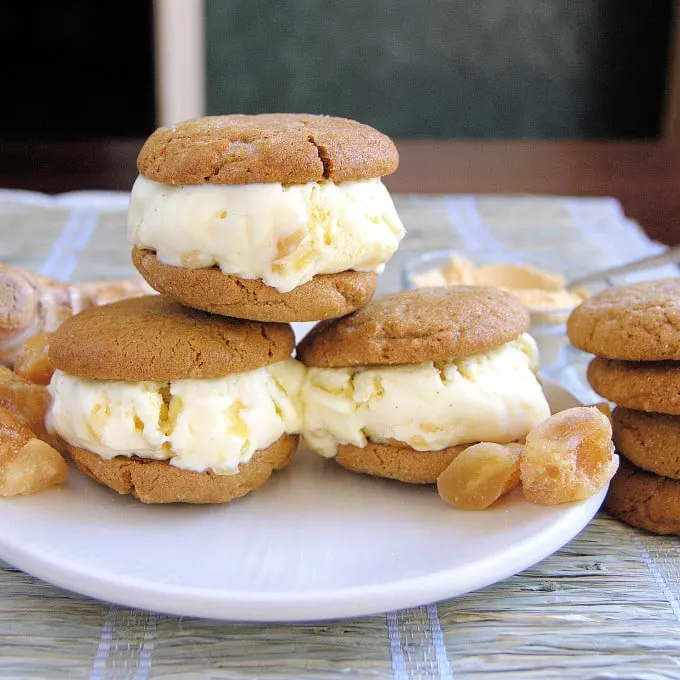 It's summertime! We need another ice-cream recipe, don't we? I love to make ice cream sandwich fixins for an outdoor get-together. Not only is it a fun and refreshing dessert, but everything can be made at least a day ahead. In fact, the ice cream must be made the day before to have time to freeze and the cookies are better made a day ahead so they can soften just enough to make biting the sandwiches a little easier (no ice cream squish!). All you have to do at the party is put everything on the table with an ice cream scoop.
If you're having a larger crowd it's nice to offer at least two different cookie flavors and several different ice creams to create a make-your-own ice cream sandwich bar. Everyone can create their favorite combinations. If you make the cookies on the smaller size no one has to feel guilty about trying more than one combination.
This combination is one of my new favorites. I love ginger and wanted an ice cream sandwich that was not shy with the ginger flavor. I used 3 types of ginger; fresh, dried and crystallized to create a powerful punch of ginger for these Triple Ginger Ice Cream Sandwiches. Just to amp up the flavor even more, I spike the ice cream with a little Ceyenne pepper. Leave it out if you don't like the heat.
This would an especially nice finish for a dinner with lots of bold flavors like grilled meats and barbecue sauce.
The ice cream has grated fresh ginger for a punch of fresh flavor and then chopped crystallized ginger is whirled into the ice cream before it's stored in the freezer. I love the little bursts of sweet-spicy ginger from the crystallized pieces.
The cookies are chewy from molasses and spicy from a full 2 tablespoons of dried ginger. I use a scoop to portion the cookies so I get consistently sized cookies. For this recipe I used a 1.5 oz scoop, which makes a dough ball about 1.5″ across and baked cookies about 2.5″ across.
With the 1.5 oz scoop I got 36 cookies, or enough for 18 sandwiches.Keep this cookie recipe on file, because after the summer these cookies would also be great sandwiched with cream cheese icing.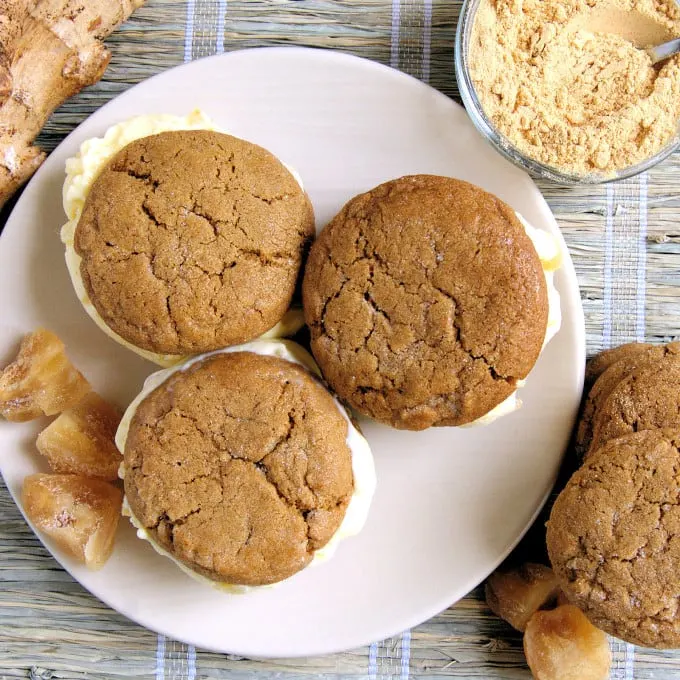 Double Ginger Ice Cream Spiked with Ceyenne & Chewy Ginger Cookies
Yield: 36 cookies, or 18 sandwiches

Prep Time: 10 minutes

Cook Time: 10 minutes

Total Time: 20 minutes
Ingredients
Ginger Ice Cream
1 Cup Whole Milk
2 Cups Heavy Cream
6 oz (3/4 cup) granulated sugar
5 egg yolks
1/4 cup grated fresh ginger (use a piece about 2"-3" long)
1/2 cup minced candied ginger
1/4 teaspoon Ceyenne pepper (optional)
Ginger Cookies
2 1/2 cups (13 ounces) all-purpose flour
3/4 teaspoon baking soda
2 Tablespoons ground ginger
1/4 teaspoon ground black pepper
1/2 teaspoon salt
8 oz (2 sticks) unsalted butter, softened
1/2 cup (4 oz) packed light brown sugar
1/4 cup (2 oz) granulated sugar
1 teaspoon vanilla extract
1/3 cup (4 oz) molasses
1 egg
1 cup granulated sugar for coating the cookies
Instructions
Ice Cream
Combine the milk, ginger and optional ceyenne in a small microwave proof container
Heat on high for about 2-3 minutes to scalding hot but do not allow it to boil over
Set the milk in the refrigerator for 1 hour to allow the ginger to steep
Check the flavor. If you want it stronger allow it to steep another hour
When the milk is flavored to your liking, combine the milk, cream and 1/2 the sugar in a saucepan
Heat over medium high heat until scalding hot
While the milk mixture is heating, whisk together the yolks and the remaining sugar
Whisk the scalding hot milk into the yolks
Return the mixture to the pan and reduce the heat to medium low
Cook the custard, stirring constantly, until it coats the back of a spoon or spatula
Strain the mixture into a bowl, cover with plastic wrap and refrigerate for at least 3-4 hours or overnight.
Run the custard in yourice-cream machineaccording to the manufacturer's directions
Just before removing the ice cream from the machine, pour in the chopped candied ginger and allow it to mix through the ice cream
Pack into a container. Place plastic wrap directly on the surface of the ice cream and cover the container with a lid
Freeze at least 8 hours or overnight.
Make the Cookies
Preheat the oven to 325°F for convection and 350°F for conventional
Sift together the flour, baking soda, ginger, salt and pepper. Set aside
On medium high speed, cream together the butter, granulated sugar and brown sugar until light and fluffy
Add the vanilla and molasses and mix to combine
Add the egg and mix to combine
With the mixer on low speed, slowly add the dry ingredients and mix just until combined
Place the remaining cup of granulated sugar into a wide shallow bowl or pie plate
Use a scooper or a tablespoon to portion the cookies into 1 1/2" balls
Drop each cookie ball into the granulated sugar and roll to coat
Place the coated cookies on a parchment lined baking sheet
Gently press each cookie ball to flatten slightly
Bake until the cookies are set but still look slightly under baked, about 10 minutes.
The cookies will crack a bit while they bake
Cool on the sheet pan for 5 minutes and then transfer the cookies to a cooling rack to finish cooling.
Notes
I keep fresh ginger in the freezer between uses. It's very easy to grate the frozen ginger with a rasp grater.

These cookies will be crisp the day they are baked and will soften after a day.

For ice-cream sandwiches I like them softened so I make the cookies the day before. It makes the sandwiches easier to bite.

Store the baked cookies in a cookie jar or in a container with a tight fitting lid. They'll keep for several days.