Almond Biscotti flavored with Anise & Orange! These classic, crunchy, almond cookies are perfect for dunking into coffee, espresso or dessert wine.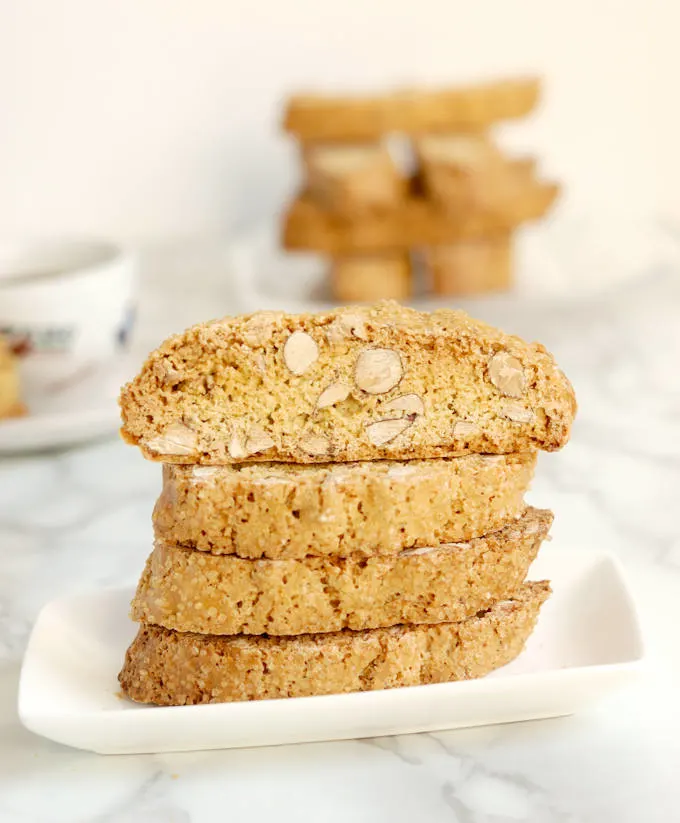 I love almond biscotti because they really are easy to make and they keep for weeks. I also like that biscotti are hard and crunchy and are just begging to be dipped into coffee or espresso. The firm texture means they're perfect for packing into holiday gift boxes or bags.
Creating a great almond biscotti recipe:
When I'm posting a recipe I often have a old favorite that I rely on, at least as a starting point. I've been making my favorite Oatmeal Cookie recipe forever, so I had that recipe all ready to go when I posted it.
I've done about a million versions of shortbread, but most of those recipes start from my basic shortbread dough.
I got a hankering for a crunchy biscotti and wanted to add a good recipe to my collection. But the only biscotti recipe I had on hand was one from my very first job after graduating from pastry school.
I worked for an amazing Austrian pastry chef whose recipes I still use to this day. But I didn't remember that particular recipe being exceptional or memorable.
So I started pretty much from square one to create this Anise & Orange Biscotti recipe. Square one means scouring the internet and my cookbooks for recipes to compare and contrast.
I narrowed down my choices to a handful of recipes that looked promising. Usually, when I do this, I'm amazed at how similar, and often identical, the recipes are. But the biscotti recipes I'd gathered were wildly variable.
Some of the recipes had no fat whatsoever, some had butter and others had olive oil. A few of the recipes use the "creaming method" for mixing and others simply have you melt the butter and mix it all together.
I wanted a little fat in the cookie for flavor, but I didn't want so much that the biscotti didn't have the characteristic hard bite. I used a little olive oil because, well, it is an Italian cookie so that just seemed to make sense to me.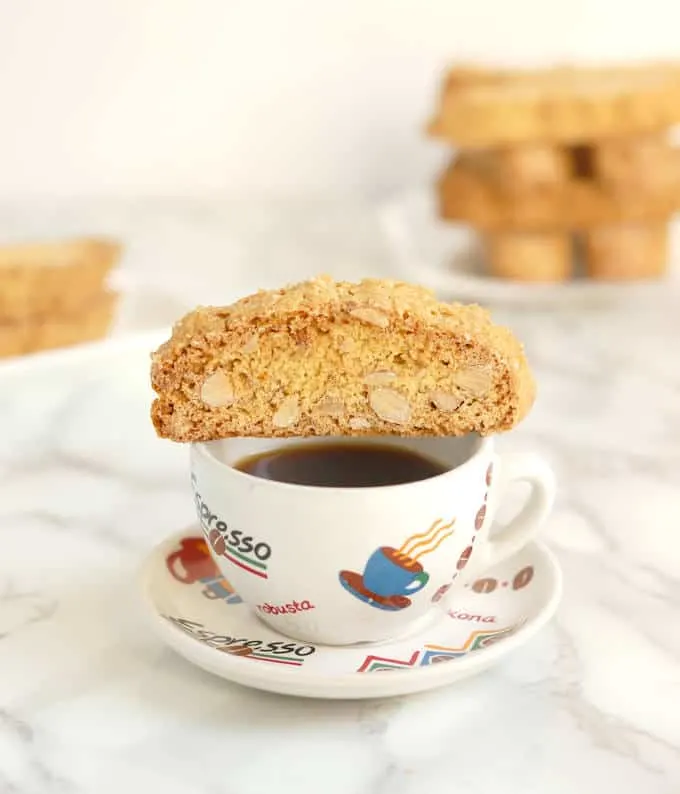 Most of the recipes had a good bit of sugar in them, 2-3 cups. I opted to use a little less than that because I wanted a subdued sweetness in the cookie. The Demerara sugar on top adds a bit of sweet flavor too.
I was most amazed at the vast differences in the amounts of flour in the recipes, from 1.5 cups to almost 6 cups.
I figured 6 cups of flour would make a super-dense and extremely dry cookie. But cookies made with less than 2 cups might not hold up to a good dunking in a cup of espresso. So I pretty much split the difference and used an amount somewhere between the two extremes.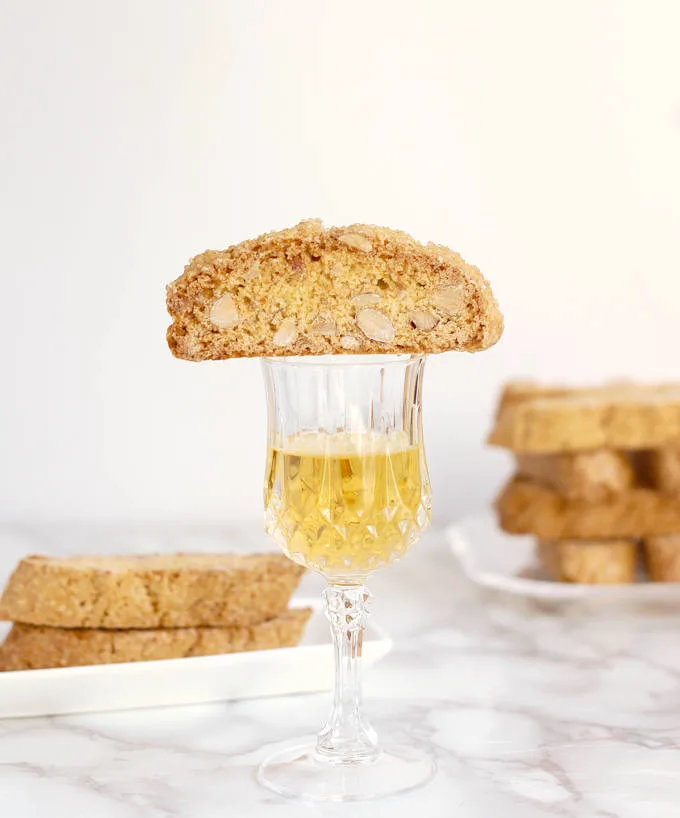 I got the idea to add a hint of cornmeal from a recipe by Lidia Bastianich. I'm a huge Lidia fan and I thought cornmeal would give the cookie a crunchy, but slightly crumbly texture. I used cornmeal in my Meyer Lemon Olive Oil Cake for the same reason.
Once I sorted out the ingredients, I went ahead a baked a batch to see how they'd turn out. As soon as I mixed the recipe I realized that the dough was a bit too dry. I quickly added another egg.
Now the dough had a nice pliable, yet firm, texture. They baked up exactly as I was hoping they would. They're light, yet substantial enough for dunking.
The anise flavor is very traditional and I love the combination with the orange zest and big chunky almonds. I hope you like them as much as I do. Try them dunked in coffee, or in a nice dessert wine.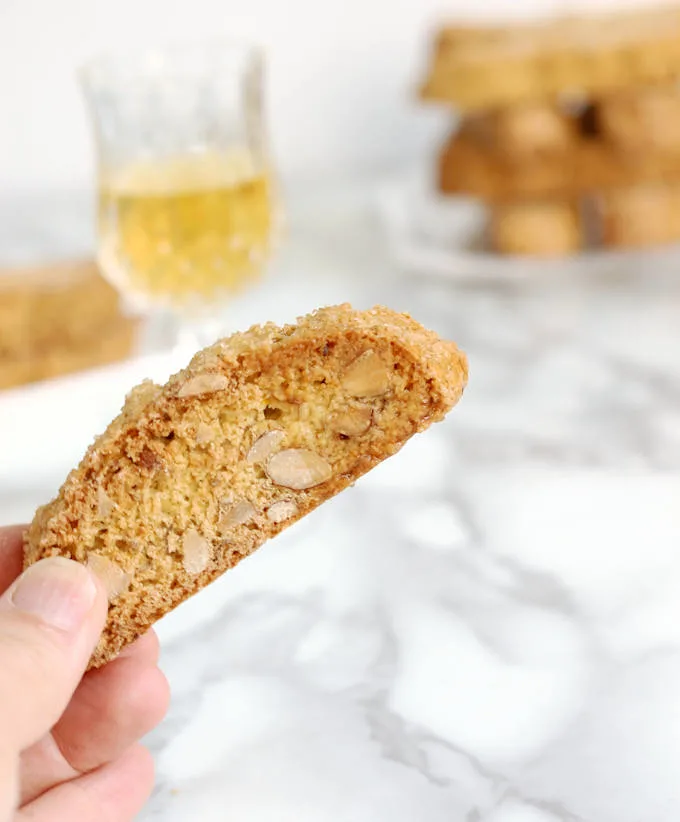 If you keep a sourdough starter, you should try this amazing Sourdough Biscotti. I've also got a great recipe for Triple Ginger & Cranberry Biscotti.
Watch the recipe video to see how-to make Anise & Orange Biscotti.
If you love this recipe as much as I do, I'd really appreciate a 5-star review.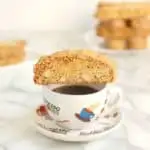 Print Recipe
Anise & Orange Biscotti
Crunchy almond biscotti cookies flavored with anise seeds and orange zest. Perfect for dunking into coffee, espresso or dessert wine.
Ingredients
4

large eggs

(plus 1 for egg wash)

2

oz

olive oil

(¼ cup)

1

teaspoon

vanilla

2

large oranges

(finely grated zest)

1

oz

dark rum

(2 tablespoons)

16

oz

all purpose flour

(3 ¼ cups)

1 ½

oz

corn meal

(¼ cup)

12

oz

granulated sugar

(1 ½ cups)

1

tablespoons

baking powder

½

teaspoon

table salt

1

tablespoon

anise seeds

12

oz

toasted almonds

(2 cups, roughly chopped)
Instructions
In a small bowl combine the

4 large eggs

,

2 oz olive oil

,

1 teaspoon vanilla

, finely grated zest from

2 large oranges

and

1 oz dark rum

, set aside. In a mixing bowl combine

16 oz all purpose flour

,

1 ½ oz corn meal

,

12 oz granulated sugar

,

1 tablespoons baking powder

,

½ teaspoon table salt

, and

1 tablespoon anise seeds

. Mix the dry ingredients for 30 seconds to combine.

Add the egg mixture to the dry ingredients and mix until almost combined. Add

12 oz toasted almonds

and mix to until almost combined. Turn the dough out onto a lightly floured surface and finish mixing by hand.

Cover the dough with plastic wrap and allow it to rest for 15-20 minutes. Preheat the oven to

350

°F

. Line a ½ sheet pan with parchment paper or a silicone baking mat.

Split the dough into 2 equal portions. Use your hands to roll each piece of dough to a 13" x 2" log. Set the logs onto the sheet pan, leaving at least 3" between them. Brush each log with egg wash and sprinkle with 2 tablespoons of sugar.

Bake until golden brown and feels firm when pressed in the middle, about 35 minutes. Allow the cookies to cool completely.

Use a serrated knife to cut each log into ½" slices on a slight diagonal. Lay the cookies flat on the sheet pans and bake 10-15 minutes until toasty and golden brown (see note). Flip the cookies over and bake on the other side for another 10-15 minutes. Cool on a wire rack.

Store in a cookie jar for up to 2 weeks.
As an Amazon Associate and member of other affiliate programs, I earn from qualifying purchases.
Notes
If you like your biscotti super-crunchy bake the sliced cookies for the longer time, bake for the shorter time if you like them a little softer.
To work ahead: the dough logs can be wrapped and refrigerated for several days or frozen for several weeks.
Nutrition
Serving:
1
cookie
|
Calories:
124
kcal
|
Carbohydrates:
17
g
|
Protein:
3
g
|
Fat:
5
g
|
Saturated Fat:
1
g
|
Polyunsaturated Fat:
1
g
|
Monounsaturated Fat:
3
g
|
Trans Fat:
0.003
g
|
Cholesterol:
14
mg
|
Sodium:
68
mg
|
Potassium:
71
mg
|
Fiber:
1
g
|
Sugar:
7
g
|
Vitamin A:
23
IU
|
Vitamin C:
0.03
mg
|
Calcium:
41
mg
|
Iron:
1
mg