Sourdough Focaccia with pickled grapes, speck and thyme is a deliciously crusty and chewy flatbread with a light crumb and big bursts of flavor from the bold toppings.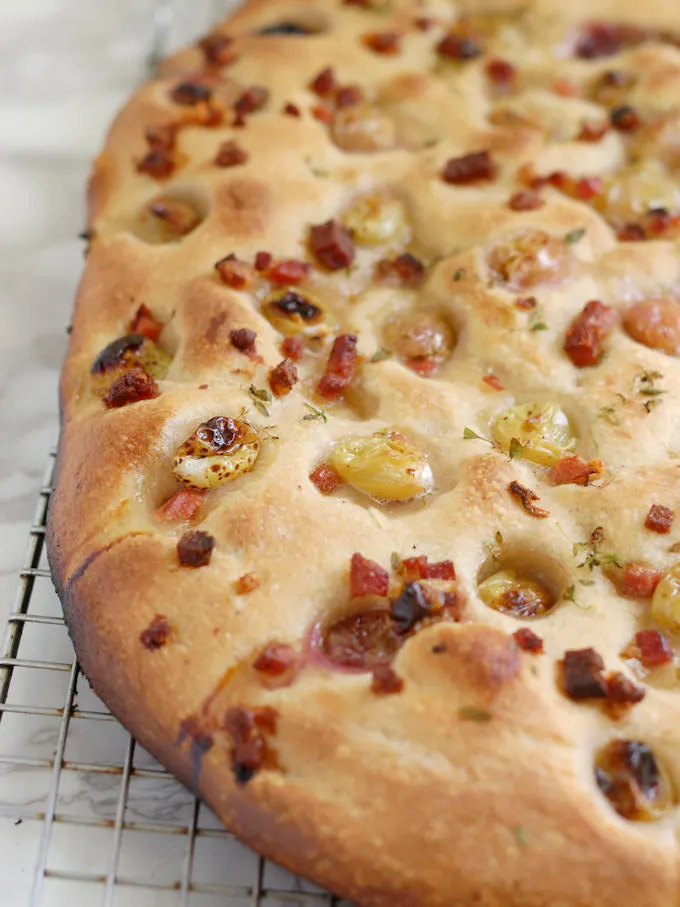 I have two words for you — Picked Grapes! Wow, they are my new obsession. I'm so happy that Sneha, our hostess for today's #BreadBakers event, chose this creative topic. She asked us to use grapes, dried or fresh, baked in the bread of our choice.
Looking for inspiration, I Googled around for savory recipes using grapes. I came across a number of recipes, mostly for salads, using Pickled Grapes. I was intrigued.
I made a quick batch, altering the mix of spices to my taste, and put them in the fridge for the night. I tasted them the next day and it was love at first bite. I can't wait to try pickled grapes in all sorts of other dishes.
Click through the step by step photos to see how to make Pickled Grapes:
You'll notice that the grapes in the photos are speckled. Although I got the grapes in our farm share, this is not a special variety of grape. According to the farmer, the speckles were due to the hot and rainy growing season. But the speckles didn't affect the flavor at all. In fact, I kind of like they way they look like little specked eggs.
I thought a salty/fatty topping would accent the tangy/sweet flavor of the grapes, so I added some chopped speck. A little fresh thyme for a fresh herbal note was the perfect final touch.
Because of the sweet, sour and salty combination, I think Focaccia with Pickled Grapes and Speck is a perfect brunch dish. A slab of this bread would be wonderful next to scrambled eggs or an omelet.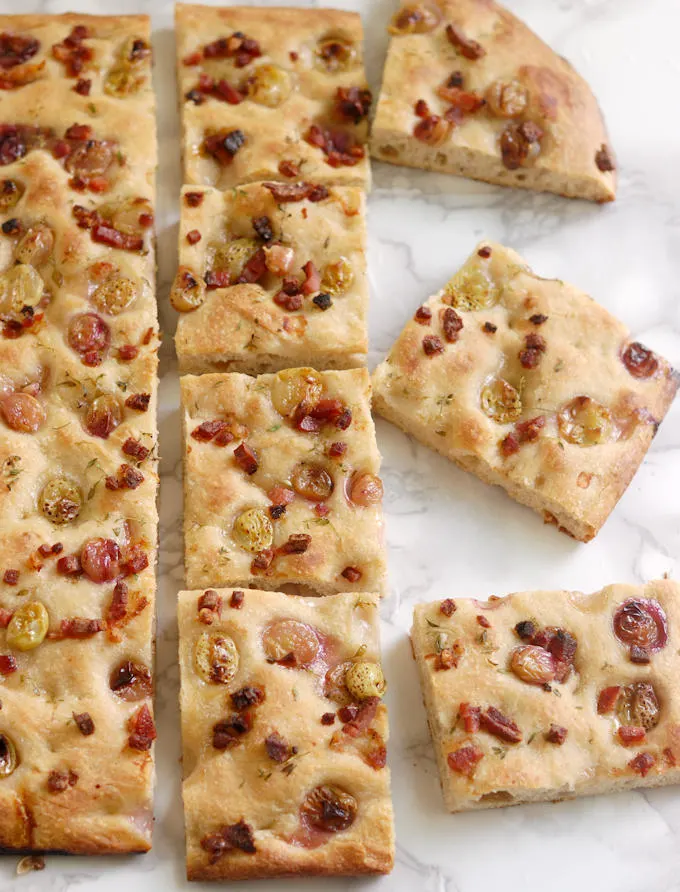 Helpful hints for making Sourdough Focaccia with Pickled Grapes:
Make the pickled grapes 1-2 days before you're going to bake the bread. They can be made up to a week in advance.
It is possible to mix this dough by hand, but it's much easier on a stand mixer. If mixing by hand you can use a bench scraper or plastic bowl scraper to help lift and move the dough.
I used a sourdough bread as the base of this focaccia. If you don't have a sourdough starter you can follow the bread recipe in this post instead. For future recipes I urge you to either buy or make a starter of your own. The flavor and texture difference is worth the effort, believe me.
I mixed the dough in the afternoon/evening of day one (say a Friday or Saturday). I let it sit at room temperature (with the hourly folding and flipping) until bed time.
I put the dough in the fridge for the night and took it out early in the morning because I wanted to enjoy this bread for breakfast. If you want to bake the bread for later in the day just take the dough out of the refrigerator about 2 hours before the time you want to serve the bread.
By breakfast time I had warm, fresh Sourdough Focaccia with Pickled Grapes & Speck. Heavenly!!!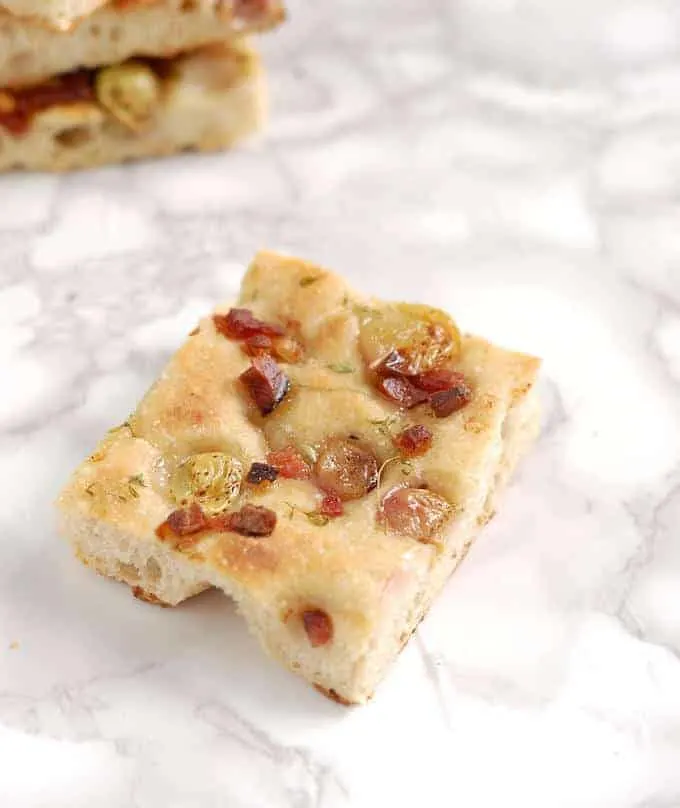 Since you've got your starter fed, check out the entire list of My Best Sourdough Recipes. Have fun!
If you love this recipe as much as I do, please consider leaving a 5-star review.
Use this recipe for the dough, don't make the toppings listed in the recipe.
You might also like:
Thanks to Sneha of Sneha's Recipe for hosting this event. Check out these other fabulous bread recipes featuring grapes in all forms: