Buckwheat Chocolate Chip Banana Bread is made with buckwheat flour, Greek yogurt and those over-ripe bananas you probably have sitting on your kitchen counter. This lightly sweet and hearty banana bread is great for breakfast or brunch.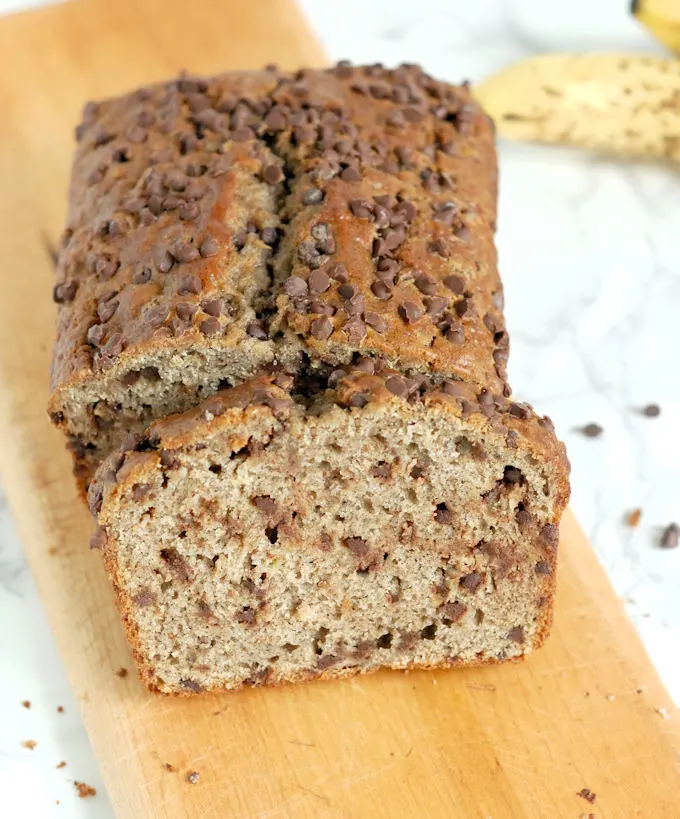 You may already have a go-to banana bread recipe. But, if you don't already have a favorite recipe, or if you're looking to try something a little less sweet than the usual, give this recipe a try.
If you want a more traditional banana bread recipe I recommend this Chocolate Chunk Banana Bread.
Here's a banana bread that's less sweet.
There is sugar in the recipe, but it's reduced a bit to make the bread less like a cake and more like a muffin or quick bread.
I added a little buckwheat flour to the mix to give the bread an interesting texture.
I've been playing with Greek yogurt in breads and really like the plush texture that comes from the thick and luscious yogurt. You could use regular yogurt instead. The batter will be a little looser since American yogurt is thinner than Greek yogurt.
I'm sure you already know that slightly over-ripe bananas are best for baking. As bananas ripen they become softer and sweeter as the starches turn to sugar.
A hint of cinnamon & nutmeg, along with a splash of lemon extract, brings out the flavor of the bananas.
Watch the recipe video to see how easy it is to make Buckwheat Chocolate Chip Banana Bread.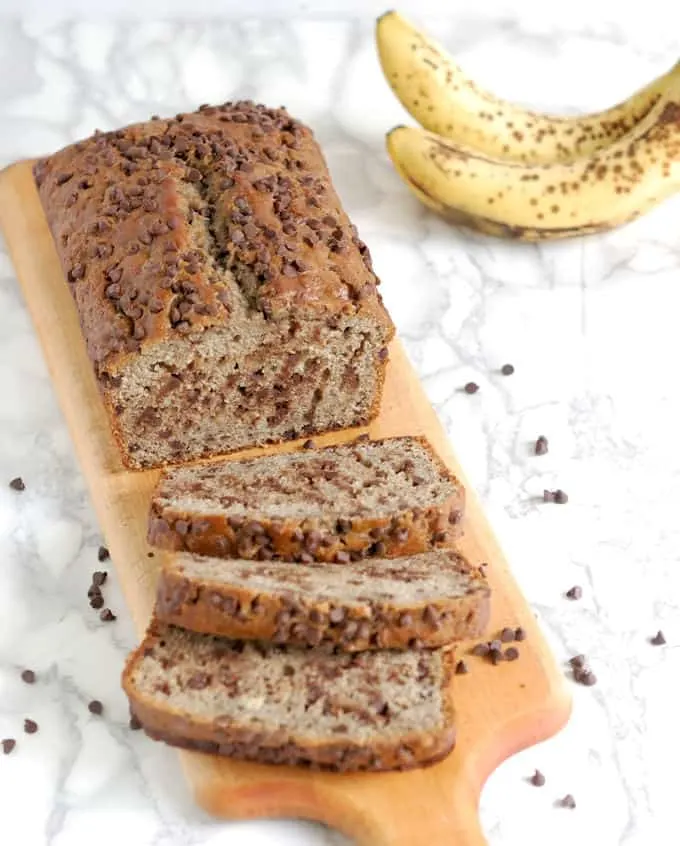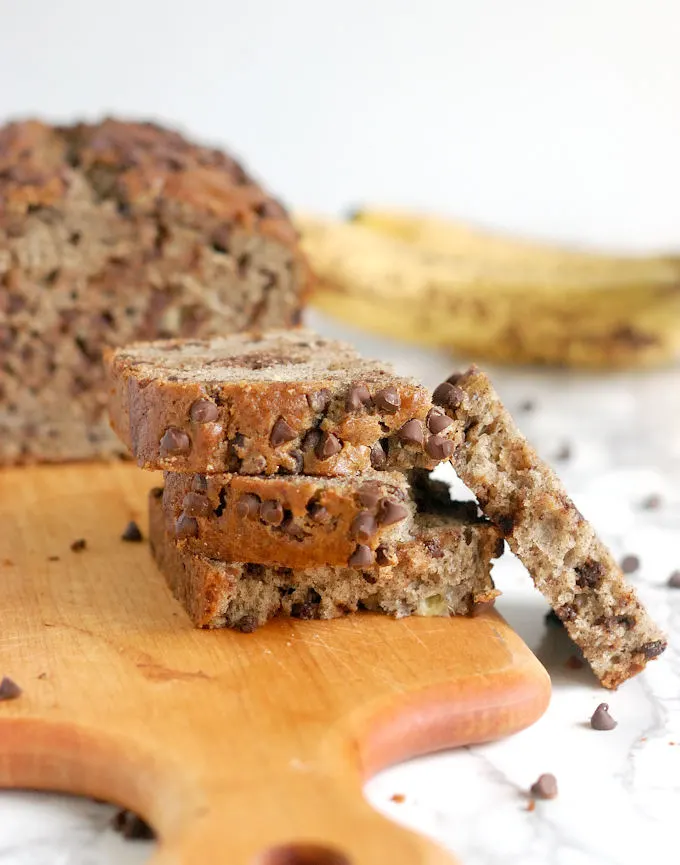 If you love this recipe as much as I do, I'd really appreciate a 5-star review.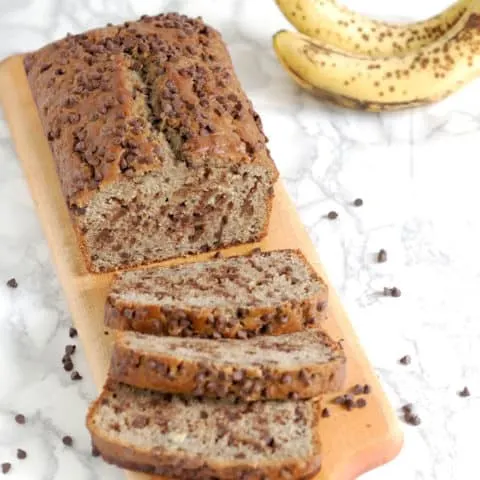 Buckwheat Chocolate Chip Banana Bread
Total Time:
1 hour
20 minutes
Moist and delicious banana bread made with buckwheat flour and chocolate chips.
Ingredients
3 fully ripe medium bananas, peeled (12 oz, 340g)
1/3 cup (3 oz, 85g) full-fat Greek yogurt
1/4 cup (2 oz, 50ml) vegetable oil
2 tablespoons (1 oz, 30g) unsalted butter, melted
2 large eggs
1 teaspoon vanilla extract
1/2 teaspoon lemon extract
1 3/4 cups (9 oz, 255g) all-purpose flour
1/4 cup (1.3 oz, 35g) buckwheat flour
3/4 cup (6oz, 170g) granulated sugar
1 teaspoon baking powder
1/2 teaspoon baking soda
1/2 teaspoon salt
1/2 teaspoon ground cinnamon
1/4 teaspoon nutmeg
1 cup (6 oz, 170g) mini chocolate chips
Instructions
Preheat the oven to 350°F. Butter and flour (or butter and line with parchment) a 9"x 5" inch loaf pan.
Mash bananas with a fork, leaving them a little chunky. Add yogurt, oil, melted butter, eggs, vanilla and lemon extract to the bananas. Mix to combine and set aside.
Toss the chocolate chips with 2 teaspoons of water to moisten. Sprinkle a teaspoon of all purpose flour over the chips and toss, set aside.
Combine flours, sugar, baking powder, baking soda, salt, and spices in a large bowl. Whisk the dry ingredients to combine. Add the banana mixture and stir until about 2/3 of the flour is incorporated. Fold in the chocolate chips and mix until all the flour is incorporated.
Pour the batter into the prepared pan. Sprinkle additional chocolate chips on top if you'd like.
Bake until golden brown and a toothpick inserted in the middle comes out clean, about 50-60 minutes. Cool for 10 minutes in the pan, then turn out onto a cooling rack to finish cooling.
Notes
Tossing the chocolate chips with flour and water creates a paste on the chips that helps keep them suspended in the batter.
The cake will keep for several days at room temperature or can be frozen.
The batter can also be baked as muffins.
Recommended Products
As an Amazon Associate and member of other affiliate programs, I earn from qualifying purchases.