Paper thin, crackly, crunchy Sourdough Rye Crispbread is a healthy and savory snack – and the perfect accompaniment to soup or stew.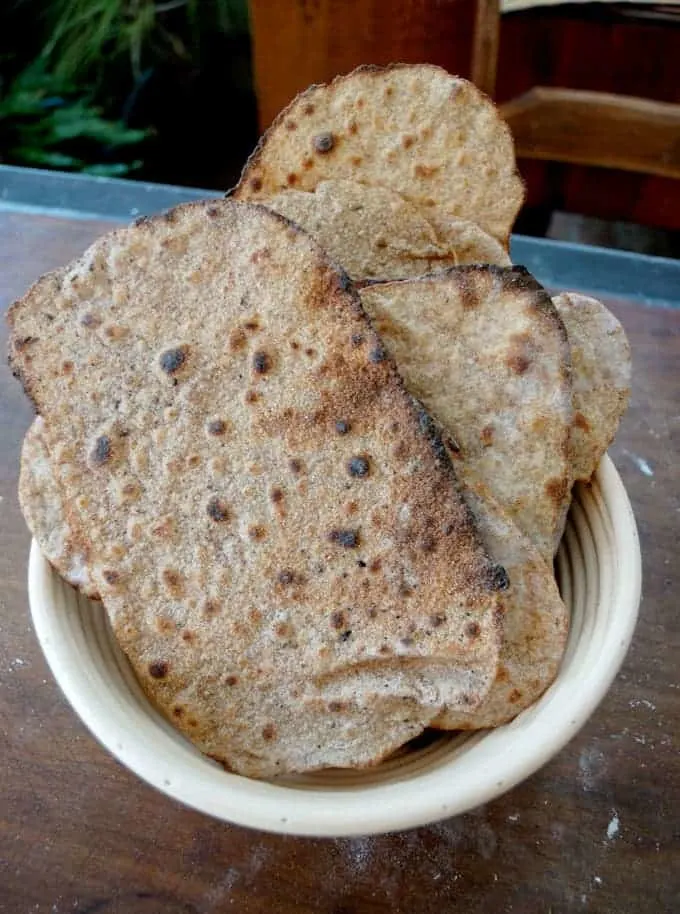 So, I've been on a bit of a "crispbread" kick for the past couple of weeks. While researching recipes for my recent Oatmeal Crispbread post I ran across so many intriguing recipes that I couldn't limit myself to just one post.
After some experimentation I had two working recipes for crispbread. One version had buttermilk and a little butter in the dough and was more cracker-like in texture. That recipe ended up as the Oatmeal Crispbread.
The other recipe was based on a lean bread dough recipe, which I adapted with my sourdough starter and rye flour to create Sourdough Rye Crispbread.
If you don't have one, check out my post to learn How to Make a Sourdough Starter. Then check out my system to Feed and Maintain Sourdough Starter.
Scroll through the step-by-step photos for making Sourdough Rye Crispbread:
A few quick tips for making Sourdough Rye Crispbreads:
Make sure your starter is active before mixing the dough.
It takes about 4 half sheet pans to hold all the crispbreads. If you don't have 4 pans you can work in batches. Roll all the crispbread and layer them between sheets of parchment to keep them from drying out.
As each batch is baked remove the baked crackers to a cooling rack then slide another parchment with dough rounds onto the pan to bake.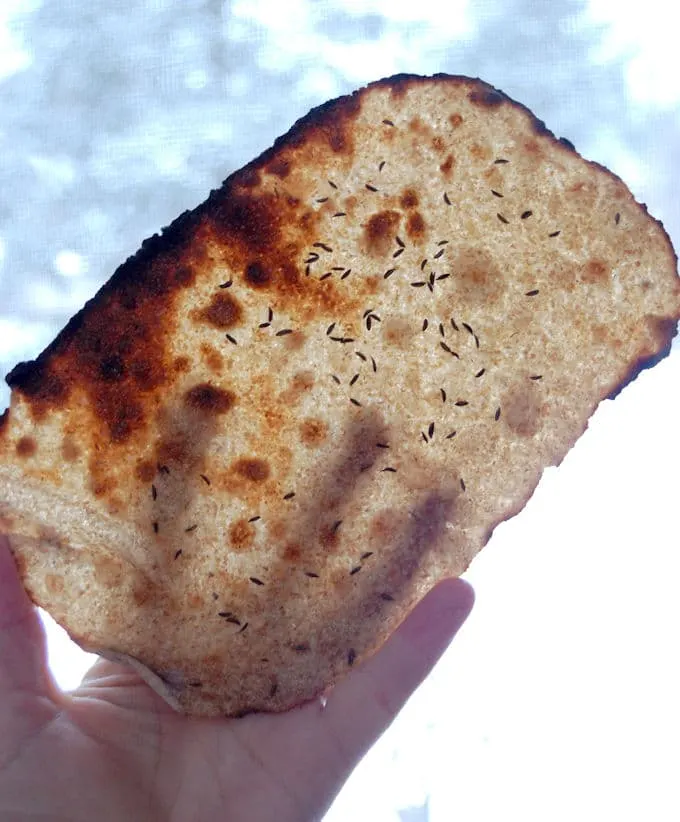 I know you hate to throw away that sourdough discard. Check out these recipes that use sourdough discard.
You might also enjoy these crisp and crunchy Sourdough Whole Wheat Crackers.
If you love this recipe as much as I do, I'd appreciate a 5-star review.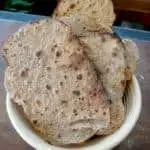 Print Recipe
Sourdough Rye Crispbread Recipe
Paper thin, crackly, crunchy Sourdough Rye Crispbread is a healthy and savory snack – and the perfect accompaniment to soup or stew.
Ingredients
4

oz

active sourdough starter

(½ cup, 100% hydration)

6

oz

warm water

(¾ cup)

1 ½

teaspoons

table salt

1 ½

oz

honey

(2 tablespoons)

5

oz

bread flour

(1 cup)

5

oz

rye flour

(1 cup)
Instructions
In a large mixer bowl, combine

4 oz active sourdough starter

,

6 oz warm water

,

1 ½ teaspoons table salt

and

1 ½ oz honey

. Add

5 oz bread flour

and mix to form a smooth batter. If using a stand mixer, switch to the dough hook and add

5 oz rye flour

all at once and mix until the dough gathers on the hook. If mixing by hand add as much of the flour as you can with a spoon or spatula, then turn out onto a floured work surface and finish adding the flour by hand.

Turn the dough out onto a floured surface and knead until the dough comes together. Set the dough into a lightly oiled bowl, turning once to coat the dough, cover and allow it to sit at room temperature for 3-4 hours. Every hour turn the dough out and knead 1-2x, return to the bowl and cover again. At this point you can refrigerate the dough overnight and finish the next day

Preheat the oven to

400

°F

. (If you have a baking stone preheat it to

450

°F

for at least an hour). Line up to 4 half sheet pans with parchment paper (see note 2).

Divide the dough into 16 pieces. Shape each piece into a ball and let rest 4 to 5 minutes on a floured surface. Flatten each ball into a disc. If you have a pasta roller use that to roll the dough (I rolled to #5 thickness).

If rolling by hand roll each dough portion to 1/16" thick, the thinner the dough the crisper the bread. Sprinkle the crackers with caraway seeds and pat them into the surface.

Place the dough rounds onto the parchment lined baking sheets or is you're using a baking stone you can bake the breads in batches, as many as can fit on the stone at a time.

Bake about 5 10 minutes until golden brown and crisp. They'll bake faster on the baking stone than on a sheet pan.
As an Amazon Associate and member of other affiliate programs, I earn from qualifying purchases.
Nutrition
Serving:
1
slice
|
Calories:
77
kcal
|
Carbohydrates:
17
g
|
Protein:
2
g
|
Fat:
0.3
g
|
Saturated Fat:
0.04
g
|
Polyunsaturated Fat:
0.1
g
|
Monounsaturated Fat:
0.03
g
|
Sodium:
219
mg
|
Potassium:
43
mg
|
Fiber:
1
g
|
Sugar:
2
g
|
Vitamin A:
0.2
IU
|
Vitamin C:
0.01
mg
|
Calcium:
4
mg
|
Iron:
0.3
mg