This Plum Cake is a soft, cardamom scented cake embedded with sweet, juicy plums. This rustic cake is meant to be simple and homey. It's a totally unfussy recipe.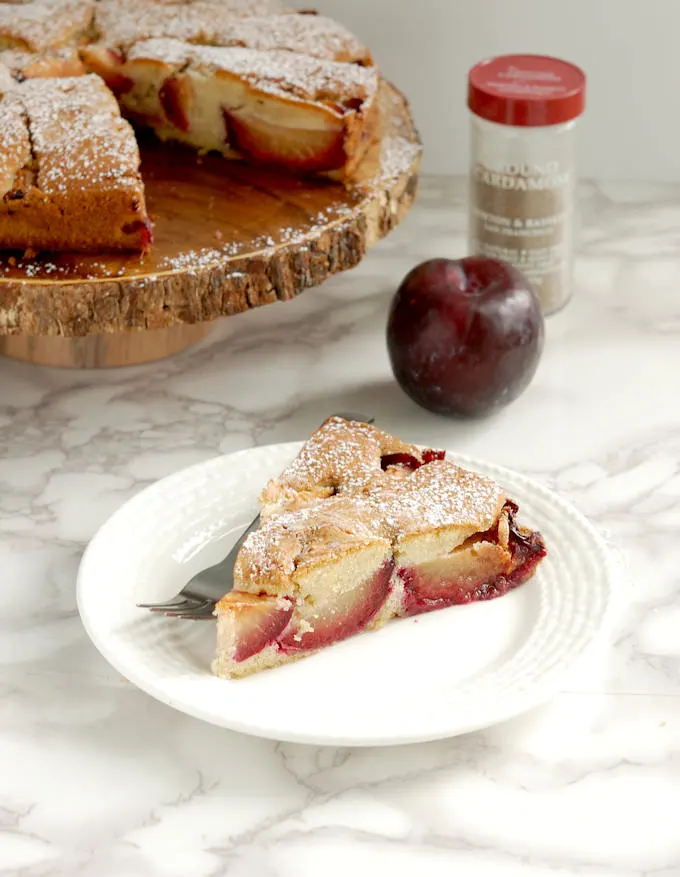 You guys, I swear this recipe really is easy. As the word "rustic" in the name implies, this cake is not supposed to be a perfectly coiffed bakery style dessert.
The inspiration for this cake, as is so often the case, was the contents of my farm share.
I had a bunch of pretty little Italian plums and wanted to bake them into a simple fall treat.
You know I usually try to give you some background on a recipe. Sometimes I give an explanation of the science behind a recipe. Sometimes I take you through the trials, errors and minute ingredient adjustments that led to the final recipe.
Well, I did have to make this recipe 3x to get it right. But it's not that there was anything particularly wrong with it to start. I just needed to make a few small tweaks to my original recipe to make a cake that I really wanted to eat.
How to make the best Plum Cake:
The problem with the first go-round was that I had too much cake and not enough fruit. I know for some of you the term "too much cake" is heresy. But I'm fruit-obsessed and wanted just enough cake to contain the plums.
My solution was to make 1/2 the amount of batter and bake it in a slightly larger pan.
As long as I was redoing the cake, I added just a smidge more butter for a softer cake.
The batter was a bit thin I also increased the flour by 1/4 cup.
The result was better, but I still wanted more plum. (The hilarious Saturday Night Live episode comes to mind – "I need more cow bell!".) So this is where you can imagine me saying "I need more plum".
For the third go round I used large black plums instead of the little Italian plums. The plum quarters were large enough that they could not be submerged in the batter. Now I had a cake with almost equal proportions of cake and plum. Just like I like it.
Scroll through the step by step photos to see how to make Rustic Plum Cake: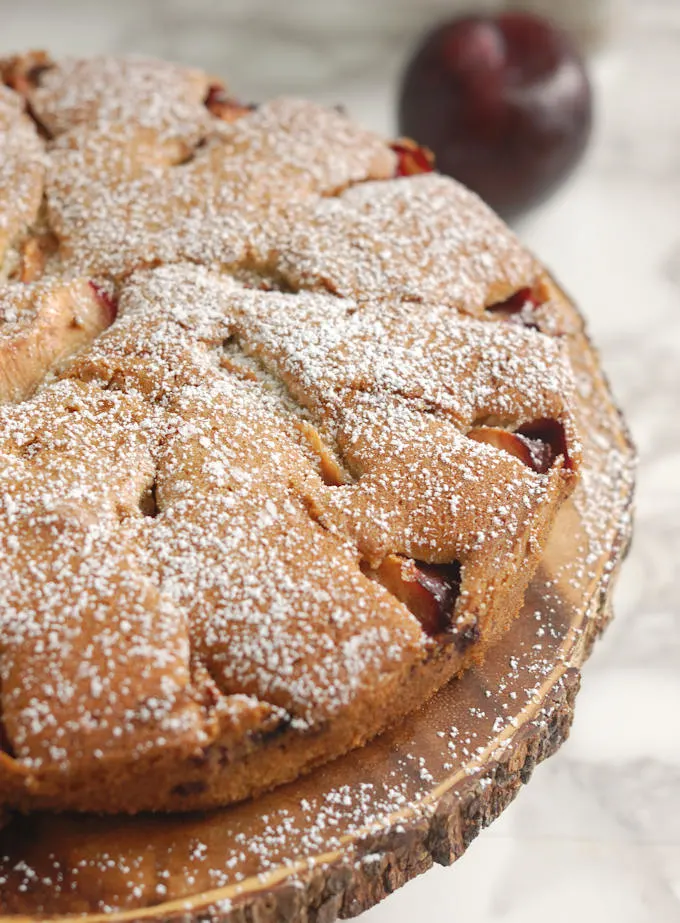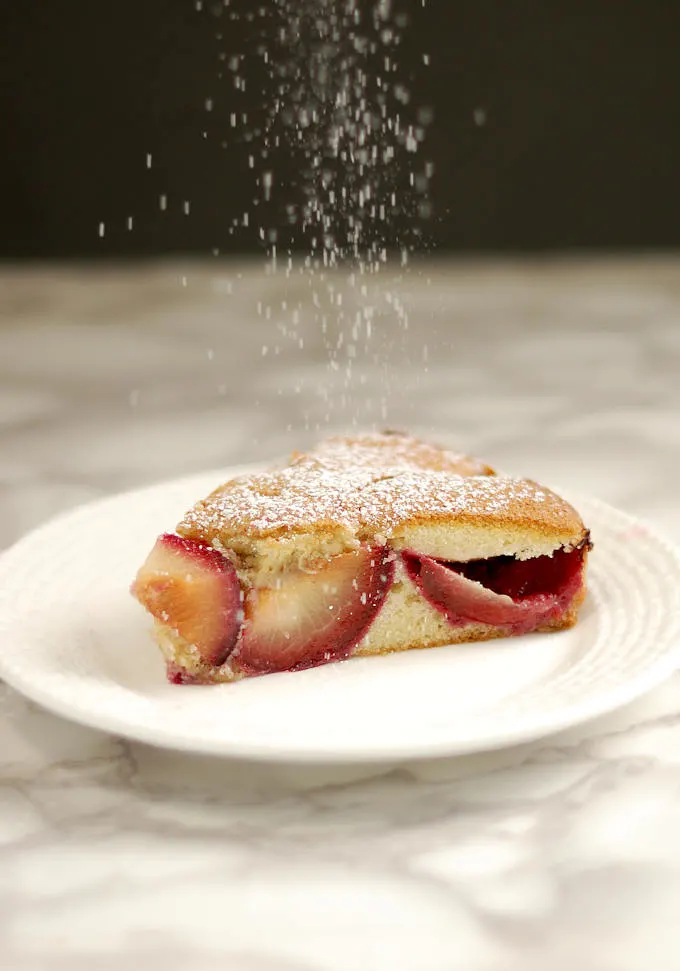 The cake is best the day it's baked, preferably slightly warm from the oven (a scoop of vanilla ice cream wouldn't be out of place).
It will keep, covered, at room temperature for a couple of days. After the first day it will get a little soggy, but it will still be very tasty.
Oh, and that hint of cardamom? It's just the right warming touch to this lovely, unpretentious cake.
If you love this recipe as much as I do, I'd really appreciate a 5-star review.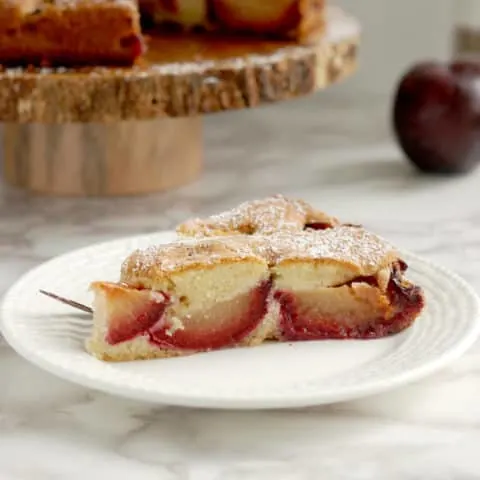 Rusitc Plum Cake with Cardamom
Total Time:
1 hour
15 minutes
Rustic Plum Cake is a soft, cardamom scented cake embedded with sweet, juicy plums. This rustic cake is meant to be simple and homey. It's a totally unfussy recipe.
Ingredients
2 large eggs, room temperature
2 teaspoons vanilla extract
1/4 cup (2 oz, 60 ml) buttermilk (see note)
1 1/4 cups (5 1/2 oz, 154g) cake flour
1/2 teaspoon baking soda
1/8 teaspoon table salt
1/2 teaspoon ground cardamom
1/2 cup (4oz, 112g) granulated sugar
1/3 cup (3oz, 78g) brown sugar, divided
1 stick plus 2 tablespoons (5 oz, 140g) unsalted butter, room temperature
5 large plums pitted and cut into quarters
Instructions
Preheat the oven to 350F. Line the bottom of a 10" springform pan with parchment paper or butter and flour the pan. (see note)
Whisk together the eggs, vanilla extract and 2 tablespoons of the buttermilk in a small bowl, set aside.
Sift the flour, baking soda, salt, cardamom into a mixer bowl. Add the granulated sugar and 2 tablespoons of of the brown sugar. Mix on low speed for 30 seconds to distribute the ingredients.
With the mixer running on low, toss in the butter a tablespoon at a time. Add the remaining buttermilk and increase the speed to medium and mix 3 minutes to aerate the batter. With the mixer on low speed, slowly add the egg mixture in two batches. Scrape the bowl and mixer after each addition.
Pour the batter into the prepared pan and spread to level. Place the plums, skin side down, in concentric circles over the batter. Sprinkle the remaining brown sugar over the plums.
Bake until the cake springs back when pressed, about 45 minutes. Cool 10 minutes in the pan before releasing the sides.
Serve slightly warm or room temperature.
Notes
If you don't have a spring form pan you can use a regular cake pan. Let the cake cool completely before flipping it out onto a cake. Flip back over so the cake is served plum side up.
Recommended Products
As an Amazon Associate and member of other affiliate programs, I earn from qualifying purchases.
You might also like: