Want to be popular? Bring these Sloppy Joe Stuffed Biscuits to the next game-day potluck! Flaky biscuits stuffed with your favorite Sloppy Joe recipe (or use mine). Hot from the oven with melty cheese in the filling, each biscuit is a meal in one!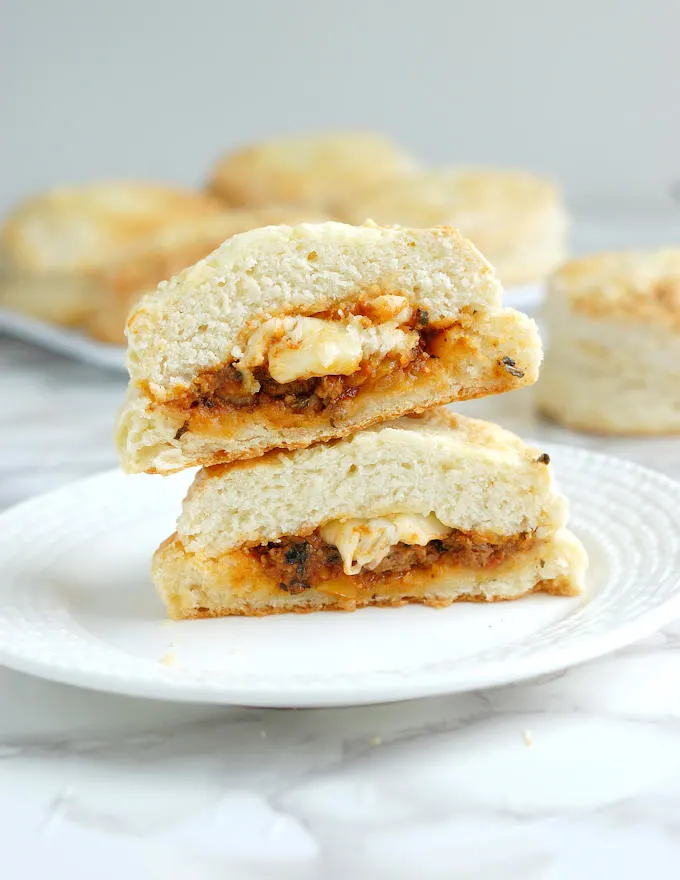 As I've mentioned before, I'm not a big sports fan. In fact, I'm not even a small sports fan. Totally uninterested!
But I can appreciate "Game-Day Cuisine" for the big flavors and "calories be damned" attitude. Sloppy Joe Stuffed Biscuits have big flavor and we really don't want to count the calories, do we?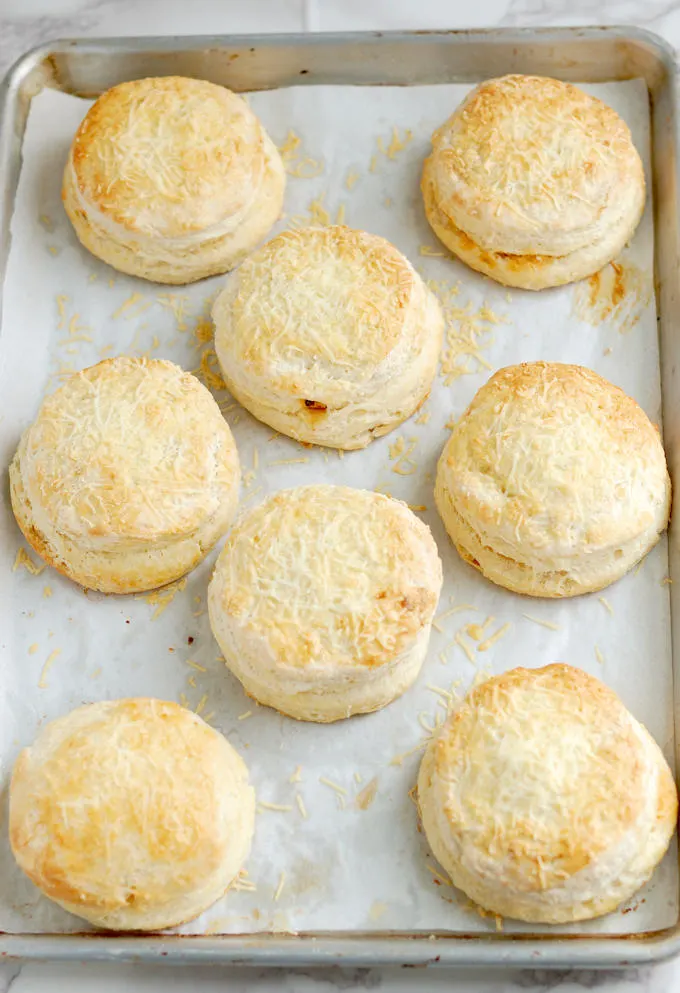 I happened to have some Sloppy Joes leftover from dinner the other night. So I decided to make a stuffed bread with it, since bread stuffed with meat and cheese is definitely good game-day fare.
I considered putting the leftovers into puff pastry or pie dough to make a meaty turnover. I also considered tucking the Joes into yeast risen Buttermilk Dinner Rolls. I think both of those would be delish. But I settled on my Buttermilk Biscuits as the container because; A-who doesn't love Buttermilk Biscuits? and B-they're easy and quick to make.
I use Asiago cheese in the filling because I love the sharp flavor with Sloppy Joes. Mozzarella or provolone would also work really well. Really, any melty cheese would work here.
These biscuits are fairly large, big enough to serve as a entree if you have a veggie and/or salad on the side. You could also use a smaller biscuit cutter (maybe 2″ instead of 3″) and make appetizer-size Sloppy Joe Stuffed Biscuits.
I've given a quick Sloppy Joe recipe, but I honestly never really use a recipe to make Sloppy Joe's. I'll often throw in any leftover veggies to bulk up the nutrition and reduce the amount of meat per serving. In this batch I added some frozen greens I had in the freezer from my summer farm share. I know this goes against the "calories be damned" attitude, but I like the flavor of the Joes with extra veggies, honestly!
Of course you can use your own recipe or even pre-made Sloppy Joes. Do let the filling chill completely before using so that it's thick enough to scoop onto the biscuit rounds.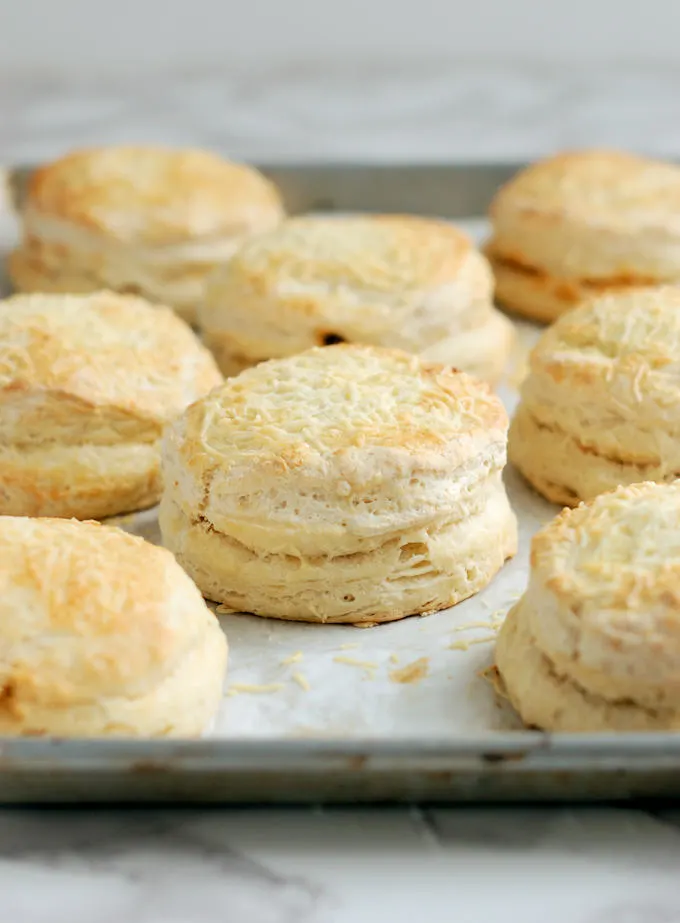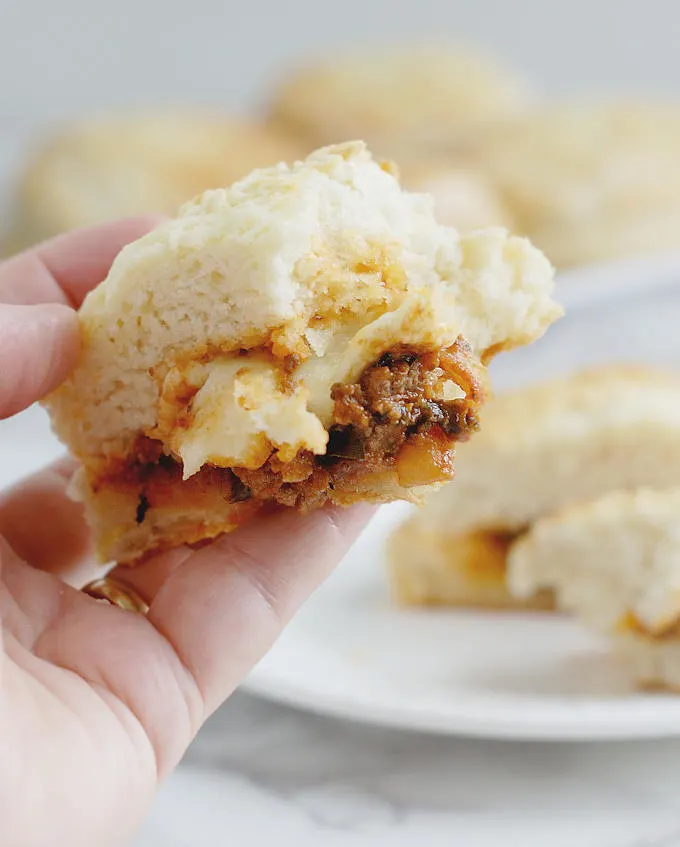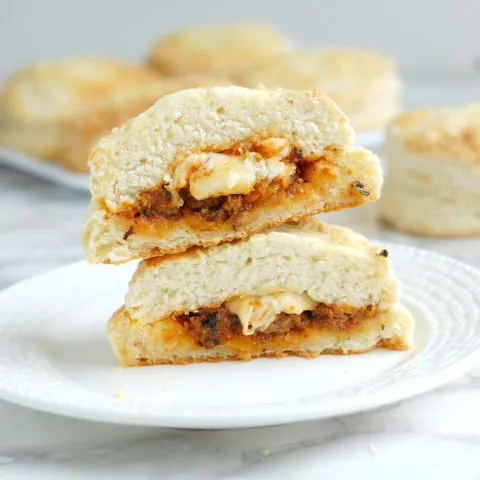 Sloppy Joe Stuffed Biscuits
Sloppy Joe Stuffed Biscuits are a real treat and a great way to use leftover Sloppy Joes. Flaky buttermilk biscuits are filled with savory meat & cheese filling and baked until golden brown. Use a smaller cutter to make appetizer-sized biscuits.
Ingredients
Sloppy Joe Filling (see note 1)
2 Tbsp olive oil
1 large onion, chopped
3 cloves garlic, minced
1 large bell pepper, chopped
1 Tbsp dry oregano
1 pound (453g) lean ground beef
One 6 oz can (170g) tomato paste
1 cup water (or use 1/2 cup each red wine and water).
Salt, pepper and Parmesan cheese to taste.
Assembly
1 Recipe Buttermilk Biscuits (see note 2)
4 oz (105g) Asiago Cheese (or cheese of your choice)
1 egg whisked with 1 Tbsp water for egg wash
Instructions
Make the Sloppy Joes
Saute onion, garlic, bell pepper and oregano in olive oil until the peppers and onions are softened. Add the ground beef and cook until no longer pink. Drain off excess fat.
Stir in the tomato paste and water, simmer 15 minutes. Adjust the seasoning to taste. Cool to room temperature, then chill until completely cold.
Remove 1 cup of the filling to fill the biscuits. Freeze or refrigerate the remaining Sloppy Joes for another meal.
Assembly
Preheat the oven to 325°F convection or 350°F regular.
Shred 1/4 of the cheese, cut the remaining cheese into 8 pieces.
On a well-floured surface, use your hands to pat the biscuit dough to 1/2" thick. Cut rounds with a 3 inch biscuit cutter. Re-roll the dough scraps and continue cutting until all the dough is used, you should get about 16 rounds.
Place 1/2 the biscuit rounds on a parchment lined half sheet pan. Press the middle of each biscuit to form a dent. Place a heaping tablespoon of Sloppy Joe filling onto each biscuit and top with a slice of cheese. Brush the edges around the filling with egg wash. Place the remaining biscuits on top. Pinch the edges of each assembled biscuit to seal in the filling.
Brush the tops with egg wash and sprinkle with shredded cheese. Bake for 20 minutes until puffed and golden brown.
Enjoy warm from the oven.
Notes
1. You can use your favorite Sloppy Joe recipe or pre-made sloppy Joes. Make sure the filling is chilled before using.
2. Make the original biscuit recipe through the two folds, then follow this recipe to roll and fill the biscuits.