If you think there's nothing new to learn about good old carrot cake, think again! This is A Better Carrot Cake Recipe not because of the ingredients, but how they're put together.

Once again, we're going to see how you mix a recipe, and how you handle ingredients, can transform your baking. Check out most any carrot cake recipe and you'll see that the ingredients are similar to this recipe; oil, sugar, flour, spices, carrots, eggs, and, if you like, raisins and nuts.
As I've said before, cake is not my very favorite dessert. Ten years of running a cake business will do that to you. But I do enjoy carrot cake. Honestly, it's mostly because of the cream cheese frosting, but I do like the cake too.
My objection to carrot cake is the often lumpy texture. Thick shreds of carrots, big raisins and chopped nuts contribute to the chunkiness. So why is my carrot cake "better" given that I have pretty typical ingredients? I put the ingredients together so that you get all the great flavor and moisture of the traditional carrot cake, but with a finer texture and beautiful deep orange color.
The first switch I made to the traditional recipe is to use currants instead of raisins. Currants are smaller than raisins so they blend into the batter better. I also soak the currants in hot water to plump them up. The pre-plumped currants won't draw moisture from the batter. I use walnuts for great flavor and richness (pecans would also be good). Rather than simply chopping the walnuts, I grind them in a food processor to fairly small bits. You get the flavor and richness from the walnuts, but the smaller bits blend into the batter better. Sensing a the trend yet?
Finally, and I think most importantly, instead of shredding the carrots I grind them in the food processor until they're the texture of a chunky puree. Again, the small bits of carrot will blend into the batter better. Grinding releases lots of juice from the carrots so the cake is super moist. The carrot juice gives the cake batter a beautiful deep orange color.
Click through the slider to see how to make a Better Carrot Cake!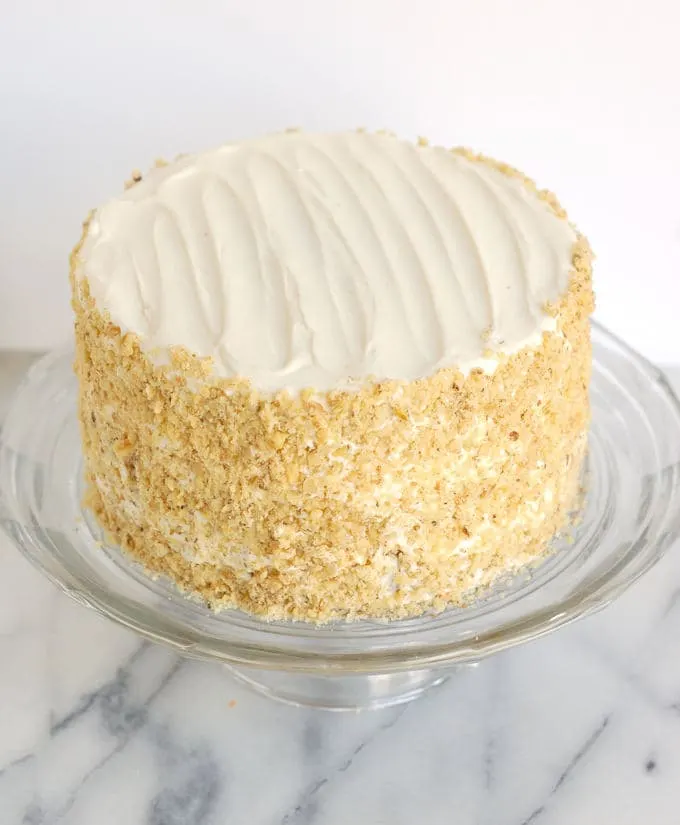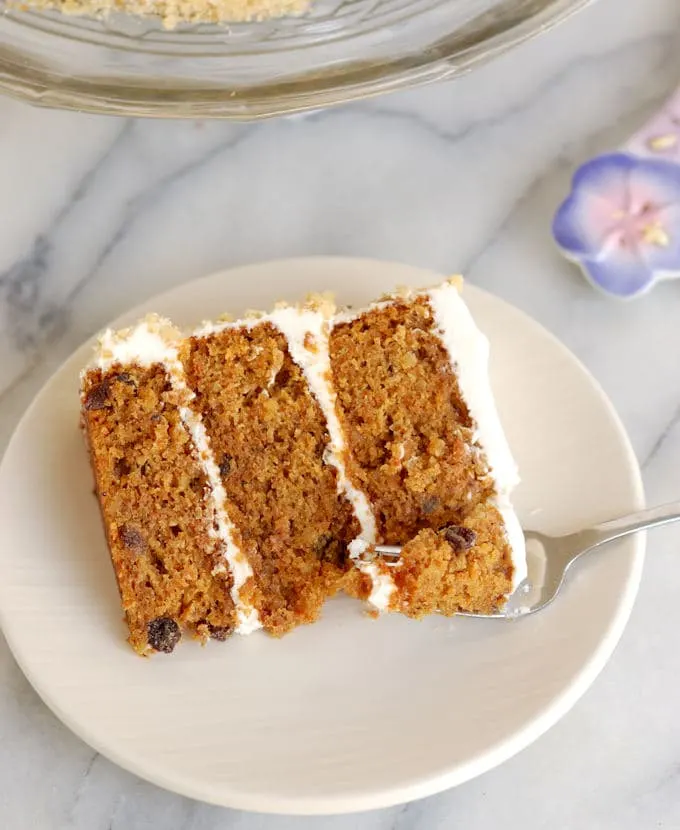 I baked the batter in three 8″ cake pans for a tall cake with three layers of cake and two layers of frosting. This recipe could also be baked in 9″ pans and can be baked as two layers instead of three. The batter also works well for cupcakes.
I filled and iced the cake with my Better Cream Cheese Frosting. This cake is so moist I think there is plenty of icing. But, if you like extra frosting, you can make 1 1/2 times the frosting recipe for thicker layers of icing and a thicker coating.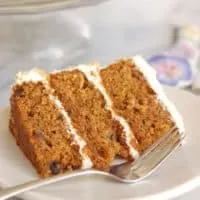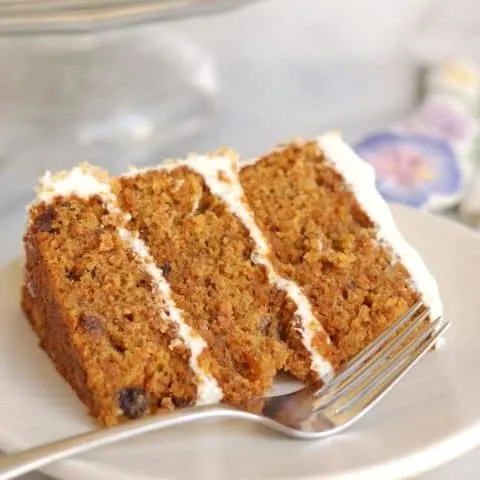 Better Carrot Cake
If you think there's nothing new to learn about good old carrot cake, think again! This is A Better Carrot Cake Recipe not because of the ingredients, but how they're put together.
Ingredients
Better Carrot Cake Batter
2 cups (10 oz, 285 g) all purpose flour
2 teaspoons baking powder
1 teaspoon baking soda
2 teaspoons cinnamon
2 teaspoons ginger
1/2 teaspoon nutmeg
1/2 teaspoon salt
1 cup (5 oz, 142 g) currants
1.25 cups (9 oz, 300 ml) vegetable oil
1 cup (8 oz, 225 g) granulated sugar
1 cup packed (8 oz, 225 g) brown sugar
4 eggs
1 tablespoon vanilla extract
1 teaspoon lemon extract
1 pound (454 g) carrots, ground in a food processor until the bits are very small, but not quite a puree, see photos.
1 cup (4 oz, 112 g) walnuts (optional) ground to small pieces (see photos)
Assembly
Instructions
Cake Batter
Preheat the oven to 325°F convection or 350°F regular. Line three 8 inch or 9 inch cake pans with parchment paper, or butter and flour the pans. (see note 1).
Sift together the flour, baking powder, baking soda, spices and salt. Set aside. Soak currants in hot water for 20 minutes to plump. Drain and set aside.
Mix oil and sugars until it resembles applesauce. Add eggs and flavoring, mix until the batter is smooth and emulsified (see photo). Add ground carrots, currants and walnuts. Add the dry ingredients in three batches. Mix until completely combined.
Divide the batter evenly between the pans. Bake until the cake springs back when lightly pressed or a toothpick inserted in the center comes out clean, about 30 minutes. If you bake 2 layers they may take a little longer to bake.
Turn the cakes out onto a cooling rack and cool completely (see note 2)
Assembly
Set aside half the frosting to ice the cake. Place one cake layer, flat side down, on the serving platter. Spread 1/2 of the remaining frosting over the layer. Repeat with the 2nd layer. Place the third layer, flat side up, on top.
Crumb coat the cake and set in the refrigerator to set.
Ice the cake with a final coating. Press ground walnuts onto the sides of the cake. Chill to set the cake. (see note 3).
Notes
Note 1: The cake can be baked in two pans for thicker layers.
Note 2: The cakes can be baked several days before, wrapped and refrigerated. Or bake several weeks before and freeze.
Note 3: I like to chill the assembled cake to set the layers. Leave the cake at room temperature for about 1 hour before serving to soften the frosting. Leftovers should be refrigerated or frozen because of the cream cheese in the frosting.