This is the first in a series of 7 "Cake Batter" classes. Over the course we'll test how changes to mixing method and ingredients can alter a cake's taste and texture. This is how you can perfect your own recipes. Start with a base recipe, then tweak the ingredients and/or techniques to get a cake more to your own taste. We'll look at the role each ingredient plays in the batter. But first we'll look at two cake batter mixing methods.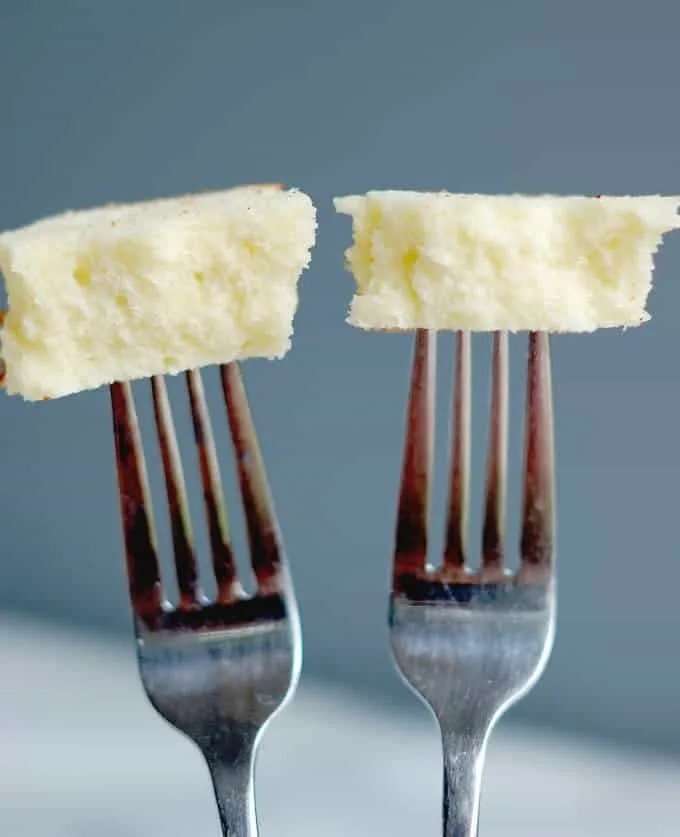 A baker can't just haphazardly change around the ingredients in a recipe and expect a good outcome. We must make adjustments thoughtfully to keep the recipe in balance. We'll work with a very basic pound cake as our test recipe for the "Cake Batter" classes. Pound cake is a great tool for our purposes precisely because it's a simple recipe with just 4 ingredients. Pound cake got it's name based on the original formula of 1 pound each of butter, sugar, eggs and flour. It's called "quatre-quarts" (four-fourths) by the French.
Cake Batter – Mixing Method
When I was in culinary school, our first lesson in the "cakes" section was the basic pound cake. Not only did we have to use the original "quatre quarts" recipe, we were required to cream the butter and sugar with a wooden spoon, by hand. We had to add the eggs one at a time, while trying to keep the proper texture of the batter. At the time it seemed a little ridiculous. We knew we'd never actually mix a pound cake by hand, especially in a pro kitchen. But the exercise did reinforce how important technique is, not only for pound cake but for all baking.
Precisely because the original pound cake recipe is so simple it's the perfect vehicle to test how mixing technique can affect cake texture. It matters how the ingredients of a pound cake are put together. There is no hiding behind swirls of sweet frosting to mask a rubbery or dense cake. So lets learn about two cake batter mixing methods.
Traditional Creaming vs. Reverse Creaming (or two stage creaming)
The traditional creaming method starts by beating together the butter and sugar. The sharp edges of the sugar crystals cut through the butter to create lots of little air bubbles. The eggs are added one at a time and the flour is added last. As soon as the flour is added gluten, the protein in the flour that gives baked goods their structure, will start to form. As the cake bakes the air bubbles trapped in the butter will expand in the heat of the oven producing, in theory, a light and airy cake.
Reverse creaming, aka two-stage creaming, is an alternate technique used by many bakers (including me). Reverse creaming starts by beating together the flour, sugar and butter. Gluten won't start to form until the flour comes in contact with water (in the egg whites). Coating the flour molecules with butterfat before the eggs are added creates a barrier which slows the formation of gluten. Reverse creaming should, in theory, make a cake with a more tender and velvety texture.
Cake Batter Testing 1, 2, 3
One way to compare mixing techniques is to run side-by-side tests. For each test I mixed one batch using the traditional creaming method and one batch using the reverse creaming method. Each batch of cake contained exactly 8 ounces each of cake flour, granulated sugar, unsalted butter and eggs. The butter and eggs were at ideal room temperature, between 65-70°F. All cakes were baked in identical 9"x 5" loaf pans at 325°F in a convection oven.
At first glance, the cakes made with the different mixing methods looked very similar, but once I cut and tasted the cakes the differences became apparent.
The cake made with the traditional creaming method had a very tight crumb and contained a few pockets of air. The cake was a little chewy with a slightly bouncy texture. I pinched a piece of the cake between my fingers and it held together a moment before breaking up.
The cake made with the reverse method also had a tight crumb, but it was very consistent with no air pockets. The texture was softer and more tender. When I pinched a piece of that cake between my fingers it broke apart more easily.
While there wasn't a tremendous difference between the cakes, the cake made with the reverse creaming method was softer and more tender. Which is why reverse creaming is my preferred mixing method.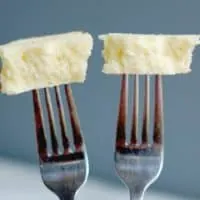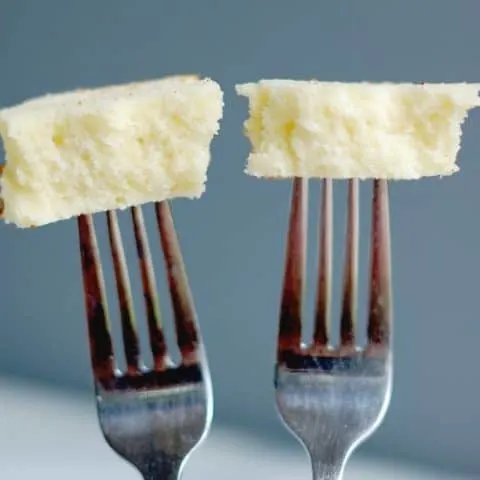 Old Fashioned Pound Cake - Quatre Quarts
Total Time:
1 hour
5 minutes
The original Pound Cake Recipe made with equal parts flour, eggs, butter and sugar.
Ingredients
8 oz (1 cup) granulated sugar
8 oz (1 3/4 cups) cake flour
8 oz (2 sticks) unsalted butter, room temperature (65°-70°F)
8 oz eggs (5 large)
Instructions
Preheat the oven to 350°F. Butter and flour a 9"x5" loaf pan
Combine the flour and sugar in a mixer bowl. Mix one minute to combine.. With the mixer running on low, add the butter. Increase the speed to medium high and mix for 2-3 minutes to aerate the batter.
Scrape the bowl and beater. With the mixer running on low, add the eggs in 2 batches, scraping after each addition. Pour the batter in the prepared pan.
Bake about 50 minutes until a toothpick inserted in the center comes out clean.
Notes
You can make the same recipe using the traditional creaming method.
Nutrition Information:
Serving Size:

1
Amount Per Serving:
Calories:

3392
Total Fat:

186g
Saturated Fat:

115g
Cholesterol:

487mg
Sodium:

408mg
Carbohydrates:

390g
Sugar:

204g
Protein:

46g
---
If you love learning about the how's and why's of baking you'll love my new book: Easy Baking From Scratch: Quick Tutorials, Time-Saving Tips, Extraordinary Sweet and Savory Classics. The book contains over 100 recipes that have been well-tested and are presented in simple, clear language. It's available now on Amazon.
---
Next up: Cake Batter Class #2 will explore how adding salt, flavorings and leavening can improve on the basic pound cake recipe.