Flaky pastry filled with tequila-spiked peaches then deep fried and coated with spiced sugar. Fried Tequila-Peach Hand Pies are sinfully delicious!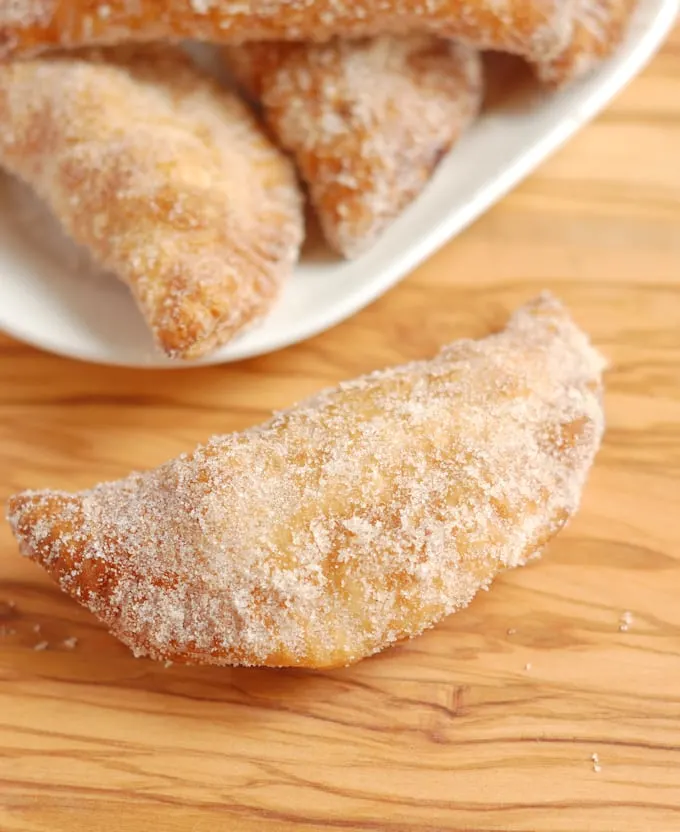 I usually try to write a little about each recipe I post, either an explanation of how the recipe was developed and perfected, or maybe a bit about the science behind the recipe.
But do I really need to say anything about this recipe? I mean, seriously, why wouldn't I make fried hand pies filled with fresh peaches, and why wouldn't I add a little spice to the peaches, and why wouldn't I add just a hint of tequila to the peaches? Oh, the tequila. Well that is a little bit of a story.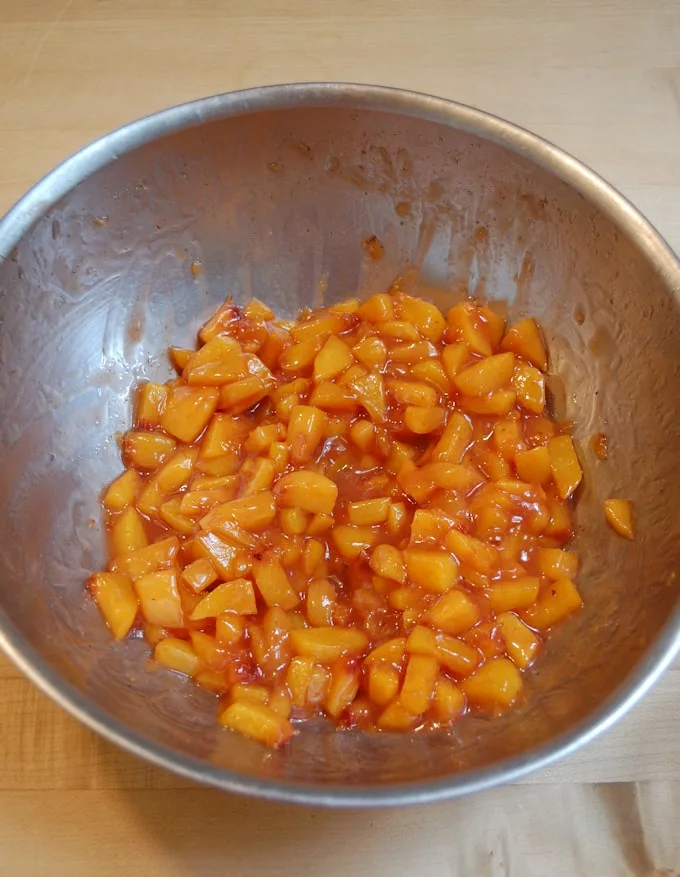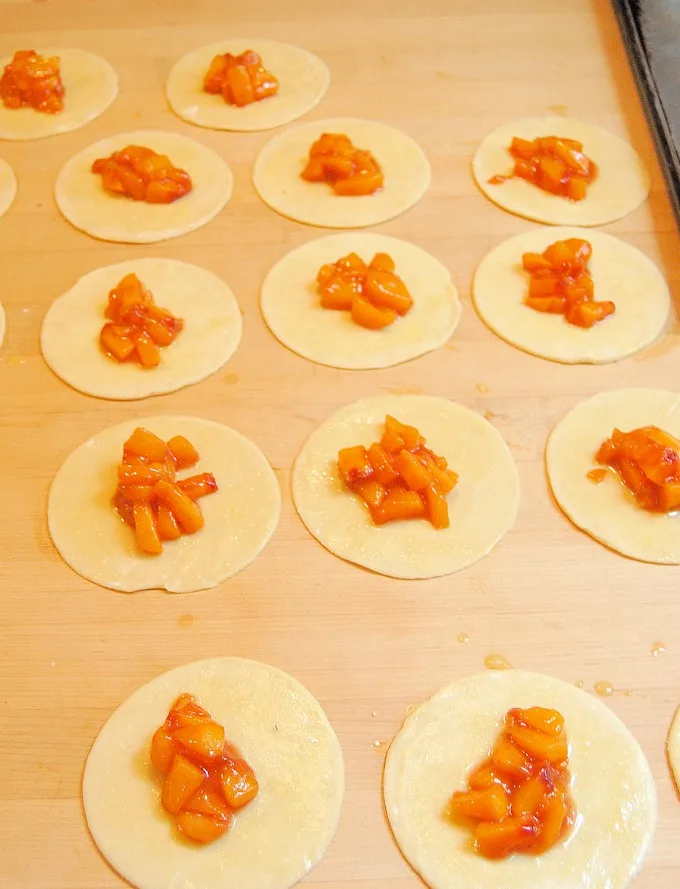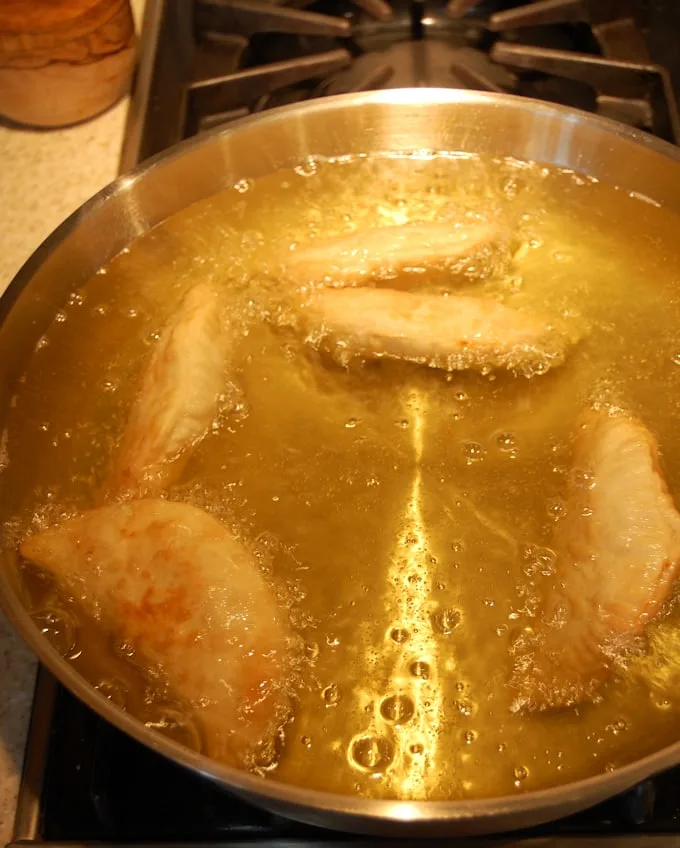 This is a fairly straightforward hand pie recipe with just a hint of spice added for a little zing. But the addition of the tequila was inspired by our recent vacation in Mexico. We (and by "we" I mean "I") brought home a couple of bottles of aged tequila and have been spiking drinks and dishes with it ever since.
While we were on vacation we had a pitcher of "Mexican Sangria" with lunch one afternoon. Basically, it's a Sangria with tequila added instead of brandy. Hmm, seems like I might need to post a recipe for Mexican Sangria.
Anyway, the other night we made a pitcher of Mexican Sangria to enjoy with our dinner. Anyone who's ever had sangria knows (or should know) that the best part is eating the boozy fruit at the bottom of the pitcher after the sangria is all gone.
Well, when we were eating the peaches from of our Mexican Sangria the other night we realized just how great peaches and aged tequila taste together. Hence, the inspiration for Fried Tequila-Peach Hand Pies.
You won't get hit over the head with tequila flavor, but the tequila enhances the fruit and spice flavors (check out this post to learn why alcohol enhances certain flavors).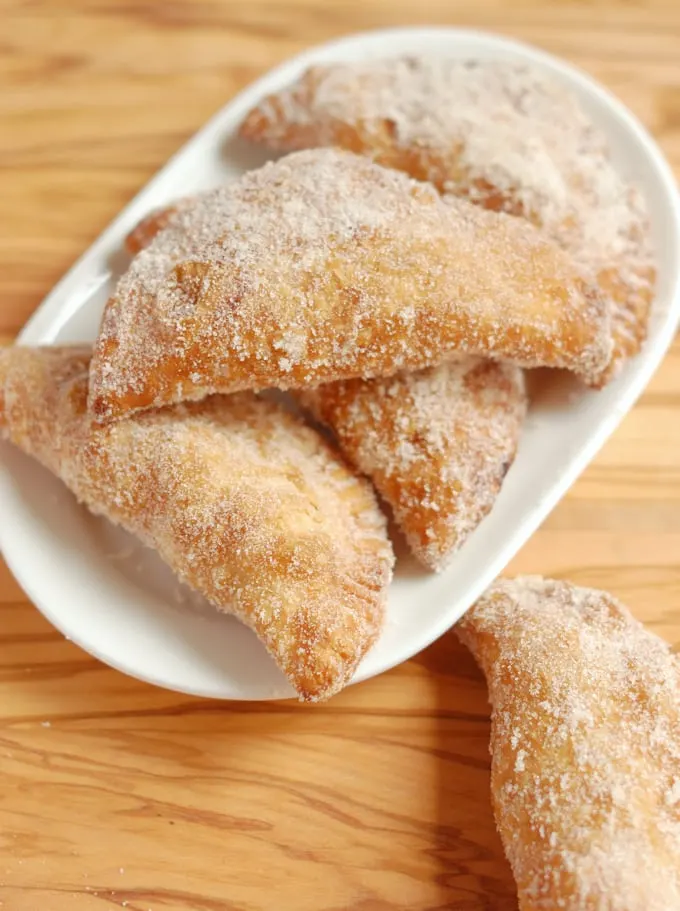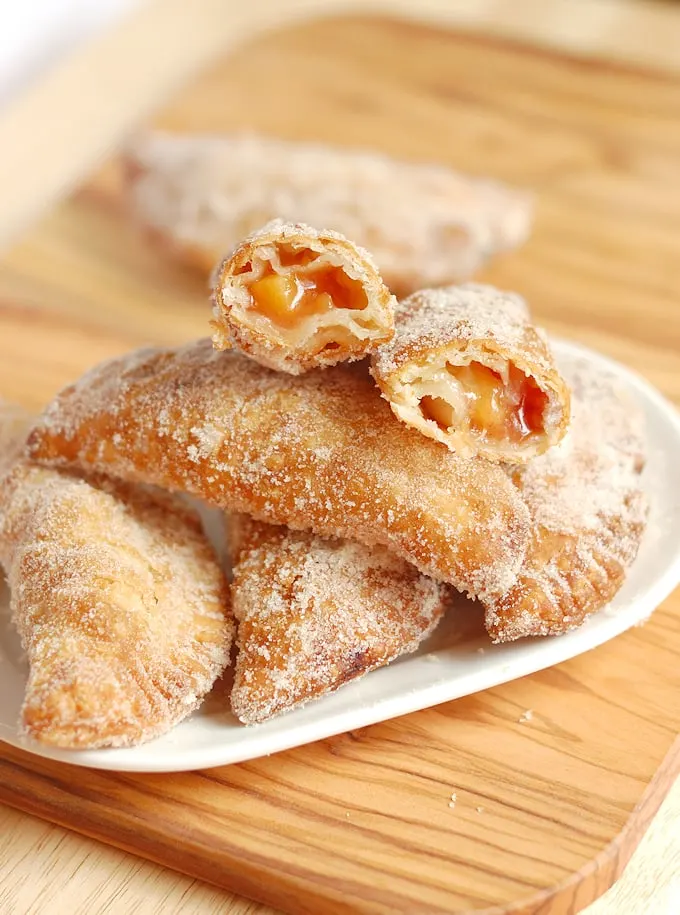 I brought these hand pies to a Labor Day get together and they were a big hit. Of course, if you don't like or want the alcohol in the filling you can use water instead of tequila to cook the peaches.
Quick, make these pies while fresh peaches are still available.

Fried Tequila-Peach Hand Pies
Yield: 18-24 pies

Prep Time: 2 hours

Cook Time: 25 minutes

Total Time: 2 hours 25 minutes

Fried dough with tequila spiked peaches - 'nuff said.
Ingredients
Peach Filling
3 pounds fresh peaches-peeled, pitted and sliced (about 7 cups, chopped) SEE NOTE
Juice of 1 lemon
Small pinch of salt
2/3 - 3/4 cup (5-6oz, 170g) granulated sugar
1/4 teaspoon ground cinnamon
1/4 teaspoon ground ginger
pinch cayenne pepper (optional)
3 tablespoons good tequila or water
2 tablespoons corn starch
Assembly
Cooking Oil
1 egg whisked with a pinch of salt for egg wash
1 cup (8 oz, 225 g) granulated Sugar
1/4 teaspoon ground cinnamon
1/4 teaspoon ground ginger
pinch cayenne pepper (optional)
Instructions
[Roll|http://amzn.to/2cdmeMM" target="_blank" rel="nofollow] and cut the dough
Roll the dough to 1/8" thick
Use a cookie cutter to cut 4"-5" circles (I used a 4.5" cutter)
Place the circles onto a parchment lined sheet pan with a sheet of parchment between each layer of circles.
Piece together the scraps and form them into a disc, re-roll and cut until all the dough is used
Cover and refrigerate the dough rounds while you make the filling
Prepare the peach filling
Toss the chopped peaches with the salt, spices sugar and lemon juice
Allow to macerate for 1 hour
Strain the peaches and collect the juice
There should be about 3/4-1 cup of juice depending on how ripe the fruit is
Combine the corn starch with the juice and whisk until smooth
Over medium low heat, cook the peaches with the tequila until they soften, about 5-10 minutes
Mix the cornstarch slurry into the peaches
Stirring constantly, cook the peach mixture until it is thick and the juices are bubbling.
Transfer the filling to a bowl and allow to cool completely before assembling the pies.
Assemble and fry the pies
In a pie plate or other shallow dish combine 1 cup granulated sugar with spices
Place the dough rounds on your work surface
Brush around the edge of each dough round with egg wash
Place a heaping tablespoon of peach filling in the center of each round
Fold the round over to form a 1/2 moon and crimp the edges with a fork to seal
Refrigerate the assembled pies for at least a 1/2 hour
Meanwhile heat the oil (at least 2" deep) in a wide pan to 350°F
Fry the pies in batches, flipping 1/2 way through cooking to brown both sides
As you remove each pie from the oil place it in the cinnamon sugar, turning once to coat all sides
Serve warm or room temperature.
Notes
I made this recipe using fresh peaches but you could probably use frozen peaches instead. You may need to adjust the sugar for sweetened peaches.