Ever thought about home-canning? Go for it! You'll be surprised how easy it is. My recipe for Bread & Butter Pickles is a great place to start. All you need is a large pot and a few inexpensive canning jars. Stock up on those pickling cucumbers next time you visit the farmers' market so you can enjoy these sweet and sour pickles all year long.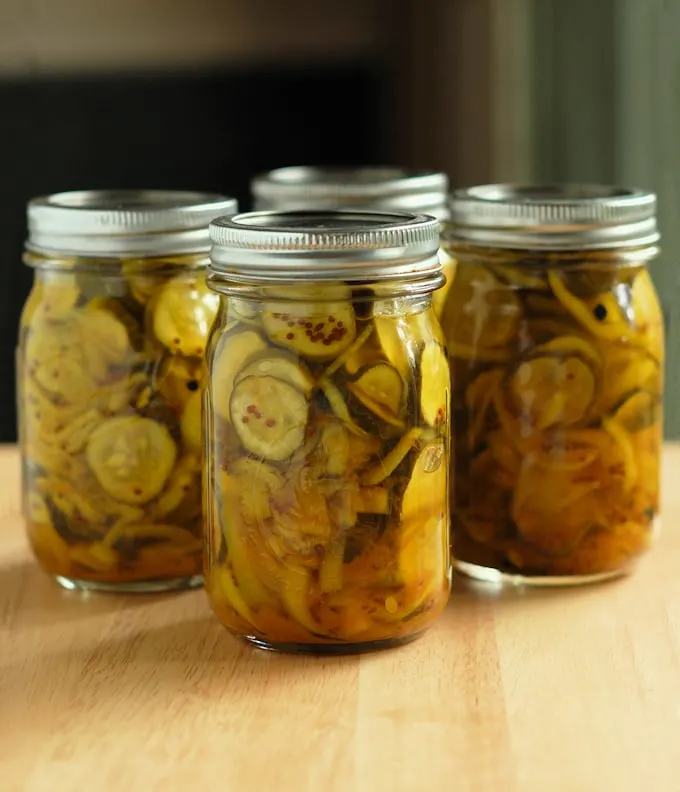 Guess what I got in my farm share over the last few weeks. Pickling cucumbers! Sweet, tart and salty – Bread & Butter Pickles are my favorite. I love them on burgers, of course, but I also like them on a grilled cheese sandwich or chopped up and mixed into tuna or egg salad. Left-over brine is a great base for salad dressing.
I've been home-canning for 30 years. When I first started making jams, jellies and pickles at home it was fairly difficult to find the proper accessories at the local market. I would find them in a back aisle for a week or two in the middle of the summer and that was it. In recent years, with the increased interest in farmers' markets and seasonal eating, home-canning has become very popular. I see a large display of canning supplies front and center at my local market. I think it's great that people have realized that home-canning is an easy and economical way to save the summer bounty to enjoy all year long.
If you've never done any home-canning, pickled vegetables are a great place to start. Bacteria is the biggest concern when home-canning. First, make sure to use fresh, clean produce with no bad spots. You must also use proper canning jars and lids which have been sterilized. Bread & Butter Pickles have a high sugar and vinegar content, which is great because bacteria does not like an acidic environment. As long as you use proper canning jars and you process the jars in a hot water bath to make sure they're sealed, these pickles will keep for a year in the pantry. Visit the Ball Canning Website to review the basics of home-canning in a hot water bath.
For my Bread & Butter Pickles I use a mixture of 1/2 cucumbers and 1/2 onions and sweet peppers. You could make the same recipe using all cucumbers or any mix of the three vegetables.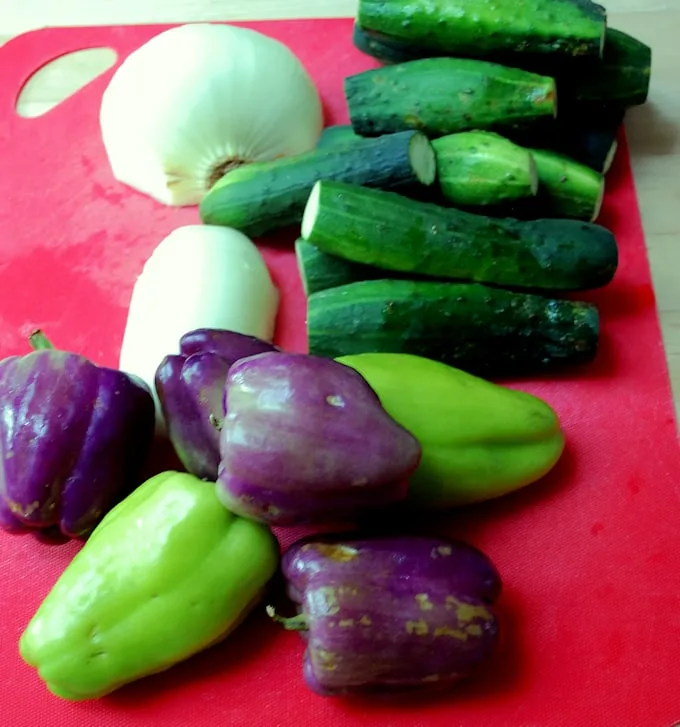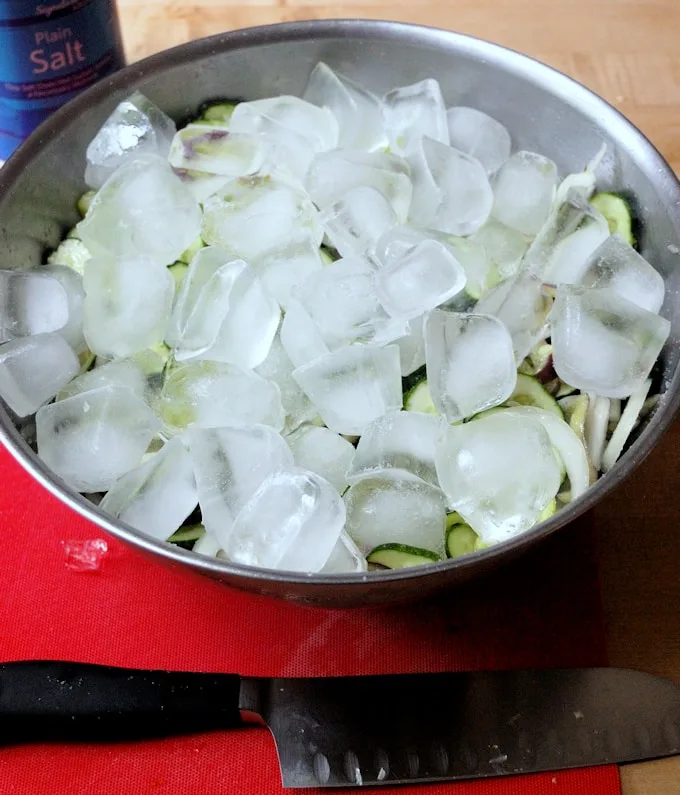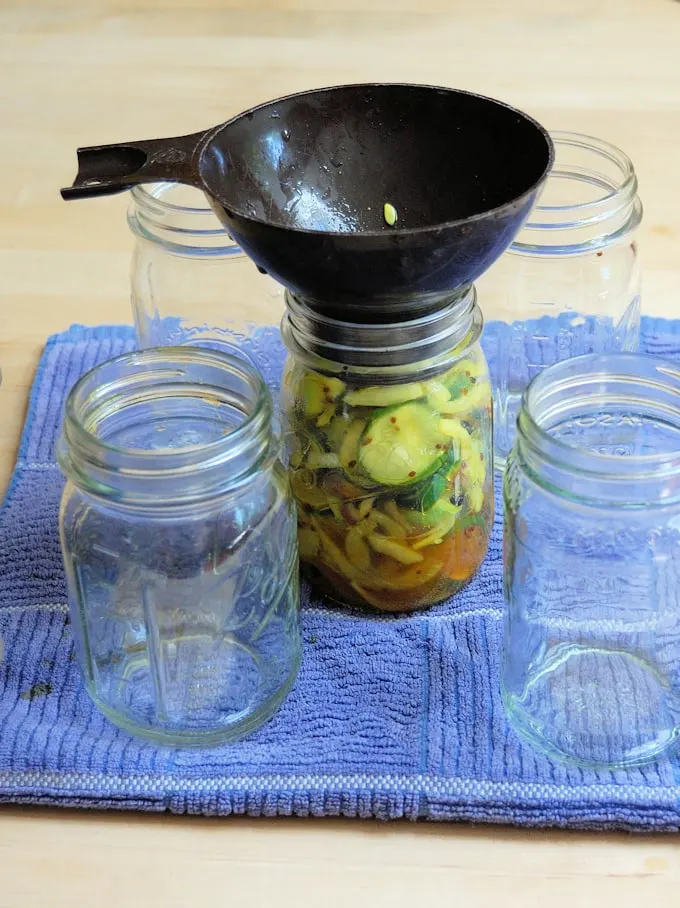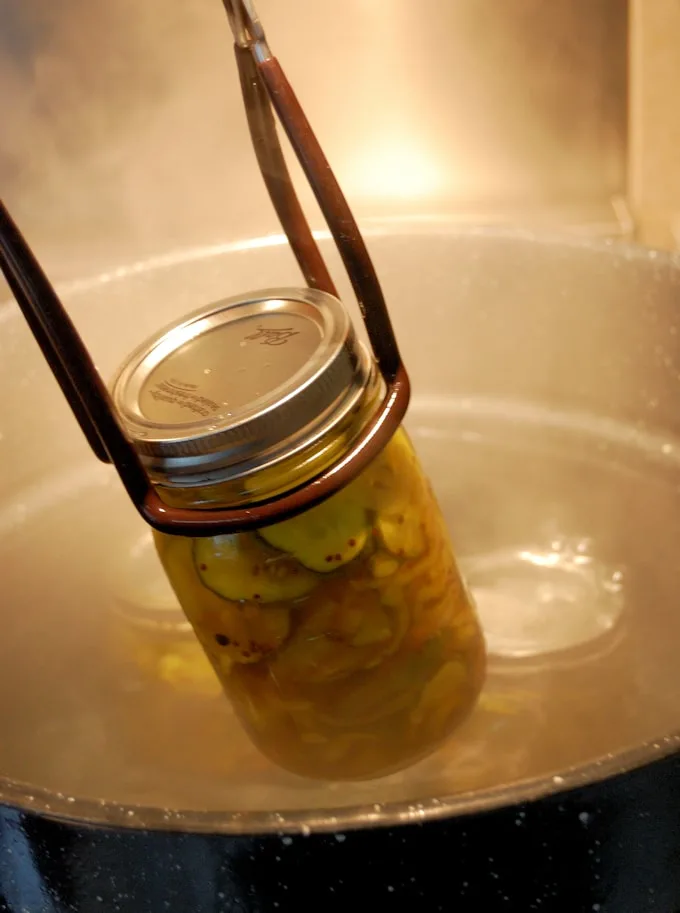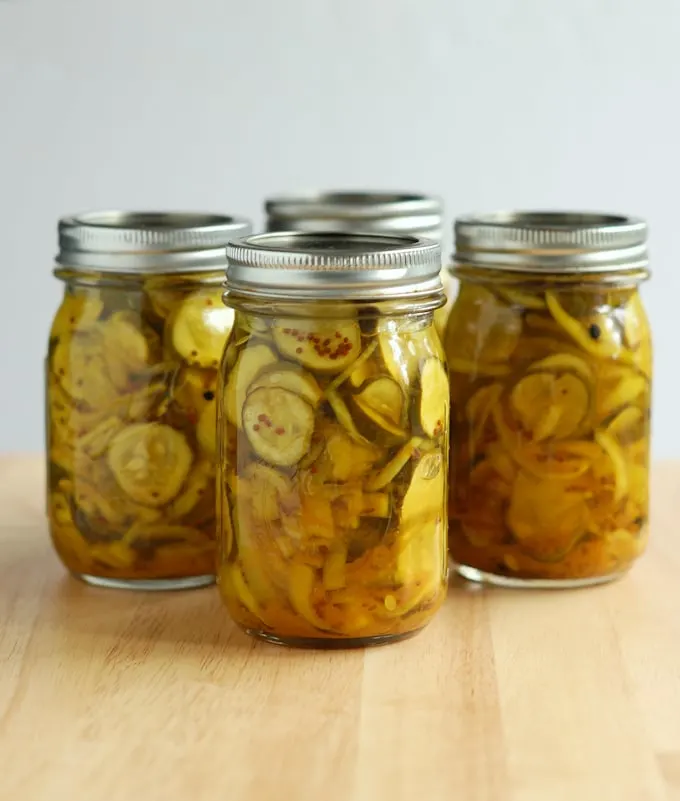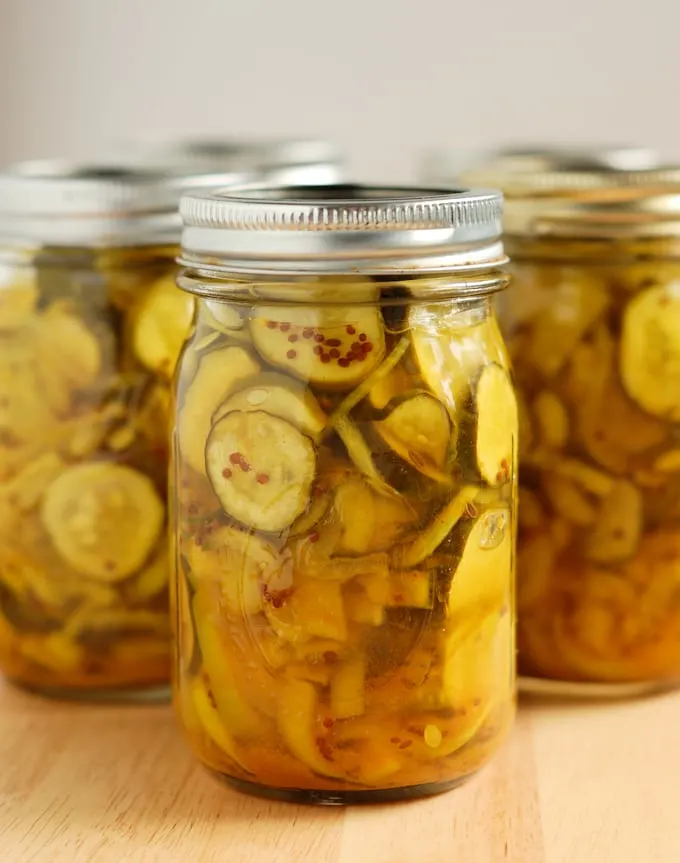 Special Equipment Used: Canning Jars, Canning Funnel, Jar Lifter, Water Bath Canner

Bread & Butter Pickles
Yield: 4 pints

Prep Time: 2 hours

Cook Time: 10 minutes

Total Time: 2 hours 10 minutes

The best burger pickle - Sweet & Sour pickles can be made with all cucumber, or a mix of veggies.
Ingredients
1 1/2 pounds (680g) pickling cucumbers, sliced 1/4" thick
3/4 pound (340g) onions, sliced thin
3/4 pound (340g) bell pepper, sliced thin
3 tablespoons table salt
2 cups (16 oz, 473ml) cider vinegar
1/2 cup (4 oz, 113g) brown sugar
1 cup (8 oz, 226g) granulated sugar
1 teaspoon turmeric
1 tablespoon mustard seeds
1/2 teaspoon ground ginger
1/2 teaspoon peppercorns
1/2 teaspoon dill seeds
Instructions
Toss cucumbers, onions and peppers with salt in a large bowl
Cover the vegetables with ice cubes and set aside for 1 1/2 - 2 hours
Sterilize 5 pint-size canning jars and 5 2-piece lids by boiling them in water for 10 minutes or by using the "sterilize" setting on your dishwasher. I also sterilize the canning funnel as well.
Set the hot jars on a towel on your work surface while you prepare the pickles
Drain the vegetables, rinse with cold water and drain again
Combine the remaining ingredients in a saucepan and bring to a boil
Add the cucumber mix to the saucepan and bring it back to a boil
Pack the hot vegetables into sterilized canning jars (see note)
Fill the jars with the pickle juice, leaving 1/2" head space in each jar
Poke a chopstick or skewer into each jar to remove any air bubbles
Wipe the rim of each jar clean with a wet paper towel
Top with 2 piece lids, don't over-tighten the screw top (see note)
Process in hot water bath for 10 minutes
Lift the jars out of the water bath and set on a towel on your work surface to cool
You'll hear the lids pop as the seal is formed.
Press on the center of each lid to make sure it's sealed. If a jar has not sealed refrigerate those pickles and use first. Sealed jars can be stored in the pantry for up to one year.
Notes
Put any extra pickles in the 5th jar. You can refrigerate the partially filled jar and use first.

The screw tops should be closed completely but not screwed on tightly. Air from inside the jars needs to escape while processing in the water.

The screw tops can be saved and reused, but the flat lids should not be reused.