It's not hard to find a recipe for Raisin Scones and I'm sure there are some good ones and some bad ones floating around, but I can guarantee you that this is a really good recipe. I used this recipe for 7 years when I worked in a British tea shop and I got the personal approval of the owner's British mom for my Raisin Scones.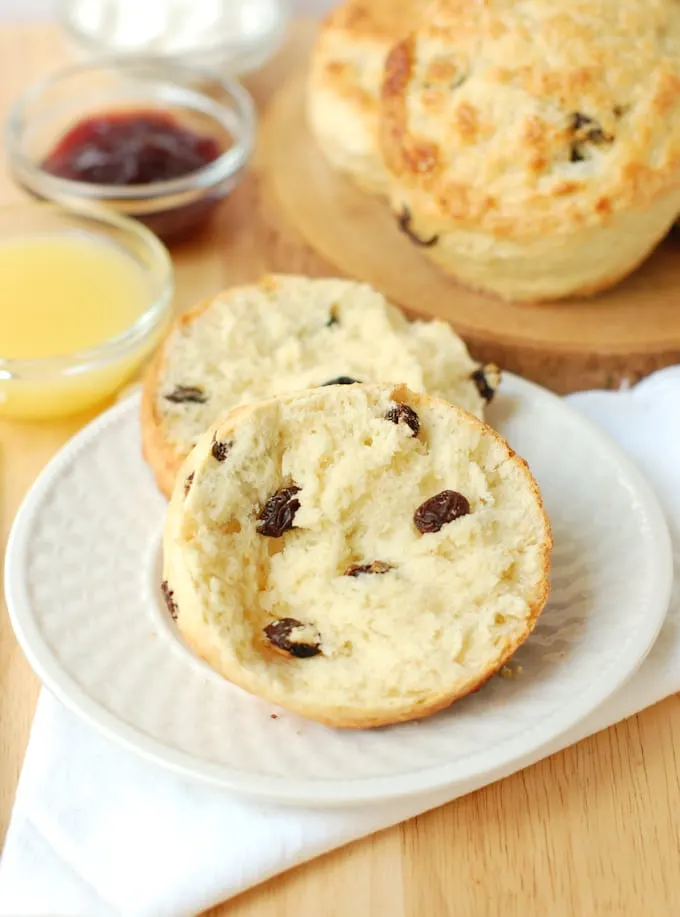 As I've said before, I see lots of bad scones in coffee shops and bake shops. Most of the time they're so light and sweet they're closer to a muffin than a scone. I think a good scone should neither be too biscuit-like nor too muffin-like. I also don't like scones that are super rich or sweet since I like to serve them with toppings.
As I mentioned in my post for Gingerbread Scones, my Raisin Scones are adapted from a recipe given to me by the tea shop owner's British mother. I made adjustments to the original recipe so it could work in a US kitchen with US ingredients and measurements. It's been a long time and I can't remember the exact changes I made. But I love these raisin scones and get great feedback from everyone who tastes them.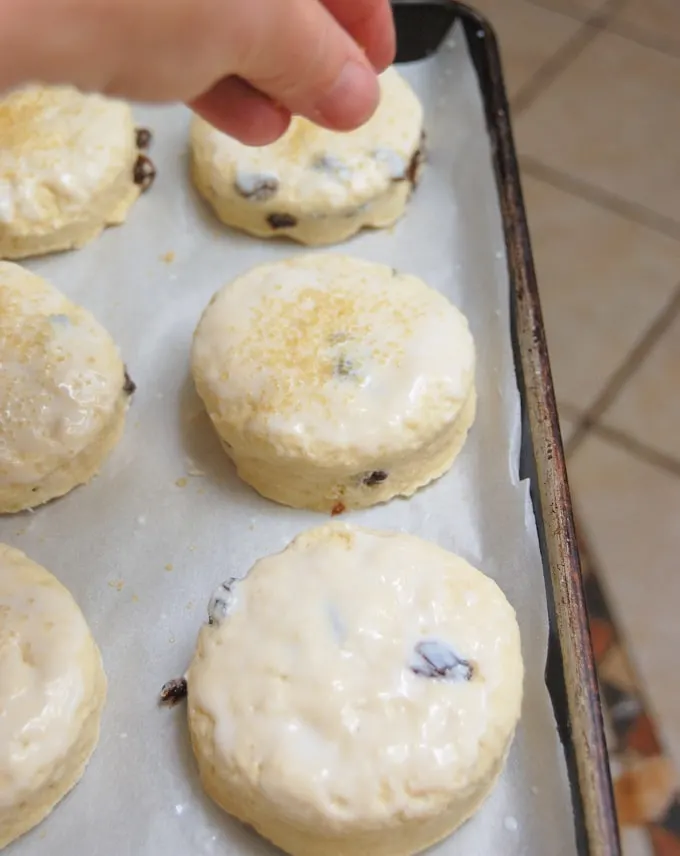 I use fresh buttermilk for this recipe. I don't mind keeping buttermilk in the refrigerator since I use it all the time. If you don't want to buy buttermilk, or can't find it at your market, you can use powdered buttermilk instead. Follow the directions on the package to make the substitution.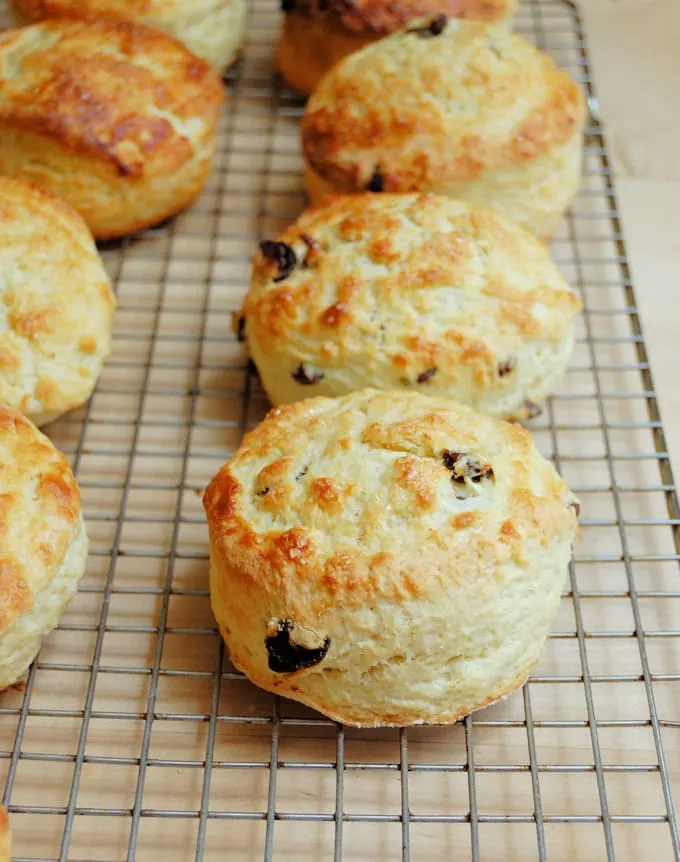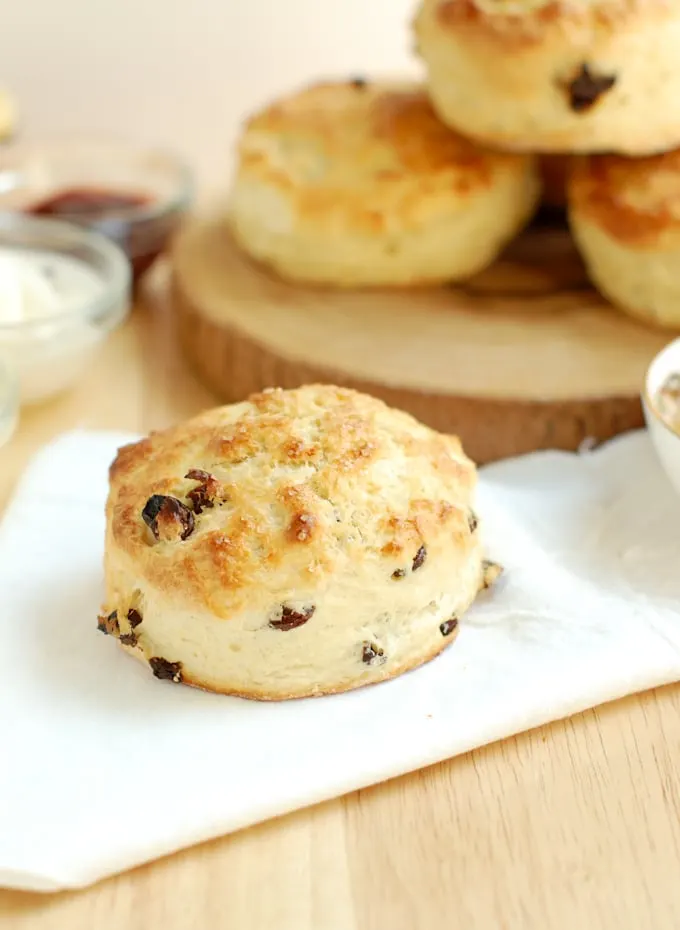 To serve scones as part of a full afternoon tea here's what you'll need to do: For the first course serve dainty tea sandwiches, next serve the scones with clotted cream and lemon curd or raspberry preserves. Finish with some small fancy pastries and cookies. I always served my Rose Shortbread cookies in the tea shop. Afternoon Tea is a great theme for a bridal or baby shower, or for a weekend brunch party.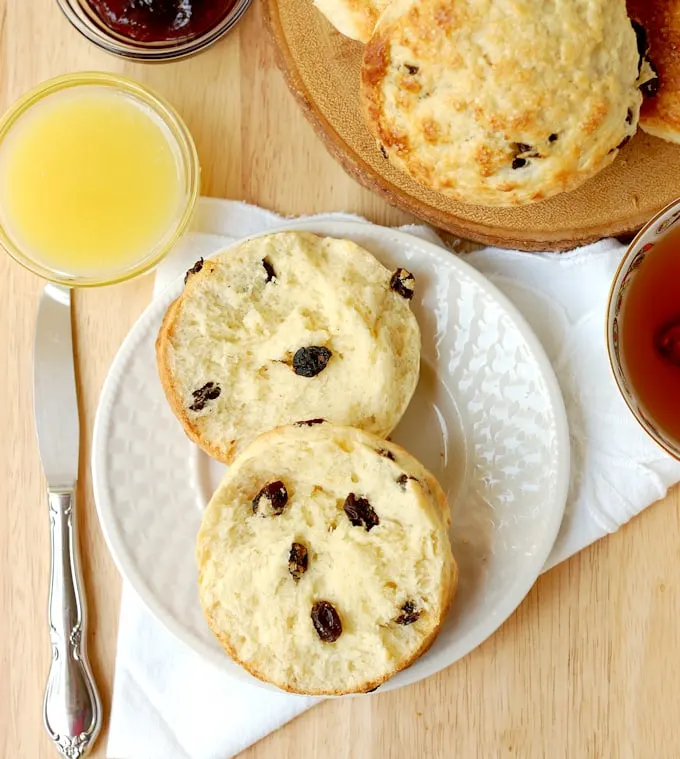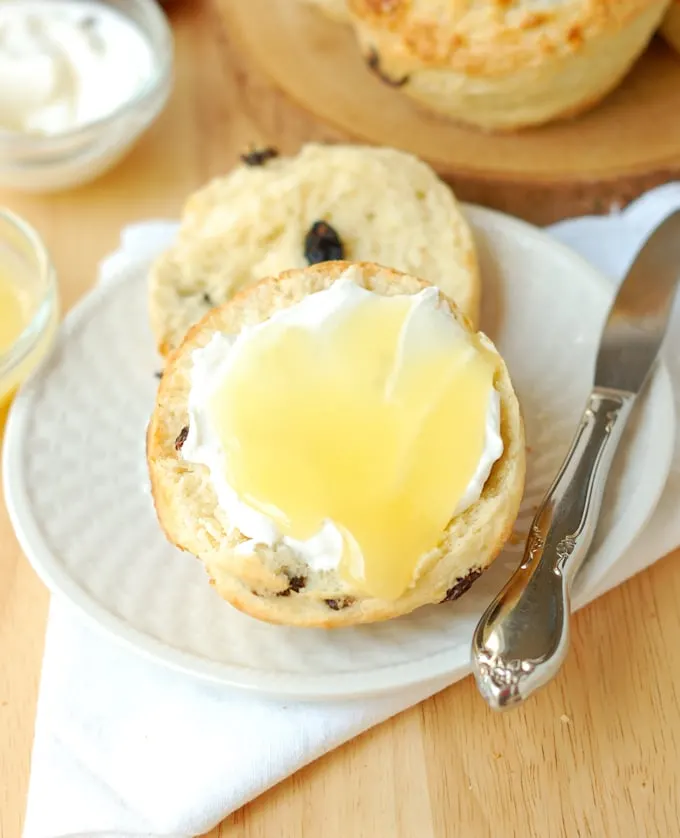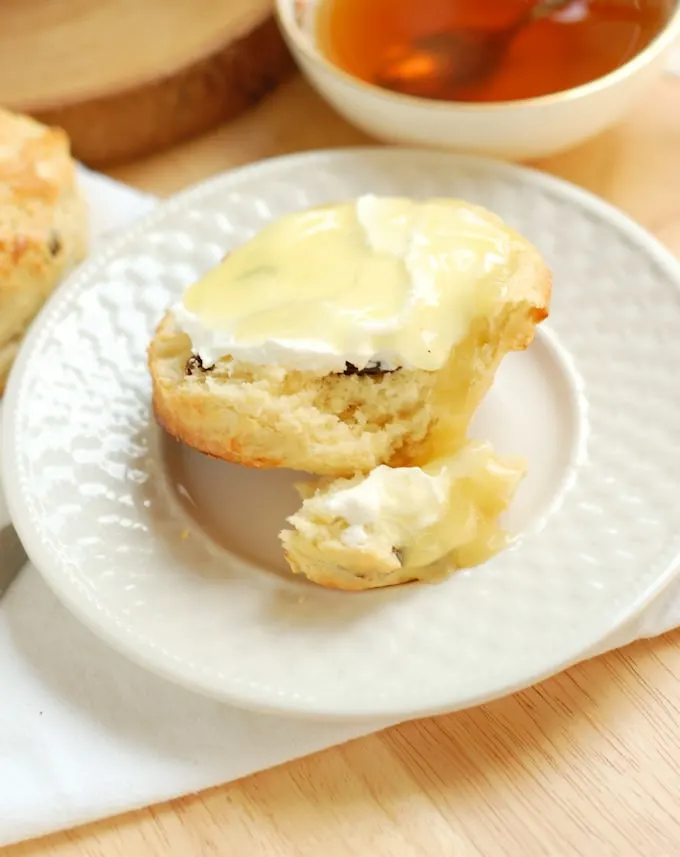 But don't wait until you plan a tea party to make scones. They are quick enough to make for weekend breakfast. Though they are great with clotted cream and lemon curd, you can also top them with butter and they are moist enough to eat plain.

Raisin Scones
Yield: 24 scones

Prep Time: 15 minutes

Cook Time: 15 minutes

Total Time: 30 minutes

The classic buttermilk raisin scone. British mom approved!
Ingredients
5 cups (1.5 lb, 680g) unbleached all purpose flour
2 tablespoons baking powder
1/2 teaspoon salt
1/2 cup (4 oz, 110g) granulated sugar
6 oz (1.5 sticks, 170g) cold unsalted butter, cut into 1" chunks
2 eggs
1 3/4 cups (400 ml) buttermilk (or use powdered buttermilk)
3/4 cup (4 oz, 115g) raisins
Instructions
Preheat the oven to 375° F convection or 400°F regular.
Whisk together the eggs and buttermilk and set aside.
Combine flour, baking powder, salt and sugar in a mixer bowl (see note)
Mix dry ingredients with the paddle attachment for 1 minute to combine.
With the mixer running on low, toss in butter chunks
Continue to mix on medium speed until the butter bits are the size of a pea.
With the mixer on low speed add buttermilk mixture all at once
Mix until just barely combined.
Some loose flour may remain at the bottom of the bowl. DON'T OVER MIX.
Dump the dough onto a floured surface, sprinkle the raisins over the dough and finish kneading by hand just until all the loose flour is absorbed.
Use your hands to pat the dough on a floured surface until it is 1" thick (you can also use a rolling pin if you prefer)
Use a 2.5" biscuit cutter to cut scones.
Re-roll the scraps and continue cutting until all the dough is used.
Line the scones on a parchment lined baking sheet, leaving 1" space between.
Brush the tops of the scones with buttermilk and sprinkle with Demerrara or granulated sugar.
Bake on the middle rack of the oven, flipping the tray after 10 minutes (see note)
The scones are ready when they are golden brown and sound hollow when the bottom is tapped. Total baking time about 15-20 minutes.
Notes
The dough can also be mixed by hand quite easily.

If the bottoms of the scones are browning very fast you can slide another sheet pan under the pan half way through baking.

To make ahead you can bake and freeze the scones. Defrost and warm in the oven to serve.