Asparagus Soup looks and tastes like a bowlful of springtime. Beautiful pale green and light as a feather, this soup is made without cream. Parmesan and prosciutto crisps are the perfect partners for this bowl of goodness.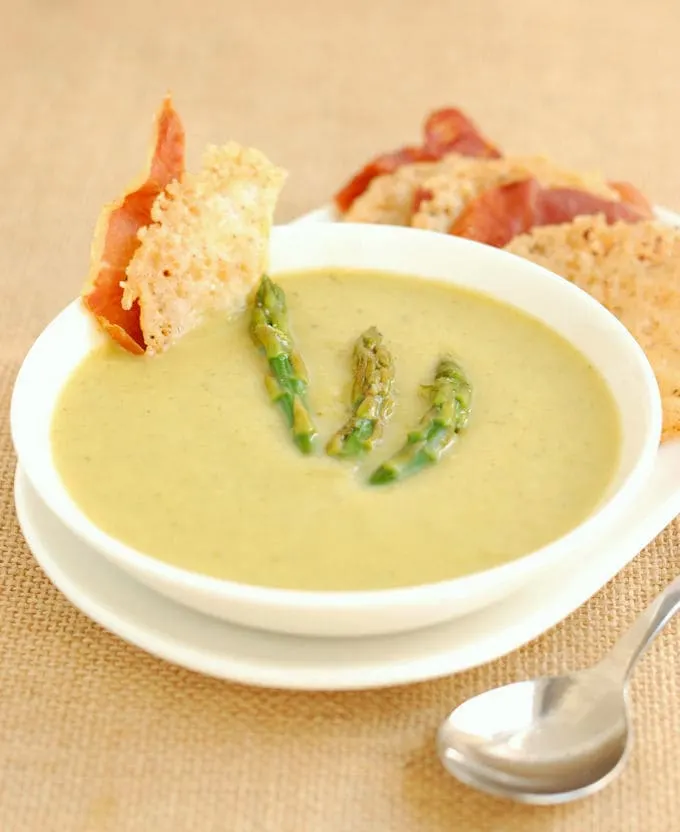 I was inspired to make this recipe, first of all, by the mountain of asparagus stalks I had leftover from testing an Asparagus Goat Cheese Tart Recipe. In that recipe I suggest using the leftover asparagus stems to make soup. So, of course, I thought I'd better post an asparagus soup recipe.
Full disclosure, when I make soup I rarely use a recipe. Most of my soups start with onions, celery, carrots (mirepoix), garlic and whatever veggies I need to use up.
I often add a starchy element, like potatoes or noodles. I finish the soup with herbs and spices to create the flavor profile. Writing this post forced me to actually think about, test and write down a good asparagus soup recipe. I hope you like it.
Asparagus Soup without cream is light and tasty:
Since asparagus is a spring vegetable, I wanted the soup to be light and flavorful, perfect for springtime lunch or dinner. To keep the flavor focused on the vegetables I didn't add any cream or even yogurt.
Replace the chicken stock in the recipe with vegetable broth to make it vegan. I used homemade, unsalted chicken stock. You'll have to adjust the seasoning in your soup based on the saltiness of the stock or broth that you use.
One of my favorite ways to serve asparagus is simply grilled then tossed with a little balsamic (or lemon) and Parmesan cheese. I also love the classic appetizer of asparagus spears wrapped in prosciutto.
Inspired by those classic flavor combinations, I paired the soup with Parmesan and Prosciutto crisps. Not only do the crisps add a needed element of texture to the meal, they are ridiculously easy to make.
..and, really, is there anything in the world more tempting than bubbly cheese?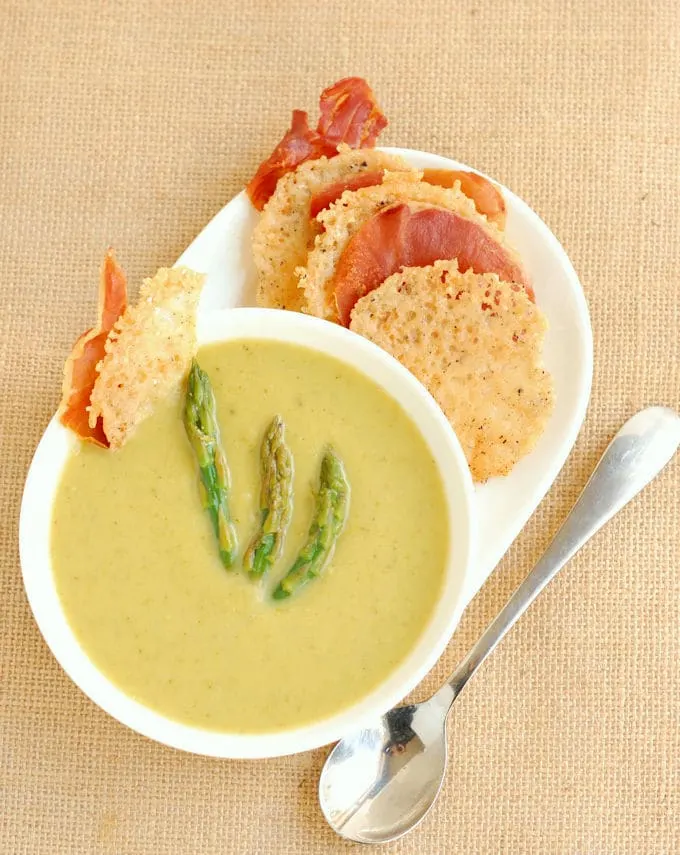 The soup can be served hot or cold.
If you love this recipe as much as I do, please consider giving it 5 stars.
Asparagus Soup with Parmesan & Prosciutto Crisps
Asparagus Soup looks and tastes like a bowlful of springtime. Beautiful pale green and light as a feather, this soup has no cream added.
Ingredients
Soup
3 tablespoons olive oil
2 medium leeks, about 2 cups diced, soaked in cold water to remove sand
1 medium yellow potato, about 1 cup peeled and diced
2 ribs celery, about 1/2 cup diced
3 cloves garlic
1 bunch (1 lb) asparagus spears, woody ends removed, cut into 2" pieces (Reserve a few asparagus tips for garnish if you'd like)
1/2 cup Italian flat leaf parsley, chopped
1 teaspoon salt
Zest of 1 lemon
1 quart chicken stock or vegetable broth
1 tablespoon lemon juice or to taste
1/2 cup grated Parmesan cheese
salt and pepper to taste
Parmesan Crisps
1 cup shredded Parmesan cheese
black pepper
Prosciutto Crisps
1/4 lb prosciutto, sliced thin
Instructions
Heat the oil in a large dutch oven or soup pot. Add the leeks celery, potato, and garlic. Cook over medium heat until the vegetables begin to soften. Add the asparagus, parsley leaves, salt and lemon zest and cook until the asparagus is bright green and begins to soften.
Add the chicken stock. Cover and cook until the vegetables are very tender (about 20 minutes). Puree the soup with an immersion blender or in a food processor. Add the lemon juice and grated Parmesan cheese. Adjust the seasoning to taste
Parmesan Crisps
Preheat the oven to 400°F. Portion the shredded cheese into tablespoon mounds on a parchment lined baking sheet. Grind a generous portion of black pepper over each mound then slightly flatten the mounds.
Bake 3-5 minutes until browned and bubbly. Cool on the sheet pan for 1 minute then use a small offset spatula to lift each crisp onto a cooling rack to finish cooling
Prosciutto Crisps
Preheat the oven to 400°F. Lay the prosciutto slices on a parchment lined baking sheet.
Bake 10 minutes until browned and crispy. Transfer to a wire rack to cool. The slices will continue to crisp as they cool.
If you want smaller size crisps cut them to the desired size while they're still slightly warm.
Notes
To make a vegetarian soup use vegetable broth instead of chicken stock. Eliminate the Parmesan to make it vegan.
The soup can be served warm or cold.
Recommended Products
As an Amazon Associate and member of other affiliate programs, I earn from qualifying purchases.
You might also like: