We're continuing our "Pi" day celebration with another "old-fashioned" recipe, Buttermilk Pie. I've updated it a bit by adding blackberries and perfuming the filling with a hint of cardamom. Yes, another recipe for one of my favorite ingredients, buttermilk.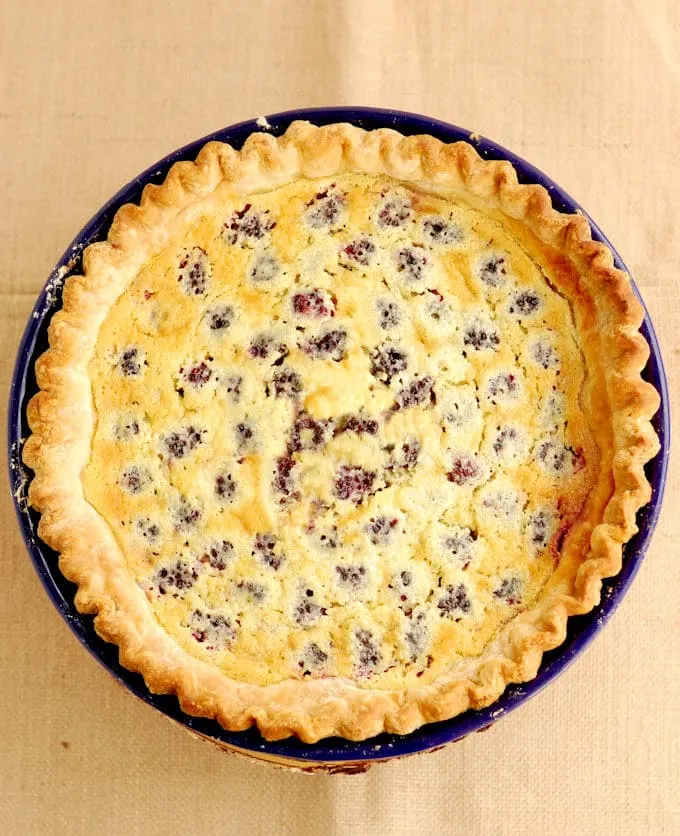 Cardamom is one of my favorite spices because it is as tasty in a savory, spicy curry as it is in a sweet custard or pastry. If you don't mind the tedious work of shelling the pods you can use whole pods and grind the seeds yourself for the best flavor. If you use the pre-ground spice (which I did) just make sure it's very fresh. If you've had that bottle of cardamom sitting in the spice cabinet for several years it's time to toss it and buy a new one.
The custard is also flavored with vanilla. The recipe calls for either the seeds from 1/2 a vanilla bean or  a teaspoon of vanilla extract. I make vanilla sugar from my left over vanilla bean pods so that's what I used when making this pie. If you use vanilla beans occasionally and haven't made vanilla sugar it is a great way to get the most bang for your buck, since vanilla beans are expensive. Just fill a container with granulated sugar and tuck used vanilla bean pods into the sugar. The pod will perfume the sugar.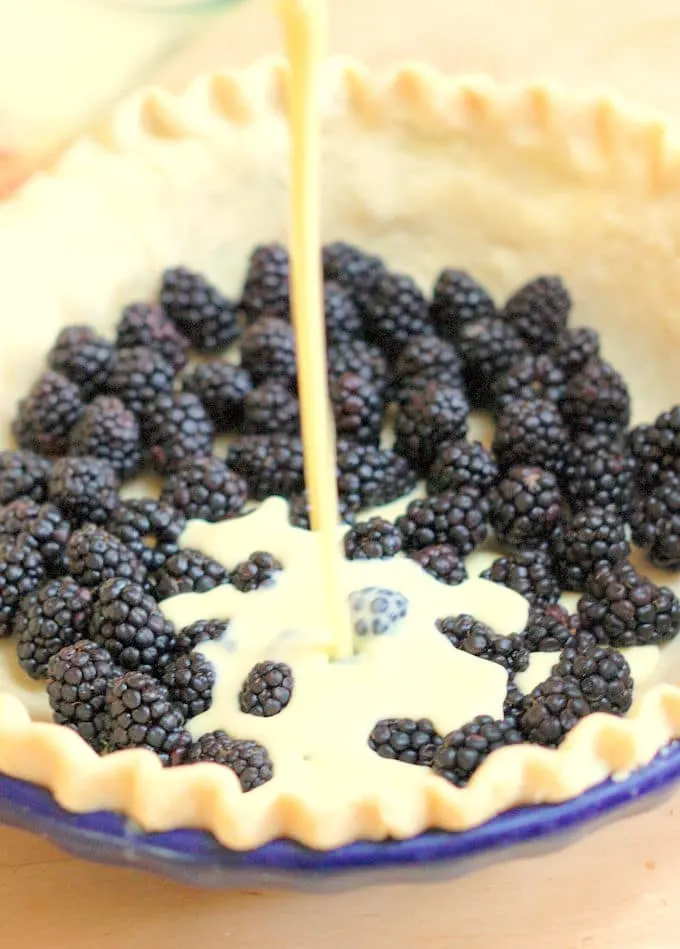 Like yesterday's Meyer Lemon Shaker Pie, this is another super-easy recipe. In fact it's even easier than I originally throught. I intended to blind bake the crust before filling it with the berries and custard, but I forgot and filled the raw crust (it was early in the morning and I'm not a morning person). Despite my original intentions, the pie turned out great. So I discovered that the blind baking step isn't absolutely necessary for this pie. Because the pie stays in the oven long enough to bake the custard, the shell has time to fully bake. The bottom crust might be a little crisper if you blind bake. But not pre-baking gave me acceptable results.
I don't think this pie needs any accompaniment at all. But if you want to add some colorful berries to the plate go for it.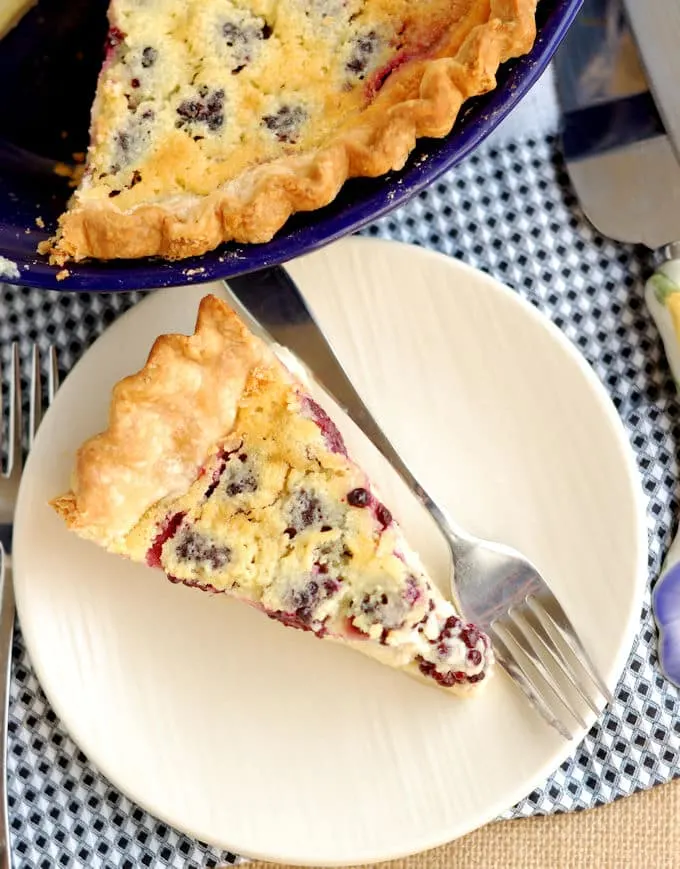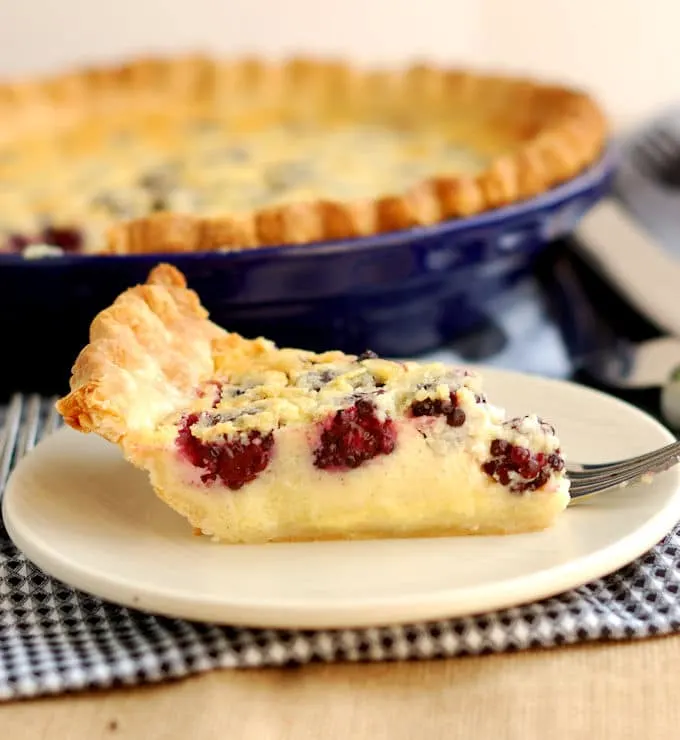 Final "Pi" day pie recipe coming tomorrow…

Eileen Gray
Yields 9
Blackberry Buttermilk Pie with Cardamom
Old fashioned buttermilk pie is updates with the addition of blackberries and a hint of cardamom.
30 minPrep Time
45 minCook Time
1 hr, 15 Total Time
Ingredients
1/2 recipe Perfect Pie Crust in a 9" pie plate, chilled
2 pints Blackberries
1 cup (8 oz) granulated sugar
Seeds from 1/2 vanilla bean or 1 teaspoon vanilla extract
1/2 teaspoon Cardamom
pinch of salt
1/4 cup cornstarch
2 large eggs plus 2 yolks
2 tablespoons unsalted butter, melted
1/2 cup (4 oz) heavy cream
1 1/2 cups (12 oz) buttermilk
Instructions
Put the berries into the unbaked pie shell
Preheat the oven to 350°F.
Place a sheet pan onto the bottom rack of the oven to preheat.

Filling

Whisk together the sugar, salt cardamom and corn starch
Add the eggs and yolks and whisk until smooth
Whisk in the melted butter, cream and vanilla
Whisk in the buttermilk
Place the pie plate on the preheated sheet pan
Pour the custard into the pie plate
Bake for 15 minutes then reduce the temperature to 325°F
Bake until the custard is set, about another 30 minutes.
Notes
The pie is best eaten at room temperature. Because it is a custard pie, leftovers should be refrigerated overnight and brought back to room temperature before eating.
7.8.1.2
17
https://www.baking-sense.com/2016/03/12/blackberry-buttermilk-pie-cardamom/