Coeur a la Creme must be the world's most romantic dessert!  This classic treat is luscious, beautiful, and definitely meant to be eaten from one plate with two spoons. I mean, just the name (said with your best French accent) says "romance".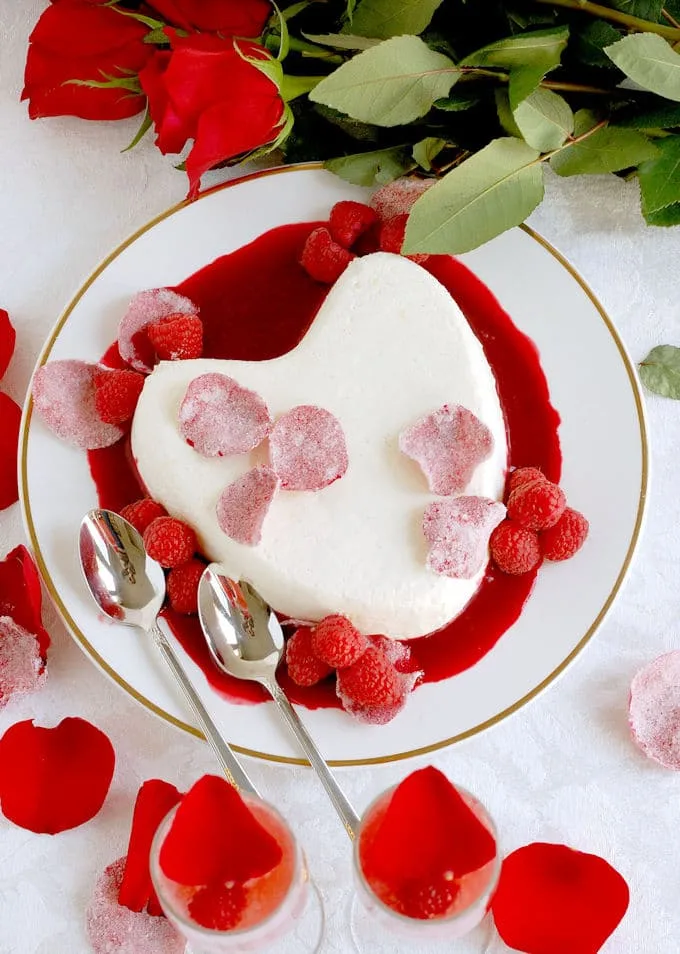 Traditionally, Coeur a la Creme is molded in a special heart-shaped ceramic dish with holes on the bottom. The idea is that the excess liquid will drain away from the cream as it sits in the refrigerator. I bought one years ago and have used it every time I've made this dessert.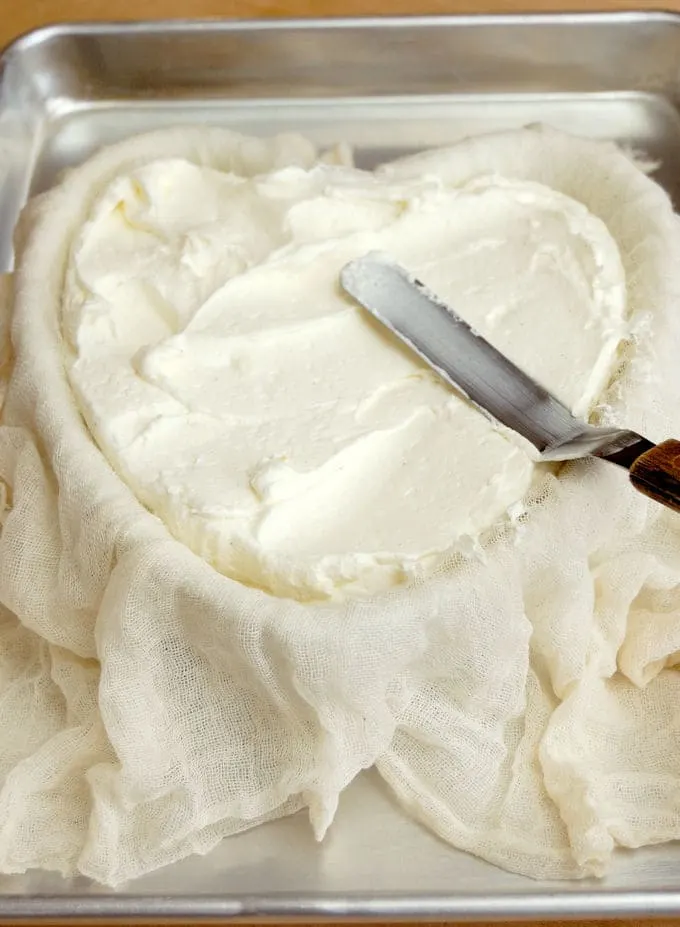 Do you really need a special Coeur a la Creme mold?
But I got to thinking as I was writing this post that I don't ever remember seeing much liquid under the dish after the cream sat overnight in the refrigerator. So is the special pan really necessary? I made a second Coeur in a 6″ heart shaped aluminum cake pan lined with cheesecloth. There really was no difference between the two Coeurs, so I would say there is no need to buy the special pan if you already own small heart shaped cake pan. The other options would be to use any other 6″ cake pan or a small sieve to mold the dessert. But if you don't have something already in the house, the traditional dish is not very expensive and you'll probably use it again.
A Fresh Take on the Classic Coeur a la Creme
My take on this classic french dessert has a couple of updates. Instead of using only cream cheese, I use a mixture of cream cheese and mascarpone. I love mascarpone's sweet and smooth taste and I think using the two cheeses makes for a lighter texture and more interesting flavor.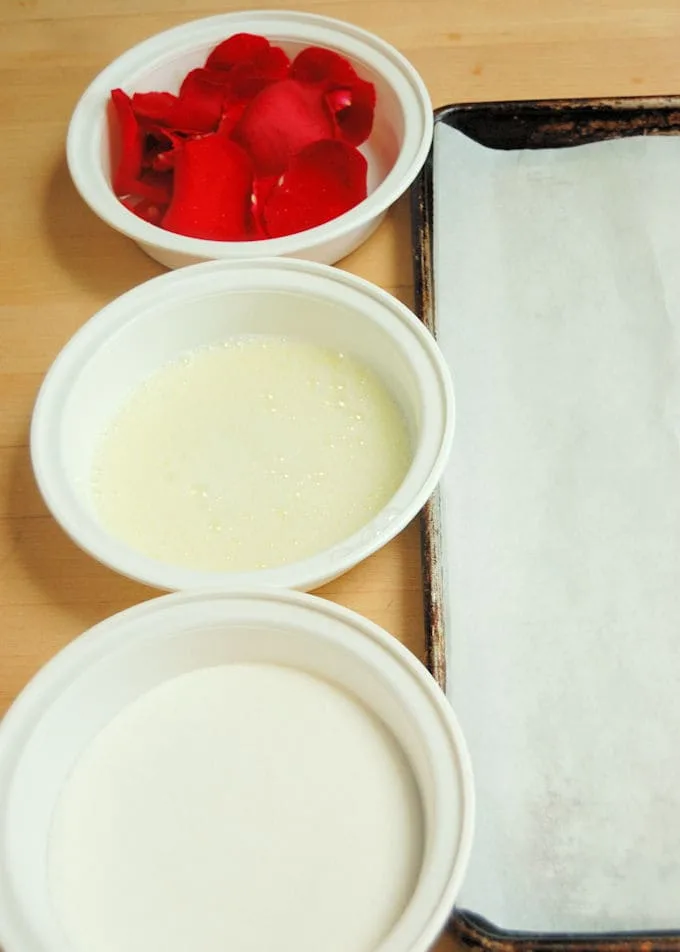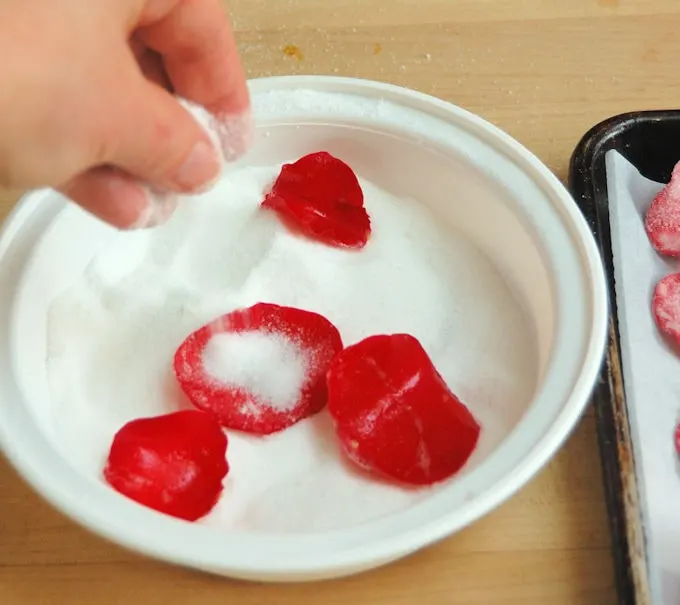 Speaking of interesting flavor, a splash of rosewater adds an intriguing note to the raspberry sauce. (Save a little of the raspberry-rose sauce to make Raspberry-Rose Bellinis for a romantic start to your evening.) A tumble of candied rose petals is all you need to finish your beautiful creation.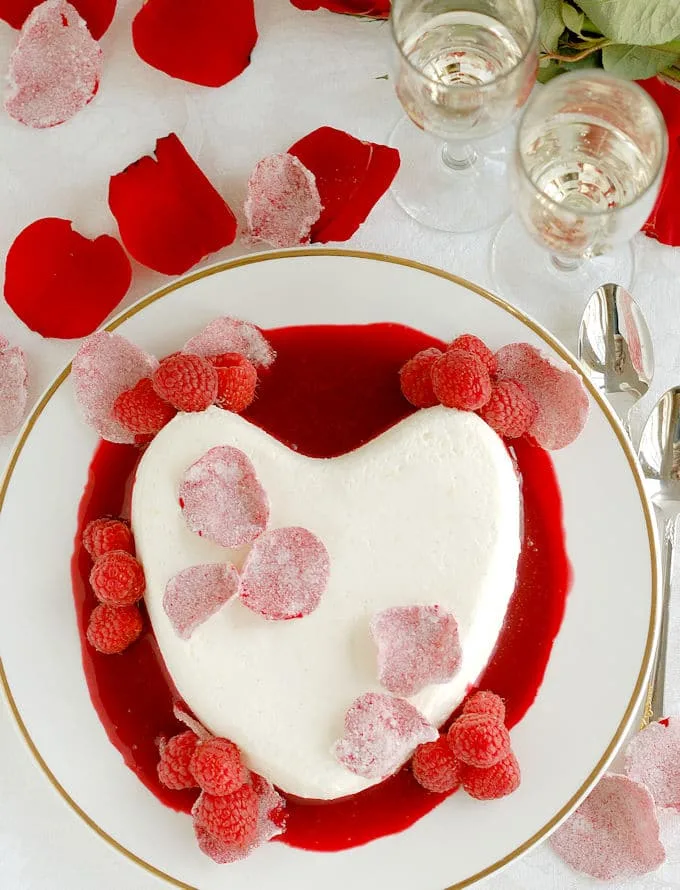 We all know that making food, especially dessert, is a way to express love. What better way to say "I love you" than with a gorgeous, delicious and easy to make Coeur a la Creme?

Coeur a La Creme-raspberry rose sauce-candied rose petals
Yield: 2 - 4 servings

Prep Time: 1 hour

Total Time: 1 hour
Ingredients
Coeur a la Creme
1/2 cup (4 oz, 113g) cream cheese, room temperature
Grated zest from 1/2 lemon
Seeds from 1/3 vanilla bean
1/4 cup (2 oz, 56g) mascarpone cheese
1/2 cup (3 oz, 85g) confectioners sugar
1 cup (8 oz, 236 ml) heavy cream
Raspberry Rose Sauce
1 bag (12oz, 340g) frozen raspberries, defrosted (see note)
1/2 cup (4 oz, 113g) superfine sugar, or to taste
1 tablespoon lemon juice
1 teaspoon rosewater, or to taste
Candied Rose Petals
Petals from 1 large rose, gently rinsed in a bowl of cold water and air dried
1/4 cup (about 2) pasteurized egg whites
1 cup (8 oz, 226g) superfine granulated sugar (see note)
Garnish
Instructions
Prep the Mold
Line a perforated Coeur a la Creme dish or mold of your choice with moistened cheesecloth
Set the dish on a larger pan to collect any liquid that drains
Coeur a la Creme
Beat the cream cheese, vanilla and lemon zest on low speed to soften.
Increase the speed to medium and mix until the cheese is smooth
Scrape the bowl thoroughly to avoid lumps
Add the mascarpone and mix until smooth
Scrape the bowl again to make sure no lumps remain
With the mixer running on low, add the confectioners sugar
Scrape the bowl again
Increase the speed to medium-high and mix for 1 minute to lighten.
Remove the bowl from the mixer
Whip the cream to full peak
Fold 1/3 of the cream into the cheese mixture to lighten
Add the remaining whipped cream in two batches
Pour the mixture into the cheesecloth lined dish and smooth to even out the top
Rap the dish on the counter a couple to times to eliminate any air pockets
Cover the top with the edges of the cheesecloth and refrigerate at least 4 hours, preferably over night
Make the Candied Rose Petals
Set up three bowls, one with the cleaned petals, one with the egg whites and one with the superfine sugar
Line a sheet pan with parchment paper
Dip each rose petal into the egg whites and use your fingers to spread the whites all over both sides. Allow any excess to drip off. You want a thin coating of egg whites
Drop the petal into the sugar and toss to completely coat
Set on the sheet pan to dry for at least 4 hours.
Make the Sauce
Puree the berries in a food processor or blender
To remove the seeds, run through a sieve or the fruit strainer attachment of your mixer
Combine the raspberry puree with the sugar, lemon juice, and rose water
Adjust the amount of sugar and rose water to your taste.
Serve
Unmold the Coeur a la Creme onto a serving platter with raised sides or a shallow bowl
Pour the sauce around the Coeur
Arrange the rose petals and raspberries to garnish.
Notes
Try to get unsweetened frozen raspberries. If the raspberries are frozen in sugar syrup adjust the sugar accordingly.[br][br]If you don't have superfine sugar run granulated sugar in a food processor or blender for 30 seconds.
You might also like: