Grilled Panzanella is a nutritious and delicious summer dish. Grilling the vegetables and bread amps up the flavor of this great salad. Perfect for a quick weeknight dinner.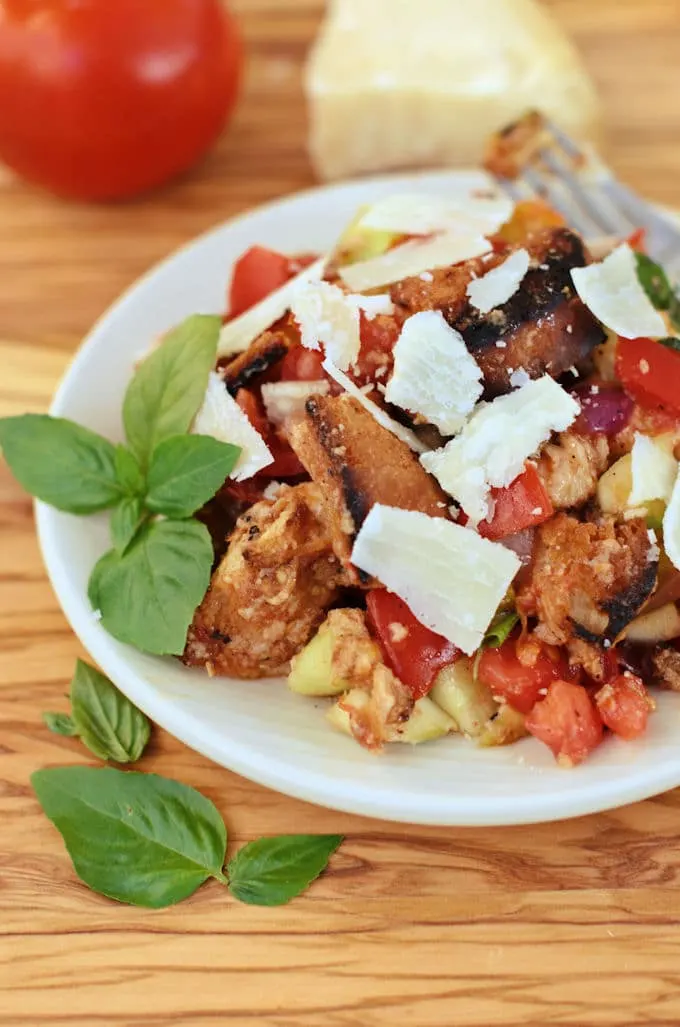 This will be a quick post since I'm a deep into wedding cakes at Cake Art Studio this week and need to get back out to my other kitchen. For this post I'm offering a quick and easy summer recipe. Since I had several 1/2 loaves of bread left over from my White Sandwich Bread post, and an abundance of summer veggies from the farm, it was the perfect time to make Panzanella (Bread Salad) for dinner.
Normally I use a good, crusty sourdough or other sturdy-textured bread for this salad because the bread chunks need to soak up the juices and still keep their shape. White sandwich bread would not be my first choice for this dish, but since my homemade sandwich bread has a stronger texture than packaged bread I figured I'd give it a try.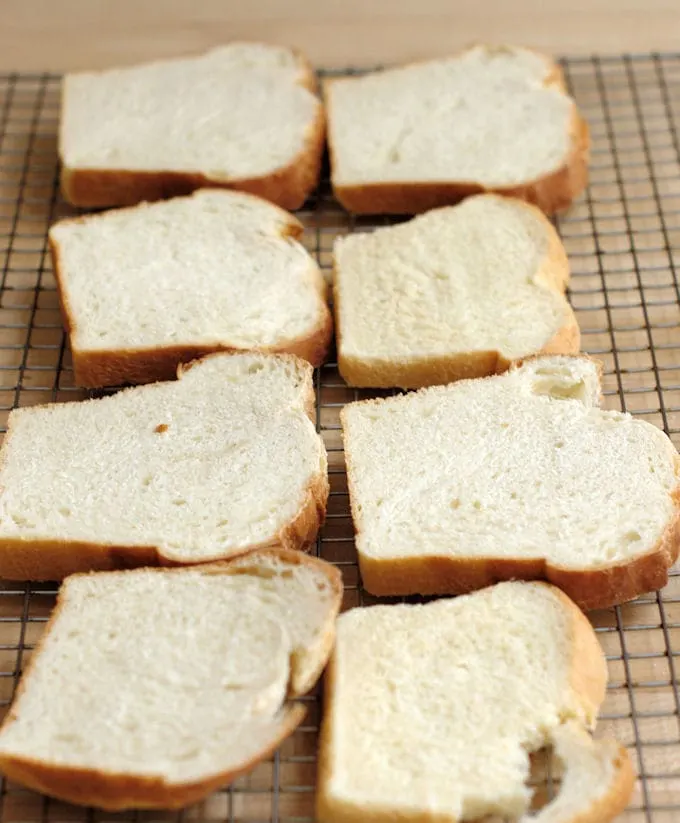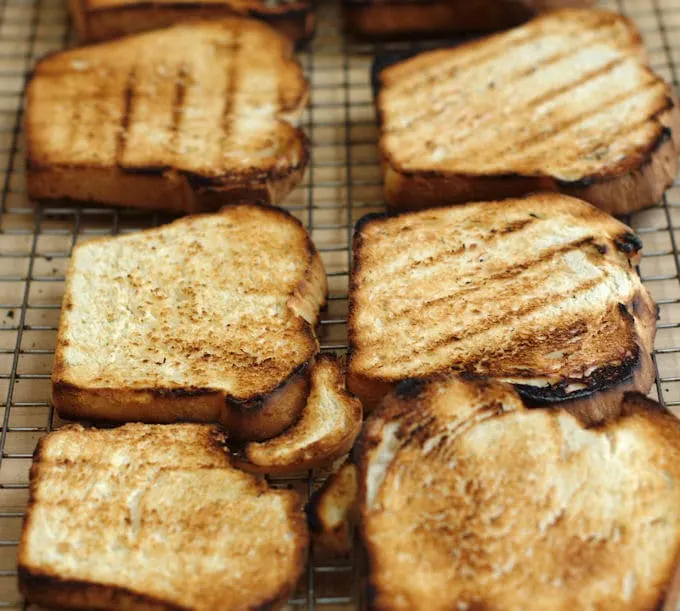 I laid thick slices of the bread out on a cooling rack for several hours to dry them out. Inspired by a salad I saw Bobby Flay make on his barbecue show, I grilled the bread and some of the veggies to boost the flavor, and to give the sandwich bread an extra crusty exterior. The mix of veggies was what I had in the refrigerator. Tomatoes are a must for this salad because the juices help moisten the bread, but otherwise you can mix it up based on what you have on hand. Good options for this salad are onion, cucumber, zucchini, summer squash, eggplant, and peppers.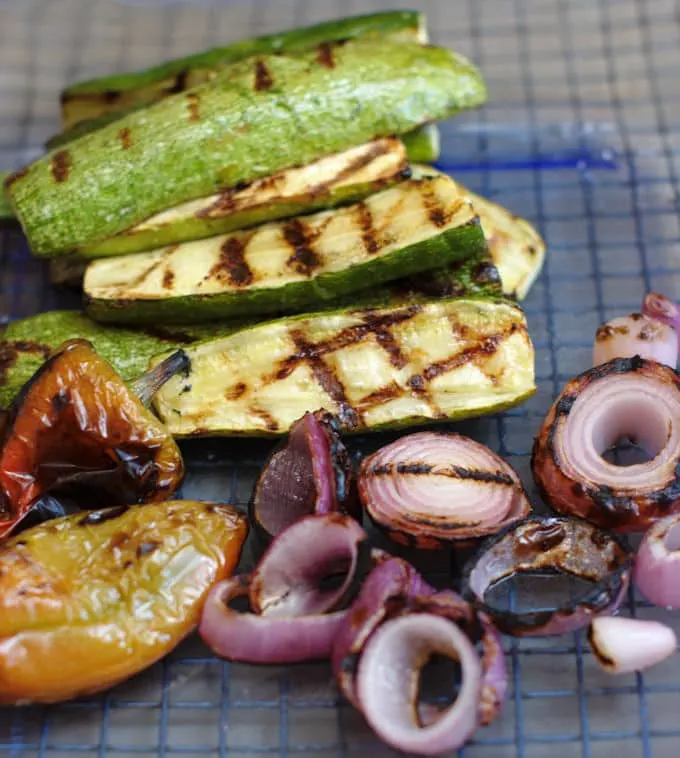 A few curls of Parmesan and our quick and delicious summer dinner was ready.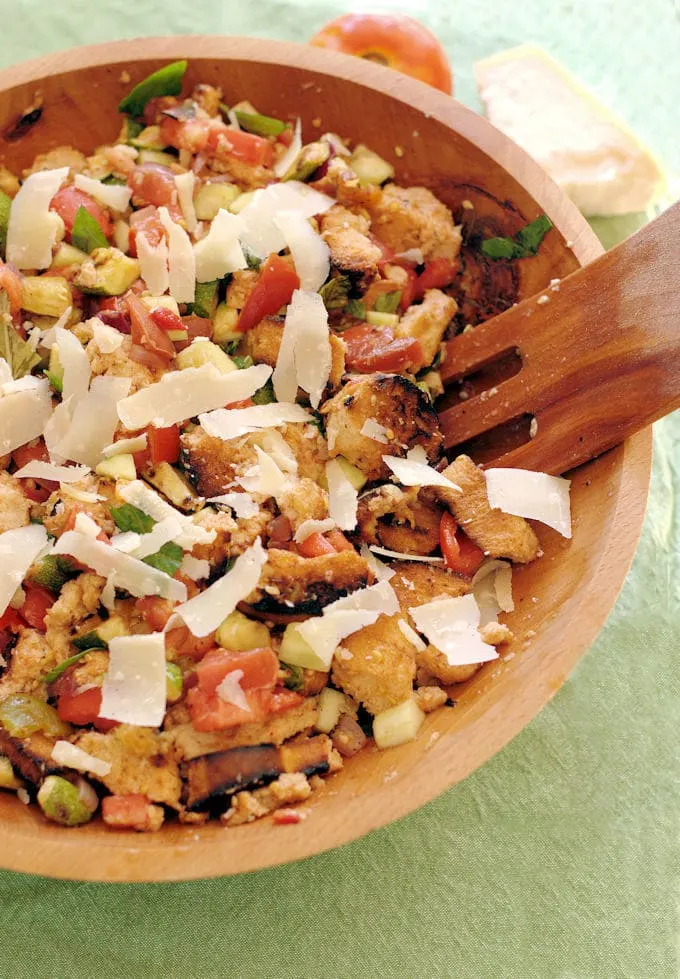 Grilled Panzanella
Yield: 4 servings

Prep Time: 30 minutes

Total Time: 30 minutes
Ingredients
For the Vinaigrette
1/4 cup red wine vinegar
1 teaspoon granulated sugar
Generous pinch of kosher salt
2 cloves of garlic, minced
1/2 cup olive oil
For the Salad
About 8-12 oz stale bread (a sturdy bread like sourdough or ciabatta is best)
1 # cucumbers, peeled and cut into small cubes
2# heirloom or vine-ripened tomatoes, cut into bite size cubes, juices saved
1 medium red onion, peeled and cut into 1" thick slices
1# Zucchini, sliced longways into 1/2" thick slabs
1 medium bell pepper
1/2 cup basil leaves, larger leaves torn into smaller pieces and small leaves left intact
Parmesan curls to finish (Use a potato peeler on a piece of Parmesan to make the curls)
Instructions
Salad Prep
Slice the bread into thick slices and lay out on cooling racks for several hours to dry
Toss the onion, zucchini and bell pepper with a pinch of kosher salt and olive oil
Grill the onion, zucchini and pepper until nicely charred, set aside to cool
Grill the bread slices on both sides until golden brown, set aside to cool
Make the vinaigrette
Combine the vinegar, salt, sugar and garlic in a small bowl
Whisk in the olive oil
Assemble the Salad
Peel the skin off the charred bell pepper and remove the stem and seeds
Cut the grilled veggies into bite size pieces
Combine the grilled veggies with the cucumbers and tomatoes in a large salad bowl
Pour the vinaigrette over the veggies and toss to combine
Taste the salad and adjust the seasoning
Tear the slices of grilled bread into large bite size chunks and toss into the vegetables
Allow the salad to sit for about 15 minutes for the bread to absorb the juices
Just before serving, toss in the torn basil leaves and top with curls of Parmesan.