Barley Salad is a healthy and hearty dish that can be adapted with the veggies you have available in your kitchen.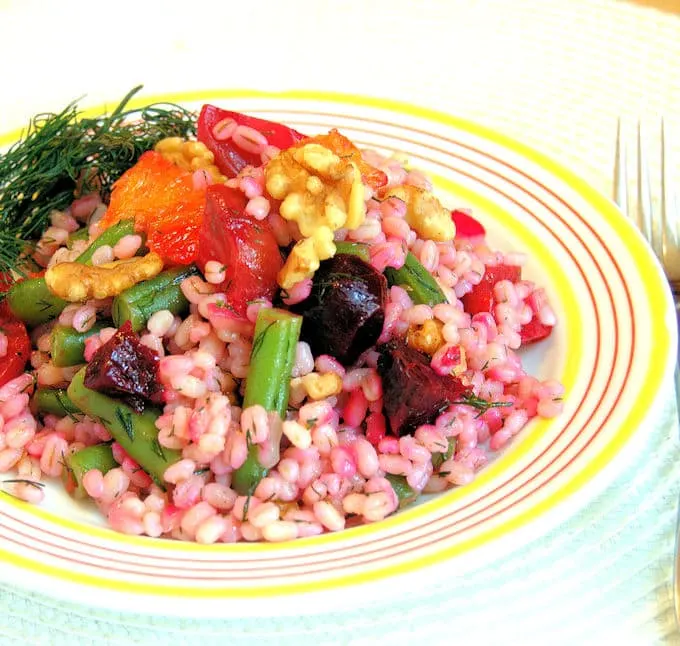 Yes, this is a baking blog but I feel it's my civic duty to occasionally post a more healthy recipe. I honestly feel no guilt about eating delicious baked goods made from fresh ingredients. But in the real world those are an occasional treat. My day to day diet has more salads and fewer pies than my blog may lead you to believe.
Don't worry. This isn't going to turn into a salad blog. Just every now and then if I've got a savory recipe that I particularly enjoy I'd like to share it.
We've been members of a local cooperative farm for the last 13 years. I love my farm membership for lots of reasons. Not the least of which are the environmental benefits of a small organic farm that supplies produce locally.
As members of the farm we get a share of whatever the farmer is growing. Over the years I've been introduced to vegetables that I may have ignored or never seen in my local grocery. I can't tell you how many varieties of kale, cabbage and lettuce we've gotten this spring. I've become obsessed with bok choy over the years and look forward to garlic scapes every spring.
The only "downside" to the farm share is the guilt I feel when I don't use up the vegetables before they start going bad.
One of my favorite ways to use up a variety of veggies at once is barley salad. I love the chewy texture and fulfilling flavor of barley. I cook the barley in chicken stock to give it an extra dimension of flavor. Of course you can cook it in water if you prefer to keep it vegan.
I had beautiful green beans from the farm share and wanted those to be the base of the salad along with the barley. I found a bunch of beets in the refrigerator, also from the farm. I love to combine orange segments and roasted beets. The pickled onion gives a great subtle onion flavor and the walnuts add a satisfying crunch.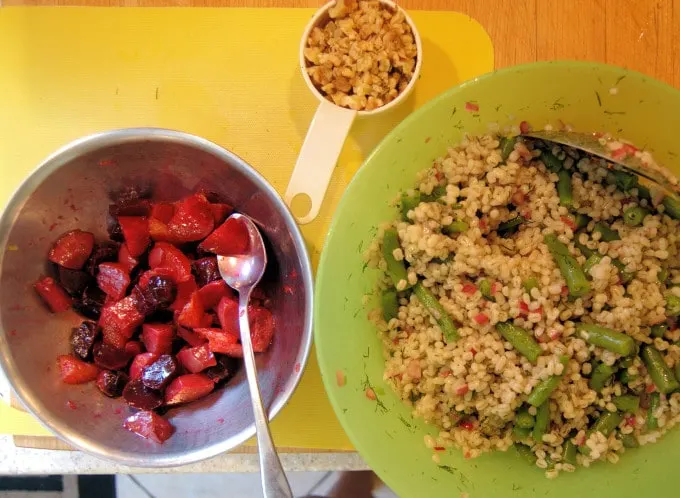 This version was especially delicious and I plan to make it again. But you can vary the exact mix of vegetables based on what you've got hanging around in your refrigerator. You can swap out the barley for quinoa, wheatberries or even rice. It's really more a concept than a recipe. I guess I should just call it "empty the refrigerator" salad.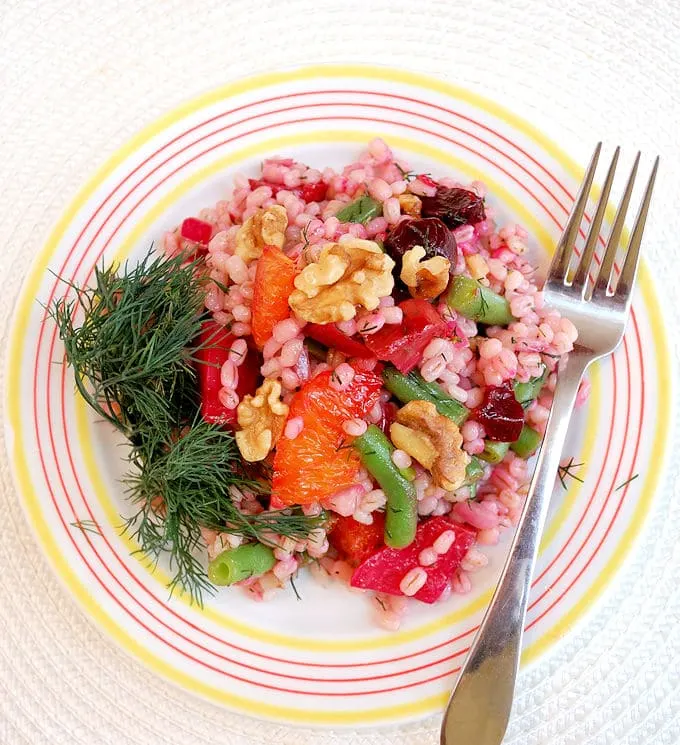 Barley Salad With Green Beans, Beets and Pickled Onion
Barley Salad is a healthy and hearty dish that can be adapted with the veggies you have available in your kitchen.
Ingredients
1 small bunch of beets (about 4-5 beets), cleaned and trimmed
1 navel orange, segmented and juices reserved
2 cups pearl barley
4 cups chicken stock or vegetable stock or water
1 quart green beans, trimmed and cut into 1 1/2" pieces
1/2 cup diced red onion (about 1 small onion)
1/4 cup red wine vinegar
1 tablespoon granulated sugar
2 Teaspoons kosher salt, plus more to taste if needed
4 tablespoons (1/4 cup) olive oil
3 tablespoons chopped fresh dill
1/2 cup chopped walnuts
Instructions
For the Roasted Beets
Preheat the oven to 350°f.
Toss the beets with 1 tablespoon of the olive oil and wrap in a small aluminum foil packet
Bake the beets until tender, about 1 hour
Allow the beets to cool completely then peel and chop into bite size pieces
Gently combine the orange segments and juice with the beets and set aside to cool
For the Barley
Combine the barley and the stock (or water) in a saucepan. Add 1 tsp salt if you're using water or unsalted chicken stock.
Cook the barley over high heat until it comes to a boil
Immediately turn the heat to low, cover the pot and cook until the barley is tender, about 45-60 minutes.
Salad Prep
Combine the diced onion with the sugar, 1 teaspoon salt and red wine vinegar, steep for 1/2 hour
Boil the green beans in salted water until they are tender but still crisp
Drain the beans and set aside to cool
Assembly
When the barley is cooked remove it from the heat and scoop it into a large salad bowl
Toss the pickled onion, dill and remaining 3 tablespoons olive oil with the warm barley
Toss in the green beans
Gently fold in the beet mixture and the walnuts
Adjust the seasoning to your taste
Serve at room temperature or chilled.
Notes
The amount of liquid required for the barley can vary. If the barley gets dry while cooking add a little extra water. If there is left over liquid and the barley is done cooking, drain it off before mixing the salad.The green beans should be boiled in an uncovered pan to retain the green color.
You might also like: