Homemade chicken stock is quick and easy to make. If you've never made your own chicken stock (bone broth) before you'll be surprised not only by how easy it is, but how much of a difference it makes in your cooking.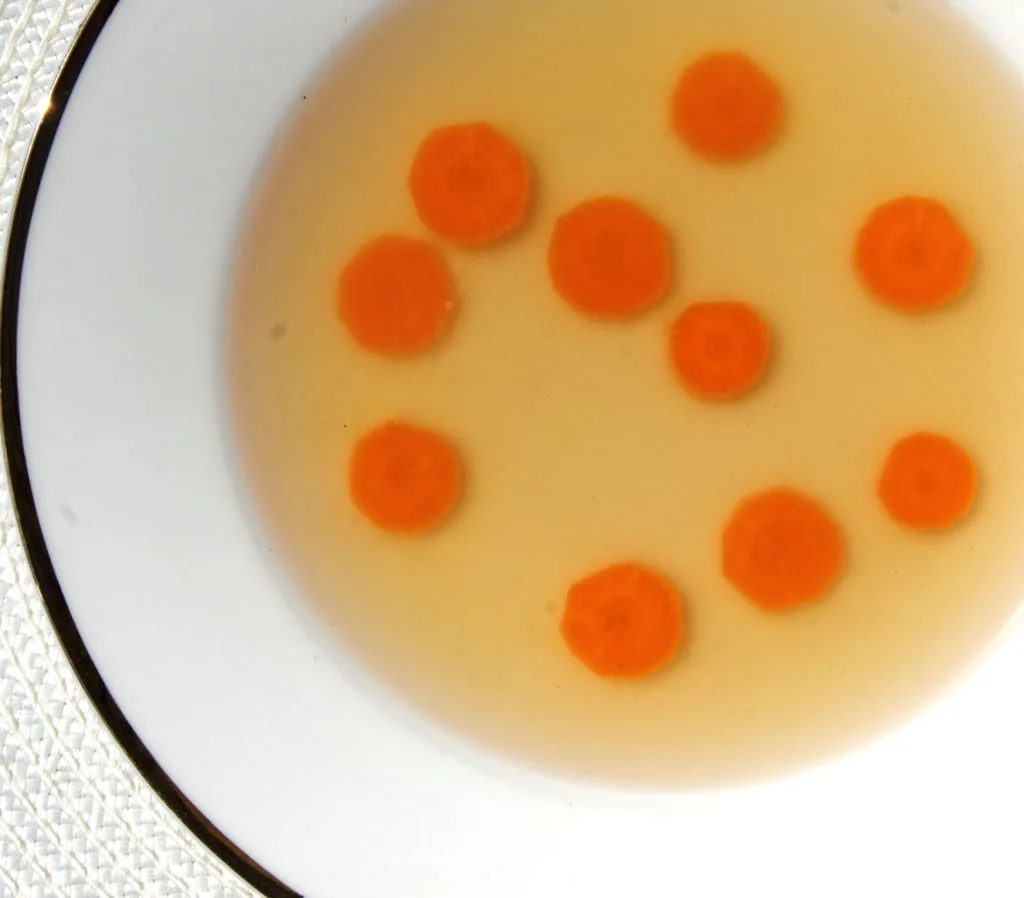 While store bought chicken broth is ok, it can be quite salty and doesn't have the body and full chicken flavor of a stock you make yourself.
Commercial broth that you buy in the store is generally made with chicken fat and wheat gluten, whereas your homemade stock is made with inexpensive chicken bones and basic vegetables that you probably already have in the house.
Homemade stock has great chicken flavor and is low in calories. If you take the extra step of leaving the strained stock in the refrigerator over night you can scoop off the fat and have a low fat and healthy base for many great dinners.
Whenever I roast a chicken I keep the left over carcass to make a pot of stock. If I don't have any leftover chicken bones I buy cheap chicken wings to make the stock. Some good butcher counters may have chicken bones that you can buy for stock.
Scroll through the step by step photos to see how to make homemade Chicken Stock: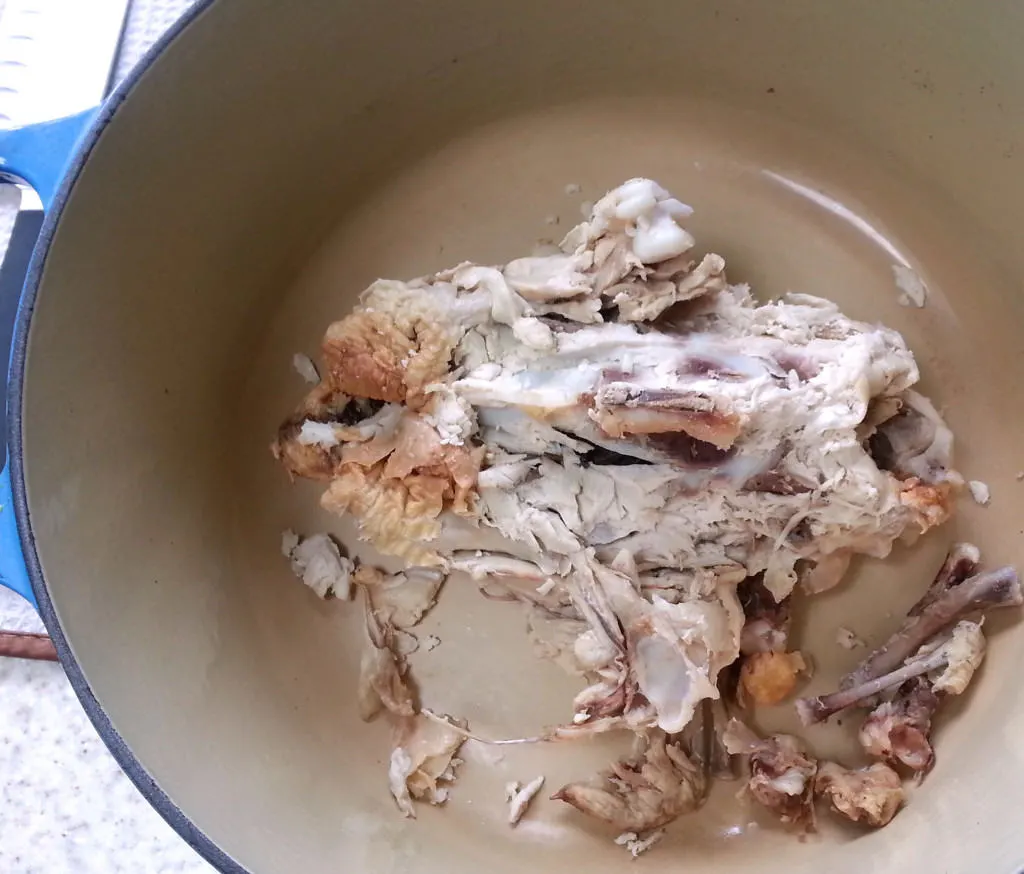 I freeze stock in plastic deli quart and pint containers. I always try to keep a few containers in the freezer.
I use this stock as the base for my chicken pot pie. The pot pie takes a little time and is something I'd usually make on the weekend when I have more time to cook.
But if you've already got the stock in the freezer, throwing together weeknight dinner is quick and easy. I just go through the fridge and freezer and use whatever veggies I've got. Add a can of tomatoes or beans and you've got a tasty and healthy soup in no time.
Chicken stock has so many uses beyond soup or stew. I use it to make gravy, risotto, rice pilaf, as a base for stir fry sauces and I love barley simmered in chicken stock as the base for a really tasty and healthy salad.

Easy Chicken Stock aka Bone Broth
Total Time:
3 hours
5 minutes
Easy to make and versatile in the kitchen.
Ingredients
1 chicken carcass from a roasted chicken or about a dozen raw chicken wings
1 large or 2 medium onions, no need to peel. cut into quarters
2 celery stalks, washed and cut in half
2 medium carrots, washed but not peeled, cut in half
2 medium bay leaves
1 tablespoon peppercorns
water to cover
Instructions
Place the chicken, the vegetables and aromatics in a large stock pot. Cover with cold water.
Heat over medium high just until it begins to a boil. Lower the heat to medium low and simmer, uncovered for about 2-3 hours. If the water evaporates add more cold water to keep the chicken and vegetables well covered.
Cook until the chicken falls apart and the stock has a nice golden color and good chicken aroma. Turn off the heat and allow the stock to cool a bit.
Set a large colander into a large bowl and strain the stock. Discard the bones and vegetables.
To defat the stock, set the bowl in the refrigerator over night then remove the solidified fat from the stock. Pour into containers and freeze.
The stock will keep in the refrigerator for 3-4 days. The frozen stock will keep for several months.
Notes
I don't add salt to the stock since each recipe will add salt as needed.
Recommended Products
As an Amazon Associate and member of other affiliate programs, I earn from qualifying purchases.