Silky smooth & buttery, Butterscotch Sauce has a special and specific flavor. Sure, I like salted caramel as much as the next guy, but I'm sooo ready to close the book on salted caramel for a little while. Let's try Butterscotch Sauce for a change.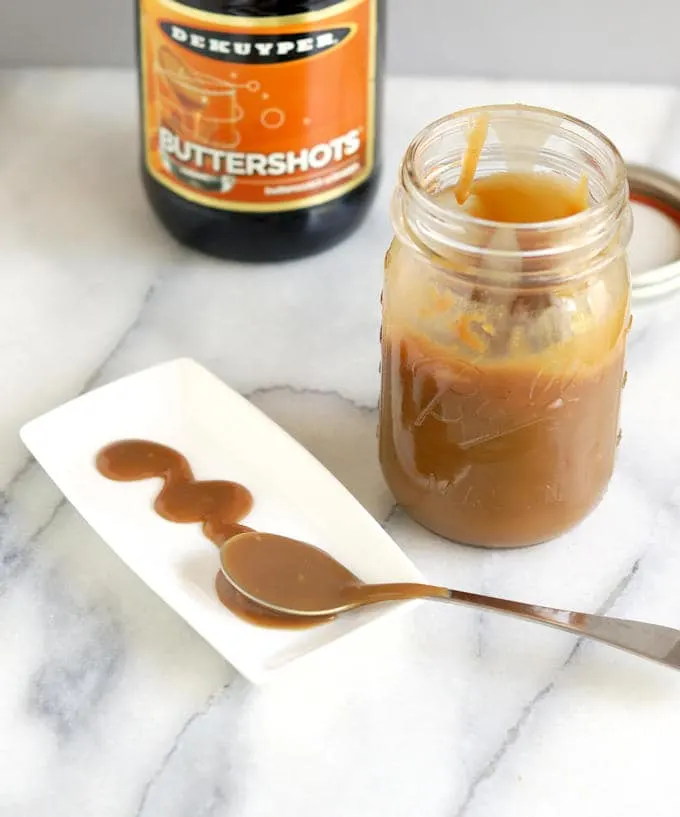 Caramel sauce is made by melting and caramelizing white sugar, then adding a liquid to that caramelized sugar to turn it into a sauce. Caramelizing sugar is a complicated and specific process that I won't go into here. That is a topic that needs at least one post, if not a series.
Believe me, I adore the flavor of caramelized sugar, but butterscotch is different and also really delicious. Butterscotch sauce starts by melting brown sugar and butter together and then adding a liquid. Brown sugar has molasses in it, which is not the same thing as caramel. So butterscotch has notes of butter, molasses, vanilla and salt.
There is a bit of a 360° story to how I came to post this recipe. I first started playing around with butterscotch recipes a couple of months ago, when I was recipe testing for my Pound Cake Perfection eBook. I had an idea for a pound cake with a ribbons of real butterscotch running through the cake. So I made a batch of butterscotch sauce just to put it into a pound cake.
Well, the pound cake was a total fail. I was hoping the pound cake batter would be thick enough to keep the butterscotch from sinking to the bottom. It wasn't. (I have to admit that my husband and I did like the crunchy, caramelized, crusty bits of butterscotch that clung to the bottom of the pan.) Anyway, in the interest of time I published the book without the butterscotch pound cake recipe and tabled the idea for a later post.
Fast forward to last week when I was doing some spring cleaning and found a bottle of butterscotch schnapps in the back of the liquor cabinet. It's a long story how it got there, but suffice it to say that it's been there for a number of years and no-one was drinking it. That bottle of schnapps reminded me that I was going to play around with butterscotch recipes.

Click through the slider to see how-to photos for making Butterscotch Sauce:
To start my butterscotch exploration I decided to make a simple sauce, with a shot of that long abandoned schnapps added to the mix. It tastes pretty good, too. If you don't happen to have butterscotch schnapps in your cabinet you can use rum, bourbon, or scotch in place of the schnapps. If liquor is not to your taste simply use more heavy cream in place of the schnapps.
Now I have to go see what else I can do with butterscotch…stay tuned for more recipes. I'll need to make a lot of butterscotch to finally use up that bottle of schnapps.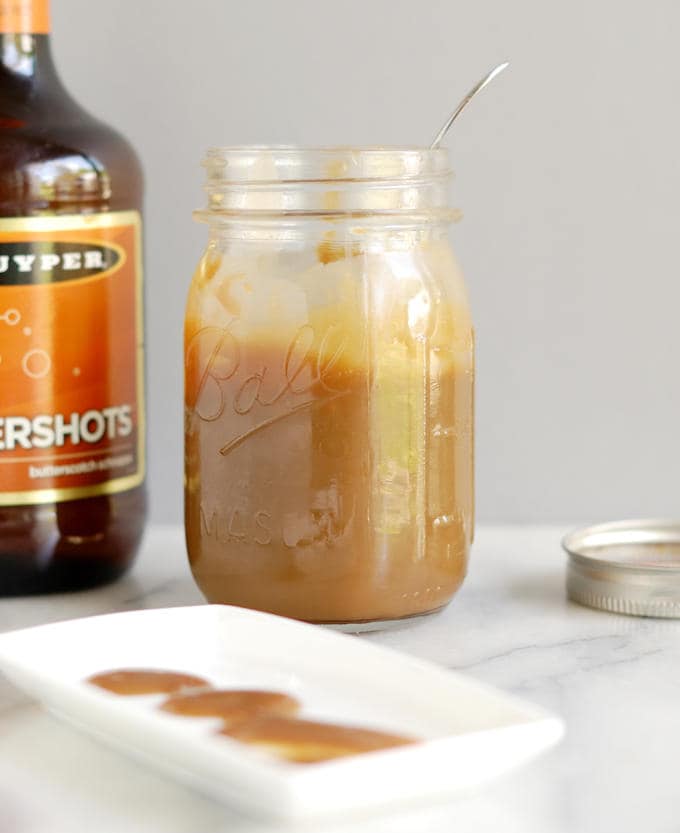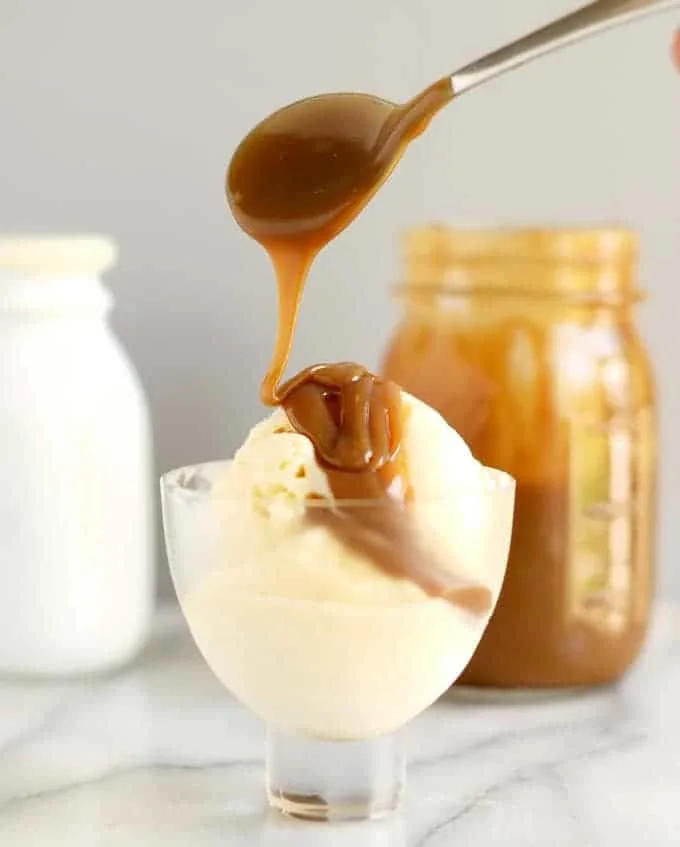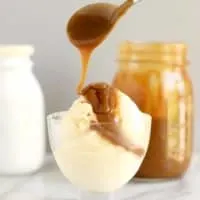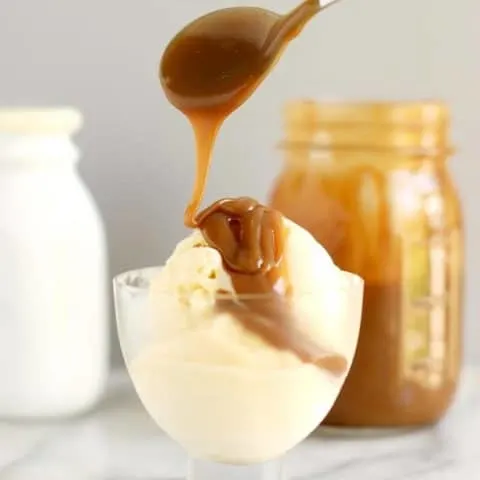 Butterscotch Sauce
Silky smooth & buttery, Butterscotch Sauce has a special and specific flavor with notes of molasses, butter, vanilla and salt.
Ingredients
1 cup (7 oz, 200 g) dark brown sugar
1/4 cup (2 oz, 55 g) unsalted butter
1/2 cup heavy cream
1/4 cup butterscotch schnapps (or other liquor or more cream)
2 teasoons real vanilla extract
1/2 teaspoon kosher salt (not table salt, if you use table salt use 1/4 teaspoon)
Instructions
Melt butter over medium low heat. (see note). Add the brown sugar and stir until sugar looks like wet sand. Allow to cook on medium low, stirring occasionally, for about 5 minutes. The mixture will begin to liquify.
Whisk in the cream, then whisk in the schnapps. BE CAREFUL, the mixture will bubble up and steam when the liquids are added, Keep your face away from the pot.
Cook over low heat for for about 10 minutes, whisking occasionally until the butterscotch becomes more viscous, very smooth and silky. Remove the pot from the heat and whisk in the vanilla and salt.
Pour into a heat proof container to cool. I like to use canning jars to store the butterscotch sauce.
Notes
The main thing that can go wrong with this recipe is if you cook it too hot or too fast. Be patient and let it cook over medium-low heat for the times listed in the recipe. If you cook it too hot, bits of the sugar will caramelize and separate from the butter. You'll end up with a gritty texture.