Welcome to class #5  in a series of 7 "Cake Batter" classes. We've been using the traditional "quatre quarts" pound cake recipe as a tool to understand the science of cake batter.
After experimenting with mixing technique and how to use salt and leaveners to improve the cake texture and flavor, we began to look at each of the core ingredients of the basic pound cake and their respective roles in cake batter. Now we'll look at our next ingredient in the cake batter – sugar.
In a successful cake the ingredients that strengthen the cake structure (flour and eggs) are balanced with the ingredients that weaken the cake structure (sugar and fat). To create a moist, sweet and tender cake that bakes up with a nice even crumb the four main ingredients have to work together.
In classes 3 & 4 we looked at the two structure builders, flour and eggs. We learned that low protein, chlorinated cake flour produced a cake with a light and tender texture. Through multiple baking tests we found that we can alter a cake's texture significantly by manipulating the number of eggs, yolks and whites in the batter.
For this class we'll learn about one of the "cake tenderizers"- sugar.
What is Sugar?
All sugars, including table sugar, honey, molasses and corn syrup, are made up of molecules derived and refined from plant fluids. The process of photosynthesis produces sugars in all plants. Cellulose, hemicellulose and pectin are made up of chains of sugar molecules and form a plant's structure. Bees extract juice from plants to produce honey. We extract juice from plants (mostly sugar cane and sugar beets), then process and crystallize the juice to produce table sugar.
The scientific name for table sugar is sucrose. Sucrose is a double sugar (disaccharide) made up of two simple sugars (monosaccharides), glucose and fructose.
In the kitchen you'll find glucose in regular corn syrup (not high fructose corn syrup). Glucose is less sweet than table sugar and is also less water soluble. A product made with corn syrup will be less sweet than one made with an equal amount of table sugar. Corn syrup interferes with sugar crystallization, which is why it's often added to candies, ice cream and other products that require a smooth, non-grainy texture.
Fructose, the other simple sugar found in sucrose, has the same chemical makeup as glucose, with a different arrangement of atoms. High fructose corn syrup is made by treating regular corn syrup with enzymes to convert the glucose in the syrup into fructose. Fructose is sweeter than glucose and is more water soluble.
Sucrose, or common table sugar, has the advantages of both glucose and fructose. It has a balanced sweetness and water absorbing properties which are generally best for baking. While there are specific uses for simple sugars in candy making and commercial food production, for our cake batter recipe we're mostly concerned with sucrose, or table sugar.
Sugar's Role in Cake Batter:
Of course sugar is important in the kitchen because the sweet flavor makes food delicious. We humans are programmed to like sweet. Sweetness also balances out sour and bitter flavors in food to help create a more complex flavor.
For a baker, just as important as the flavor enhancements that sugar provides are the ways that sugar affects a baked good's texture. As we learned in "Cake Batter" class #1, the "creaming" method of mixing cake batter uses the physical shape of sugar crystals to aerate the butter and lighten the cake's texture.
Sugar is hygroscopic, meaning it has a tendency to attract and hold onto water molecules. This characteristic of sugar helps make and keep baked goods moist.
Sugar interferes with the coagulation of proteins. Adding more sugar to a cake recipe causes the proteins in the flour and eggs to form weaker bonds, creating a more tender, softer crumb. But more is not always better. Excess sugar could weaken a cake structure so much that it collapses. A successful recipe balances adding enough sugar to tenderize and sweeten, but not so much to make the cake collapse.
Baking Tests
I baked 4 different cakes with varying amounts of table sugar to test how changing the proportion of sugar in the pound cake recipe affects the texture. I also baked 1 cake with 10x powdered sugar and 1 with honey to see how using other forms of sugar would change the texture. All the other ingredients in the recipe were kept at 8 oz each to ensure that any change to texture and taste were a result of the variation in the amount and type of sugar.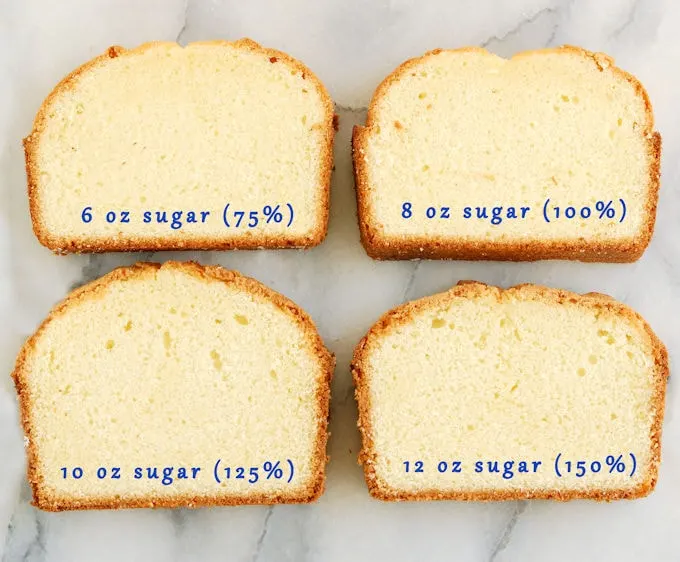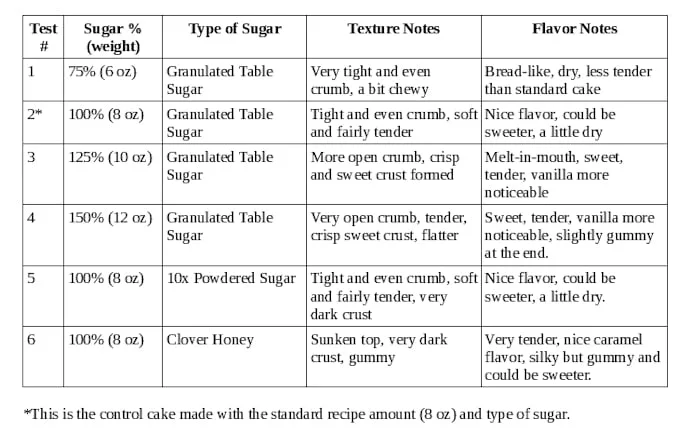 As the research suggested, increasing the amount of sugar in the batter made a more tender crumb, moister cake and sweeter flavor. The cake made with 25% less sugar than normal was not sweet enough and was tough and dry. The cake with 25% more sugar had a very nice flavor, tender crumb and the texture was not compromised. Further increasing the amount of sugar to 50% above normal compromised the structure of the cake enough that it baked with a flattened top and the crumb had a slightly pasty mouth feel.
Both the +25% and the +50% cakes had a noticeably thicker and sweeter crust than the control cake, and the crust was crackled. Because I added extra sugar to the recipe but did not add extra liquid, the sugar could not completely dissolve and the excess sugar rose to the surface and created the crust. I didn't find the crust unpleasant but it was a noticeable difference.
The 10x powdered sugar produced a cake surprisingly similar to the cake made from granulated sugar. I did use the reverse creaming method. Had I used the traditional creaming method the difference may have been greater.
The cake made with honey had a very nice flavor, but the excess moisture in the honey compromised the structure too much and the cake partially collapsed, leaving a gummy layer along the bottom and top of the cake.
Extra, Extra, read all about Stevia!
To coincide with my research regarding sugar in cake batter, I also tested a sugar substitute made from the Stevia plant. Stevia is 150x sweeter than Sucrose, or table sugar. I thought it would be helpful to see if Stevia can be used to replace sugar in a cake batter.
I baked a test cake using 8oz by weight of a granulated sugar substitute made from the Stevia plant. Because I knew that Stevia is much sweeter than sugar I didn't expect the cake to taste good, but wanted to use the same amount as a comparison.
The cake made with the Stevia product was heavy, dense, hard and brittle with a gummy mouth feel. It was extremely sweet with a bitter, unpleasant aftertaste. The cake was inedible.
As I expected, Stevia products cannot be used 1 for 1 for sugar in a recipe. The product I used recommends using less than half the amount of Stevia by volume. Since sugar affects baked goods in more ways than just the flavor, reducing the amount of Stevia in the baked good may improve the sweetness level and aftertaste of the cake, but the texture would still be compromised.
For those who must use sugar substitutes in baking, recipes will have to be revised further than just swapping out the sugar with a sugar substitute for a good result.
Next up for class #6 we learn all about luscious butter (and other fats).