Welcome to class #6 of 7 in the "Cake Batter" course. We've been using the traditional "quatre quarts" pound cake recipe as a tool to understand the science of cake batter. After experimenting with mixing technique and how to use salt and leavening to improve the cake texture and flavor, we began to look at each of the core ingredients of the basic pound cake and their respective roles in cake batter – butter and other fats is the subject of this class.
The ingredients that strengthen the cake structure (flour and eggs) need to be balanced with the ingredients that weaken the cake structure (sugar and fat). To create a moist, sweet and tender cake that bakes up with a nice even crumb the four main ingredients have to work together.
In classes 3 & 4 we looked at the two structure builders, flour and eggs. Class 5 was all about one of the tenderizers, sugar. Now we'll learn about the other tenderizer, butter (and other fats).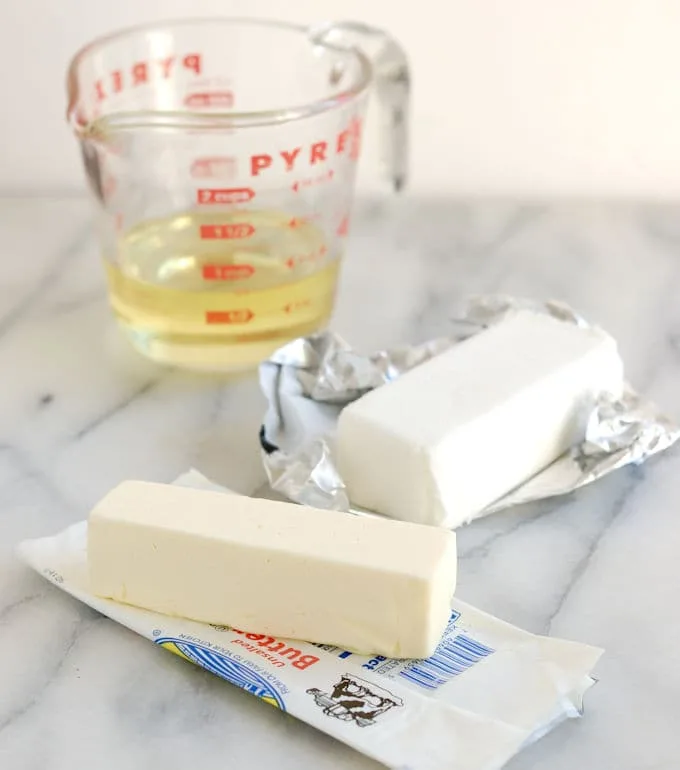 Fat as Tenderizer
Fat acts as a tenderizer in cake batter. First, because it adds moisture and richness to the cake and, second, because fat interferes with gluten formation in the flour and with coagulation of the eggs.
Solid fats, like butter and shortening, are also the vehicle for creating air pockets in the cake batter. A light and airy cake will fall apart more easily in your mouth, which creates an impression of tenderness.
The three main fats used in cake batter are butter, shortening and oil. Certain fruit purees can also used to replace some or all of the fat in some cake recipes. Lets look at each and find out the advantages and disadvantages.
All About Butter
Don't we all, basically, know what butter is and how it's made? If you've ever over-whipped cream you've seen it. When heavy cream is agitated (whipping or churning) some of the fat globules in the cream are damaged. The damaged globules smash into each other and the fat that was released when they were damaged sticks together, gradually forming a mass of butterfat. The mass separates from the liquid and the liquid is drained off (that's how buttermilk was originally made).  What you're left with is pure baking gold, beautiful butter!
Butter is about 80% milkfat and 15% water. It's made up of some intact globules of butterfat, some solid fat crystals, and some water droplets, all of which are encased in the semisolid fat that was released from the damaged globules. The semi-solid fat allows butter to be spreadable. As butter warms, some of the liquid fat with be released. That's why butter softens and becomes more spreadable at room temperature. That's also why room temperature butter is best for "creaming" with sugar to form the base of cake batter.
I always use unsalted butter for baking so I can control how much salt is in the end product. As we learned in class #2, a little salt can make a difference in the texture of a pound cake.
Shortening
Vegetable shortening can also be used in cake batter. While nothing compares to the flavor of butter, shortening does have one advantage over butter. When shortening is manufactured it's pumped full of nitrogen bubbles to aerate and whiten the product. That process also adds stabilizing emulsifiers to the shortening. Because shortening already has some bubbles in it, and because it has stabilizers that hold the bubbles in, shortening will cream up lighter than butter. A cake made with shortening will be very light and tender. Because shortening also is an emulsifier, you can add more liquid to the batter. More liquid means more sugar which means a more tender and moister cake. But all the advantages of shortening over butter come at the expense of the taste, as you'll see from my cake tests below.
(Margarine doesn't have the texture or emulsifying advantages of shortening and doesn't have the flavor advantage of butter. Personally, I never use margarine.)
Vegetable Oil
Because vegetable oil is a liquid, it coats the flour proteins better than shortening or butter. A cake made with oil will be more tender than a cake made with a solid fat.  Because the flour protein is so well coated it will also absorb less moisture from the batter, leaving more available to make a moister cake. Using oil can have advantages, but often it's best used in conjunction with some butter. Chiffon cakes use oil for super moist cake. I also like a good olive oil cake, like my Meyer Lemon Olive Oil Cake. I wouldn't use oil in a pound cake because to me a pound cake should have a buttery flavor. See the cakes tests below.
Fat Substitutes
If your must keep to a low fat diet it is possible to replace some or all of the fat in a cake recipe with certain fruit purees. Fruit purees can moisten and tenderize a cake like fat does, but it will not aerate the cake as a solid fat will.  Prune, apple, apricot and pear purees have carbohydrates that bind water and prevent gluten formation.  So these specific fruit purees can be used to replace some of the fat in a cake recipe. Cakes made with fruit purees will be tender and moist, but more dense than a cake made with solid fat. If you've ever made an applesauce cake you know what I mean.
Yes, Butter is better!
So, I went back to the kitchen for more pound cake testing. I baked 5 pound cakes using various amounts of butter, shortening and vegetable oil. Otherwise I kept to the traditional quatre quarts recipe, using of 8 oz of each ingredient.
Cake 1 – Made with 4 oz butter – Had a very dry, tight crumb. It was chewy with a bread-like texture.
Cake 2 – Made with 8 oz butter – Was softer and more tender than the first cake. The crumb was still a bit tight and it could be softer and moister.
Cake 3 – Made with 12 oz butter – This cake was very moist and tender. It had a melt-in-your-mouth texture. The flavor could be sweeter.
Cake 4 – Made with 8 oz shortening -The texture of this cake was ok, softer than the cake made with the same amount of butter. But the flavor was bland and there was an unpleasant aftertaste of shortening.
Cake 5 – Made with 8 oz vegetable oil – This cake had a very open crumb. It was super moist and tender. But it was oily to touch and left an oily aftertaste with a slightly unpleasant flavor.
So, as I pretty much already knew even before running the tests, for a pound cake butter is the only way to go. Using oil, shortening and even fruit purees can work in other cake recipes, but not for pound cake.
In the 7th and final class in the "cake batter" course we'll use all we've learned to create pound cake perfection.